Remembering Ayrton Senna: Five great stories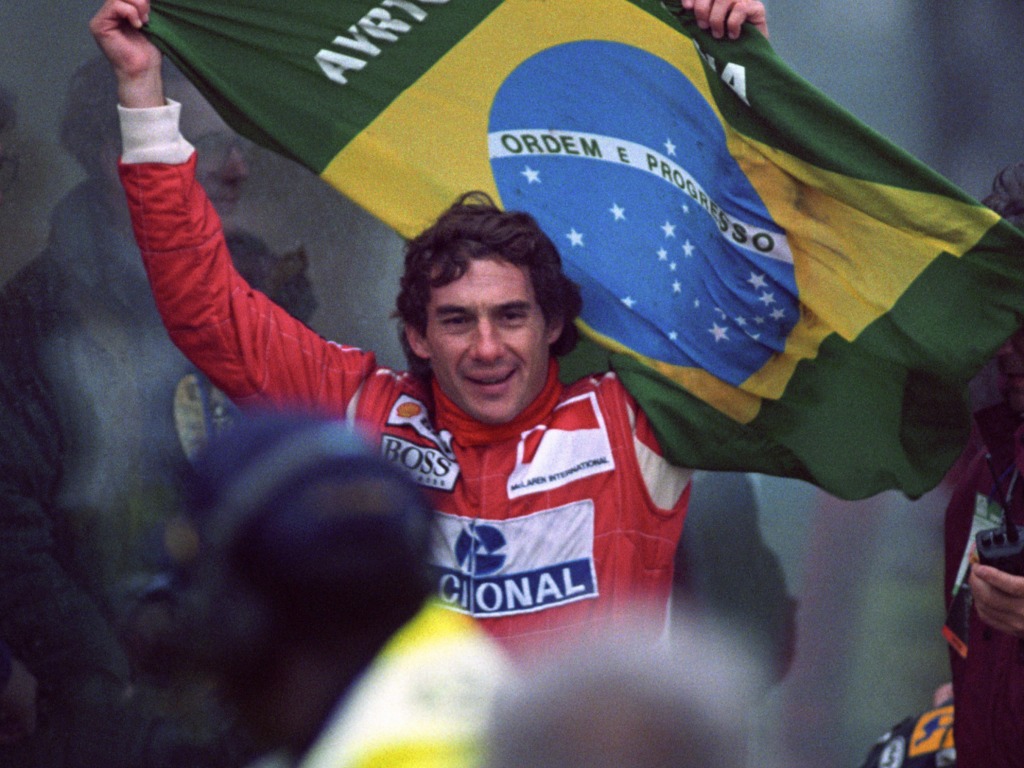 Three-time World Champion Ayrton Senna will be forever remembered as one of the all-time greats in Formula 1.
Here are five stories that give you a glimpse, a reminder, of what made him such an iconic driver. He will never be forgotten.
The moving wall in Dallas
We all know that Senna was a master of his craft, a driver who spent his Formula 1 career on the absolute limit. One great example of that came at the 1984 Dallas Grand Prix.
Driving for Toleman, Senna retired on Lap 47 from P4 after hitting the wall. He had been nailing that corner to precision, a matter of millimetres, and was convinced that the wall had in fact moved.
Impossible right? Well, it turned out that it had.
Recalling the incident, Senna's race engineer Pat Symonds said: "In Dallas he touched a wall and broke a wheel.
"During the debrief he said 'I can't make out how I hit that wall. The wall must have moved'.
"With any other driver you would say 'don't be bloody ridiculous'. But he was so troubled by it that we went and looked at the wall.
"Tyre marks showed that somebody had crashed into one end of one of the huge concrete blocks and pivoted it a little bit.
"He'd been placing his car a few millimetres from that wall, and when the edge had moved a fraction he hit it.
"I thought then that this guy was beyond anything I'd ever experienced before."
The lift from Mansell at Silverstone
📷 #F1 archive 📷

Nigel Mansell gives Ayrton Senna a lift back to the pits at the 1991 British Grand Prix. pic.twitter.com/ALiACfoRM7

— PlanetF1 (@Planet_F1) April 29, 2020
One of Formula 1's most iconic moments – a legend of the sport giving a lift to a fellow great.
It was at the 1991 British Grand Prix where this event occurred – a podium was all but guaranteed for Senna with Nigel Mansell taking the chequered flag at his home race.
But that went up in smoke when Senna's McLaren ran out of fuel on the last lap, even though the panel showed there was more than enough left to keep racing.
That meant that his team-mate Gerhard Berger took P2, while Senna's bitter rival Alain Prost finished P3. Senna was classified P4 since Mansell had lapped all the other drivers.
It was during his cool-down lap, though, that Mansell stopped in front of Senna's stricken McLaren, and with one foot inside the cockpit of Mansell's Williams and an arm around its roll-over hoop, Senna took a ride back to the pits…but not before kicking a marshal out of the way so he could continue on his journey.
But, legend has it, whilst Senna was appreciative for the lift back, the first thing he did was grab his engineer, told him everything he could about Mansell's car and even drew a sketch of the cockpit layout!
Saving Erik Comas' life 
The year was 1992 and free practice was underway for the Belgian Grand Prix when Erik Comas crashed his Ligier heavily at Blanchimont and lost consciousness.
His engine was screaming and close to explosion. But, Senna first on the scene, stopped and sprinted over to Comas' Ligier, shut off the engine so it wouldn't catch fire, then held his head to stabilise his neck until the paramedics could arrive.
Comas would miss the race, but escaped serious injury or perhaps worse thanks to Senna's immediate intervention.
He set a fastest lap…going through the pit lane
Senna delivered his 'Lap of the Gods' as it was coined during the 1993 European Grand Prix at Donington, passing four drivers on the opening lap to take the lead of a race which he ultimately won by one minute and 23 seconds.
But, this wasn't the only memorable thing he did that day.
The Brazilian would go through the pit lane on Lap 57 but didn't make a stop. It had been a damp old day at Donington with plenty of tyre changes, so this was struck off as a communication mistake between Senna and McLaren.
Back in those days there were no speed restrictions in the pit lane, so this tactic gave Senna the fastest lap.
Discussing the incident after the race, Senna said: "Our radio system this year is presenting serious issues, and I don't understand almost anything they [the team] say.
"They've upgraded the encryption system and I think that ended up affecting the sound quality. It's a shame. A good communication with the team is crucial in a race like this."
But after the incident had blown over, the truth came out.
"I knew it was faster that way, and I did it as an experiment," Senna admitted.
"When they told me it was the race's quickest lap, I said: 'Okay, if Prost passes me I will pass him from inside the pit-lane', and that was it."
Senna and Berger…F1's greatest comedy duo?
Ayrton's friendship with former McLaren team-mate Gerhard Berger ran deep, and the duo's unbreakable bond often manifesting in the form of pranks.
Whether it was Berger placing a phallic photo in Senna's passport or the Brazilian gluing Berger's cards in his wallet, these two had a good time.
And, as it turned out, their boss Ron Dennis wasn't safe either. At Monza one year Dennis recalls returning to his posh hotel room at the five star Villa d'Este to be greeted by a new wallpaper made up of pornographic pictures.
"Needless to say, when one of the group got back to his room later that night there was nothing in it. Nothing. No furniture. No clothes. Nothing," Dennis said with a smile during an interview with Reuters.
"I remember the laughter and the fun. Normally there'd be things verging on the slapstick and not so funny, especially damaging property which frequently happened… it was childlike but at the same time a really good feeling inside the team."
Senna was far from a happy man heading into 1990 after losing the 1989 title to Prost following his disqualification from the Japanese Grand Prix.
So for Dennis, bringing Berger into the team was key for lifting that dark cloud.
"Gerhard gave me the perfect weapon to deal with Ayrton because he brought humour to the team," he said.
"I would say the concept of telling a joke and Ayrton laughing at it was not even possible before Gerhard got in the team.
"But then that just created a massive ice-breaker.
"It got to the extreme. Gerhard has no limits. I mean, no limits. He'll go to the point where it is positively dangerous. There was one moment where we were up in Hamilton Island and were diving. And we were at quite a good depth and Gerhard just came and turned my air off. He thought that was hilarious."
Dennis wasn't joking when he said these pranks were taken to the extreme – they also threw Dennis off a yacht in Australia on his birthday, before dumping in some bait to try and attract sharks.
The fondest memory for Dennis though was when Senna gave him an envelope from his own personalised stationary with $10,000 inside.
As it turned out, that money was to settle a bet that Senna had lost in Mexico…he didn't think Dennis had the nerve to down that tub of extra hot chilli sauce.
"Before he could pull the bet back, I had wolfed it down," Dennis said.
"It was about the fourth time that he'd lost a bet, a big one, and I can remember him giving it (the money) to me and saying 'I am never going to bet with you ever again'.
"It's my fond memory for two things. To get a smile across Ayrton's face was not that easy. But to get him to part with his money with a smile on his face… it was a great moment. But I paid for it for a couple of days."