Conclusions from the Azerbaijan Grand Prix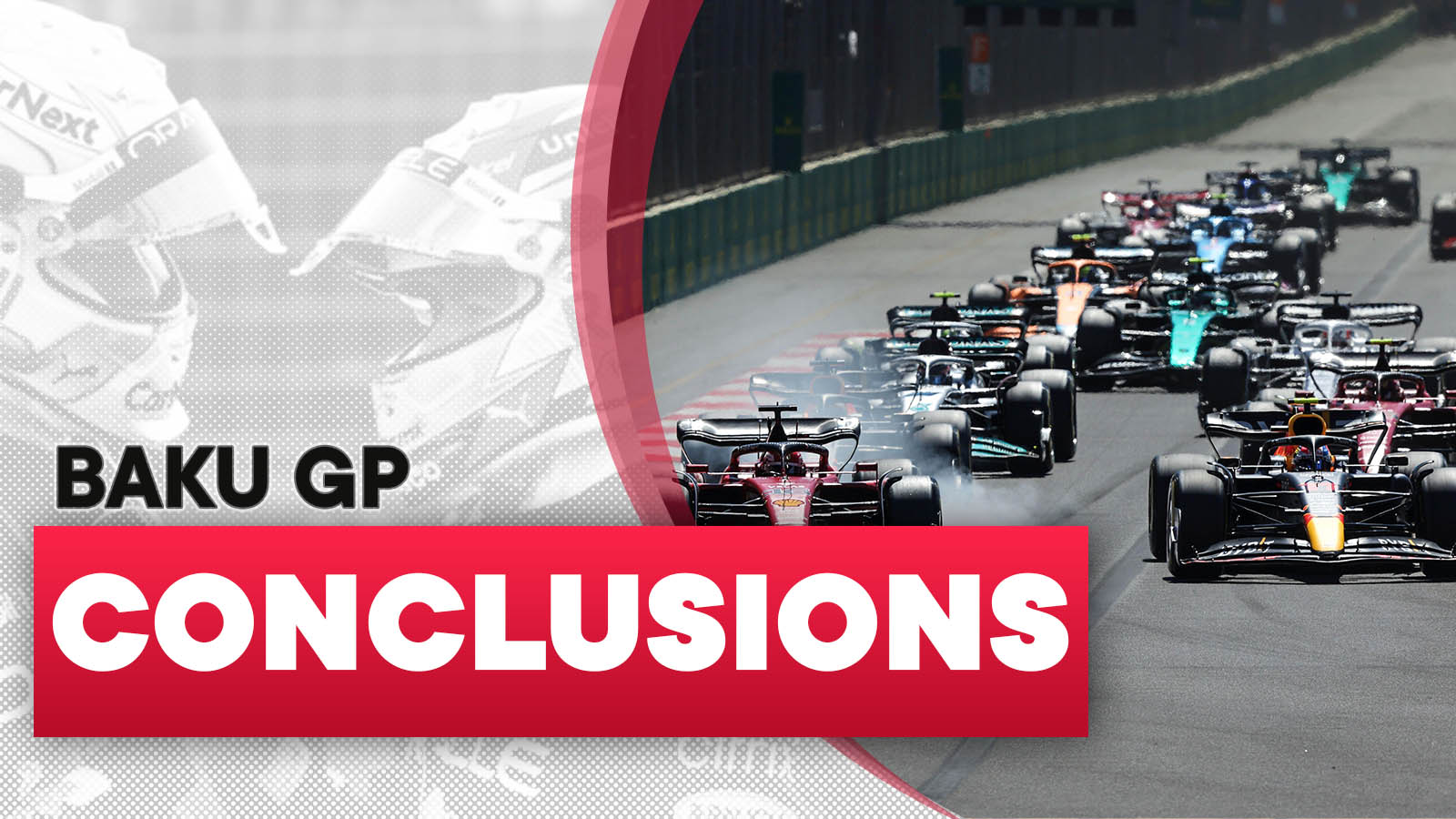 Max Verstappen extended his lead at the top of the Formula 1 standings with his fifth victory of the 2022 season in the Azerbaijan Grand Prix as Ferrari and Charles Leclerc suffered yet another disastrous day.
Here are our conclusions from Baku…
Verstappen puts Perez back in his box
There was much excitement surrounding Sergio Perez's potential role in the title fight after his victory in Monaco put him within 15 points of World Championship leader Verstappen.
More comfortable with the slow rotation of the RB18 car, he had been the faster of the Red Bull drivers in Monte Carlo and was perceived by some to be the pre-race favourite in Baku where he won last season and twice drove a Force India to the podium.
Such is Verstappen's natural touch and feel for a racing car that it will never cease to be a surprise when he is beaten by Perez in qualifying, yet for the second race in succession it was Sergio ahead on the grid after a fine final Q3 lap.
Encouraged by his race engineer to get his "elbows out" just before the formation lap – a message with good intentions but potentially counterproductive at that point – Perez nipped past Leclerc at the first corner.
We were not perfect today, there's so many things to improve and to understand.
But at the end of the day was a great result for the team. Congratulations to @Max33Verstappen who had an excellent race and to the whole team.
Now on to Canada! 💪 #azerbaijangp pic.twitter.com/pv2nq9Tedg

— Sergio Pérez (@SChecoPerez) June 12, 2022
And with clean air ahead of him and Red Bull's superior straight-line speed shielding him from retaliation, this would normally have been a golden opportunity for Perez to claim a second straight win.
But, strangely, it was at this point where his race began to fall apart.
Potentially with the words of his engineer – the need to be attacking, aggressive, assertive – still ringing in his ears, F1's master of tyre management seemed to push his mediums too hard too soon on a full tank of fuel.
It may have allowed Perez to build a lead of two seconds within five laps but left him almost defenseless (not that he was allowed to defend) when Verstappen swept past into Turn 1 on Lap 15.
For a driver renowned for measured and mature races over the years, there was a distinct lack of composure from Perez in that crucial opening phase of the race.
Verstappen's camp had been dissatisfied with Red Bull's handling of the Monaco GP, with his father Jos using the medium of Max's official website to complain – perhaps with some justification – that the team didn't do enough to help the reigning World Champion towards the front.
For Max, now with a 21-point lead over Perez in the Drivers' standings after winning by a margin of more than 20 seconds, this was a resounding response to the frustrations of Monaco.
And, perhaps, a reminder to his team-mate to know his place.
Ferrari's repeat failures risk harming relationship with Leclerc
Ferrari's traditional implosion, it appears, has come early this season. Having led Verstappen by 46 points after three races, Leclerc now trails him by 34 after eight.
There has been so much to admire about Ferrari in 2022 – the exquisite and wonderfully versatile F1-75 car, Leclerc's explosive qualifying performances and his mature victories in Bahrain and Australia – yet fundamentally this remains a team for whom disaster is only ever just around the corner.
Leclerc has started from pole position at each of the last four rounds, but only has one podium finish to show for it.
He secured his latest pole with yet another nuclear lap in Q3, going to a place where perhaps only he dares to tread while fully exploiting the pace of the high-downforce Ferrari in the middle sector.
Yet after putting himself at an immediate disadvantage by locking up into the first corner, his fading hopes of a first win since Melbourne ended entirely when he stopped on Lap 20 with another engine failure following his retirement from the lead in Spain.
Leclerc had not held back in his criticism of Ferrari after their strategic errors cost him a likely victory in Monaco.
Charles Leclerc's last five races…

Imola: Qualified P2, finishes P6
Miami: Qualified P1, finishes P2
Spain: Qualified P1, DNF
Monaco: Qualified P1, finishes P4
Baku: Qualified P1, DNF#F1 pic.twitter.com/8ocUYBI7Tz

— PlanetF1 (@Planet_F1) June 12, 2022
But in Baku – after his second DNF in three races on a day his team-mate Carlos Sainz and Ferrari customers Alfa Romeo and Haas also suffered terminal technical issues – there was an emptiness about him as he looked and sounded more downbeat than ever before.
If this was someone experiencing the five stages of grief during the rapid demise of his title challenge, Leclerc had moved from anger to somewhere between depression and acceptance.
Ferrari famously wore down Fernando Alonso and sucked the spirit out of Sebastian Vettel over the last decade, but on both occasions the process was played out over a number of years.
With Leclerc it has taken just two months for the driver to feel let down and for those familiar emotions of mistrust and resentment – he said this felt like a third consecutive DNF, so crushing was the disappointment of Monaco – to rise to the surface.
Damon Hill had a point when he warned Leclerc to "watch it" with his criticism of the team in Monaco.
"If you've got a driver versus Ferrari, Ferrari will always win," Hill said.
Rather than making history together, might 2022 yet come to be remembered as the year Ferrari and Leclerc began to grow apart?
Russell claims another 'little victory' for Mercedes
It was Gilles Villeneuve who best described the challenges of racing with uncompetitive machinery in Formula 1.
With pole positions and race wins out of reach it is the "little victories" that sustain struggling teams and drivers, the moments of inspiration that bring small glimmers of hope to a hopeless place.
It is a matter of professional pride, maintaining standards and making the absolute most out of whatever you have.
That, in essence, is what has made George Russell's start to his Mercedes career so impressive as he continued his run of finishing in the top five at every race of 2022 in Baku.
Another podium and plenty of points in the bag. Great job, team! 👊🏆🇦🇿 pic.twitter.com/lnHrrbx7RM

— George Russell (@GeorgeRussell63) June 12, 2022
After appearing to make a genuine breakthrough with the porpoising-prone W13 in Spain, Monaco and Baku – two wildly unconventional circuits – came at a bad time for Mercedes and it is likely to be a similar story in Montreal this coming weekend.
A true measure of the team's progress is unlikely to come until the British GP at the start of next month. Until then, all Mercedes can really cling on to is the little victories – doing the best they can and controlling the controllables.
Russell and team-mate Lewis Hamilton may not have had the pace to challenge the Red Bulls and Ferraris in Baku – and the porpoising caused more visible discomfort here than any other circuit so far – but what they did have was a reliable car run by an eternally efficient and well-drilled team.
The result – after the Ferraris retired and Mercedes, unlike their closest competition, chose to pit under both Virtual Safety Car periods – was a third podium of the season for Russell and a top-four finish for the first time since April's Australian GP for Hamilton.
"After running on Friday, we knew we had big limitations with the car in Baku so it was a case of maximising our strategy, driving and our operations," said team boss Toto Wolff.
"The team did a great job on all three to ensure we were in the mix and ready to take advantage of any opportunity that came our way."
Little victories…
AlphaTauri's return to form helps put Gasly in the shop window
AlphaTauri's dip in 2022 potentially came at a bad time for Pierre Gasly's hopes of finding a new home.
Rather than being the best of the rest, as he so often was across the previous two seasons, he has been reduced to the status of a marginal point scorer this year and in the first seven races had only twice finished in the top 10.
Perez's two-year contract extension following his victory in Monaco is likely to have finally closed the door on Gasly's chances of ever returning to Red Bull's senior team and has added a greater sense of urgency to his need to flee the nest.
P5 in the streets of Baku 😎

hear from the ⛽man himself after taking our best result of the season! 🤙 pic.twitter.com/nOuobaSemo

— Scuderia AlphaTauri (@AlphaTauriF1) June 12, 2022
The upcoming races have the potential to have a transformative effect on the trajectory of his F1 career, which is perhaps why Gasly himself felt his best 2022 qualifying result of sixth in Baku – where he split the Mercedes cars – came "at the right time."
With Baku's layout suiting the AT03 car's slow corner performance, AlphaTauri's resurgence is likely to be short-lived yet Gasly made sure this one counted, finishing fifth – his best result since Abu Dhabi last year – to end a run of four races without a point.
It was as though Gasly had been transported back in time to either of the last two seasons, an exciting young driver in a capable car piecing together a well-executed race weekend.
He may still need to do more to eradicate lingering doubts over his ultimate potential – some will always be put off by the memories of his humbling half-season as Verstappen's team-mate in 2019 – but at least with performances like this Gasly can put himself in the shop window.
Signs of life in Vettel and Ricciardo
If Gasly is to leave the Red Bull system at the end of this season it is thought his two most likely destinations are Aston Martin and McLaren, who both have big-name drivers struggling to recapture their former glories.
Vettel and Daniel Ricciardo have been almost perpetually underwhelming and struggled to justify their eye-watering salaries since joining their respective teams in 2021, yet there were encouraging if overdue signs of life in both in Baku.
Some points secured for the team, we'll keep up the momentum for Montreal! 👊 @DanielRicciardo #AzerbaijanGP 🇦🇿 pic.twitter.com/C819kNarI7

— McLaren (@McLarenF1) June 12, 2022
Having been quite evenly matched with Lance Stroll last season, Vettel – with his young team-mate now having completely lost his way – has emerged as Aston's clear team leader over recent weeks.
Mistakes continue to be a theme of Vettel's driving and he was fortunate to get away with two significant ones in Baku, surviving a tap of the nose against the barrier in Q2 before momentarily falling into the trap of one of the circuit's many escape roads in the race.
Some typically quick thinking and glorious car control saved his day as he went on to convert his second successive top-10 start into a second successive points finish with P6 – his best result since last season's farcical Belgian GP.
Curiously, Vettel's season has followed a similar pattern to 2021 when he produced his two most complete performances in Monaco and Baku only to regress to the mean elsewhere.
Over at McLaren, meanwhile, Ricciardo entered the Azerbaijan GP under more scrutiny than ever before after two disastrous weekends in Spain and Monaco.
Having competed in Monte Carlo with a confrontational message on his crash helmet, Ricciardo did more of his talking on the track in Baku, where he qualified directly behind Lando Norris before using an alternative (hard-medium) strategy to finish ahead of him in the race.
It may have been only Ricciardo's fourth top-10 finish in the last 15 races, but after a run of four races without a point it was at least something, with McLaren team orders protecting him from Norris after Riccardo had earlier been instructed to stay behind his team-mate.
The coming weeks will reveal whether this can be a genuine turning point for Vettel and Ricciardo or whether the former Red Bull team-mates are a couple of dead cats bouncing.