Driver ratings for the Azerbaijan Grand Prix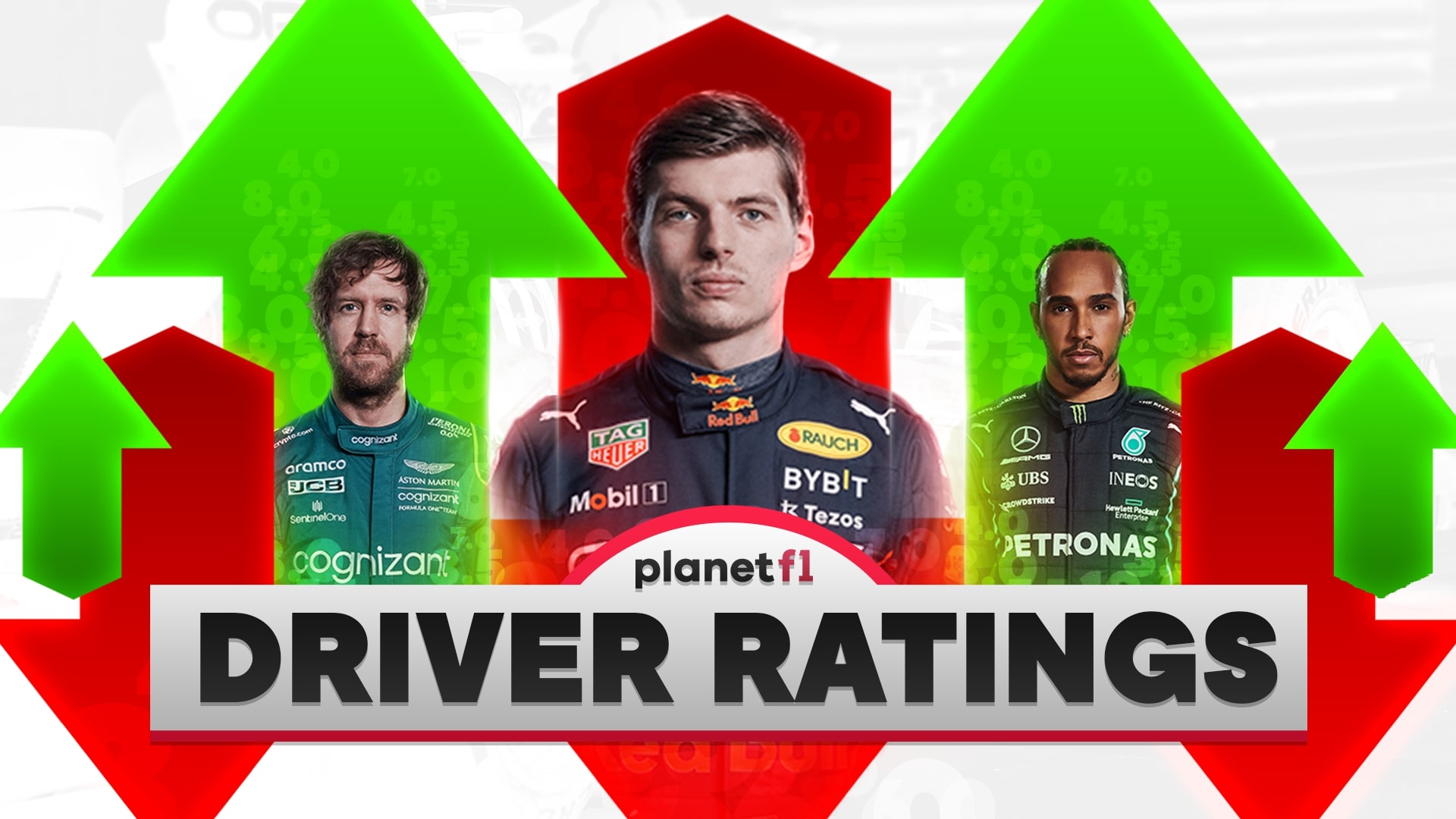 It was not the Baku thriller of previous years, but that will not worry Red Bull who enjoyed their dream result at the Azerbaijan Grand Prix.
In total contrast, it was the day from hell for Ferrari as a double retirement in the first half of the race, both resulting from issues with the car, meant they fell much further adrift in the World Championship tables.
Some drivers never got the chance to show all they could do on the Baku City Circuit, but at least they generally kept it clean and nobody crashed out.
Here's our full set of ratings for round eight of this season's 22:
Max Verstappen: Five wins out of eight now for the World Champion and this was as dominant as any, once Ferrari and his own team-mate had ended any resistance.
Any suggestions, following events of the last couple of races and also earlier this weekend, that Verstappen was coming under pressure from within at Red Bull were dismissed when he sailed into the lead at Turn 1 on Lap 15 – amid a "no fighting" message to Sergio Perez that was barely required given the pace disparity.
No fastest lap for the Dutchman but a 21-point lead in the standings, and just as importantly 34 back to the first non-Red Bull rival, will more than compensate for that. 9.5.
Sergio Perez: A brilliant start by the Mexican from P2 took him into the lead, but everything appeared to change from the moment the Virtual Safety Car was deployed following Carlos Sainz's retirement and after Charles Leclerc made a pit-stop, Perez had no buffer between himself and Verstappen.
He was closed down and passed and from then on had no answer to his team-mate's speed, having a pretty lonely second half of the grand prix with the runner-up's position assured barring mishaps.
Up to second also in the championship, this result indicated Perez will need the Ferraris to be involved at the sharp end – as in Monaco – if he is to have any chance of bridging the points gap to his colleague. 7.5.
George Russell: As far as this season is concerned it was a typical Russell drive, being able to, in his own words, "pick up the pieces" as he benefited from the Ferrari retirements to secure his third podium finish of 2022.
Remarkable consistency from the younger Mercedes driver, who has finished between third and fifth in all eight races. And it's now Russell 7-1 Hamilton just for good measure. 8.
Lewis Hamilton: Voted Driver of the Day, Hamilton may even have deserved that honour alone for simply getting through the race given the back pain he was experiencing due to the bouncing of the Mercedes W13.
Team principal Toto Wolff had even expressed concerns before the race about whether the 37-year-old could actually make it to the chequered flag, and the way Hamilton gently extricated himself from the car showed it had been an ordeal.
"At the end, you're just praying for it to end," said Hamilton. But you would never have guessed while the race was in progress as he pulled off a series of fine overtaking moves to come home fourth. 9.
Pierre Gasly: A much improved weekend generally for Gasly, who was vying for 'best of the rest' outside Red Bull and Ferrari throughout and achieved comfortably his highest placing of the season so far in fifth.
It remains to be seen whether this represents a turnaround in AlphaTauri's fortunes, but a smiling Frenchman in the media pen afterwards was a refreshing sight. 8.
a great feeling being back scoring some good points! 👌 ready to bring this momentum to Canada next week!

— Scuderia AlphaTauri (@AlphaTauriF1) June 12, 2022
Sebastian Vettel: Like Gasly, Vettel finished on the podium in Baku last year and there is clearly something about this venue that suits them both.
Again, a best finish of the season for Aston Martin, and at least the German came home ahead of Esteban Ocon despite losing two places when going off track trying to pass the Alpine on Lap 13. 8.
Fernando Alonso: Having been accused of using "ridiculous" tactics by Alex Albon in qualifying, it would have been no surprise if Alonso had another trick up his sleeve after his unusually defensive driving late on in Monaco.
But there was nothing obvious to upset his rivals this time and the Spaniard was another man entitled to be happy with his day's work, crossing the line P7. 7.5.
Daniel Ricciardo: McLaren team orders were a feature of this race as their drivers adopted opposite strategies, and it was Ricciardo who came out on the right side.
Told to stay behind Lando Norris early on, he received the payback at the end of the race as the hard compound appeared to work better for both than the mediums.
A more encouraging result for the under-pressure Australian and one he needs to build on. 8.
Lando Norris: Someone was always going to be unhappy as a result of those team orders and it was Norris, who felt he should have been allowed to challenge Ricciardo at the end when points were on the line – he had a cheeky look into Turn 1 but decided against it.
This was not McLaren's most competitive weekend but having started just ahead of Ricciardo, Norris was clearly disappointed to finish behind him. 7.
Esteban Ocon: The Frenchman found himself in defensive mode for most of the race and overtaken by several drivers, yet still managed to collect a point.
That's six points finishes out of eight for Ocon, 10 out of 12 dating back to last year, but he has now been second best to Alonso twice in a row after a strong start. 6.
Valtteri Bottas: Alfa Romeo arrived with high hopes but it did not work out for them and Bottas had an uncharacteristically below-par qualifying, beaten by his team-mate.
Retirements meant the Finn finished only just outside the points, but on a circuit where he has had mixed fortunes in the past this was not a memorable weekend. 6.
Alex Albon: Williams continue to struggle but Albon was again by far their superior performer, starting on the same row as his team-mate but able to make better progress.
There never appeared to be a realistic prospect of points but Albon did as well as could be expected in the circumstances. 7.
Yuki Tsunoda: A split DRS flap ruined Tsunoda's race as he lost seven places when given the black and orange flag order to enter the pits and undergo running repairs – a quick taping-up job sending the Japanese driver on his way again.
Tsunoda thought sixth place could have been possible without that issue, which would have been a creditable outcome. Instead, he ended up 13th. 7.
Mick Schumacher: After his big crashes in Jeddah and Monaco, the last thing Schumacher needed was another shunt on a street circuit and at least he managed to avoid that.
But this was not a competitive weekend for the German, again outperformed by his team-mate, and having started last he made no significant headway. 5.
Nicholas Latifi: If Schumacher is under pressure at Haas, Latifi has to be feeling the heat even more after another miserable weekend for the Canadian.
Even before lights out he had done enough to earn a 10-second stop-go penalty as a Williams mechanic spotted he was too far forward in his grid slot and pushed the car back, beyond the deadline when he should have left the track.
Then there was a further five-second penalty for ignoring blue flags. Latifi needs to hope his home race next weekend is a much happier occasion. 4.
Leaving Baku with plenty of encouragement as we get ready for a trip to Canada 🙌

Thanks for your support as always, team 💙#WeAreWilliams #AzerbaijanGP pic.twitter.com/Skyi32akQK

— Williams Racing (@WilliamsRacing) June 12, 2022
Did not finish:
Lance Stroll: Of the five retirees, Stroll got furthest having been called in three laps from the end as Aston Martin spotted some inexplicable "very high oscillations" on his car.
But after a crash in qualifying, this was another unconvincing weekend from the Canadian who was put well in his place by team-mate Vettel. 5.
Kevin Magnussen: A couple of nice overtaking moves from Magnussen on Bottas and Albon, but this was not a race that looked likely to yield more points for the Dane.
He retired on Lap 33 with what appeared to be a power-unit problem. 6.5.
Zhou Guanyu: One of the stars in the early stages of the race, especially in the midfield, Zhou passed Stroll and his team-mate Bottas but was then told to 'box' due to an issue on Lap 24.
He was understandably gutted because it was not the first time this season it had happened, but from a driving perspective it should serve as a confidence-booster for the Chinese 23-year-old. 7.5.
Charles Leclerc: Beaten into Turn 1 by Perez, Leclerc locked up and Ferrari took a gamble by calling him into the pits under the Virtual Safety Car – not that the strategy had chance to bear fruit as his power unit failed on Lap 20.
For the third consecutive race, Ferrari have ultimately been to blame for Leclerc's inability to convert pole position into a win – but the start meant it was also not faultless from his side. 7.
Carlos Sainz: Getting no further than the ninth lap, this was a third early exit of the campaign for the Spaniard and has surely ended any remote chance he had of getting back into the championship battle.
Running fourth, where he had started, the race had not developed sufficiently by then to give Sainz a rating. N/A.