Azerbaijan Grand Prix 2022: Time, TV, live stream, grid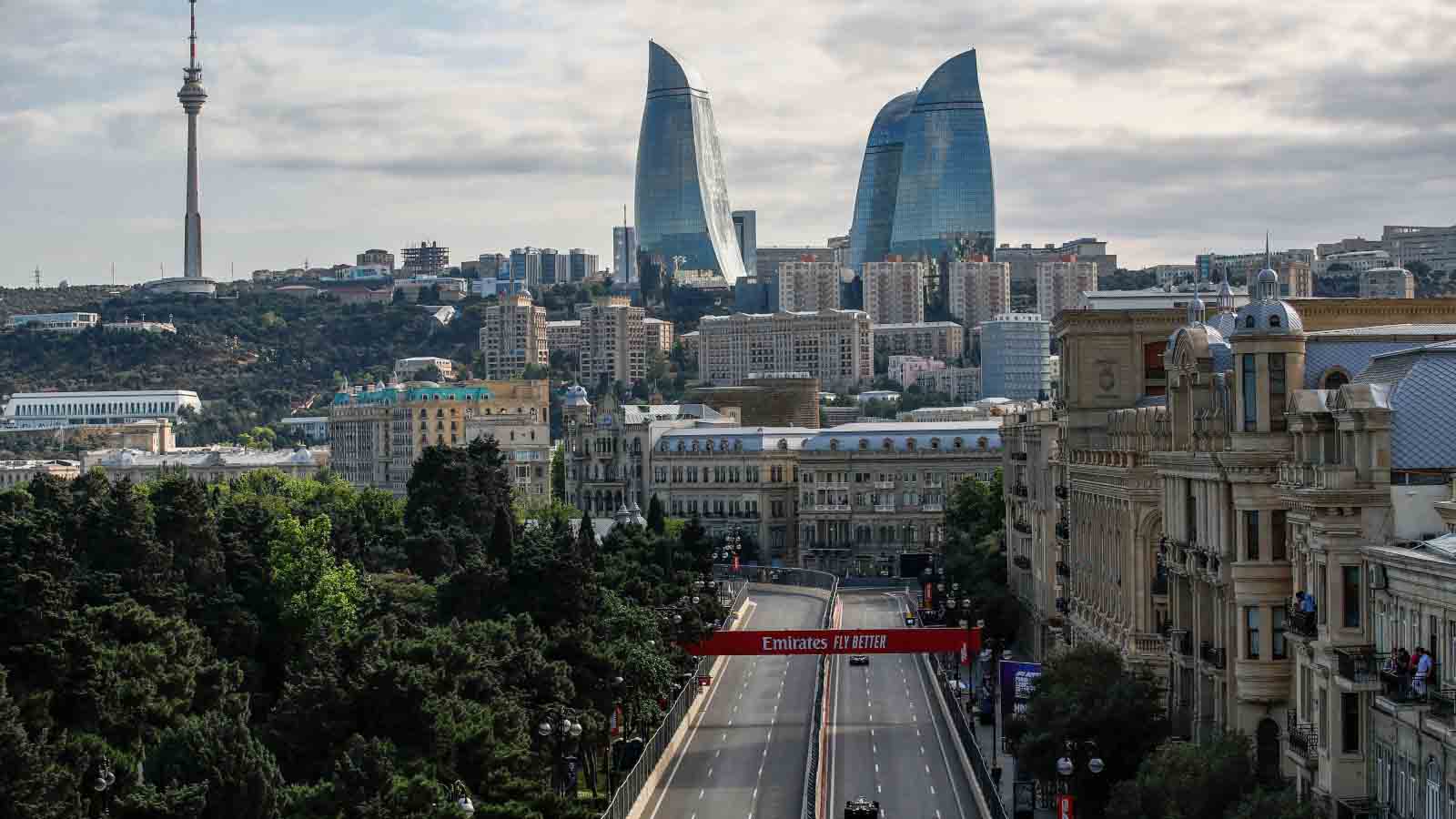 The Azerbaijan Grand Prix has become a popular addition to the Formula 1 calendar and the sport is now heading back to Baku.
Last year's race turned into one with an enthralling ending, after Lance Stroll and Max Verstappen were thankfully able to walk away unscathed from suffering separate tyre blowouts at around 200mph on the long pits straight.
A standing restart came after a red-flag period with Sergio Perez ahead of Lewis Hamilton. Hamilton looked to get the jump on Perez at Turn 1 but accidentally flicked his 'brake magic' button, which sent him straight on into the run-off area and out of the points.
Perez took home his first win for Red Bull and headed an unlikely podium that also featured Sebastian Vettel and Pierre Gasly – and this is part of the reason why Baku became an instant hit when it joined Formula 1 in 2016.
Where overtaking around Monaco last time out was almost impossible, Baku has plenty of ways to make progress.
The title picture is finely poised, with Perez now within 15 points of Verstappen at the top of the standings with last year's Azerbaijan pole-sitter Charles Leclerc wedged in between.
Here is everything you need to know ahead of the 2022 Azerbaijan Grand Prix…
When is the 2022 Azerbaijan Grand Prix?
Friday 10 June
Free practice 1: 3pm-4pm [12noon-1pm UK]
Free practice 2: 6pm-7pm [3pm-4pm UK]
Saturday 11 June
Free practice 3: 3pm-4pm [12noon-1pm UK]
Qualifying: 6pm [3pm UK]
Sunday 12 June
Race: 3pm [12noon UK]
Where does the 2022 Azerbaijan Grand Prix take place?
The Baku City Circuit is the third longest layout on the calendar after Spa and Jeddah, and became an instant hit with a variety of challenges for the drivers as well as ample opportunities to overtake.
The 6.003km track takes in some of the main sights of Azerbaijan's capital city, with a 2.2km start/finish straight that sees cars record Monza-level top speeds as they fly towards the line.
Comprising 20 turns, Baku combines long straights with an extremely technical middle sector, with the section of Turns 8, 9 and 10 seeing the cars thread the needle and make a short spurt past the Baku Fortress Wall – the narrowest part of any track on the Formula 1 calendar – and plenty of drivers have been caught out there in the past.
The final sector is all about power, with a clean exit at the left-hander of Turn 16 absolutely crucial to carrying a high top speed down the main straight as it is full throttle through the final four corners to the line.
Turns 1 and 3 are the prime overtaking spots, at the end of long straights and both DRS zones.
The pole-sitter has only won two of the five races around Baku, which means qualifying is not completely essential – but DRS is extremely powerful.
Where can I watch the 2022 Azerbaijan Grand Prix?
UK pay-TV broadcaster Sky Sports will show the entire race weekend on its dedicated Sky Sports F1 channel. You can also access a live stream of the coverage via Now TV for a one-off fee.
Free-to-air broadcaster Channel 4 will show extended highlights from qualifying and the race.
F1 TV Pro viewers can watch all the live action from Baku. Please check to see if F1 TV Pro is available in your country.
Subscribers to F1's own app can hear radio commentary on the race proper from BBC Radio 5 Live and access live data throughout every session.
PlanetF1 will carry live timing and expert commentary on every session of the race weekend, from FP1 on Friday morning to the race on Sunday afternoon.
The Azerbaijan Grand Prix will be shown live on TV on the following outlets in other key markets:
United States: ESPN
Canada: RDS (French), TSN (English)
Australia: Fox Sports
France: Canal+
Italy: Sky Sport F1
Germany: Sky Sport F1
Spain: DAZN
Netherlands: Viaplay
Brazil: Band
Japan: DAZN F1
What are the odds for the 2022 Azerbaijan Grand Prix?
Perez took victory in Monaco last time out and was the winner in Azerbaijan last season, but Verstappen and Leclerc are still shortest-priced for race victory.
Here are the leading odds from Planet Sport Bet:
11/8 Charles Leclerc (Ferrari)
6/4 Max Verstappen (Red Bull)
11/4 Sergio Perez (Red Bull)
16/1 Carlos Sainz (Ferrari)
50/1 George Russell (Mercedes)
(Correct after qualifying)
What is the weather forecast for the 2022 Azerbaijan Grand Prix?
Friday 10 June: 25°c, partly sunny
Saturday 11 June: 26°c, partly sunny
Sunday 12 June: 25°c, sunny
What is the grid for the Azerbaijan Grand Prix?
1 Charles Leclerc Ferrari
2 Sergio Perez Red Bull
3 Max Verstappen Red Bull
4 Carlos Sainz Ferrari
5 George Russell Mercedes
6 Pierre Gasly AlphaTauri
7 Lewis Hamilton Mercedes
8 Yuki Tsunoda AlphaTauri
9 Sebastian Vettel Aston Martin
10 Fernando Alonso Alpine
11 Lando Norris McLaren
12 Esteban Ocon Alpine
13 Daniel Ricciardo McLaren
14 Guanyu Zhou Alfa Romeo Racing
15 Valtteri Bottas Alfa Romeo Racing
16 Kevin Magnussen Haas
17 Alex Albon Williams
18 Nicholas Latifi Williams
19 Lance Stroll Aston Martin
20 Mick Schumacher Haas
Directions to the Azerbaijan Grand Prix
Azerbaijan Airlines fly from several major European airports into Baku's Heydar Aliyev International Airport and is your best bet to make it to the capital. For those airports which do not offer direct flights to Azerbaijan, many have good connecting flight options such as Qatar Airways via Doha.
Once at the airport, the best way to make the 15-mile journey (approx.) into the city centre is via car. Baku has plenty of Ubers available, while official taxis should cost little more than 25 AZN which comes to around £11.
If you are driving into Baku, there are no official designated parking areas at the track, although there are some nearby such as the White Boulevard Area, 28 Mall Park Parking Zone and in the Winter Boulevard.
Travel cards can be purchased for use of both the Metro and Bakubus bus services. The 'BakiKART' effectively works in the same way as a London Oyster card, with the option to pre-load the card or there are top-up points at each station.
Frequent buses also tend to run during the race weekend, usually with longer-than-usual service hours to accommodate for Formula 1 spectators. The main buses to note are #5, #65 and #53.
The same can be said for the local Metro, with Icheri Sheher, 28 May and Sahil stations all viable options.
Which drivers have won the Azerbaijan Grand Prix?
Red Bull and Mercedes have been the only teams to win around Azerbaijan in the past but there has yet to be a repeat winner around the track, which could be set to continue at the weekend.
Can Ferrari get themselves on the top step? Can Verstappen take his first Baku win? We will not have to wait too much longer to find out.
Here is a list of every winner around the Baku City Circuit:
2021 – Sergio Perez (Red Bull)
2019 – Valtteri Bottas (Mercedes)
2018 – Lewis Hamilton (Mercedes)
2017 – Daniel Ricciardo (Red Bull)
2016 – Nico Rosberg (Mercedes, raced as the European Grand Prix)
Tyre choices for the 2022 Azerbaijan Grand Prix
Despite there having been two high-speed tyre blowouts last season, Pirelli have opted to bring their three softest compounds to Azerbaijan once again – the C3 (hard), C4 (medium) and C5 (soft).
Pirelli motorsport boss Mario Isola reasoned: "The demands of this city track are still relatively low, as none of the corners take a huge amount of energy out of the tyres due to the low levels of abrasion and contained lateral loads – which means that we can have the same nomination as Monaco."
What are the latest F1 Championship standings?
Drivers' Championship
Max Verstappen – 125 points
Charles Leclerc – 116 points
Sergio Perez – 110 points
George Russell – 84 points
Carlos Sainz – 83 points
Constructors' Championship
Red Bull – 235 points
Ferrari – 199 points
Mercedes – 134 points
McLaren – 59 points