Conclusions from the Azerbaijan Grand Prix
Red Bull made it 3-3 with Mercedes in race victories this year, but not with the car they were expecting to do so in Baku.
Here are our conclusions from a pulsating Azerbaijan Grand Prix in which everything turned on an extraordinary last five laps.
Hamilton should be happier with 0-0 draw
Today was a humbling experience. We worked so hard to put ourselves back in the top 10 today after a rocky week here in Baku. We gave it our all today and a small error caused the brakes to switch off. Sorry to the team, we'll come back stronger for the next race 🙏🏾 pic.twitter.com/oHy75S07L3

— Lewis Hamilton (@LewisHamilton) June 6, 2021
It's not easy to know where to start, but let's look at the big picture first. In the Drivers' World Championship, Baku ended as a 0-0 draw between Max Verstappen and Lewis Hamilton – although with five laps to go, that would have been unthinkable.
As Verstappen booted the left rear tyre of his Red Bull following the crash that cost him a certain 25 points plus one for fastest lap, his mood was lower than a snake's belly (a phrase Mercedes had used about themselves after the Monaco Grand Prix two weeks earlier).
But while undergoing medical checks as the red-flagged race was restarting, suddenly a 'ping' on the Dutchman's phone told him he had not fallen significantly behind Hamilton in the standings after all – the Mercedes had gone off track at Turn 1 on the penultimate lap, dropping to 15th position with nowhere near enough distance left to get back into the top 10.
So, which of the duo will be happier that the totals are unchanged and Verstappen heads to round seven of the campaign in France still four points ahead?
Apart from in those minutes that elapsed between seeing his rival crash and his own foray up the escape road at Turn 1 straight after the restart, we are tempted to say Hamilton.
Red Bull were ahead of Mercedes throughout the weekend, other than Q1, Q3 and the first 12 laps of the race, and until his crash Verstappen looked very much like going 15 points clear.
The reigning World Champion then threw away a golden chance to turn the tables 21 points in his favour – had he beaten Sergio Perez to the win, that is. But on balance, putting his own mistake to one side, Hamilton ought to feel the greater relief, especially as Mercedes are more likely than Red Bull to be suited by the return to conventional circuits in France.
On the Constructors' side, it is a different matter. Red Bull are now 26 points clear thanks to Perez's victory and they would unquestionably have taken that when they arrived in Baku.
Check all the latest 2021 teamwear via the official Formula 1 store
Perez is the postman once more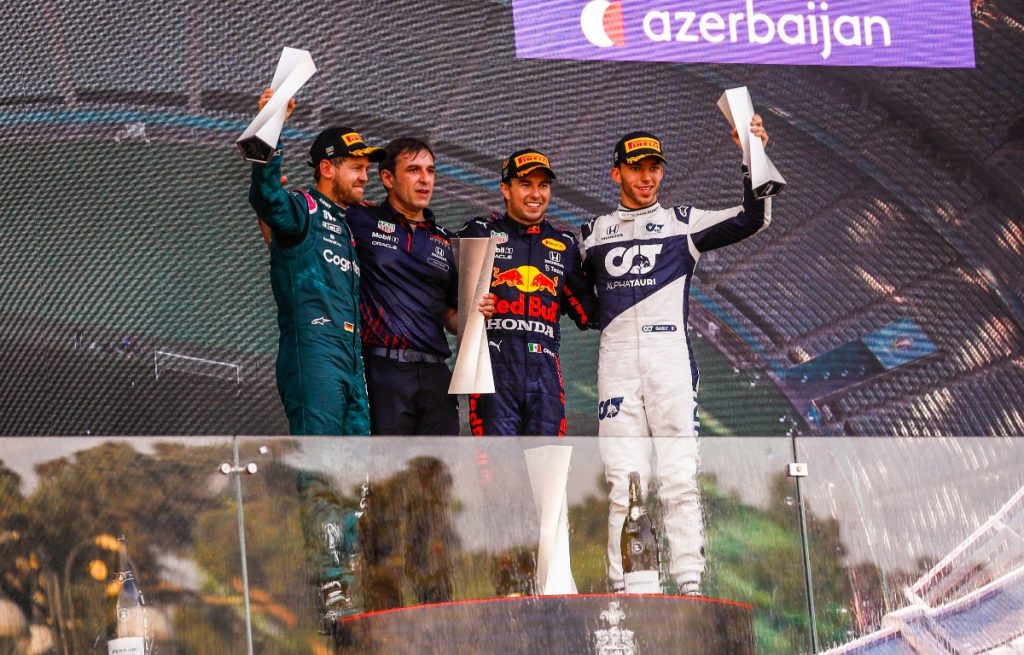 Even had he not ensured his team were still able to end the day celebrating, Perez had already done exactly what Red Bull wanted when they signed him up just before Christmas.
It's evidently all coming together now for Checo after a tricky start to the season – despite another ordinary qualifying performance – as running third, then second, then out in front after Verstappen's accident was just what the Doctor (Helmut Marko) ordered.
The timing was ideal too for the Mexican. Midsummer is the time when teams start to think seriously about their following year's line-up and with Perez only on a one-year deal, standing on the top step of the podium helps him to form a compelling case for a renewal.
At Racing Point, the 31-year-old acquired the nickname of The Postman because he always delivered.
It looked like the mailbag might have gone missing for a time with Red Bull, but there is no question Perez is now playing an important role in that sizeable Constructors' World Championship lead – the fact he has 69 points to Valtteri Bottas' 47 speaks volumes.
…and what of Bottas?
This sport. 💔 pic.twitter.com/s0zaj0GhqD

— Mercedes-AMG PETRONAS F1 Team (@MercedesAMGF1) June 6, 2021
Well, as Perez's place with Red Bull potentially becomes more secure, the opposite could be true of the beleaguered Finn at Mercedes.
It's becoming difficult to over-estimate just what a pickle Bottas is in after a weekend which began with having to fulfil his media obligations via video call from a Finnish airport due to a flight delay, before completing none of the seven timed sessions in a placing higher than P9.
It could be construed from some of his recent comments that the 31-year-old may be resigned to his fate at Mercedes, with no talks yet having taken place about a contract for 2022 and Bottas saying he is "quite open-minded" and "you never know what's around the corner".
He had problems with his W12 all weekend and before the red flag, was being chased down by his potential replacement George Russell in the Williams – not for the first time this year.
Three times out of six this season, Bottas has failed to score points. The last time he did that, he was still a Williams driver.
You have to wonder whether in 2022, he will be again.
The old Vettel is back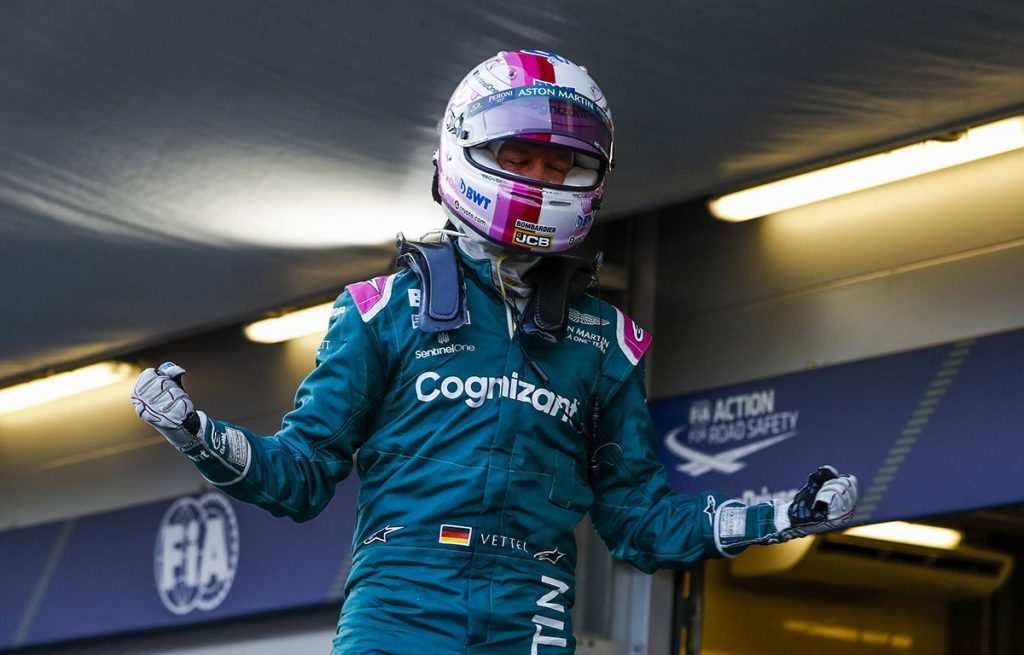 …and isn't that great to see? There was palpable excitement about Seb when he was interviewed after the race following his second consecutive Driver of the Day performance.
At the restart, it looked like being a potential repeat of last year's Turkish Grand Prix podium – Hamilton, Perez, Vettel – but that was kiboshed when the World Champion went straight on into the escape road instead of turning left.
No such mistakes from the Aston Martin driver though, who was "over the moon" as he improved nine places on his grid position.
We are not the only ones to have questioned this season whether Vettel has still got it, but after drives like this one and at Monaco last time out he clearly still has.
It was a day when Aston Martin got their strategy spot-on – it was also working out nicely for Lance Stroll until he crashed through no fault of his own. But you also need a driver who can execute that strategy, and Vettel most certainly did.
Who else deserves a mention?
what. a. THRILLER! 🤯

well deserved, team! enjoy this one 👊 pic.twitter.com/yiN6qwjxxm

— Scuderia AlphaTauri (@AlphaTauriF1) June 6, 2021
Pierre Gasly, of course. A third podium for the Frenchman, who would now have the full set of gold, silver and bronze if F1 was the Olympics.
Remarkably, the AlphaTauri driver had looked a contender for pole position at one stage on Saturday. We can only imagine how that would have gone down at Red Bull.
Fernando Alonso: P6 was his best finish yet for Alpine on a circuit he seems to enjoy.
The Spaniard has already said he will be starting a "new championship" for himself in France next time out as he expects to make a step up there – could a podium could be on the cards for another veteran former World Champion before long?
Yuki Tsunoda: It was not the clean weekend the Japanese rookie so badly needed because he crashed in qualifying, although his highest F1 grid slot had already been secured by then.
But still, a P7 race finish gave more evidence of why he is so highly regarded and his recent move to Italy to work more closely with AlphaTauri may prove to be a very smart one.
Follow us on Twitter @Planet_F1 and like our Facebook page