Plenty to play for as F1 heads to the Middle East
Both titles may be wrapped up, but there's still plenty to decide elsewhere as the 2020 season finally leaves Europe and heads to Bahrain.
With Mercedes winning the Constructors' Championship at the Emilia Romagna Grand Prix, Lewis Hamilton secured the German team's seventh straight double by joining Michael Schumacher on seven Drivers' titles last time out in Turkey.
The Brit did so in style, too, overcoming the huge challenge posed by a treacherous Istanbul Park to take a vintage win, crossing the line nearly half a minute clear of the closest driver.
At one point, victory looked near impossible for him as he was the length of a pit-stop away from the lead, but he changed that with consistent pace and excellent tyre management.
He also lapped team-mate Valtteri Bottas in the process, with the Finn enduring one of the worst races of his career. He spun a total of six times and finished way down in P14, allowing Hamilton to end the 2020 title fight, if you can call it a fight, with ease.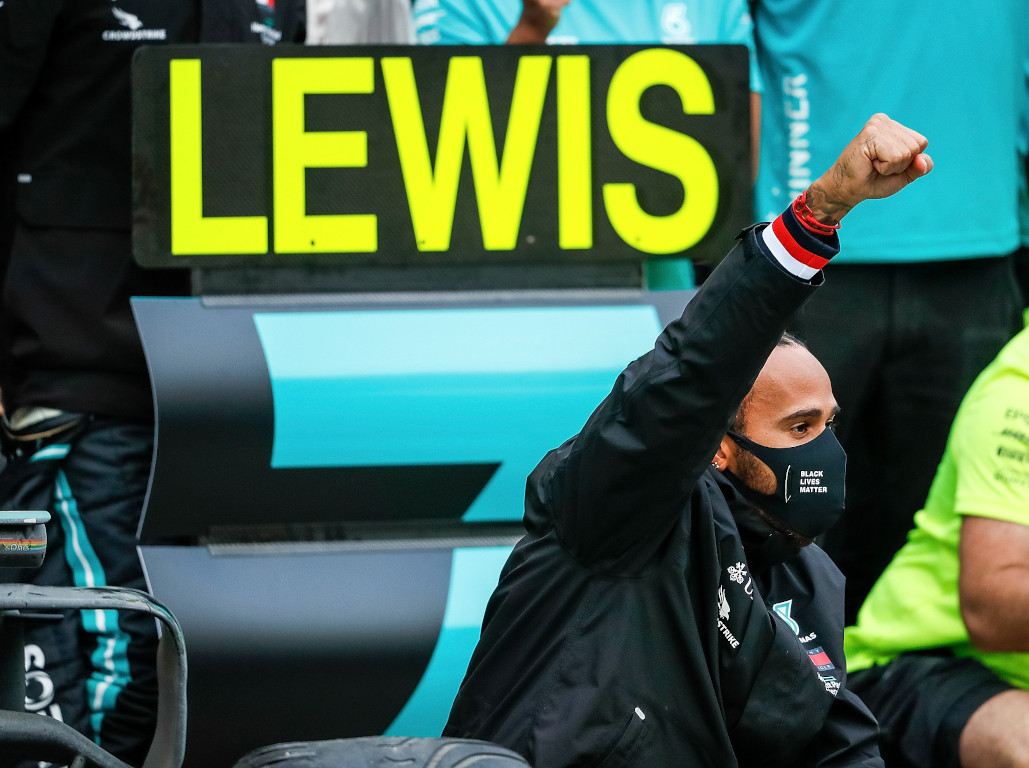 Nevertheless, there's still a huge amount at stake at the first race of the campaign's Middle Eastern finale, the Bahrain Grand Prix. Specifically, P4 in the Drivers' Championship, P3 in the Constructors' Championship and, for some, a seat on the grid next season.
Alex Albon is arguably more in need of a strong performance than anyone at race number 15 of the year. In Turkey, he was briefly in with a chance of taking his first win, running in P3 behind the Racing Points, but such a chance quickly disappeared as he went spinning.
He ultimately finished in P7, just behind Max Verstappen, who ended up facing the wrong way a few times himself, but given he's in no man's land in P3 in the championship, won't be losing too much sleep over it, unlike his team-mate.
The Thai driver cannot afford to make any more mistakes if he wants to stay at Red Bull next season, especially considering how a man in contention to replace him is doing.
Many want Sergio Perez to replace Albon, and the Mexican made his strongest claim for the seat yet in Istanbul, finishing in P2. As if so often the case with him, his ability to manage tyre wear was the main reason for the excellent result as he, like Hamilton, managed to make a one-stop strategy work.
Such a result was enough to put him up to P4 in the standings, 30 points clear of Albon, despite the fact he has missed two races. If he wasn't on Red Bull's radar before to the race, he almost certainly is now. Another equally strong showing may well be enough to convince them to make him an offer – one that he needs if he wants to stay on the grid in 2021.
For much of the last race weekend, Checo was being overshadowed by his team-mate. Lance Stroll took pole position with a stunning lap in wet conditions and followed it up with an excellent start to the race that saw him lead comfortably for 30 or so laps.
However, a front-wing issue caused him to have high tyre wear and ruined his chances of victory, causing him to plummet down to P9 after his second pit-stop. The Canadian will feel like he deserved to beat Perez in Turkey, and will be keen to do so in Bahrain and show that his ability, rather than his dad, is the reason he is being kept over the Mexican next season.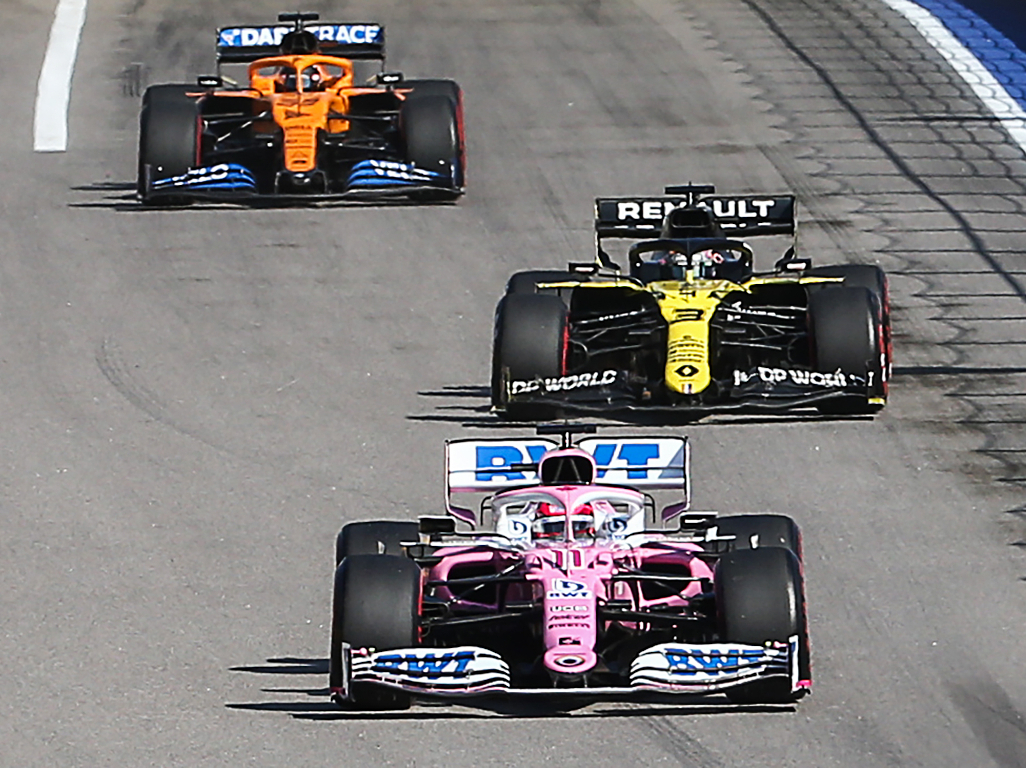 Both Perez and Stroll will have to play the team game in Bahrain, given how tight the fight for P3 in the Constructors' Championship is. The 'Pink Panthers' currently occupy that spot, but McLaren is just five points behind.
It looked as if the gap was going to be much larger after the race in Turkey when Racing Point qualified P1 and P3 for it, while the McLarens started way back in P15 and P16.
However, both Carlos Sainz and Lando Norris recovered excellently on race day to finish in P5 and P8 respectively and keep their team well in the mix for the final top-three spot in the standings.
It was a spot that Renault held just a few weeks ago, but the French team is now in P5, 18 points away. This is due to just one point being scored at Istanbul Park, courtesy of Daniel Ricciardo.
With the Aussie just four points off P4 in the Drivers' Championship, he'll be keen to move both him and his team up in the standings and ensure that he leaves on a high note. It's a big ask, but given how good he has been on his day in 2020, don't put it past him.
A bit more help from his team-mate will be needed, though. Esteban Ocon has scored just 40 of the team's 136 points this season and has rarely been the better of the two. That was arguably the case last time out as, even after being hit twice on lap 1, he finished just behind Ricciardo. If he drives as well in Bahrain, he could take his best result of the year.
WHAT.A.RACE. 🏆 #Seb5 P3 and #Charles16 P4
You guys did an amazing job ❤️
#TurkishGP 🇹🇷 #essereFerrari 🔴 pic.twitter.com/qeuJUvq8W5

— Scuderia Ferrari (@ScuderiaFerrari) November 15, 2020
The fight for P3 has become something of a four-horse race again thanks to a rare excellent result for Ferrari at the last race, as the Italian team scored a much-needed 27 points.
Equally as rare was the fact that Sebastian Vettel led Charles Leclerc home. After being quicker than his team-mate for much of the weekend, it looked as if he would finish behind him once again, but he capitalised on a last-lap lock-up to get past and take his first podium of the season.
Bahrain was the place where, last year, Leclerc dominated Vettel and effectively became the team leader. If the German can reverse that this time around, it will do him and his reputation the world of good.
Leclerc, meanwhile, will be desperate to make amends for the late mistake in Turkey that cost him P2 in the race and P4 in the standings. He was livid with himself afterwards, and will be even more spurred on by the fact that a mechanical issue robbed him of victory last time he drove in Bahrain. He may lack the car, but he won't lack the motivation.
Of all the garages in the paddock, the AlphaTauri one is arguably where there is the least to play for in the final three races. The team is all but certain to finish the season in P6 while, barring a miracle, neither driver can climb up a huge amount of places.
That being said, Pierre Gasly will have Albon firmly in his sights. He is currently just seven points behind the Red Bull man and would no doubt find it immensely satisfying to end the season above him. As for Kvyat, he'll just want to end his season, and most likely his F1 career as a whole, on a high.
Both will be optimistic of achieving their respective goals given how strong their car has looked in recent races, with the exception of the last one. Regardless, they won't have to worry about looking over their shoulder, as there remains a sizeable gap to the bottom three teams.
Alfa Romeo, Haas and Williams are effectively in a championship of their own. The Italian team currently leads it with eight points and looks to have the fastest car, but Kimi Raikkonen and co can't afford to get complacent.
Haas is just five points behind with two highly motivated drivers. The next three races are more than likely to be the last in F1 for Romain Grosjean and Kevin Magnussen, and they'll both have a point to prove to their team and the world. Don't expect too much in the way of caution or team play from either.
Williams has yet to score a point this year, but could still leapfrog the American-owned team. The British outfit's best chance of doing so is surely George Russell, who has enjoyed another largely impressive season, but, as is stands, another point-less one.
He's getting ever closer to the record of most races without scoring a point, and would love to get that monkey off his back and end all chances of breaking it before the end of the year.
Follow us on Twitter @Planet_F1 and like our Facebook page.