Romain Grosjean incredibly walked away from one of the most horrifying F1 crashes in decades at Sakhir as Lewis Hamilton claimed his 11th win this season.
Here are our conclusions from a Bahrain Grand Prix that began in heart-stopping fashion and ended behind the Safety Car.
Grosjean's escape simply a miracle
LIGHTS OUT!!!

⚫️⚫️⚫️⚫️⚫️
⚫️⚫️⚫️⚫️⚫️

And almost immediately there's a 🚩Red Flag 🚩 as there's an incident at the back of the field at Turn 3 #BahrainGP 🇧🇭 #F1 pic.twitter.com/J2ERQZzFwk

— Formula 1 (@F1) November 29, 2020
It's alarming enough to see a Formula 1 car crash at high speed but when it then bursts into flames, that's a different kind of terrifying altogether.
The couple of minutes between seeing fire erupt from where Romain Grosjean's car crashed to the confirmation that he was out of the Haas and seemingly okay were just dreadful, leading to inevitable fears of the absolute worst-case scenario.
But when the Frenchman was pictured, obviously stunned but apparently otherwise largely unscathed, alongside chief medical officer Dr Ian Roberts and medical car driver Alan van der Merwe who played heroic roles in arriving at the scene so quickly, it represented an overwhelming triumph for the safety measures the sport has implemented.
It was the late Niki Lauda who said in 2017 that back when he was racing: "We were always alone, basically, because we didn't want our wife to come to the races and bring us home in a coffin – thank God Formula One got much safer that this problem is reduced to nothing and I think it's good for the sport."
After Grosjean's horror crash, no longer can it be claimed the problem is 'reduced to nothing'.
The 34-year-old was so well cocooned in the cockpit that he was able to survive the accident as relatively unharmed as he was, and much of the credit for that must go to the Halo system that took the impact with the barrier rather than the driver.
Grosjean survives horrific fiery first-lap crash in Bahrain

Full story 👉 https://t.co/VLlqCQNUV9
#bahraingp #f1 #grosjean #haas pic.twitter.com/8ZzP7Gp2rM

— Motorsport Week (@MotorsportWeek) November 29, 2020
The titanium Halo was unpopular with drivers when it was introduced by the FIA from 2018, with some claiming the sport had "gone too far with safety".
One of them said before it was brought in: "I've never liked it and I still don't like it. Personally I think it was a sad day for Formula One when it came out.
"But the research that has been done by the FIA is really strong research, really strong thinking behind it. We leave it 100% to the FIA and that's why we accepted the Halo coming in."
The driver who said that? Romain Grosjean.
It was Lewis Hamilton who took the chequered flag, under the Safety Car that came out after third-placed Sergio Perez's engine blew, but the seven-time World Champion was not the biggest winner in Bahrain.
That was the Halo, and while Grosjean looks set to bow out of Formula 1 without having stood on the top step of the podium, he will nevertheless consider himself one of the sport's most fortunate drivers to have emerged with only minor injuries from such a horrific incident.
McLaren step up when it matters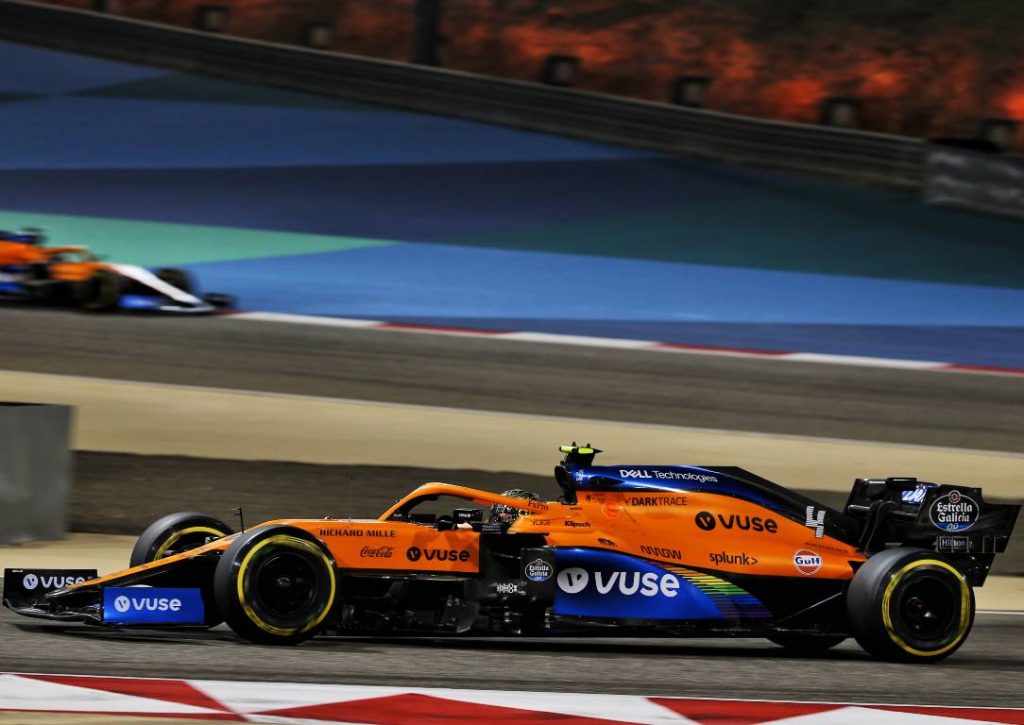 The chase for the 'bronze medal' in the constructors' World Championship seems to swing a different way each race and this time it was McLaren who thrived.
Once the chaotic opening exchanges, second time around, had settled down, Lando Norris and Carlos Sainz drove strong races and were comfortably quicker than Daniel Ricciardo and Esteban Ocon from one of their main rivals, Renault.
As a result, after finishing P4 and P5, McLaren have moved 17 points ahead of Racing Point, who suffered a double retirement with Perez's late exit from a likely second consecutive podium following that of Lance Stroll when he turned upside down after an early collision with Daniil Kvyat.
This was exactly what McLaren needed. After a fine start to the campaign, they had looked to be slipping behind Racing Point and Renault in terms of competitiveness but they are now well on course to finish 'best of the rest' behind Mercedes and Red Bull.
A key for the Woking-based manufacturer has been the equal contribution from both of their drivers, who are as closely matched over the campaign, both in races and qualifying, as it is possible to be.
With the arrival next year of the Mercedes engine and Daniel Ricciardo as a more-than-adequate replacement for Ferrari-bound Sainz, the future of F1 may not be orange but it does look pretty bright for McLaren.
Renault rivalling themselves
LAP 39/57 @RenaultF1Team ⚔️ @RenaultF1Team #BahrainGP 🇧🇭 #F1 pic.twitter.com/TDcvcIpN7k

— Formula 1 (@F1) November 29, 2020
The problem for Renault was that their drivers found themselves racing each other rather than their opponents.
Esteban Ocon was told to make way by the team for Daniel Ricciardo, who was faster – and knew it – just as he has been for the whole season.
The Australian also had to get past his colleague a second time after Ocon had undercut him, but the only good news was that the Renault duo did not run into each other and came home in P7 and P9 after Valtteri Bottas ended up in between them.
You suspect next week's different configuration of the Bahrain International Circuit, which is more of a square with much fewer braking zones, will suit Renault better. But there is no question this was a setback for the French manufacturer on a day when Racing Point had offered a big helping hand.
Honours even in quest for Red Bull seat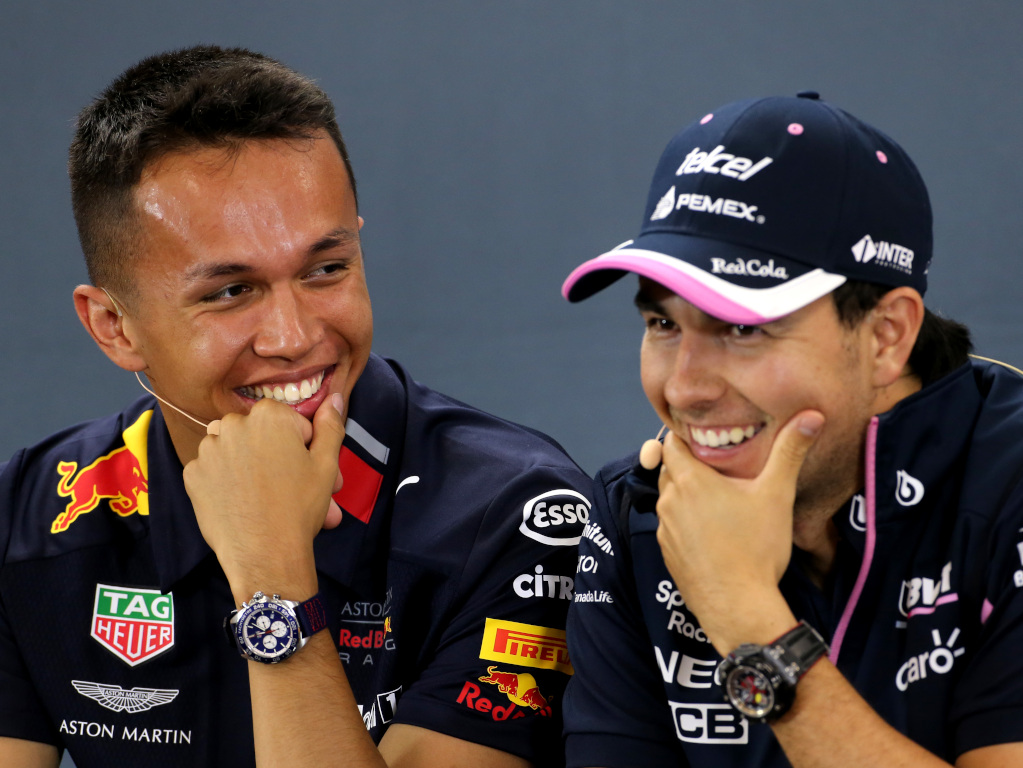 We have written plenty all season about Alex Albon's future but if Red Bull have, as some reports have claimed, decided to stick with him for next year, he repaid that thinking with his second podium finish.
A crash in FP2 had appeared another bad omen for the 24-year-old and he was behind Perez in P4 when the Racing Point's engine let go, but ultimately third position was the best Albon could have walked away with and that's exactly what he did.
But there must still have been a few worries for Albon when he saw Perez, the perceived rival for his seat, running ahead of him and, once more, the Mexican showed just how far up the ranking of current drivers he is – and yet one who still does not have a drive for next season.
That's starting to look unlikely to change, with Perez himself now even talking about possibly taking a year off, and it would be a pity if he was not on the grid in 2021.
Compared to what Grosjean experienced though, and the fate he narrowly avoided, sitting out a year of action may not seem quite so unpalatable after all.
Jon Wilde
Follow us on Twitter @Planet_F1, like our Facebook page and join us on Instagram!