The Bahrain Grand Prix served as a stark reminder of the sheer bravery and brilliance of Formula 1 drivers.
Romain Grosjean's Lap 1 crash was the biggest and most terrifying the sport has seen in a long time, and the fact that he pulled himself out of his fiery wreck is nothing short of incredible.
So too is the fact that afterwards, the other 19 drivers had the guts to get back out there. They all deserve to be applauded for that alone, and what's more, some still managed to excel.
And @LewisHamilton WINS in Bahrain!! What a drive from the 7x Champ! 👊#BahrainGP pic.twitter.com/o1XUVtWuo8

— Mercedes-AMG PETRONAS F1 Team (@MercedesAMGF1) November 29, 2020
Lewis Hamilton: After securing title number seven in Turkey, Hamilton would have been forgiven for letting his level drop in the final three races. Unfortunately for the rest of the grid, he didn't. After cruising to pole position, there was never a moment on race day where he didn't look like converting it into a win.
Admittedly, his team-mate's troubles did make life easier for him, but even if Valtteri Bottas didn't get a puncture, it's hard to imagine that the Finn would have been able to challenge Hamilton for the victory.
He got away perfectly at the start, and did so again at the restart, comfortably holding onto P1. Once the race finally got underway, he pulled away from Max Verstappen and balanced pace and tyre management as well as always for 50 laps to seal a dominant win.
There's not too much else to say. It wasn't his most eventful race, nor his most spectacular drive, but that doesn't make it any less impressive, especially considering the high tyre degradation. Yes, he has the best car, but in it, he didn't put a foot wrong from start to finish. There's really no reason to take any marks away from him. 10
Max Verstappen: Much of what was said about Hamilton's race applies to Verstappen's performance too. It was a lonely race for the Dutchman, due largely to a near-perfect drive.
He got away well at the start to pass Bottas, and from that point onwards, he had no trouble whatsoever from those behind him, being comfortably quicker than everyone except Hamilton.
In a slower car than the Mercedes man, the only way the Dutchman would have taken the lead would have been to get the jump on him at one of two restarts, and his one regret from the race will be that he couldn't. He also would have arguably been better served looking after his tyres more rather than pushing so hard at the start of each stint.
Ultimately though, there's next to nothing more he could have done to fight for the win. Watching him drive so well, you can't help but wish he and Hamilton had equal machinery. Then, we'd have a real fight on our hands. 9
Alex Albon: Once again, Albon was nowhere near his team-mate throughout the race weekend, but it was certainly a step in the right direction for him, and came at a time when he desperately needed to make one.
After qualifying in P4, the chance to claim podium number two was presented to him when Bottas dropped down the order early on. With Sergio Perez just ahead of him and Helmut Marko watching on, it was hard not to see this as a straight fight not just for P3, but also perhaps for the 2021 Red Bull seat.
For the vast majority of the race, it was a fight that he was losing, as even in a quicker car, he just couldn't get close enough to the Mexican. On the bright side, he was doing enough to stay well ahead of the rest of the midfield, and not making any mistakes, which too often hasn't been the case for him in 2020.
He was rewarded in the closing stages when Perez's engine failed, putting him out of the race and bumping Albon up to P3. The Thai driver shouldn't have needed such luck to get the better of Checo, but it was undoubtedly a stronger drive than most he's put in this season. 7.5
Lando Norris: With his team-mate starting further back, Norris headed into the race carrying his team's hopes of taking P3 in the Constructors' Championship on his shoulders, and he handled it excellently.
Of the entire grid, Norris made arguably the best start, immediately rocketing up to P7. He then did the same again at the restart, moving into the top five. Once there, he never came close to dropping back out.
It was a somewhat lonely race in the end, with the only battles coming when he rejoined in traffic after pitting. This is by no means a bad thing though, but rather a result of his superiority over the rest of the midfield drivers bar Perez.
After he crossed the line, he had moved his team up to P3 in the standings and got back ahead of his team-mate in the Drivers' Championship. All in all, not a bad day's work. 10
What a team effort! 🧡🏁@LandoNorris finishes the #BahrainGP in P4 with @Carlossainz55 in P5, bringing home 22 points for the team. 👏🤝 pic.twitter.com/F66kchItFW

— McLaren (@McLarenF1) November 29, 2020
Carlos Sainz: Norris did by no means single-handedly take McLaren above Racing Point though, as Sainz fought his way through the field to join his team-mate in the top five.
It was initially hard to see him doing so as, starting down in P15, he didn't make a great start, only gaining two places. However, he was given a second chance at the standing restart, and took it, moving up to P8.
He then pulled off a flawless move on future team-mate Charles Leclerc and engaged the Renault drivers in a crucial battle. It looked like one he wouldn't win when Daniel Ricciardo pulled off the undercut to get ahead of him, but Sainz put his foot down and got past both the Aussie and Esteban Ocon.
He crossed the line 10 places up on where he started and, of all the drivers, pulled off the best moves of the day. You've got yourselves a good one, Ferrari. 10 
Pierre Gasly: When you think of the best driver on the grid when it comes to managing tyres, Lewis Hamilton and Sergio Perez probably jump out, but in Bahrain, that title went to Gasly, as he managed to make his hards last 32 laps, and finished in P6 as a result.
With a few faster cars starting behind him, he would've started the race aiming to finish in the top 10, and remained on course to achieve said aim throughout his first stint. During his second though, his team risked going for more and gave him the huge task of making it to the end of the race.
While he probably would have lost a few more places if not for the late Safety Car, the fact that he kept his tyres alive at all is impressive, and the performance added another string to his already impressive bow. 9
Daniel Ricciardo: Ricciardo probably won't be too happy with how his race went. A poor restart put him on the back foot, while a late Safety Car robbed him the chance of getting back into the top six. Nevertheless, it was a decent recovery drive.
His initial start was decent, but his second was nothing short of terrible as some overly ambitious attempted moves saw him drop down to the edge of the points. After that though, he got his head down and quickly began to make up places.
There was little he could do to hold off Sainz, but he had enough pace for Renault to issue team orders in his favour, and when he came out behind his team-mate again after pitting, he made quick work of getting ahead again.
He almost certainly would have taken P6 from Gasly if not for the late Safety Car, but given his poor few laps early on, will be blaming himself just as much as a lack of luck. 7
Valtteri Bottas: To be fair to Bottas, he had some rotten luck in Bahrain, picking up a puncture early on that all but ruined his race, but he didn't exactly cover himself in glory with how he recovered from it.
Said puncture dropped him down to the back of the order, but in such a dominant car and with DRS available, he was expected to quickly comfortably make his way back to the front. He didn't.
Instead, he spent far too long stuck behind those in slower machinery, failing to prove that he can indeed be an aggressive and effective overtaker when he needs to be.
He ended the race comfortably back in the points thanks to making a set of hard tyres last a good while, but even with some bad luck, he could and arguably should have done better. 5
Esteban Ocon: For a brief moment early on in the race, it looked like the Ocon of 2018 that established himself as one of the biggest talents around was back. Unfortunately for him, it didn't last.
The opening stages were excellent for the Frenchman as he got ahead of his team-mate and fought off Charles Leclerc with some flawless defensive driving. Once things settled down though, it quickly became clear that, once again, he was the slower of the two Renaults.
He was wise to obey team orders and let Ricciardo through, and really should have done so again when he ended up ahead of the Aussie after they had both pitted.
He briefly showed promise, but the fact that he ended up being so comfortably beaten by his team-mate after being handed a decent headstart really isn't good. 6
Charles Leclerc: Taking home a point is a decent result giving the poor pace of the Ferrari on race day, but it certainly wasn't one of Leclerc's better races of the season.
He enraged his team-mate at the start, squeezing the German and causing him to drop back, but was doing well himself, running as high as P7.
There's little he could do as he was constantly passed by those behind, and he was wise not to defend too hard and risk making contact with someone.
All in all, he didn't do too much wrong throughout the race. However, while he was in a poor car, he's certainly performed better in it this year, and ruining your team-mate's race is never good. 6
Daniil Kvyat: Kvayt will just be glad that the race is over after he was at the centre of both Grosjean and Lance Stroll's crashes.
There was nothing he could about in the first one as the Haas car pulled out in front of him, but he should have been more cautious in the second, with his attempted move on the Racing Point being perhaps too ambitious. That earned him a 10-second penalty and two points on his license, and ended his chances of finishing in the top 10.
He probably won't care much though, and will just be happy that, while he was completely blameless, he wasn't the cause of a more serious crash for Grosjean. 6
George Russell: Finishing just outside the points is becoming a regular occurrence for Russell, and one he's no doubt tired of, but as if often the case, there's not much more he could have done.
He made the worst start of anyone, dropping back down to rock-bottom, but made up for it at the restart, gaining six places. He then defended the position well, holding off Vettel, and even pulled off some rare overtakes.
A top-10 finish was always going to be near-impossible given the pace of the car, but he can be happy with his effort nonetheless. 7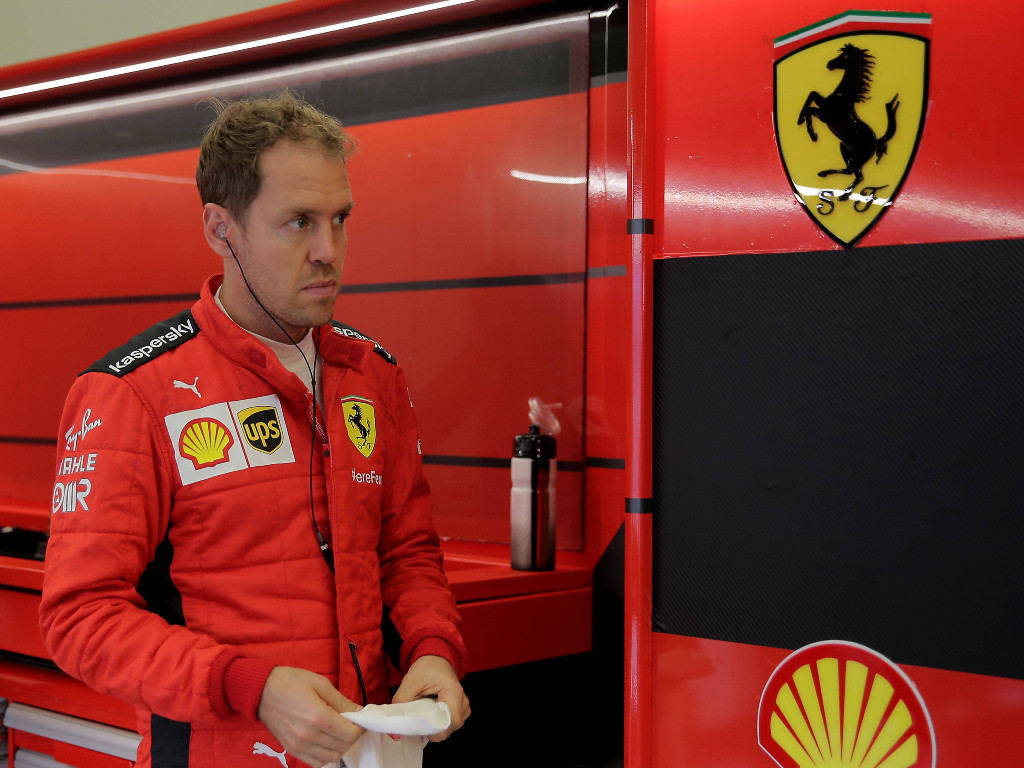 Sebastian Vettel: After finishing ahead of Leclerc on both Saturday and Sunday in Turkey, and out-qualifying him again in Bahrain, things finally looked like they were heading in the right direction for Vettel, but not for long.
His initial start was good as he moved up into P10, but things quickly went wrong, thanks, in his eyes, to his team-mate. Regardless, in a car he called "undriveable", he couldn't fight his way back up to the top-1o after dropping down the order.
Even in poor machinery, he really should have at least found a way past the Williams ahead of him, but it wouldn't have made a difference to his race anyway. Don't worry Seb, only two more races. 5
Nicholas Latifi: Once again, Latifi put in a poor qualifying performance in comparison to Russell, but once again, he was much better on race day.
Finishing six places up on where you started is always good, but even more so when you're in such a slow car. He did admittedly gain a few places from others retiring but earned it with a strong start and a mistake-free drive after that.
He'll be disappointed that he couldn't keep up with Russell, and certainly needs to improve his raw pace, but it was one of many solid Sunday performances he's put in in his rookie year. 7
Kimi Raikkonen: Luck wasn't on Kimi's side as he picked up damage at both the start and the restart, making an already difficult task of fighting for points near-impossible.
He did display some solid defensive driving, keeping the Mercedes of Bottas behind him for far longer than expected, but couldn't do much more. 6
Antonio Giovinazzi: Despite finishing behind his team-mate, Giovinazzi actually looked to be the stronger of the two for most of the weekend and can be largely happy with the pace he displayed.
After making an excellent start in which he gained a few places, he did the opposite at the restart and dropped back down. Nevertheless, he ended up back ahead of Raikkonen and would have finished there if not for the baffling call to pit him under the final SC. 6.5
Kevin Magnussen: Magnussen finished last of all those running and was slowest for most of the race, but that's the car's fault more than his own, and he and his team deserve credit for regrouping and completing the race at all given what happened to the man on the other side of the garage. 6
Did not finish
Sergio Perez: What a cruel sport F1 can be. Perez should have made it two podiums in a row, but instead ended the weekend with zero points to his name.
His drive was nothing short of perfect. After moving up to P3 at the start, he had enough to pace to keep Albon at bay and even pulled away from the Red Bull man at some points.
He was running comfortably in P3 when his engine gave way and ended his race. Before that, he was arguably the most impressive driver of the day. We've said it before and we'll say it again: someone give that man a seat. 10
Lance Stroll: Stroll has had his fair share of bad luck in 2020, and had more in Bahrain as he was flipped upside down by Kvyat. Given not one lap of racing had been completed at that point, there's really no driving to rate. N/A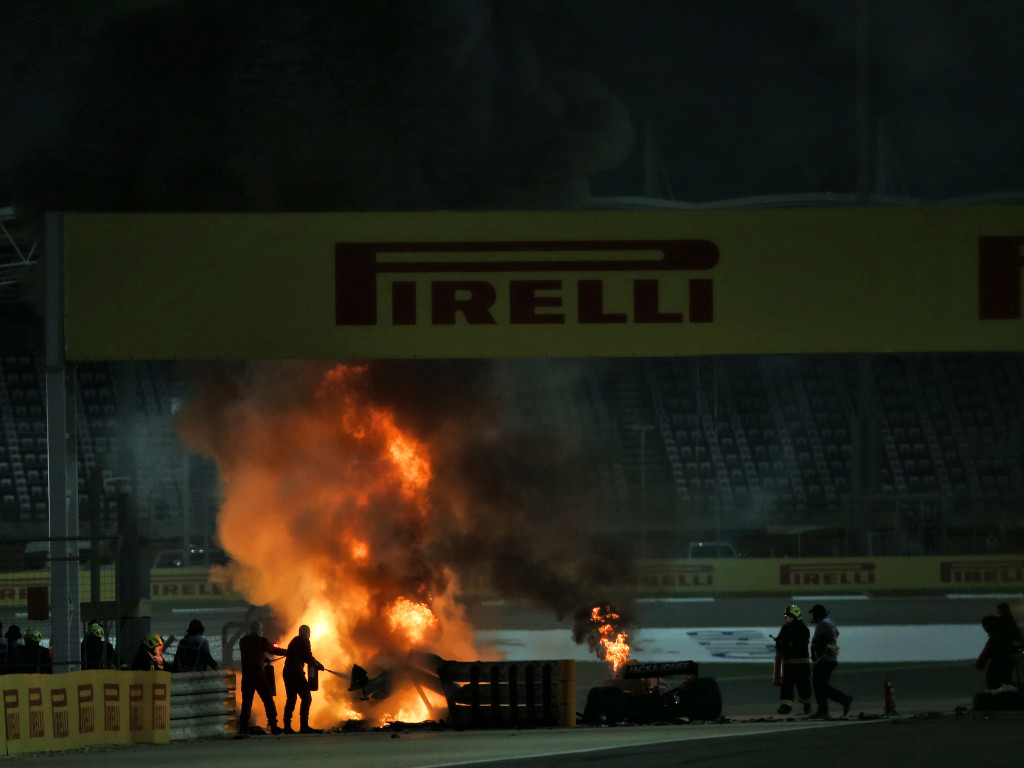 Romain Grosjean: Given he retired even sooner than Stroll, logic would dictate that we don't give Grosjean a rating either, but we're going to make an exception because what he did after crashing was nothing short of a miracle.
It's incredible that he remained conscious after the initial impact of the crash. It's even more incredible that, after crashing through a metal barrier and spending half a minute engulfed in flames, he was able to free himself from half a car, climb out and walk away.
His survival is a testament to the safety of modern-day cars, the bravery of the staff that got to him so quickly and to the man himself. Fair play, Romain, you're one tough b*stard. Nobody would blame you if you called it a day early. 10
Finley Crebolder
Follow us on Twitter @Planet_F1 and like our Facebook page.