Top 10: Formula 1's greatest driver rivalries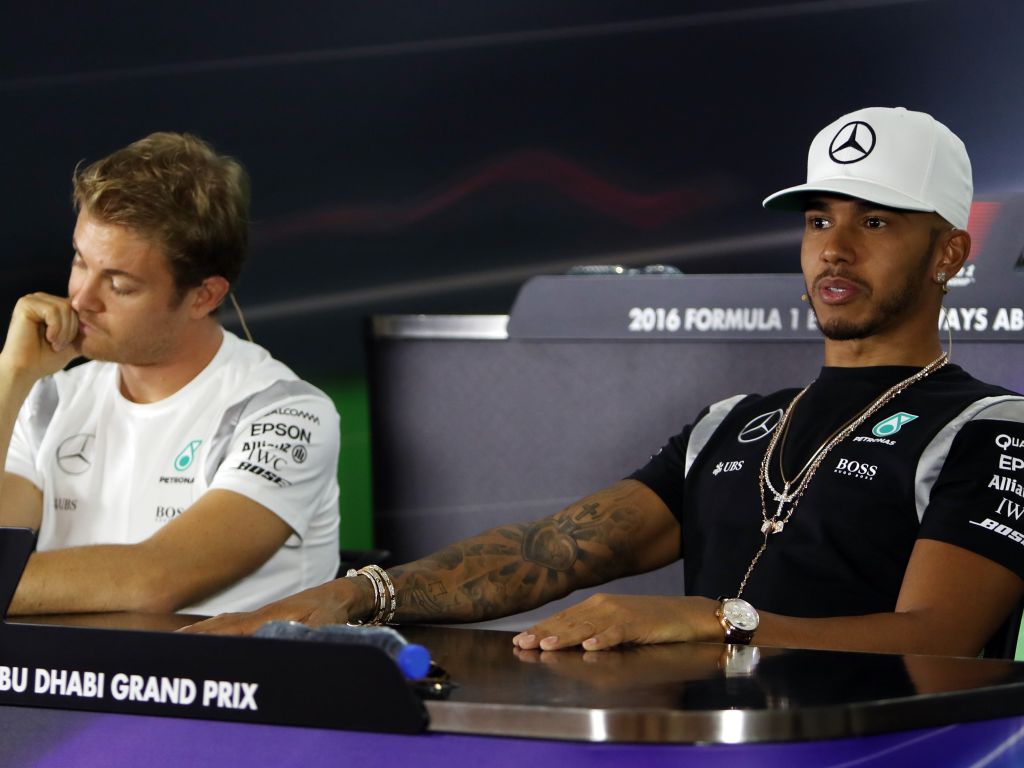 Formula 1 would be nothing without true competition. Over the years, we have seen driver rivalries that have defined the sport.
Whether it be team bosses tearing their hair out over feuding team-mates, elite drivers fighting for the title, or even a healthy rivalry built on respect, Formula 1 has seen it all.
So, here are PlanetF1's top ten driver rivalries.
10. Sebastian Vettel vs Fernando Alonso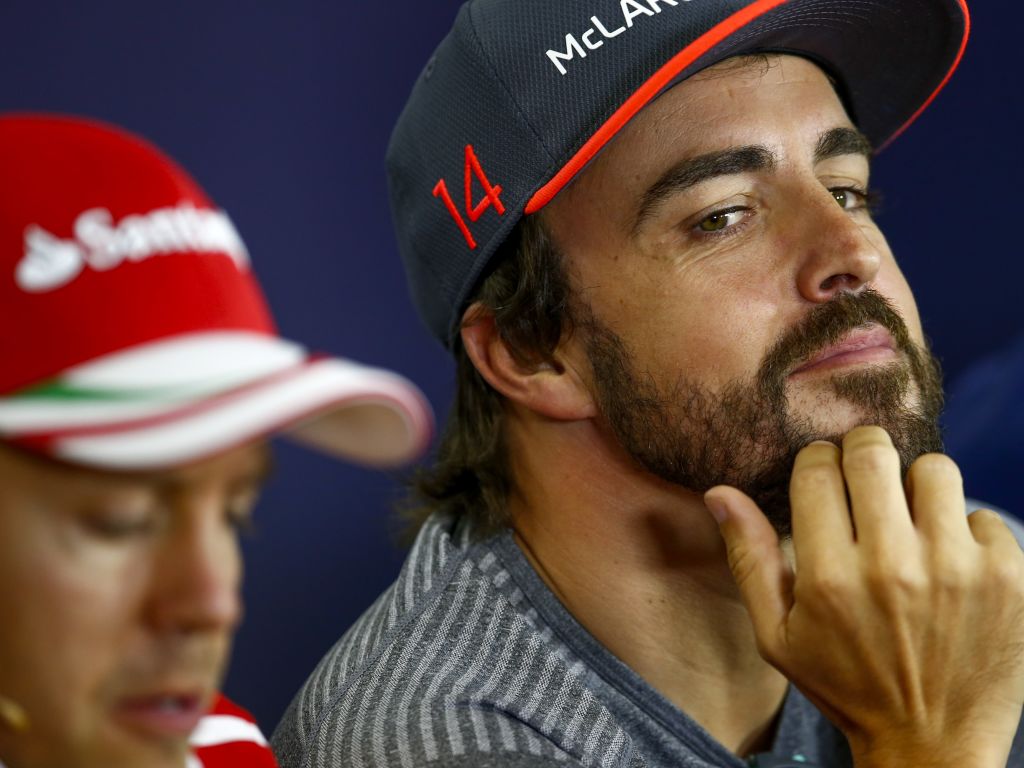 A Formula 1 rivarly not dominated by on-track clashes, but instead the context of their achievements. Basically, Vettel achieved what Alonso had targeted for himself.
After making the move to Ferrari ahead of the 2010 season, Alonso was looking to finally build on the two World Championships he had won in 2005 and 2006, but 2010 marked the start of Red Bull's dominance with Vettel.
Try as he might, Alonso just didn't have the machinery to compete with Vettel from 2010-13. His best chance came and went at the 2010 Abu Dhabi Grand Prix, not that Vitaly Petrov feels any sympathy for holding Alonso up and costing him a shot at the 2010 crown.
Alonso would come extremely close again in 2012, and even post-2013 when neither driver has enjoyed a car that could end the dominance of Mercedes, the times where Vettel and Alonso have battled on-track has always carried a special feel.
Even though Alonso says different, Vettel said in a media session at the 2019 Hungarian Grand Prix that he got feeling that the Spaniard never really liked him.
9. Alain Prost vs Nigel Mansell
Mansell was one of Britain's greatest racing talents, but his prickly nature meant that he rarely got on with his team-mates.
Take Prost for example. Off the back of three World Championships with McLaren, the Frenchman switched to Ferrari for 1990.
Although Mansell was the last driver to be picked personally by Enzo Ferrari before his death, the fact that Prost spoke fluent Italian meant he settled into the team very nicely indeed.
Mansell recalls an incident at the 1990 British Grand Prix where the car he was driving did not handle the same as it had done in the previous race. After confronting the mechanics, it turned out that their cars had been swapped without telling Mansell because Prost felt his team-mate had the better car.
After retiring from the race, Mansell announced he would retire from Formula 1 altogether at the end of the season. It was only when Frank Williams stepped in that he stuck around. The deal Mansell signed with Williams guarenteed him No.1 status after he had become No.2 to Prost at Ferrari.
Mansell claimed his one and only World Championship in 1992 but, after learning that Prost would be his team-mate at Williams for 1993, he retired from F1 for good this time.
8. Michael Schumacher vs Mika Hakkinen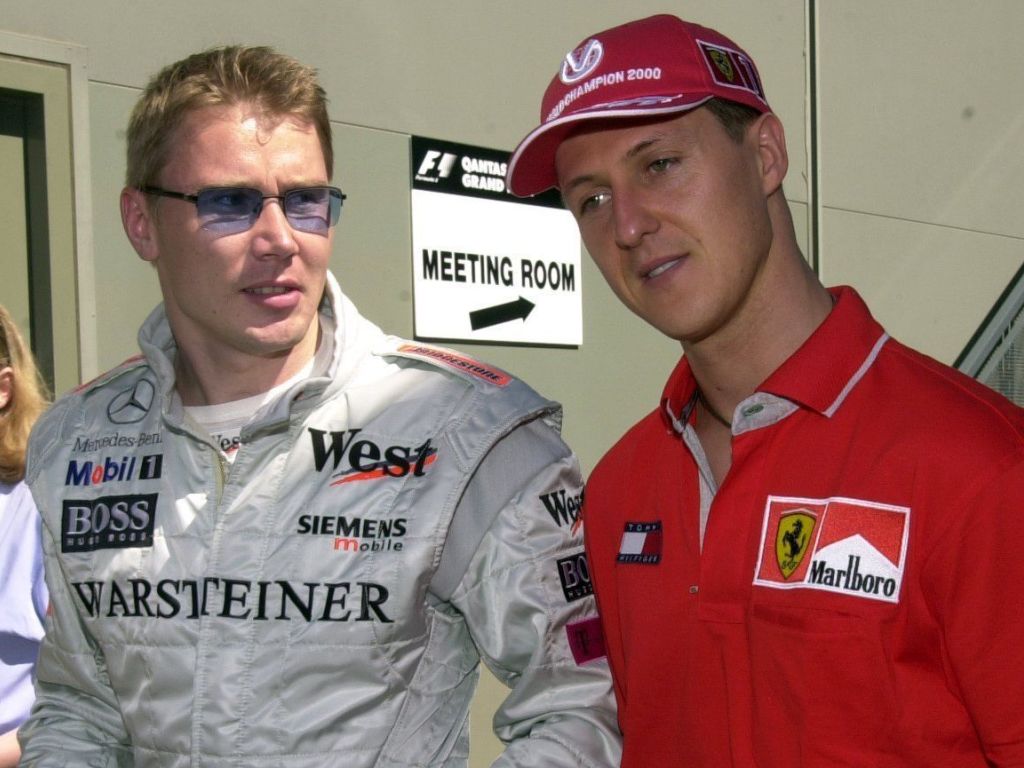 Hakkinen and McLaren rose to the top of Formula 1 in 1998, the time when Schumacher was really starting to drag Ferrari back to title contender status.
The 1998 title went Hakkinen's way by 14 points, while the broken leg which Schumacher suffered at Silverstone cost him any chance of mounting another challenge in 1999.
The year 2000 marked the start of Schumacher's dominance though with Ferrari, a run of five straight Drivers' and Constructors' Championships. Hakkinen's best shot came and went in 2000.
It was always a rivalry built on respect though between the pair – Schumacher has admitted that he took great pleasure from racing against Hakkinen.
Perhaps this respect was most strongly evidenced at the 2000 Belgian Grand Prix when Schumacher listened intently to Hakkinen's complaints over a rather forceful defensive move.
7. Nelson Piquet vs Nigel Mansell
Another Mansell rivalry – and unsurprisingly it revolved around who was No.1 at Williams.
Piquet joined the team in 1986 as a two-time World Champion, so of course he thought that status should go to him.
Of course that was the wrong answer for Mansell. He would prove very much a match for Piquet on the track, and the Brazilian responded by refusing to share technical data with his team-mate.
Alain Prost would claim the 1986 title, while the tension between Mansell and Piquet only continued to grow the following season, causing Piquet to walk away from Williams at the end of 1987.
6. Alan Jones vs Carlos Reutemann
Oh how the tide can turn. It was all peachy for this duo at Williams for a time. Jones won the 1980 Drivers' Championship, while Williams took the Constructors' title that year too by 54 points.
1981 started well enough but, in Brazil, Reutemann started the breakdown when he refused to yield to Jones as Williams had ordered.
Playing the team game wasn't their thing and that allowed Nelson Piquet to take the 1981 title by one point.
Jones retired at the end of that season, and to Reutemann's suggestion that they should bury the hatchet, he replied with "yeah, in your f*cking back mate".
5. Damon Hill vs Michael Schumacher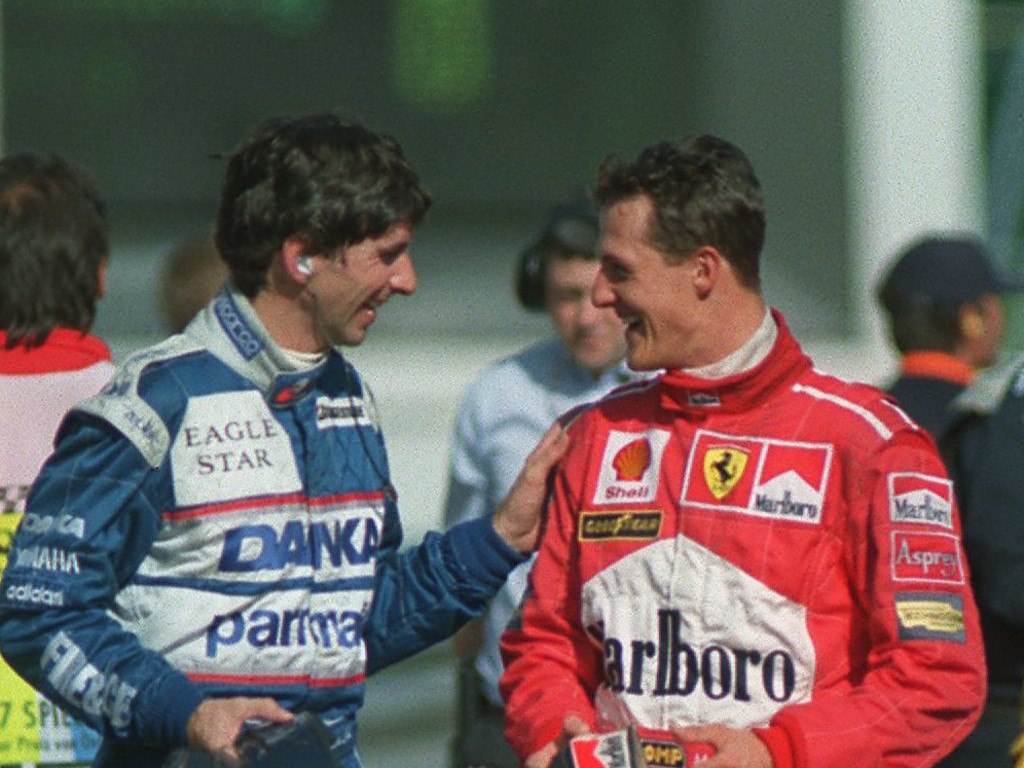 1994 was a season fueled by emotion – Ayrton Senna's death at Imola meant that Damon Hill was left to chase an unlikely first World Championship.
The Williams driver was well in the fight – his rival was Michael Schumacher, who himself was targeting a first title.
The pair battled all the way to the last race of the season in Adelaide, where Schumacher clipped the wall before hitting Hill as he attempted to overtake.
Both drivers failed to finish, giving Schumacher his first of seven titles by a point. Hill said in a 2020 interview that he would never have tried to pass Schumacher if he'd have known that the German's Benetton was damaged.
The following season Schumacher and Hill finished P1 and P2 again, this time though the margin was 33 points in Schumacher's favour. The season didn't pass, though, without collisions at Silverstone and Monza.
4. James Hunt vs Niki Lauda
How could this rivalry over the 1976 title possibly not be included? After all, it inspired the Hollywood bigwigs to bring us the film 'Rush'.
Hunt, Formula 1's resident playboy, was stripped of his win at Silverstone for driving on an access road to return to the pits, with the victory handed to Lauda, before Lauda suffered life-threatening burns in an accident at the Nurburgring.
Incredibly Lauda was away for only two races and returned at the Italian Grand Prix.
Sadly the Austrian racer would withdraw from the final race of the season in Fuji due to safety fears with the conditions hazadous, allowing Hunt to take the title by one point.
It was a thrilling story of the partyboy Hunt versus the racing machine Lauda – no wonder 'Rush' was a box office success.
3. Sebastian Vettel vs Mark Webber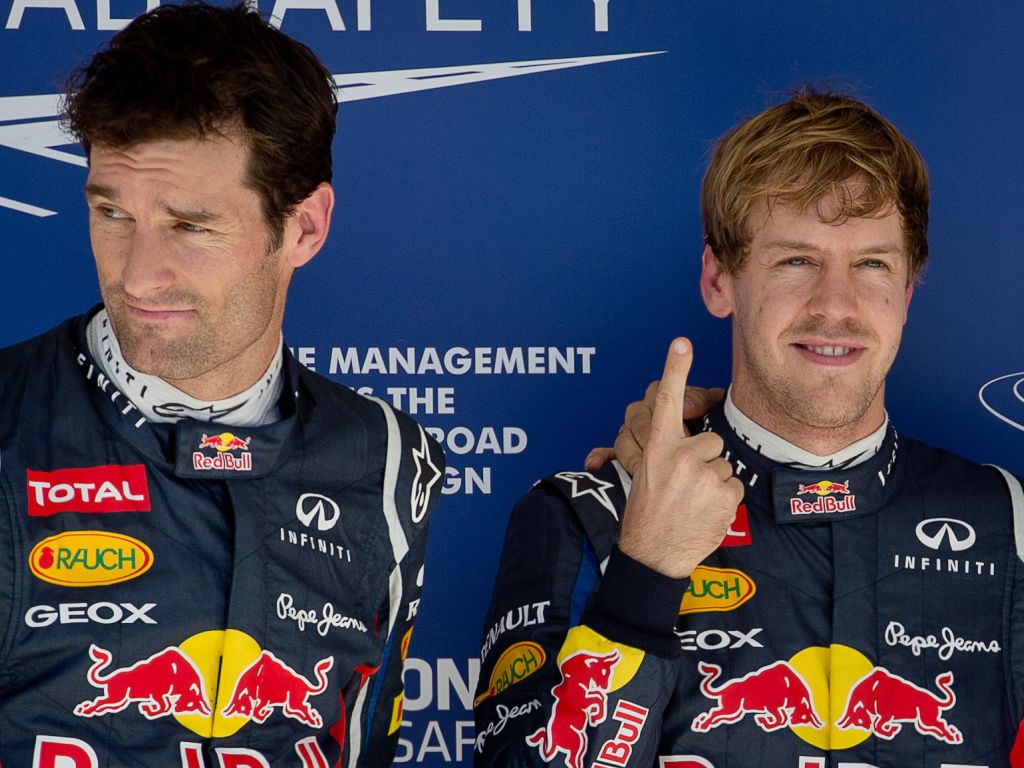 Now to a modern-day rivalry…and this one had plenty of fire beneath it.
It was from 2010 when Red Bull's domination of Formula 1 began, lasting for four years with Vettel taking all four Drivers' Championships on offer, while Red Bull achieved the same success in the Constructors' Championship.
Although not official, Webber was the clear No.2 to Red Bull's star academy graduate, but this was a relationship which was pushed time and time again before it eventually imploded.
The first major meltdown arrived in Turkey after the pair crashed while fighting for the lead, an incident which cost the team a comfortable one-two finish – the media were on Webber's side, but Red Bull unsurprisingly defended their future World Champion.
From there Webber did very little to protect his team-mate. "Not bad for a No. 2 driver" the Aussie said after winning at Silverstone, despite Vettel receiving a newer front wing, while the German driver was unhappy with Webber's limited efforts to help his challenge for the title at the 2012 Brazilian Grand Prix.
And of course the 'Multi-21' controversy at the 2013 Malaysian GP where Vettel blatantly ignored team orders to forcefully pass Webber for the win, finished this already broken partnership for good.
Webber would walk away from Formula 1  at the end of the 2013 season, but the two are at least on speaking terms and can have a laugh about it all when the Aussie is on media duties.
2. Lewis Hamilton vs Nico Rosberg
Another story of two top drivers finding themselves in a car totally dominant over the rest.
Rosberg had been at Mercedes from the start since they returned in 2010, scoring their first win back in Formula 1 at the 2012 Chinese Grand Prix.
Hamilton arrived in 2013, and come the following year, the Silver Arrows' dominance arrived with the start of the turbo-hybrid era.
They were very good friends in the early years of their careers, but this faded away thanks to several major incidents. The duo collided in the 2014 Belgian Grand Prix, an incident that Hamilton put full blame on Rosberg for.
The following year Rosberg would throw back the podium cap that Hamilton handed to him in Austin after Hamilton had secured the 2015 Drivers' Championship.
And in 2016 the pair would come to blows in Spain and Austria, before Hamilton deliberately held Rosberg up at the 2016 season-finale in Abu Dhabi in an attempt to allow those behind to overtake the German and save his championship.
That didn't happen and Rosberg would retire as champion soon after.
1. Ayrton Senna vs Alain Prost
Now for the undisputed, greatest rivalry in the history of Formula 1.
The war between Senna and Prost at McLaren was a story of two legends fighting it out for the top prize, and there was space for only one.
At the 1989 Japanese Grand Prix Senna would dive down the inside of Prost, taking him out of the race but handing him the title with Senna disqualified because of his path back to the track – his car was pushed through the road around the chicane.
A year later, with Prost now at Ferrari, the pair would collide again at Suzuka, this time meaning Senna became World Champion. Prost would brand him a "man without value", and a year later, Senna admitted that the move was premeditated, in retaliation for the collision in the previous year.
Prost was even escorted by police to the Interlagos circuit for the 1993 Brazilian Grand Prix due to the hostility of Brazilians towards him.
This famous story did end on a good note though. On the podium in Adelaide in 1993, Prost's last race, he and Senna embraced when the Brazilian pulled his rival up on to the top step of the podium. Nobody was more surprised than Prost…at the previous race Senna had declined a handshake.
Follow us on Twitter @Planet_F1 and like our Facebook page.