Fernando Alonso and Kevin Magnussen take shots at each other, as do Renault and Red Bull (again). Sebastian Vettel provides Radio Message of the Year.
It's the second part of our best bits from the 2018 season…
German Grand Prix
Fernando Alonso and Kevin Magnussen continued their little war of words in Germany, with K-Mag opening the proceedings on this occasion…
K-Mag: "Alonso does complain a lot on the radio. Even great athletes like Neymar, they exaggerate a bit."
Cue a mad dash to Photoshop…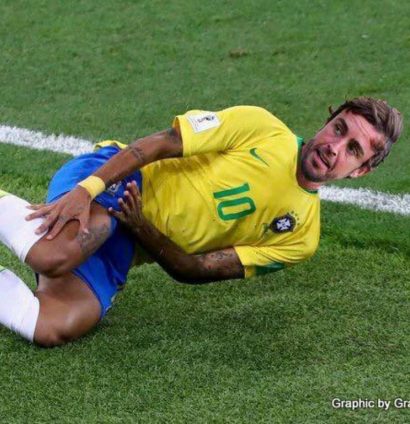 Alonso was not going to let that go without one of his legendary sarcastic responses. He duly obliged…
Alonso: "I am two-times World Champion and he's trying to get some points so I can't answer everyone's comments."
Meanwhile, Lewis Hamilton channeled all of us at a party when we don't really know anyone who is there…
Hungarian Grand Prix
Sebastian Vettel looked very proud of himself catching a fly in the post-race press conference, before showing off his good work to Lewis Hamilton.
🎥 | Sebastian Vettel catching a fly during the post race press conference, and then proudly showing it off to Lewis Hamilton 😂😄 #HungarianGP 🇭🇺 #Seb5 pic.twitter.com/3pTcsr5Tk2

— Sebastian Vettel #5 (@sebvettelnews) July 29, 2018
And Sky Sports played with fire when heading into a beer tent full of drunk Dutch and Finnish fans. The results were inevitable…
Belgian Grand Prix
Ahh, remember the whole Fernando Alonso and Red Bull saga? That was good fun, wasn't it?
Alonso said Red Bull had approached him six times over the course of his career, including twice in 2018. Red Bull say it was just once a decade ago…
It was all very petty, but we did get two zingers courtesy of Dr Helmut Marko and Christian Horner…
Marko: "Maybe it was a mechanic or one of our engineers who is a fan of him."
Horner: "I'm not quite sure, maybe Franz [Tost, Toro Rosso team principal] has made him an offer…"
We were also treated to a wonderful reconstruction of how a race weekend usually played out for Kimi Raikkonen.
Italian Grand Prix
Alonso and Magnussen were at each other's throats again…
Alonso: "There are drivers on lots of different levels… and then there are the Haas drivers."
Magnussen: "I can't wait for Alonso to retire, he thinks he's a god."
And someone put the Formula 1 intro music together with Theresa May's robotic dancing. All was right with the world.
Theresa May has just heard the new #F1 intro music for the first time… 😂😂 pic.twitter.com/wMvolvJXzq

— Paul McGinnes (@PaulMcG92) August 28, 2018
Singapore Grand Prix
Ferrari didn't take defeat too well in Singapore. If only they didn't pick a strategy that completely ruined Sebastian Vettel's chances of winning…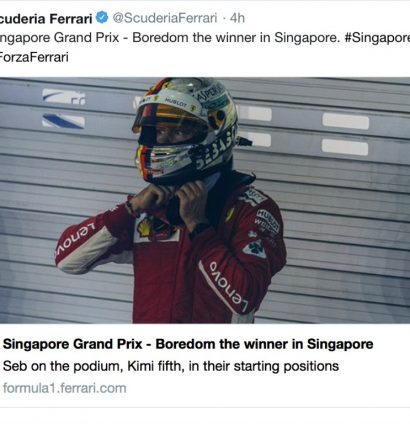 And this gif would prove to sum up the 2018 season very accurately indeed.
You've all seen *that* Hamilton-Vettel action from Monza…

But have you seen this alternate angle? 😉 #F1 pic.twitter.com/x3blDxYa1V

— Formula 1 (@F1) September 13, 2018
Russian Grand Prix
Round 397 of Red Bull v Renault got underway with Cyril Abiteboul and Max Verstappen continuing the fight.
Cyril Abiteboul: We have a very demanding user in the person of Max. Not very quiet, also. I think he should focus on the car.
Max Verstappen: Well if he focused as much on his own team than bothering me all the time they'd have been world champion already.
Boom.
But any coolness points accumulated by Verstappen here were immediately taken off by this unfortunate event.
He's 21 on Sunday, and @Max33Verstappen's voice has finally decided to break 😉#RussianGP 🇷🇺 #F1 pic.twitter.com/02DJksFgWj

— Formula 1 (@F1) September 29, 2018
Japanese Grand Prix
Japan gave us the wonderful release of Kimi Raikkonen's little book of Haikus.
Kimi's book of Haiku is the greatest thing I've ever seen pic.twitter.com/8X1gl3TkjN

— Will Buxton (@wbuxtonofficial) October 4, 2018
And our personal favourite…
The Kimi book of Haiku. Incredible. pic.twitter.com/35Jmak49QO

— Phillip Horton (@PHortonF1) October 4, 2018
And all the juicy details from Force India's administration came to light. They owed money to absolutely everybody. And we mean everybody.
Also, I don't know what 'Hire A Princess' is or why an #F1 team would need it but Force India owed them £175… pic.twitter.com/goBF17mtjS

— Formula Money (@FormulaMoney) October 4, 2018
United States Grand Prix
KIMI RAIKKONEN WON A RACE!
Which led to, let's say…a very creative Haiku.
Kimi. Legend. pic.twitter.com/N1MZ3TfJGe

— Giedo van der Garde (@GvanderGarde) October 21, 2018
And the clauses in Lando Norris' 2019 contract with McLaren became clearer as he was unveiled as Fernando Alonso's tea boy.
Mexican Grand Prix
In Mexico, Raikkonen took part in a very entertaining game of 'Yes/No' with Ziggo Sport. He seemed to be much happier once it was announced that he was heading away from Ferrari and back to Sauber.
But it was also clear that Kimi had been passing on his powers to those around him…
Long question, short answer… Kimi, that you? 😂#MexicoGP 🇲🇽 #F1 pic.twitter.com/EoWj86HyMZ

— Formula 1 (@F1) October 25, 2018
Isn't that right, Sebastian?
Sebastian Vettel in an incredible talkative mood post-FP2 😅 #F1 #MexicoGP #F1ESTA pic.twitter.com/miVjTRKETU

— Luke Smith (@LukeSmithF1) October 26, 2018
Force India boss Otmar Szafnauer, meanwhile, worked on his comedy routine in the FIA press conference.
Brazilian Grand Prix
In Brazil, Sebastian Vettel won Radio Message of the Year. You all know which one…
And some did see the funny side to the Max Verstappen and Esteban Ocon incident.
Just saw this at the entrance of the FIA offices – hilarious! #F1 #BrazilGP #Verstappen #Ocon pic.twitter.com/JVHwYeOKjj

— Christian Menath (@MSM_Christian) November 11, 2018
Abu Dhabi Grand Prix
Leading on from Verstappen v Ocon in Brazil, one of Christian Horner's jokes didn't go down well at all with Toto Wolff…
And the season finale gave Fernando Alonso a chance for a fitting farewell from Formula 1…making up his own track by racking up a ton of penalties for leaving the track and gaining an advantage.
…And providing one last piece of radio gold.
Thank you for reading Pit Chat throughout the 2018 season. Roll on 2019!
Follow us on Twitter @Planet_F1 and like our Facebook page.