Time to take a look back at some of the best bits from the 2018 season, featuring the Red Bull v Renault slanging match and some radio gold from Fernando Alonso.
Australian Grand Prix
Back to where it all began. New season, fresh optimism, same old Fernando Alonso on team radio.
And Kimi Raikkonen was his usual enthusiastic self in the first press conference of the season.
Kimi through the entire interview, not just the end…..😂😂😂😂 pic.twitter.com/W2h0Hj8wBi

— Matthew Somerfield 🅢🅞🅜🅔🅡🅢Ⓕ① (@SomersF1) March 24, 2018
Bahrain Grand Prix
As we all know, Kevin Magnussen can be a little terror when he wants to be, which is pretty much all the time. That little smirk afterwards. Glorious.
It's fair to say @KevinMagnussen was feeling a bit testy during #FP1 😂#F1 #BahrainGP pic.twitter.com/n0eoRIn0it

— Formula 1 (@F1) April 6, 2018
Sebastian Vettel's reaction to Lewis Hamilton calling Max Verstappen a "d*ckhead" was also a personal highlight.
Chinese Grand Prix
Daniel Ricciardo, in happier times (*sobs*), had an unique response when asked what it was like for Red Bull to get a win on the board before Mercedes.
"Holy Testicle Tuesday!" Alrighty then, @DanielRicciardo 😂 #ChineseGP #F1 pic.twitter.com/eRAliMTgDb

— Formula 1 (@F1) April 15, 2018
There was also some unexpected savagery that came by the way of Brazilian commentary in China with the following exchange:
Q: "Lito, after 125 races, when will Hulkenberg finally get on the podium?"
A: "I think it would be easier if you asked me what the meaning of life is."
Ouch.
Azerbaijan Grand Prix
Oh yes, the moment when everything after this incident became Marcus Ericsson's fault. Poor Marcus.
Talk about tempting fate. Daniel Ricciardo and Max Verstappen on a press day in the build-up to Baku.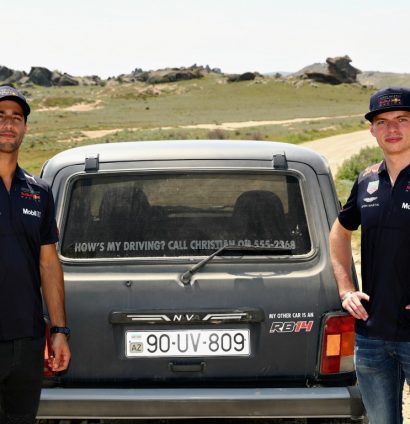 Then we all know what happened in the race…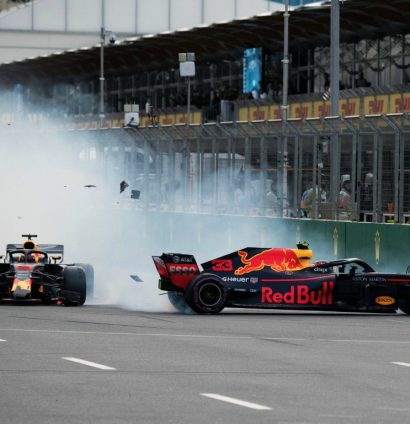 Spanish Grand Prix
We doffed our caps to Carlos Sainz for managing to call his mate Fernando Alonso, in no uncertain terms, a b*stard, in the FIA drivers' press conference. Que cabron!
The battle for Spanish superiority could be a close one in 2018

Even if the drivers aren't 100% sure how many points they're on 👀#F1 #SpanishGP 🇪🇸 pic.twitter.com/O6hE5cMeCv

— Formula 1 (@F1) May 10, 2018
Meanwhile, Martin Brundle turned into Formula 1's very own Alan Partridge when chasing down Carlos Sainz.
Monaco Grand Prix
A typo in a Mercedes tweet during the Monaco Grand Prix…
Contact!! Turn 10! There's big hit as one of the Saubers climbs all over a Toto Rosso…

No Safety Car though! #MonacoGP

— Mercedes-AMG F1 (@MercedesAMGF1) May 27, 2018
…led to this wonderful creation…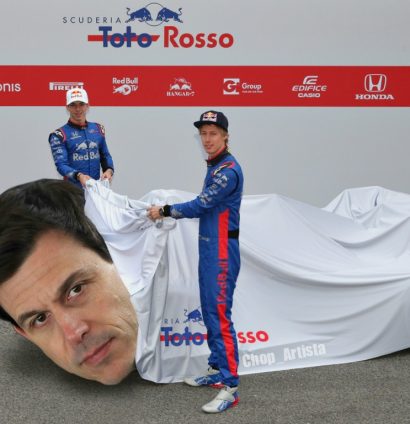 And Sky Sports get a little too analytical when discussing Lewis Hamilton…
Canadian Grand Prix
Model Winnie Harlow did us all a favour by ending the Canadian Grand Prix one lap too early.
It was at this point, Winnie Harlow knew she f*cked up. #F1 pic.twitter.com/moSusuR2cw

— Planet F1 (@Planet_F1) June 10, 2018
And, on the subject of priceless looks, here is a reminder of Daniel Ricciardo's reaction when he found out he wasn't getting his fastest lap bonus as a result of the early finish.
The outrage! 😂😂😂 pic.twitter.com/Qnh8yw7xg9

— Red Bull Racing (@redbullracing) June 10, 2018
French Grand Prix
Ah, the French Grand Prix, the scene of Freddo-gate at McLaren. It got very warm, very quickly for Eric Boullier, who didn't last too much longer as racing director after this grilling.
The French Grand Prix was also the beginning of the fall-out between Red Bull and Renault after the former announced that they were joining Honda from next season.
Christian Horner wasted no time in getting involved with the war of words…
Austrian Grand Prix
Horner picked up where he left off in Austria with a series of wonderful quotes over the course of the Grand Prix weekend…
On Sainz…
"Sainz will stay at Renault [until the end of the season]… unless Cyril misbehaves in which case we'll bring him back and send him to McLaren."
On whether it is awkward with Renault now that they and Red Bull will be going their separate ways…
"It's a bit like Love Island. There's a lot of chopping and changing going on."
And the absolute best of the lot…
Channel 4 to Horner: "How's the Renault Party Mode working out, Christian?"
Horner: "It's more like a pre-drinks mode."
And Martin Brundle must have been feeling particularly lucky on this grid walk trying to get an interview with Kimi Raikkonen.
British Grand Prix
It was revealed during the Silverstone weekend that Max Verstappen, Daniel Ricciardo, Pierre Gasly and Brendon Hartley form a Spice Boys tribute act.
And there was the perfect four-second clip to sum up the events of the race itself.
Yet we all know that smile was firmly wiped off in the second half of the 2018 season.
Until part two…
Follow us on Twitter @Planet_F1 and like our Facebook page.