A new season of Formula 1 is very nearly here, but before all of that, the teams must first unveil their 2020 challengers to the world.
In recent years the art of launching a car has been somewhat forgotten in F1 – the lavish stages have given way to drivers pulling a sheet off their new car at the team's headquarters while spitting out a bit of PR, or sometimes the images are just plastered online and left at that.
But over the years there have been some truly iconic, bizarre Formula 1 car launches.
So, here's a look at Planet F1's top five…
5. BAR – 1999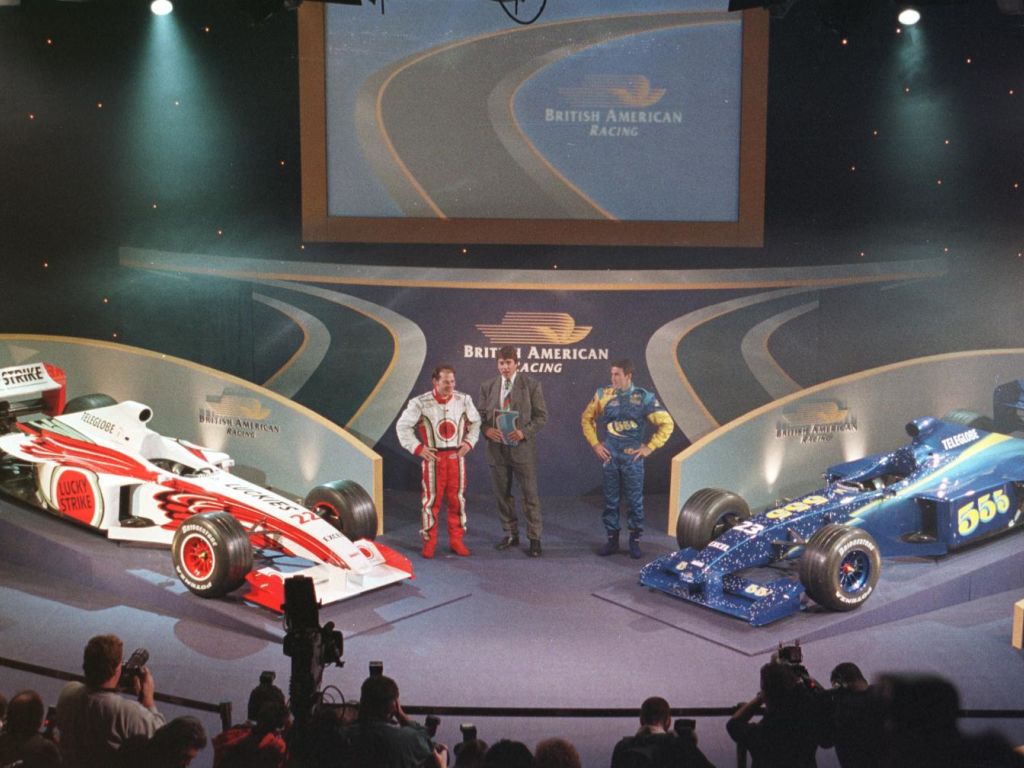 British American Racing burst on to the Formula 1 scene in 1999, and is there any better way to announce yourself than by launching two radical liveries for that first car?
As it turned out yes, there would have been, because sadly somebody forgot to check the rule book – the FIA stated that both cars had to be largely identical – and they were anything but.
The team lodged a complaint to the European Commission, and in the end the solution was to run a different livery on each side of the car with a painted zip down the middle, oh dear.
Welcome to Formula 1 BAR!
4. Pacific Team Lotus – 1995
Ah Pacific Team Lotus, after competing in the junior formulas, this outfit made the step up to Formula 1 for 1994 and 1995, but with very little success. In fact they failed to finish a race in 1994.
And that lack of success really showed itself during their 1995 car launch.
As the video shows, team principal Keith Wiggins was in the battle of his life to get the champagne open at the launch of the PR02.
They tried to keep the launch simple, but in the end couldn't even manage that.
3. Sauber – 2004
12 JANUARY, 2004: Flashback to when the Sugababes helped @SauberF1Team launch their C23 👀 #TBT #ThrowbackThursday #OnThisDay #OTD pic.twitter.com/iwmrLBGMDZ

— Formula 1 (@F1) January 12, 2017
Now we really get into the show-off launches so to speak, and in an number three is Sauber as they unveiled the C23 in 2004.
Using musicians was nothing new for car launches in F1 at this point, more on that later, but for this launch Sauber enlisted the help of British girl group The Sugababes.
But, the whole thing was just…cringey, like seriously cringey. It's a cold hanger, the Sugababes are dancing around in sexy Sauber overalls stripped to the waist, while team boss Peter Sauber and his drivers Giancarlo Fisichella and Felipe Massa look as out of place as you can get.
We would love to see a modern day recreation from the now Alfa Romeo team – imagine Kimi Raikkonen's reaction!
2. Jordan – 2002
Back in the days of real F1 car launches creativity went a long way, but credit must go to Jordan who literally had the EJ12 delivered to them on a plane.
An aircraft hanger in Brussels was the scene as drivers and team personnel discussed the season ahead, basically like any F1 launch these days, before Control Tower announced an imminent delivery for team owner Eddie Jordan.
A DHL-liveried cargo plane was shown on the screen as it came into the airport – it was then towed into the hanger and the side doors were opened to reveal a car under its cover.
Drivers Fisichella and Takuma Sato did the honours in pulling off said cover, while Jordan signed a docket to confirm he had received his item, and at the same time sign off the deal to make DHL his team's title sponsor.
Sadly the launch was perhaps as good as Jordan's season got with the team scoring just nine points.
1. McLaren – 1997
And now we move on to the craziest Formula 1 launch in history – and this one takes the crown by quite some distance.
McLaren's 1997 reveal of the MP4/12 at London's Alexandra Palace marked a new direction for the team as West's arrival as title sponsor saw a shift away from their traditional red and white Marlboro livery.
The launch was pure madness, there were roller skaters from the musical Starlight Express swerving around the crowd, a performance by Jamiroquai and of course the headline act – the Spice Girls.
For Mika Hakkinen it was especially memorable as Posh Spice tried to slip him out of his overalls, but the big problem was all this made the MP4/12 very much an afterthought.
Jamie Woodhouse
Follow us on Twitter @Planet_F1 and like our Facebook page.