Brazilian Grand Prix driver ratings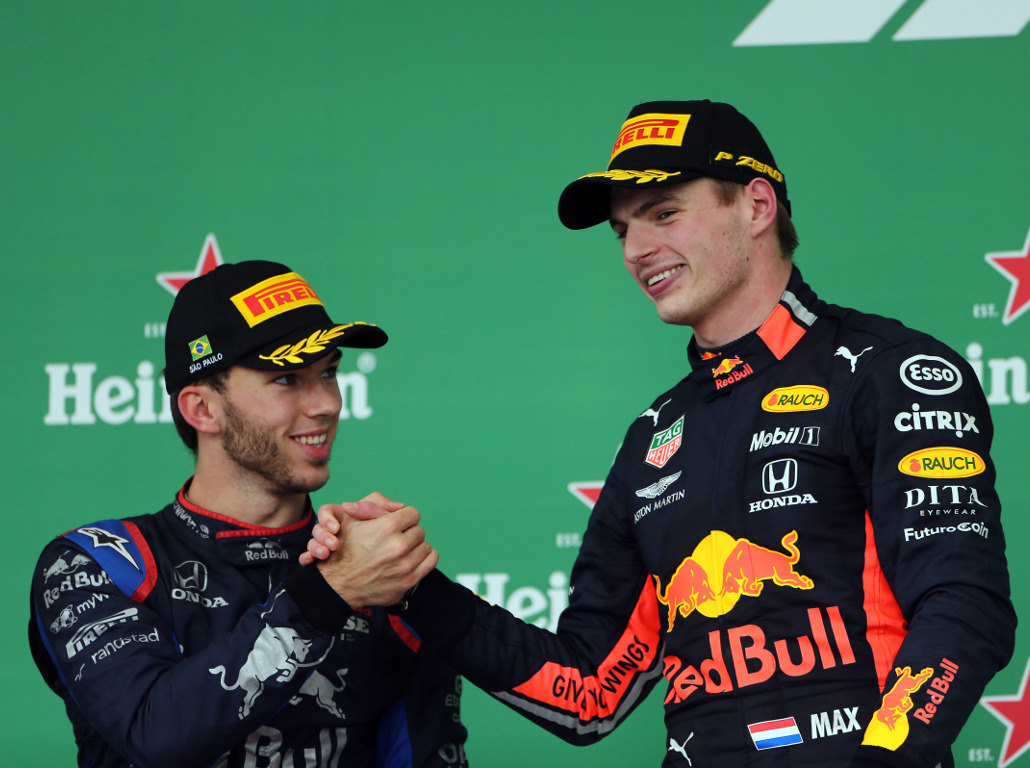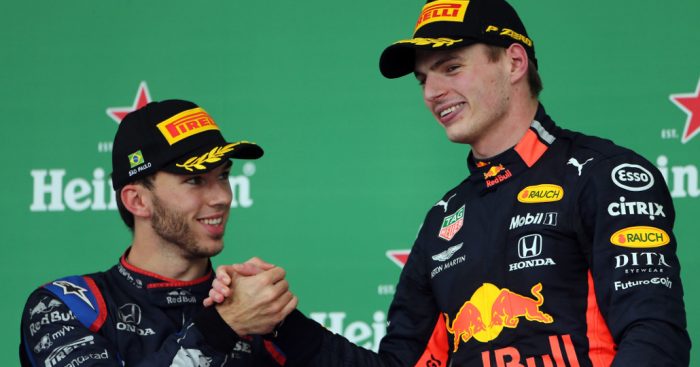 It's raining tens after a brilliant Brazilian Grand Prix but don't let the very different-looking podium detract away from some other stellar driver performances.
Late Braking run the rule over all 20 drivers at Interlagos…
Max Verstappen – As carnage ensued around him, Verstappen kept his head above water and made no errors as he secured the Brazilian Grand Prix. In something of a redemption story, Verstappen saw off the continued threat of Lewis Hamilton, combining a wonderful drive with clever strategy and lightning pit stops.
The later laps might have been chaotic but that shouldn't take away from the epic duel he had with Hamilton. We can only hope that are many more chapters to come in the rivalry and that a championship can be what the fight is over. 10
Pierre Gasly – Gasly achieving a podium in 2019 might not have been a surprising bet at the beginning of the season. Obtaining that podium at Toro Rosso after being dumped by the senior team? I doubt many would have predicted that.
After some impressive performances post-demotion, Gasly delivered an impeccable performance and took advantage of incidents ahead of him to achieve Toro Rosso's best finish since 2008.
Even without good fortune resulting in the podium, Gasly would have finished best of the rest and held that position for the majority of the race. 10
Carlos Sainz – From the disappointment of qualifying to a maiden podium on Sunday. Last place to podium is unsurprisingly a rarity in F1, even rarer for a midfield car and it puts the cherry on top of a breakout season for Sainz.
The only car to complete a one-stop race, Sainz opted for track position over fresh tyres and he displayed excellent defensive qualities to see off the Alfas behind. 10
Kimi Raikkonen – After a long time out of the points, Raikkonen returned to form in Brazil and combined with Giovinazzi to take home 22 points for the team, the second-most on the day.
Raikkonen remained a constant in the race as drama unfolded around him as he worked his way up from the lower end of the points to P4 following the penalty to Hamilton. 8
Antonio Giovinazzi – On any other day, Giovinazzi achieving his best finish in F1 with P5 might have been one of the biggest talking points coming out of the grand prix, as it happens the great performance has gone under the radar.
Retaining his seat for 2020, his progress throughout the year has been encouraging to witness and he'll be hoping that progress continues into the beginning of next season. 8
Daniel Ricciardo – Perhaps the most eventful race of Ricciardo's season. Contact with Magnussen and the ensuing penalty forced Ricciardo to the back of the field, prompting a strong drive back through the pack.
Noticeably, Ricciardo's two stints on the soft tyres were the two longest of the race and his impressive tyre management worked him back into the points. 8
Lewis Hamilton – Pushing Verstappen all the way, Hamilton applied plenty of pressure on Verstappen and it seemed as if Hamilton had 2nd place all but locked up before his teammate forced a safety car.
Their decision to keep Hamilton out after the first safety car put his P2 under jeopardy before an ambitious dive on Albon gave him a penalty which dropped him down the grid. 8
Lando Norris – If there's one thing that became evident around Interlagos, it's that the hard tyre was not a good compound to be on as it hampered the races of anyone who crossed eyes with it.
Norris was one of those unfortunate drivers who up until that point delivered a solid race, to make matters worse he then had to witness his team-mate finish in the top three. With Norris' talent there's every chance he will get a future opportunity but this must have hurt nonetheless. 7
Sergio Perez – After some encouraging races for the Pink Panthers, the Interlagos circuit really didn't seem to suit the Racing Point guys and despite the slightly strange results, Perez might actually be content with P9 here.
One of the earliest to pit, Perez's strategy might well have been more effective without the safety car as he was in the points for much of the race even before cars started dropping out. 7
Daniil Kvyat – Who would have thought that Kvyat's result in Germany would end up being Toro Rosso's second best result of the year? Kvyat was essentially forced to sit this one out as his team-mate took the plaudits.
Kvyat might be slightly concerned with the regularity that his team-mate is now beating him and he'll hope this is just a late season slump. 6
Kevin Magnussen – Even before the contact with Ricciardo, Magnussen was dropping like a stone as cars queued up to pass the Haas driver. This isn't necessarily abnormal for Haas to do better on a Saturday than a Sunday but Magnussen was less effective at stopping the bleeding when compared to his teammate. 6
George Russell – Just as Kubica picked up a point thanks to dramatic scenes at Hockenheim, Russell must have been hoping the same thing would happen at Interlagos. Whilst he got close, it was only P12 for Russell but it was a strong showing regardless. 7
Romain Grosjean – Quite a few drivers must have bemoaned the emergence of the safety car but perhaps none more so than Grosjean. Well up in the points during the race, he was a sitting duck towards the end of the race as drivers with fresher tyres passed him. A cruel end to a great drive. 8
Alex Albon – Albon was mere laps away from his maiden podium in F1, only to be denied when Hamilton ambitiously went for an overtake.
Up until this point he had driven a solid race and held his own in wheel to wheel combat although the safety car appearing played a large role in that happening to begin with. 7
Nico Hulkenberg – At the site of his one and only pole position, Hulkenberg could not recapture the magic at Interlagos as he never really threatened the points places. A difficult stint on the hard tyre left him well behind and a five second time penalty at the end of the race only served to heap the misery on further. 5
Robert Kubica – Four stops, a near-collision in the pits with Verstappen (an incident which saw him get a penalty rather than a team fine that has been implemented before) and a lap down on every other car. Last on circuit for Kubica in another tough outing. 5
Did not finish
Sebastian Vettel – After a disappointing first stint, Vettel seemed to pick up the pace in his second stint and was briefly lapping quicker than the two cars ahead. A strong finish fell away from him though as he moved across Leclerc, with a puncture as his punishment. 6
Charles Leclerc – Using his faster car to good effect, Leclerc had no difficulty working his way through the field in the early goings and was brought back into contention with the safety car period. All of that work was undone though as contact with Vettel forced him into retirement. 7
Lance Stroll – A slightly anonymous race for Stroll who didn't feature much until we saw him cascade into retirement with a broken suspension. Usually it's this sort of race that Stroll does well from but there were no points to be had this time around. 5
Valtteri Bottas – Another who suffered on the hard tyres, so much so that he abandoned them after just 15 laps, Bottas seemed to struggle for pace throughout the afternoon.
When his lonely afternoon finally delivered some action, he was unable to get the decisive pass on Leclerc which might well have contributed to the issue that saw him retire. 6
The Brazilian Grand Prix driver ratings are brought to you by the good folks at Late Braking. You can check them out in the following places:
Subscribe to Late Braking on YouTube
Follow Late Braking on Twitter