Brazilian Grand Prix 2019: Time, TV channel, live stream & grid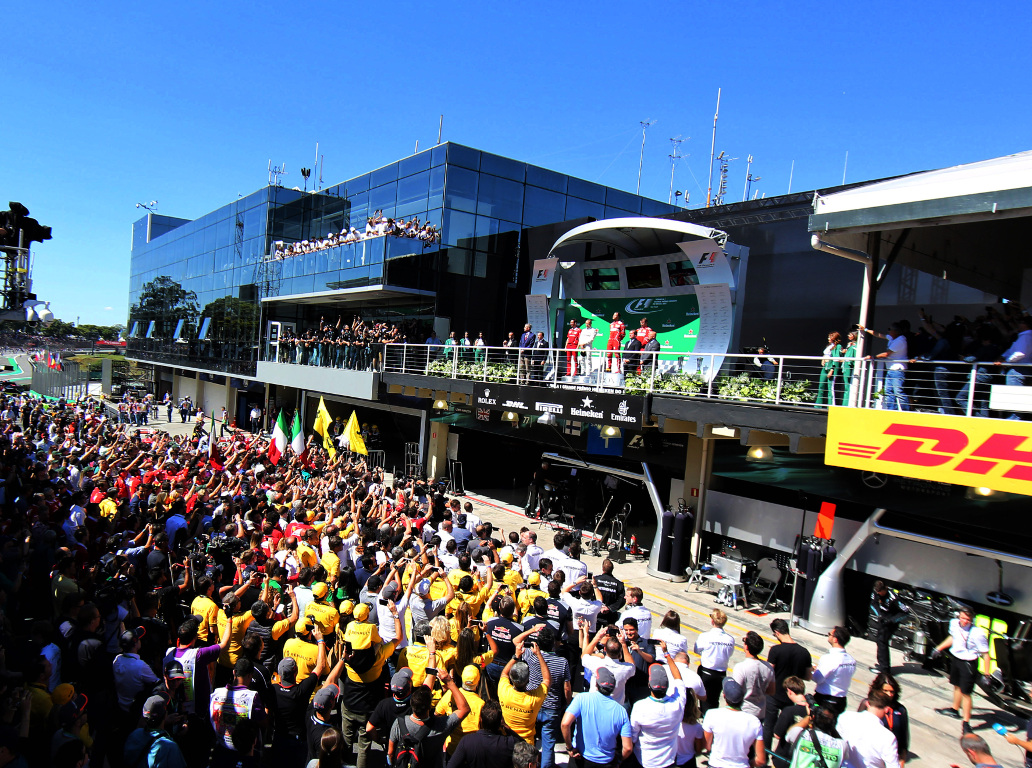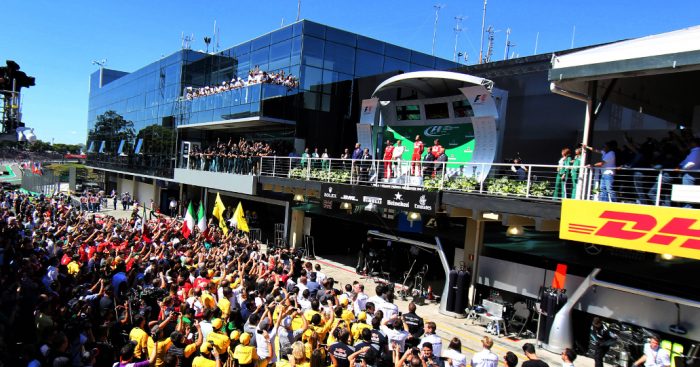 Lewis Hamilton may have already secured a sixth F1 Drivers' title, but Ferrari head to this weekend's Brazilian Grand Prix at Interlagos with a point to prove.
A P2 finish for Hamilton was more that enough to see him secure that sixth Drivers' Championship, putting him just one shy of Michael Schumacher's record seven crowns.
But with Hamilton and Mercedes' job now done, all the pressure is on Ferrari to defend themselves after serious questions were asked of their power unit and its legality, with Max Verstappen bluntly accusing them of cheating after their pace vanished in Austin.
Here is a guide to all you need to now about the upcoming weekend at Interlagos in Sao Paulo – including details of how to watch the race on TV and the latest betting odds.
What time does the Brazilian Grand Prix start?
The start times for the Brazilian Grand Prix are as follows:
Practice 1: Friday November 15, 1100 local time (1400 GMT)
Practice 2: Friday November 15, 1500 local time (1800 GMT)
Practice 3: Saturday November 16, 1200 local time (1500 GMT)
Qualifying: Saturday November 16, 1500 local time (1800 GMT)
Race: Sunday November 17, 1410 local time (1710 GMT)
Where does the Brazilian Grand Prix take place?
Interlagos was the home of the Brazilian Grand Prix in the 70's – then an awesome test with fast banked left-hander and a length of 6.92km (4.3 miles). But after losing the event for a decade to Rio the circuit was reshaped.
Now it has been modernised and shortened to 4.309 km, although is still a demanding test for both car and driver as it runs anti-clockwise.
Updates of the facilities for teams, media and medics have ensured its place on the calendar.
From the 2009 season onward, though, that place was moved back a slot as Brazil became the penultimate race of the season and not the finale as it has been in previous years.
Directions: The circuit is situated in the Interlagos district of Sao Paulo. The Autodromo Jose Carlos Pace is on the opposite side of the city to the International Airport, Guarulhos, around 40km (25 miles) away.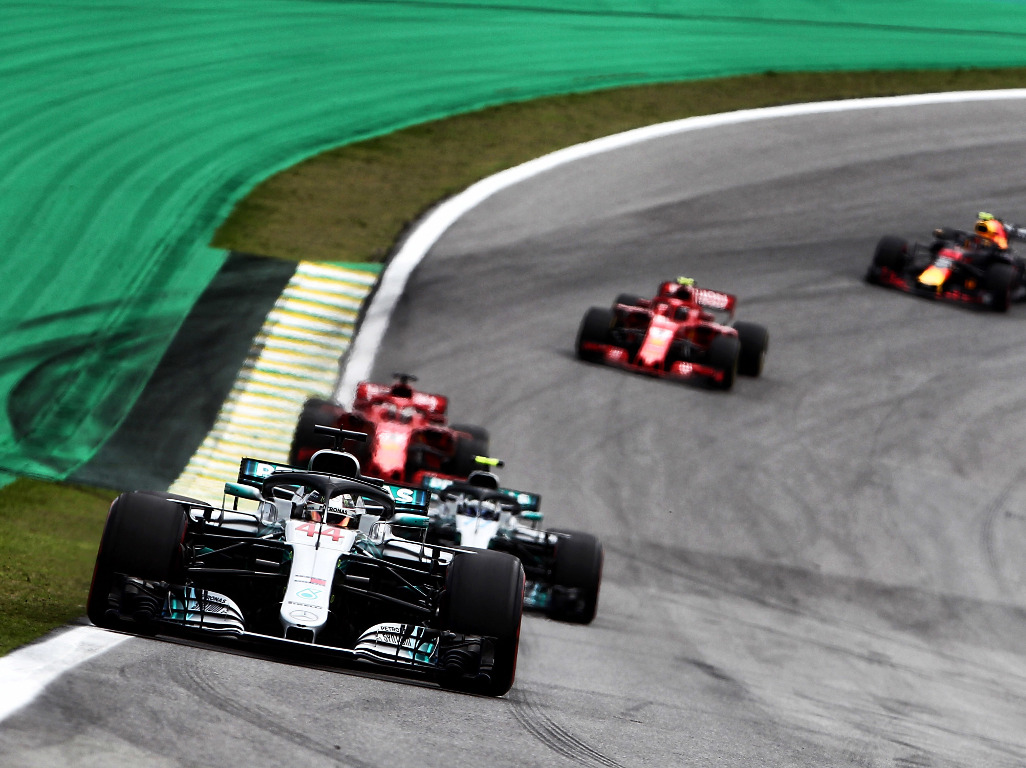 Where can I watch the Brazilian Grand Prix on TV?
Brazilian Grand Prix weekend – including the race proper – will be screened live in the UK by pay-TV broadcaster Sky Sports on its dedicated Sky Sports F1 channel. Highlights will be aired by free-to-air broadcaster Channel 4.
Subscribers to F1's own app can hear radio commentary on the race proper from the BBC and access live data around each session.
PlanetF1 will carry live timing and expert commentary on every session of the race weekend along with all the latest news from the track.
The Brazilian Grand Prix will be shown live on TV by the following outlets in other key markets:
United States: ESPN (English), Univision (Spanish)
Canada: RDS (French), TSN (English)
Australia: Fox Sports
France: Canal +
Italy: Sky Sport F1
Germany: RTL
Spain: Movistar F1
What is the weather forecast for the Brazilian Grand Prix?
Friday November 15 24C, thundery showers.
Saturday November 16: 27C, mostly sunny.
Sunday November 17: 28C, mostly sunny.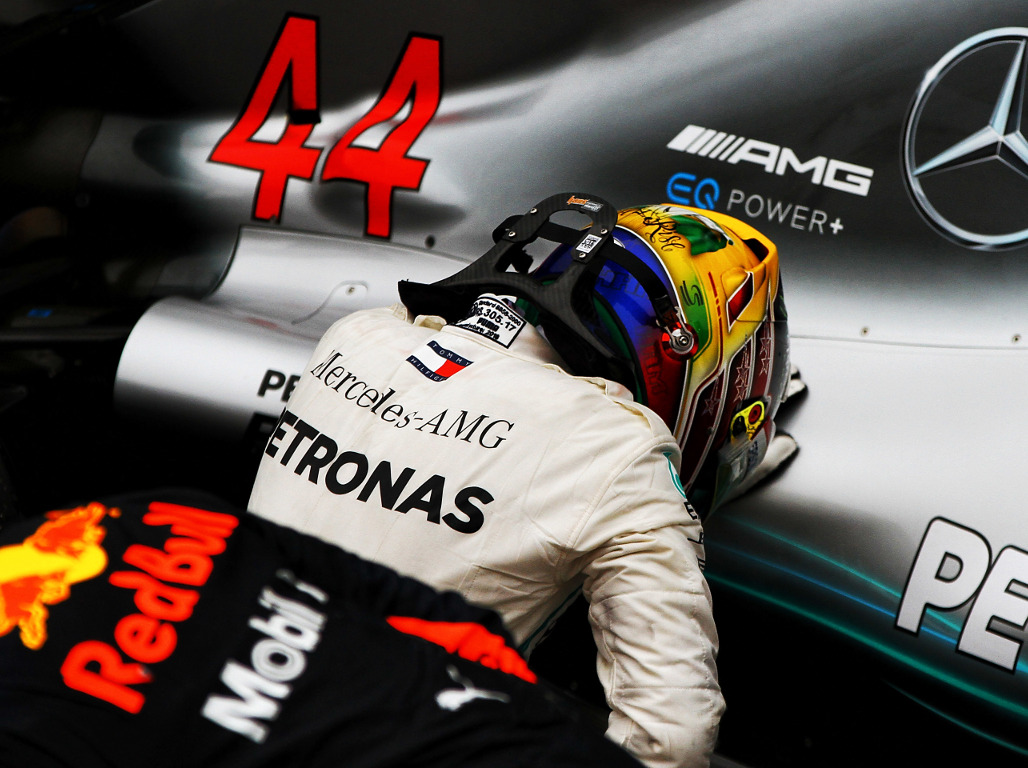 Which drivers have won the Brazilian Grand Prix?
Alain Prost is the most successful driver ever in the Brazilian Grand Prix with six successes, while once-mighty McLaren is the most successful constructor with 12 victories.
Of the current grid Sebastian Vettel leads the way with three victories, while six-time World Champion Lewis Hamilton has two.
Winners of the last 10 Brazilian Grands Prix are:
2008 Felipe Massa (Ferrari)
2009 Mark Webber (Red Bull)
2010 Sebastian Vettel (Red Bull)
2011 Mark Webber (Red Bull)
2012 Jenson Button (McLaren)
2013 Sebastian Vettel (Red Bull)
2014 Nico Rosberg (Mercedes)
2015 Nico Rosberg (Mercedes)
2016 Lewis Hamilton (Mercedes)
2017 Sebastian Vettel (Ferrari)
2018 Lewis Hamilton (Mercedes)
Track Lap Record: 1:10.540 by Valtteri Bottas (Mercedes, 2018)
Brazilian Grand Prix grid positions
Max Verstappen was fastest in qualifying in Interlagos on Saturday, topping all three sessions in what was a very dominant display in the Red Bull. Charles Leclerc will drop 10 places from P4 due to engine penalties.
Full grid positions for the Brazilian Grand Prix are as follows:
1 Max Verstappen Red Bull
2 Sebastian Vettel Ferrari
3 Lewis Hamilton Mercedes
4 Valtteri Bottas Mercedes
5 Alex Albon Red Bull
6 Pierre Gasly Toro Rosso
7 Romain Grosjean Haas
8 Kimi Raikkonen Alfa Romeo
9 Kevin Magnussen Haas
10 Lando Norris McLaren
11 Daniel Ricciardo Renault
12 Antonio Giovinazzi Alfa Romeo
13 Nico Hulkenberg Renault
14 Charles Leclerc Ferrari*
15 Sergio Perez Racing Point
16 Daniil Kvyat Toro Rosso
17 Lance Stroll Racing Point
18 George Russell Williams
19 Robert Kubica Williams
20 Carlos Sainz McLaren**
* Charles Leclerc drops 10 places due to engine penalties
** No time set in Q1, races at stewards' discretion, plus engine penalties
What are the odds for the Brazilian Grand Prix?
Max Verstappen is now the clear favourite to win the Brazilian Grand Prix according to major British bookmaker Bet365.
The latest odds are as follows:
5/6 Max Verstappen (Red Bull)
5/2 Lewis Hamilton (Mercedes)
4/1 Sebastian Vettel (Ferrari)
8/1 Valtteri Bottas (Mercedes)
25/1 Charles Leclerc (Ferrari)
(Odds correct at 2100 GMT on November 16 2019)
What are the latest F1 Championship standings?
The current Drivers' and Constructors' standings are as follows…
Drivers'
1 Lewis Hamilton Mercedes 381
2 Valtteri Bottas Mercedes 314
3 Charles Leclerc Ferrari 249
4 Max Verstappen Red Bull 235
5 Sebastian Vettel Ferrari 230
Constructors'
1 Mercedes 695
2 Ferrari 479
3 Red Bull 366
Tyre compounds for the Brazilian Grand Prix
F1 tyre manufacturer Pirelli have introduced a new tyre naming system for the 2019 season – they now have 5 dry tyres named C1 to C5 as they get softer through the range.
At Interlagos the C1 compound will be the hard tyre, the C2 will serve as the yellow-walled mediums and the C3 shall be the softs.
The orders are in! #BrazilGP 🇧🇷 #Fit4F1https://t.co/G2NjRBqX6K pic.twitter.com/NhWQwKPbM5

— Pirelli Motorsport (@pirellisport) November 5, 2019
What is F1's new rule on bonus points?
F1 have made the decision to award a bonus point in every race of the 2019 season if certain criteria are met.
The bonus point will be awarded to the driver who completes the fastest lap in the race, as long as that driver also finishes in the top 10. The driver's team will also score a bonus point in the constructor standings in that case.
This means there are up to 21 extra points available for the 2019 championship.
Follow us on Twitter @Planet_F1 and like our Facebook page.