Lewis Hamilton rose to the occasion that is the British GP while Sebastian Vettel went from podium step to punishment stool.
Here are the driver ratings from our friends at Late Braking…
Lewis Hamilton: By Hamilton's standards, this might not have been the most dominant win he has ever achieved but once again he has the wherewithal to put himself in the right position at the right time.
The safety car clearly played a large role, whether he would have won the race without it is tough to say, but staying out longer on stints does lend itself to an increased chance of a safety car or VSC. Hamilton did not need to be asked twice when presented the opportunity.
The cherry on the top of the cake was secured with his last-gasp fastest lap points on old tyres, a sublime effort. 9
Valtteri Bottas: It's tough not to feel for Valtteri, at a time he can seldom afford things to go against him, he was powerless as the safety car ruined his afternoon and made a win almost impossible to achieve.
There are positives to take away, a pole against Lewis in his home country is a fine achievement and his elbows-out move at Copse on his teammate was superlative. It proves that Bottas will not give up on this fight and isn't afraid to push around his weight when necessary. 9
HAMILTON VS BOTTAS

I LOVE THIS. pic.twitter.com/YRSokTweeX

— iGP Manager (@iGPManager) July 14, 2019
Charles Leclerc: It seems pretty clear that neither Ferrari nor Red Bull had enough in the tank to threaten the Mercedes duo at Silverstone, in which case P3 was the maximum Leclerc could have wished to achieve.
He went the long way around doing it and was helped by the Verstappen/Vettel crash but credit needs to be given where it's due as his dogged defensive efforts throughout the afternoon were rewarded. 9
Pierre Gasly: After some dismal races, this must go down as Gasly's best weekend to date as he proved himself to be competitive within the top 6. Getting stuck in with both Ferrari drivers, Gasly's best moment of the season happened as he worked his way past Sebastian Vettel into Brooklands.
Ultimately, the Safety Car didn't really work in his favour as he stayed out on Hard tyres. With those around him committing to a two stop race, it would have been interesting to see how Gasly's one stop would have worked. 7
Max Verstappen: Renewing his battle with Charles Leclerc, once again the two young guns proved that F1 is in great hands moving forward and the potential title battles between the two are an exciting prospect.
LAP 11/52: Can't get much closer 😳

Verstappen battles Leclerc for P3 #BritishGP 🇬🇧 #F1 pic.twitter.com/QZoZh0q317

— Formula 1 (@F1) July 14, 2019
The hopes of a podium were dashed in an instant as contact between himself and Seb Vettel ended his chances but he recovered well from the gravel to secure P5 and as a result he keeps P3 in the championship. Another brilliant effort from the leader of the Orange army. 9
Carlos Sainz: We often see it in the midfield and it's happened again where a driver actually benefits from not making Q3 on Saturday. Regardless, Sainz drove a wonderful race and cemented his position as the best of the rest.
Starting on the medium tyres, Sainz worked his way through the first stint and benefitted from pitting under the safety car. From there it was a case of defending his position from the ever-threatening Daniel Ricciardo. 9
Daniel Ricciardo: Not quite the best of the rest tag that Ricciardo would have wanted from the weekend but he picks up some more points and in the process goes ahead of his teammate in the standings. Renault made the correct strategy call to pit under the safety car and he was therefore able to beat all midfield rivals bar one. 8
Kimi Raikkonen: A fairly quiet, yet impressive race for Raikkonen who continues to prove his worth to the Alfa Romeo team. Starting outside the top 10, Raikkonen pit just a few laps before the safety car made an appearance. Undeterred, Raikkonen worked with his slightly older tyres to score 4 points. 8
Daniil Kvyat: I doubt Kvyat gave himself much of a chance of scoring points after a tough qualifying session saw him start towards the back of the grid, but Kvyat produced a great performance. His second half of the race was scintillating as he pushed his way through to points. 9
Nico Hulkenberg: Involved in an incident with Sergio Perez, Hulkenberg was not quite able to capitalise on the pace Renault had during the weekend. He did eventually get into the points but it is just one that he takes away from Silverstone. 7-8 lap older tyres than those around certainly didn't help towards the end. 7
Lando Norris: Norris has shown enough promise this season that it feels safe to say he will have many more opportunities to score points at his home Grand Prix, but that will do little to comfort him in the short term.
A wonderful start gave him a great chance to beat the rest of the midfield but Mclaren failed to pit the youngster under the Safety Car. A fateful decision. He nearly recovered to points but will have to settle for P11. 8
Norris and Ricciardo, wheel-to-wheel 😵

Gripping action through Copse then Maggots#BritishGP 🇬🇧 #F1 pic.twitter.com/vzk42ASCGf

— Formula 1 (@F1) July 14, 2019
Alex Albon: Plenty of impressive signs for Albon but it will hurt that there is nothing to show for it. Strategy played a massive part in the tale of the midfield and Albon wound up as the unluckiest of the lot. Left to fight on old medium tyres was never going to work well and he couldn't quite hold on to points as he slipped away in the final stage of the race. 8
Lance Stroll: A typical brilliant start to the race for Stroll gave him a slight chance of points but progress was difficult to come by as he faded into mediocrity. P13 doesn't look too bad on paper but realistically the only drivers he beat on pace were the Williams guys. 6
George Russell: No doubt Russell is level-headed enough to know that points at his home Grand Prix was a pipe dream and nothing more but he can be content with the P14 he achieved. Taking advantage of a few situations around him, Russell beat his teammate as well as Perez and Vettel. 7
Robert Kubica: Slightly more encouraging for the Pole this week as he remained within touching distance of his teammate but the fact that 10 seconds away from Russell classifies as a good weekend says enough. 6
Sebastian Vettel: Staying out longer than the rest of his rivals seemed to work a treat for Sebastian Vettel on Sunday as he jumped those around him to claim P3. Then came the incident. Under braking Vettel stormed into the back of Max Verstappen which effectively ended his race.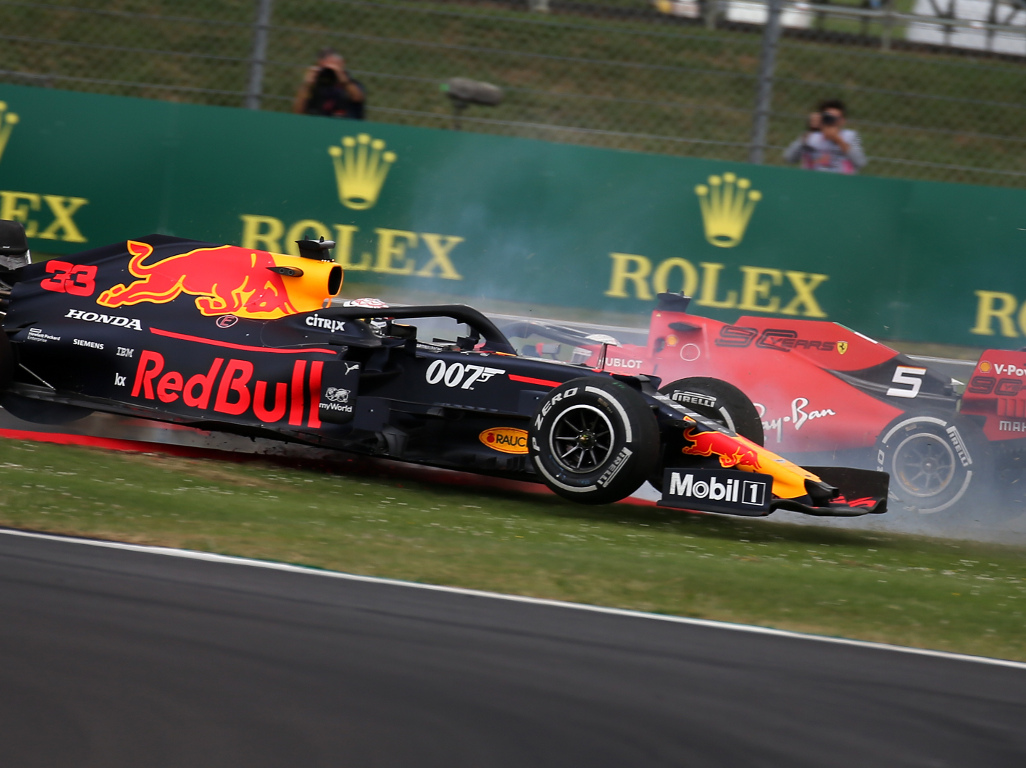 The incident will do little to answer critics questions about his wheel-to-wheel capabilities and the opportunity of a podium goes firmly in the 'spurned' category. 5
Sergio Perez: Usually such a consistent presence in the midfield, Perez was in the hunt for points at one stage but he ended all hopes of that when he collided with Nico Hulkenberg going into Brooklands. One to forget for Perez and for the team situated just over the road from the race track. 5
Antonio Giovinazzi: Giovinazzi has undoubtedly improved as the season has gone on and outqualifying his teammate has become something of a routine rather than an abnormality but here it was experience and consistency that seized the day as Giovinazzi was forced into an early bath. 6
Antonio Giovinazzi ending up in the gravel at the #BritishGP pic.twitter.com/FeER4ynxbD

— Alasdair Mulhern (@alasdairmulhern) July 14, 2019
Romain Grosjean: Haas must have been hoping for a strong weekend to take the conversation away from their ongoing battle with Rich Energy. That didn't happen. 3
Kevin Magnussen: Haas are finding it hard enough to fight, let alone when they make it even more difficult for themselves by crashing into one another. These poor team performances can only go on for so long before something must be done. N/A
The British Grand Prix driver ratings are courtesy of the good folks at Late Braking. You can check them out in the following places:
Subscribe to Late Braking on YouTube
Follow Late Braking on Twitter