Highly doubtful that Ricciardo is ever coming back
Even now, 18 months after his Formula 1 career took a turn for the worse, there remains a curious reluctance to criticise Daniel Ricciardo.
Television pundits, former drivers with close personal relationships with him, shuffle awkwardly when asked to pinpoint where it has all gone wrong for him at McLaren.
Members of the broadcast media, particularly those who populate the TV pens, still seem set on poking Ricciardo into saying something amusing (for the social media penetration, naturally…) rather than asking directly how a driver as decorated as he has allowed himself to be totally overwhelmed by team-mate Lando Norris.
Even elements of the written media, when questioning his current career trajectory, somehow feel compelled to make it clear that it gives them absolutely no pleasure to do so.
Rarely has such a talented driver been given such an easy ride during such a protracted period of severe underperformance, yet even his greatest allies in the paddock can no longer ignore the evidence of their own eyes.
McLaren tried that tactic too at the beginning, closing their eyes and hoping Daniel's issues would just go away, that they would ultimately prove to be linked to the specific characteristics of the team's 2021 car.
His victory at Monza last September convinced them there was gold to be found if they kept on digging, that a completely new car built to different regulations in 2022 might magically unlock the Ricciardo of old.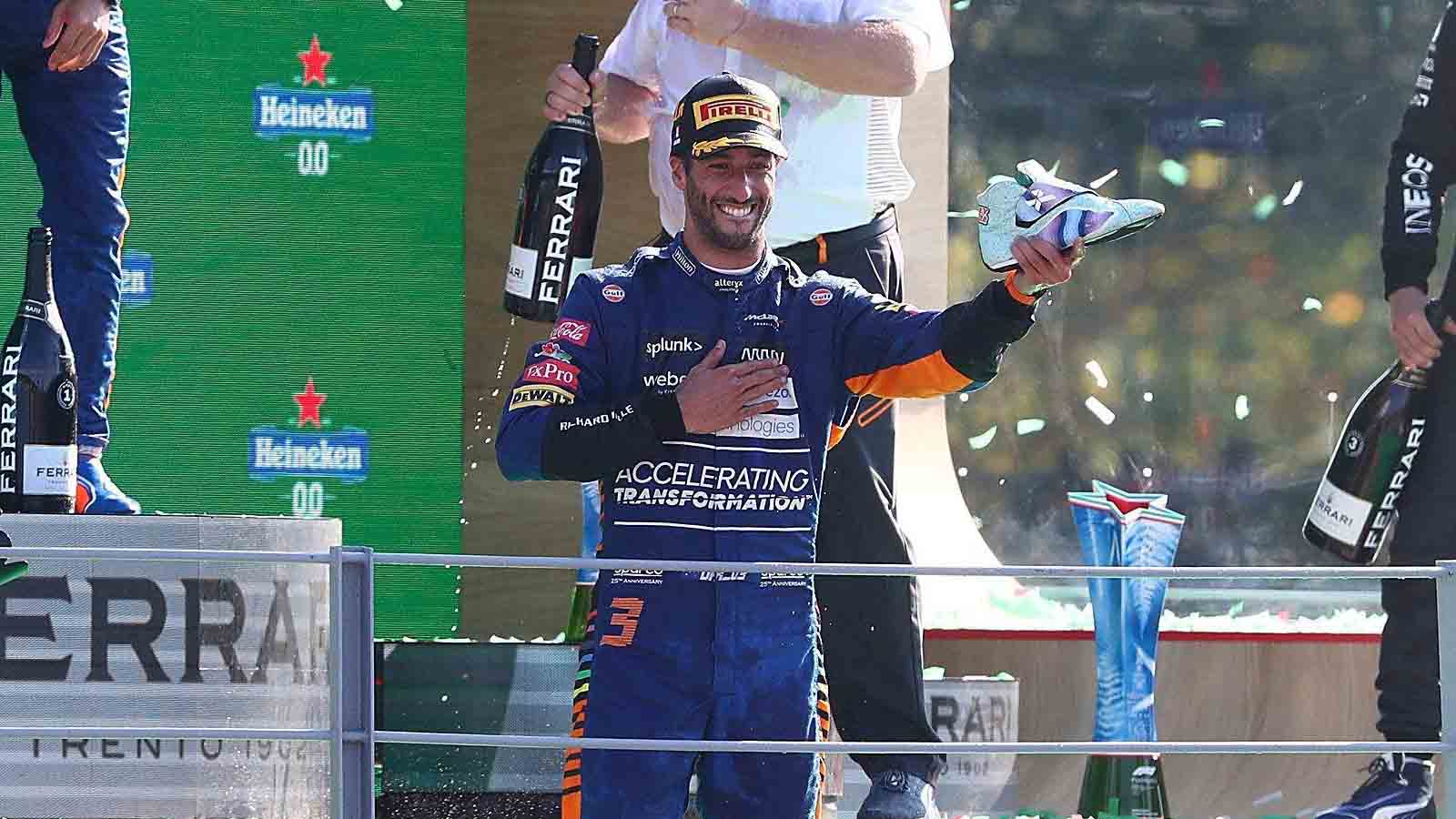 But with no discernible improvement seven races into F1's new era – with Ricciardo claiming just one points finish to Norris's five, including a podium at Imola – it is now highly doubtful that Daniel is ever coming back.
If there was one race in which he could have expected to beat his team-mate, it was surely the recent Spanish Grand Prix where Norris was beset with illness.
Ricciardo outqualified Norris for the first time since Mexico last year, albeit only after Norris's final Q2 lap was deleted due to a track limits infringement, yet not for the first time was humiliated in race conditions.
Asked to swap positions with the sister car as early as Lap 9, Ricciardo would ultimately finish pointless and four positions behind Norris having been an average of eight tenths per lap slower over the remainder of the race.
That heralded a noticeable change in tone from McLaren, who until that point had been protective of him but chose this moment to publicly pressurise their driver. A cruel-to-be-kind strategy in a desperate effort to squeeze out some semblance of performance, perhaps? Or a sign they are close to giving up on him?
"Lando definitely has an edge," Zak Brown, the McLaren CEO, told Sky Sports after Barcelona. "Obviously we would like to see Daniel much closer to Lando and have a good intra-team battle.
"Daniel's just not comfortable yet with the car. We are trying everything we can – again it was a disappointing weekend.
"Short of Monza and a few races, it's generally not met his or our expectations."
Speaking from the Indianapolis 500 later that week Brown, who is said to be interested in IndyCar driver Colton Herta as a potential replacement for Ricciardo, hinted at "mechanisms" in Ricciardo's contract that could see them part ways at the end of this season.
Brown's revelation came on the very afternoon Ricciardo crashed out of practice in Monaco – the scene of his greatest triumph in 2018 – leading to an awkward exchange over team radio when his race engineer Tom Stallard asked if the car, not its driver, was OK.
There's been lots of anger from fans after it appeared Ricciardo's engineer asked if the car was ok before him. The reality was his McLaren engineer hadn't seen the incident yet.

Here's the full radio message that wasn't played on the broadcast… pic.twitter.com/ccdlMRfFCE

— WTF1 (@wtf1official) May 28, 2022
Ricciardo never used to be a crasher but has hit Valtteri Bottas and Carlos Sainz on first laps in Mexico and Imola respectively over the last seven months and put his latest shunt at the swimming pool section down to an adventurous setup.
It's never Daniel, you see. There's always someone or something else (the '21 car, the '22 car, homesickness) to blame, and even after the race in Barcelona he admitted to being hopeful McLaren would find an issue with the car to excuse his poor performance.
The increased scrutiny suddenly surrounding his seat seemingly did not go down at all well with Ricciardo, who raced in Monaco with the acronym FEA – "fuck 'em all" – written in pen on the rear of his crash helmet in full view of the over-the-shoulder onboard camera.
There was once a time, not too long ago, when such a statement would have been Classic Daniel, a subtle and cheeky retort to the rising rumours and speculation.
Yet with his bite no longer matching his bark – Ricciardo again finished outside the points in Monaco, seven tenths slower than Norris in qualifying – it came across as arrogant and petulant, raising suspicions over the accuracy of his claim that his skin is "tanned, beautiful and also thick" in response to Brown's assessment.
If this is indeed the beginning of the end, this is a driver unlikely to go down with dignity.
The walls are closing in on him and it would be a crying shame if it wasn't so utterly avoidable, for almost all of Ricciardo's current ills can be traced back to the day he committed career suicide by leaving Red Bull in 2018, ensuring his demise would be long, slow and acutely painful.
Red Bull were becoming Max Verstappen's team by the summer of 2018, no doubt, but there was still very much a place for Daniel to act as the Jenson to Max's Lewis – cramping his style, stunting his growth and slowing the process with natural charm and a winning smile.
Vacating one of the few cars capable of winning grands prix for a Renault he regularly lapped may have made him richer beyond his wildest dreams.
But it killed overnight any possibility of him ever realising his true potential and ruined the perception of a career-driven and ambitious driver who often spoke of an itching agitation – a self-perceived race against time – to become World Champion.
It was around that period, as he traded Red Bull blue for Renault yellow at the beginning of 2019, that he changed his management – and, some might say, his priorities – and a monster was created.
Daniel Ricciardo: "It's also difficult to accept because for most of my career I was used to being one of the best guys on the grid or the top guy on the teams.
"It definitely makes you question, 'Do I still have it?' You get some of those doubts creep in a little bit." #F1 pic.twitter.com/W93AExaIbk

— PlanetF1 (@Planet_F1) May 28, 2022
Free from Red Bull's tentacles, Ricciardo soon embarked upon an aggressive brand-building mission and as sure as night follows day along came the clothing and alcohol ranges, the video game cameo appearances and a social media presence more Instagram influencer than racing driver.
Lewis Hamilton's sustained dominance of the modern era seriously challenged the long-held view that elite athletes cannot efficiently juggle their personal and professional lives, but it is clear by now that not every F1 driver is like Lewis Hamilton.
Ricciardo got away with it to an extent at Renault first alongside Nico Hulkenberg and then Esteban Ocon, who was in no fit state to take the fight to him in 2020 as he returned to racing after a season on the sidelines.
Against a vibrant and prodigiously gifted talent like Norris, however, Ricciardo has been brutally exposed and the excesses and distractions of his post-Red Bull career have finally caught up with him.
The greatest irony of all, perhaps, is that the success of Brand Ricciardo is inextricably indexed to his status as an F1 driver, the platform for his extra-curricular activities now under severe threat. Without the shop window of an F1 seat, Ricciardo risks losing his relevance and business will not exactly be booming.
Still he tells all who will listen there is steel behind the smile, that there remains a fierce and increasingly frustrated competitor burning brightly beneath the Honey Badger façade, yet at this stage it feels he is merely trying to convince himself.
A far cry from the free spirit of those golden Red Bull days, when the bravado and stubbornness eventually subside Ricciardo will look back and realise every move he has made over the last four years has led to this point.
It's hard to watch him like this, and nobody wants to admit it, but he made his bed…
Beginning of the end for Ricciardo at McLaren?
Daniel Ricciardo's McLaren career has never really been able to take off, and it may be coming to an end sooner than expected.