Canadian Grand Prix 2022: Time, TV, live stream, grid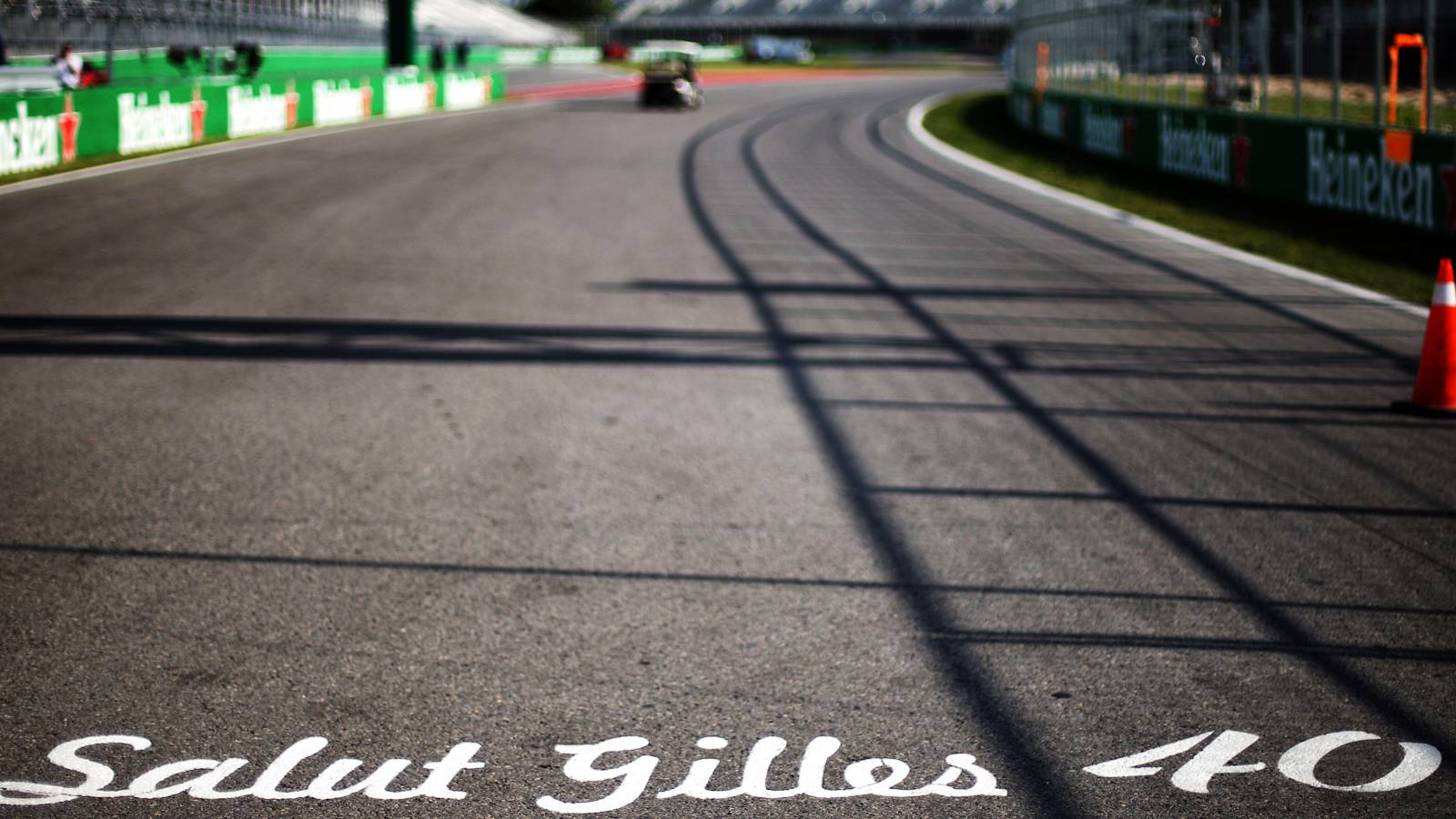 No time to dwell on Baku as Formula 1 heads right back into the thick of the action with the return of the Canadian Grand Prix.
It was an uncomfortable race weekend for many drivers in Baku, Lewis Hamilton especially as the bouncing Mercedes W13 led to serious back pain for the seven-time former champion.
But despite some ominous words from team boss Toto Wolff, Hamilton is set to compete in Canada, although Mercedes must quickly find answers to the extreme porpoising as they head for a track that shares many of Baku's characteristics in the form of the Circuit Gilles Villeneuve.
Ferrari also have work to do after another engine failure for Charles Leclerc, completing a Baku double DNF after Carlos Sainz had dropped out earlier with a hydraulic problem. That cleared the way for a Red Bull one-two as the Scuderia's title hopes took another nasty hit.
As Formula 1 marches on to Montreal for the first time since 2019, here are all the details you need ahead of the 2022 Canadian Grand Prix.
When is the 2022 Canadian Grand Prix?
Friday 17 June
Free practice 1: 1400-1500 (1900-2000 UK)
Free practice 2: 1700-1800 (2200-2300 UK)
Saturday 18 June
Free practice 3: 1300-1400 (1800-1900 UK)
Qualifying: 1600 (2100 UK)
Sunday 19 June
Race: 1400 (1900 UK)
Where does the 2022 Canadian Grand Prix take place?
The Circuit Gilles Villeneuve first appeared on the Formula 1 calendar in 1978 and apart from 1987, 2009, 2020 and 2021, it has been a part of the Formula 1 calendar ever since.
Originally known as the Île Notre-Dame Circuit, it was renamed to its current identity in honour of Canadian driver Gilles Villeneuve who was tragically killed during qualifying for the 1982 Belgian Grand Prix.
It gives the impression of being a permanent circuit but is constructed each year for the grand prix, adjacent to what was the Olympic rowing basin and close to the site of the 1967 World Fair.
It is part-permanent and part-street circuit, with a mixture of slow and fast corners plus some very quick barrier-lined straights.
And when it comes to the Circuit Gilles Villeneuve, there is nothing more iconic than the 'Wall of Champions'.
Drivers exit a sharp chicane onto the main straight, but the consequence of getting it wrong is a trip into this wall which has claimed countless high-profile names over the years.
Damon Hill, Michael Schumacher, Jacques Villeneuve and Jenson Button are just a sample of its victims.
The track consists of 14 turns and is 4.361km in length. The event serves as a home race for both Lance Stroll and Nicholas Latifi.
Where can I watch the 2022 Canadian Grand Prix?
UK pay-TV broadcaster Sky Sports will show the entire race weekend on its dedicated Sky Sports F1 channel. You can also access a live stream of the coverage via Now TV for a one-off fee.
Free-to-air broadcaster Channel 4 will show extended highlights from qualifying and the race.
F1 TV Pro viewers can watch all the live action from Montreal. Please check to see if F1 TV Pro is available in your country.
Subscribers to F1's own app can hear radio commentary on the race proper from BBC Radio 5 Live and access live data throughout every session.
PlanetF1 will carry live timing and expert commentary on every session of the race weekend, from FP1 on Friday morning to the race on Sunday afternoon.
The Canadian Grand Prix will be shown live on TV on the following outlets in other key markets:
United States: ESPN, ABC
Canada: RDS (French), TSN (English)
Australia: Fox Sports
France: Canal+
Italy: Sky Sport F1
Germany: Sky Sport F1
Spain: DAZN
Netherlands: Viaplay
Brazil: Band
Japan: DAZN F1
What are the odds for the 2022 Canadian Grand Prix?
2/5 Max Verstappen (Red Bull)
5/1 Carlos Sainz (Ferrari)
12/1 Fernando Alonso (Alpine)
18/1 Lewis Hamilton (Mercedes)
20/1 Charles Leclerc (Ferrari)
(Odds from Planet Sport Bet and correct as of post-qualifying)
What is the weather forecast for the 2022 Canadian Grand Prix?
Friday 17 June: 24°c, thundery showers
Saturday 18 June: 17°c, sunny intervals
Sunday 19 June: 18°c, sunny intervals
How does the grid line-up for the 2022 Canadian Grand Prix?
1 Max Verstappen, Red Bull
2 Fernando Alonso, Alpine
3 Carlos Sainz, Ferrari
4 Lewis Hamilton, Mercedes
5 Kevin Magnussen, Haas
6 Mick Schumacher, Haas
7 Esteban Ocon, Alpine
8 George Russell, Mercedes
9 Daniel Ricciardo, McLaren
10 Zhou Guanyu, Alfa Romeo
11 Valtteri Bottas, Alfa Romeo
12 Alex Albon, Williams
13 Sergio Perez, Red Bull
14 Lando Norris, McLaren
15 Pierre Gasly, AlphaTauri
16 Sebastian Vettel, Aston Martin
17 Lance Stroll, Aston Martin
18 Nicholas Latifi, Williams
19 Charles Leclerc, Ferrari
20 Yuki Tsunoda, AlphaTauri
Directions to the Canadian Grand Prix
From Montreal City Centre the track is easily accessible – the underground metro line runs to the Ile St. Helen, just a 300-metre walk from the circuit.
If you are travelling to the race via plane, there are quick and easy links to the International Mirabel airport. And Montreal has plenty of restaurants and hotels.
The 15, 767 and 777 buses all have routes that pass close to the Circuit Gilles Villeneuve.
There is no parking directly at the circuit so if you need to drive, it is best to leave your car in the suburbs and use another form of transport to reach the circuit.
Which drivers have won the Canadian Grand Prix?
Michael Schumacher and Lewis Hamilton are tied as the most successful drivers at the Canadian Grand Prix with a staggering seven victories each during their glittering careers.
Schumacher in turn played a key role in helping Ferrari to become the most successful constructor at the Canadian Grand Prix with 14 successes.
In a case of symmetry for Hamilton and Schumacher, tied on seven for both Drivers' titles and Canada wins, Hamilton will look to secure a record eighth win at the 2022 Canadian Grand Prix.
The last 10 winners of the Canadian Grand Prix are:
2019 – Lewis Hamilton (Mercedes)
2018 – Sebastian Vettel (Ferrari)
2017 – Lewis Hamilton (Mercedes)
2016 – Lewis Hamilton (Mercedes)
2015 – Lewis Hamilton (Mercedes)
2014 – Daniel Ricciardo (Red Bull)
2013 – Sebastian Vettel (Red Bull)
2012 – Lewis Hamilton (McLaren)
2011 – Jenson Button (McLaren)
2010 – Lewis Hamilton (McLaren)
Tyre choices for the 2022 Canadian Grand Prix
After a two-year hiatus, the #CanadianGP is back! 🇨🇦

A popular circuit with the #Fit4F1 drivers, traction and braking are crucial around Montreal. Here's everything you need to know: https://t.co/jSIxGQD7Xc#F1 #Formula1 #Pirelli #Pirelli150 @F1 pic.twitter.com/ScDjEjKb0f

— Pirelli Motorsport (@pirellisport) June 13, 2022
Pirelli have had a two-season break from selecting tyres for the Canadian Grand Prix and for its return, they have picked the softest compounds in their range.
That means the C3 will be the hard tyre, the C4 will serve as the medium and the C5 will be available as the soft.
What are the latest F1 Championship standings?
Max Verstappen – 150 points
Sergio Perez – 129
Charles Leclerc – 116
George Russell – 99
Carlos Sainz – 83
Constructors' Championship
Red Bull – 279 points
Ferrari – 199
Mercedes – 161
McLaren – 65
Alpine – 47