Sainz at risk of falling into wingman role for Leclerc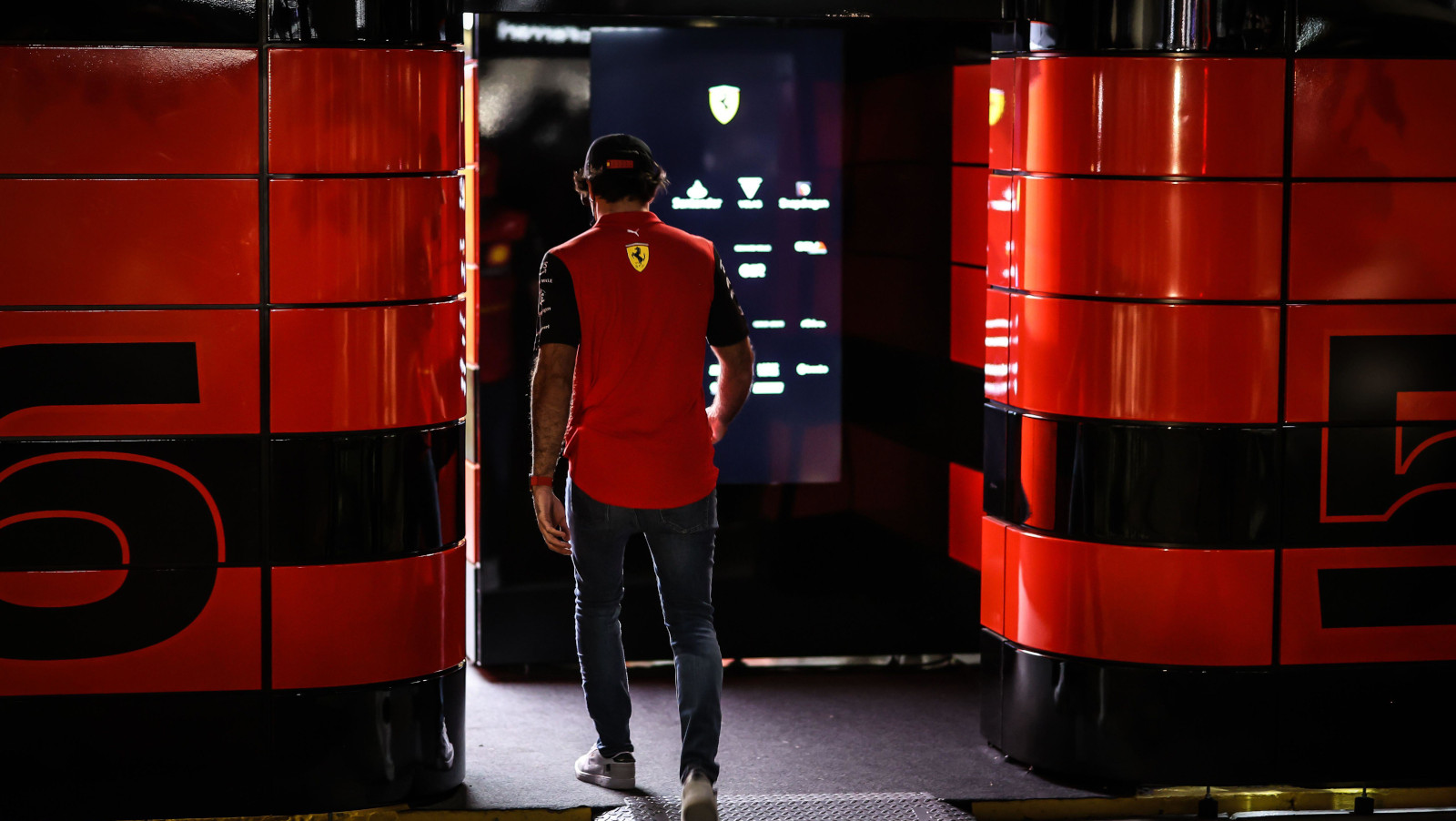 Carlos Sainz won many admirers in his first year as a Ferrari Formula 1 driver in 2021, but even then there was an awareness within the team that their long-term hopes would rest on Charles Leclerc.
Much was made of the fact that Sainz had overcome his lack of knowledge of the team and the car to outscore Leclerc – a driver said to be of a similar standard to title protagonists Max Verstappen and Lewis Hamilton, remember – across the 22-race campaign.
And there were moments last season when it seemed Sainz – with four podium finishes to Leclerc's one and as a signing of the new regime at Ferrari, unlike his team-mate whose arrival in 2019 was the final wish of late chairman Sergio Marchionne – was seizing the political power at the Prancing Horse.
Yet, deep down, Ferrari knew Leclerc was The Chosen One who would deliver when it really mattered, when they were finally in a fit shape to compete for victories again.
"We have invested in him [Leclerc] for the long term because we are fully convinced he will be the man to become the next World Champion," team principal Mattia Binotto told GP Racing magazine last November.
And what of that five-and-a-half-point gap between his drivers in the Championship?
Leclerc lost "at least 40" to bad luck, Binotto claimed over the winter, pointing to missed opportunities in Monaco, where he failed to start from pole position after crashing at the end of qualifying, and Hungary, where he was taken out at the first corner.
Such words of encouragement from the boss came at a time Leclerc – his genius at risk of being taken for granted in some quarters – most needed to hear them, and on the evidence of his start to 2022 Binotto's faith has been rewarded.
With the wonderfully versatile F1-75, Leclerc no longer has to force it in the way he perhaps felt compelled to during Ferrari's two seasons in the midfield – in which he often made mistakes in a determination for his driving to bridge the gap to the front – and can simply let it all flow.
Suggestions of Leclerc 2.0 may make for nice headlines but do him a disservice, for this is not a driver who has suddenly reinvented himself but one who finally has the car for his class to come to the fore.
His second victory in three races in last Sunday's Australian Grand Prix, complete with pole and fastest lap, was the most impressive of his career to date and, extending his lead in the Drivers' standings to 34 points, has already made Leclerc the strong favourite for the 2022 title.
Even at this early stage of the season, Leclerc's latest win – at a circuit where he had been historically weaker relative to his team-mates – had the feel of a decisive blow in his inter-team struggle with Sainz.
The complexion of Sainz's weekend, of course, altered the moment the red flag waved for Fernando Alonso's crash just before he completed his first flying lap of Q3, sparking the unfortunate chain of events that left him beached in the gravel trap after an inelegant spin within two laps of the race.
After Ferrari struggled to fire up his car at the resumption of the session, Sainz was denied the time to complete an extra tyre-preparation lap and qualified ninth – more than 1.5 seconds slower than Leclerc, having been within a tenth or two of his team-mate in Q1 and Q2.
A change of steering wheel shortly before the formation lap contributed to his poor start to the race and in his impatience to recover positions he pushed his hard tyres too hard too soon, running onto the grass at Turn 9 before losing control and spinning into the gravel on the exit of Turn 10.
If the events that resulted in him being swarmed by a bunch of slower cars at the start were out of his control, the final act was reminiscent of Valtteri Bottas on a bad day and his first retirement in 32 races came at a terrible time for both his season and his standing within the Scuderia.
A disappointing end to Carlos Sainz's Sunday on Lap 1 😔

Keep your head up Carlos, plenty more races to come! 🙌#AusGP #F1 pic.twitter.com/0F7mNT6oxx

— Formula 1 (@F1) April 10, 2022
Without a World Championship of any kind since 2008, there will be enormous pressure on Ferrari to convert their stunning start to the season into something tangible, leading to suggestions that Sainz's rare DNF, if anything, may make the team's task easier in terms of protecting the points lead Leclerc has established.
If he is indeed instructed to act as Leclerc's wingman from this point, he can have no complaints.
The writing has been on the wall since the start of the season with Sainz quick but never quite quick enough, Leclerc always capable of extracting a little more from the car in the crucial moments.
By his own admission, Sainz was relieved to emerge from the season opener in Bahrain with a P2 finish after enduring the most troubled weekend of his Ferrari career as he struggled to be at one with the F1-75.
As Leclerc and Verstappen took off into the night for a head-to-head duel in Saudi Arabia, meanwhile, Sainz was ultimately left behind to fight over a distant third with Sergio Perez.
The hard truth? Everything comes more naturally and effortlessly to Leclerc, rapidly cementing his place in the elite alongside Verstappen and Hamilton, than it does to Sainz and his reflexive, harsher inputs.
And beneath the surface of the raw statistics, the signs were very much there throughout 2021 that Leclerc had a higher ceiling than his team-mate.
While Sainz's season was constructed with consistency as he scored points in all but two races, it was still Leclerc on whom Ferrari were reliant to bring the magic.
It was Leclerc, after all, who set the lap for pole in Monaco prior to his crash. It was Leclerc who overcame Ferrari's lingering power deficit to claim another at the following race in Baku. It was Leclerc who threatened to cling on for the win until late in the day at Silverstone.
Sainz's reputation has increased immeasurably in recent years and it is to his immense credit that he has risen to almost every challenge he has faced in F1 to date – surviving and thriving alongside a young Verstappen at Toro Rosso and containing Lando Norris in his two years at McLaren.
At times since 2019 it was as if he had found a ribbon of grip he relentlessly stuck to, like a surfer riding a wave, which served to disguise the slight deficiencies in his driving style.
He may yet emerge as the Nico Rosberg (or, to be more Ferrari-specific, Felipe Massa) of his generation – a driver who lacks the obscene ability and natural finesse of his most gifted peers, but whose intelligence, work ethic and charisma could still take him all the way if the stars align.
Against an increasingly serene and self-assured Leclerc, however, there is little doubt that he now faces his toughest test.
And the events of Albert Park should only accelerate what had already appeared inevitable – that Sainz will be in a support role to Leclerc in 2022 and quite possibly beyond.
As Bottas, the king of wingmen, recently said of his five years at Mercedes: "You always meet – eventually – someone who's better than you and you need to accept it."
Sainz at risk of 'supporting role' for Leclerc
If Carlos Sainz doesn't start winning soon, he'll find himself in a 'supporting role' for his Ferrari team-mate, Charles Leclerc.