Sainz already justifying Ferrari's Vettel decision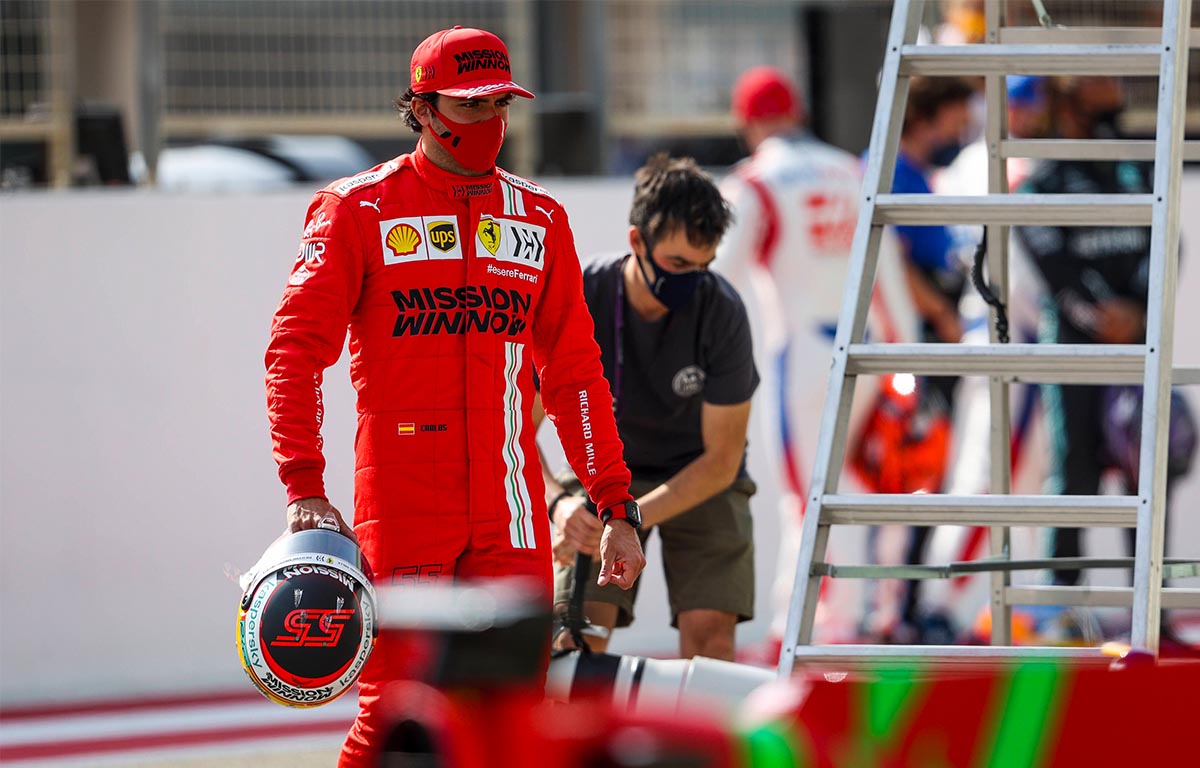 Just two races into 2021, Ferrari's decision to replace Sebastian Vettel with Carlos Sainz is already being justified.
When it was announced that the Italian team would not be renewing Vettel's contract when it expired at the end of the 2020 season, it's fair to say that the reaction wasn't particularly positive.
Getting rid of a driver who had battled for the team for five years without any kind of notice or explanation left a sour taste in the mouths of many, and that became the case more and more throughout his final season.
However, while Ferrari may not have handled things well or treated Vettel fairly, Sainz is already making the move to replace the German with him look like a good one.
P11 to P5! First time in the wet was tricky, I risked at the start, made up 4 places and pushed to find the limits with very good pace! Also quick in the dry,so I'm happy. Still improving, but we're in the right direction.Good double points for the team!
👉https://t.co/Ldr0XiVN2P pic.twitter.com/NU9EPluUUu

— Carlos Sainz (@Carlossainz55) April 18, 2021
Eight drivers are spending their first season with their teams this year, and how they've done thus far has shown how difficult it is to get to grips with a new car.
The rookies – Mick Schumacher, Nikita Mazepin and Yuki Tsunoda – have all made mistakes and crashed, with the latter two doing so more than once already.
The more experienced heads have struggled in new environments too, with Vettel, Fernando Alonso and Daniel Ricciardo all being beaten by team-mates that they were widely were expected to get the better of and Sergio Perez having a terrible second race.
Sainz however, in comparison, is looking right at home in red.
Granted, things haven't been perfect. In Imola in particular he struggled at times, falling to make Q3 and spending much of the first half of the race in the gravel. That being, he has still been immensely impressive.
In his first two races, he has finished comfortably inside the top-10 in both and is currently sitting pretty in P6 in the standings with 14 points.
It wouldn't be entirely fair to Vettel to compare his 2020 results to Sainz's this year as he was in a far worse car, but we can look at how the two stacked up against the other Ferrari of Charles Leclerc, and that too reflects well on Sainz as the Spaniard already seems closer to the Monegasque than Vettel ever was last season.
While Leclerc has comfortably had the edge in qualifying, which is no surprise given he's one of the best qualifiers on the grid and Sainz has admitted himself that he's better on Sundays, there has been little to choose between the two in the races.
In Bahrain, Sainz finished just two places and eight seconds behind his team-mate. What's more, as the race went on and he got more comfortable in his car, he was actually the faster Ferrari and also had better pace than the McLarens.
His result in round two was even better. Not only did he secure a top-five finish but he also finished just a second behind Leclerc and could well have passed him if the 23-year-old didn't have DRS to defend with.
In both Bahrain and Imola, he got much quicker and much more comfortable as he got more laps under his belt, displaying maturity to initially play things safe and showing that he's a very quick learner indeed.
Bearing that in mind, it's hard not to think that he won't get considerably better as the season goes on, which is an exciting thought.
Constructor Standings after R2:

Mercedes still hold the lead over Red Bull 😳

McLaren v Ferrari hotting up very nicely 🔥#ImolaGP 🇮🇹 #F1 pic.twitter.com/COJ3LxbCK4

— Planet F1 (@Planet_F1) April 19, 2021
Thanks to his 14 points, they have kept up with McLaren and have pulled away from the rest of the midfield in the Constructors' Championship. Without them, the gap to the British team would already be sizeable.
For whatever reason, Vettel couldn't consistently deliver such strong results, and judging by the fact that, while he has suffered a lot of bad luck, he hasn't been driving particularly well with his new team and this year's Ferrari – asides from having a much better engine – isn't radically different from the one he struggled to drive so much last year, that would most likely have been the case again if he stayed.
Given that, it's not an exaggeration to say that, by choosing to replace him with Sainz, Mattia Binotto and co saved their chances of returning to the top three in the standings this season, even if they could have gone about it in a much more dignified fashion.
When the Spaniard was signed, there were doubts that he could fill the shoes of a four-time World Champion; there were doubts that he'd be anything more than just second fiddle to Leclerc from the off. If he continues to perform as he did in the first two rounds, he'll soon banish them all.
Finley Crebolder
Follow us on Twitter @Planet_F1 and like our Facebook page.