Defiant Sainz the latest to highlight Ferrari's vulnerability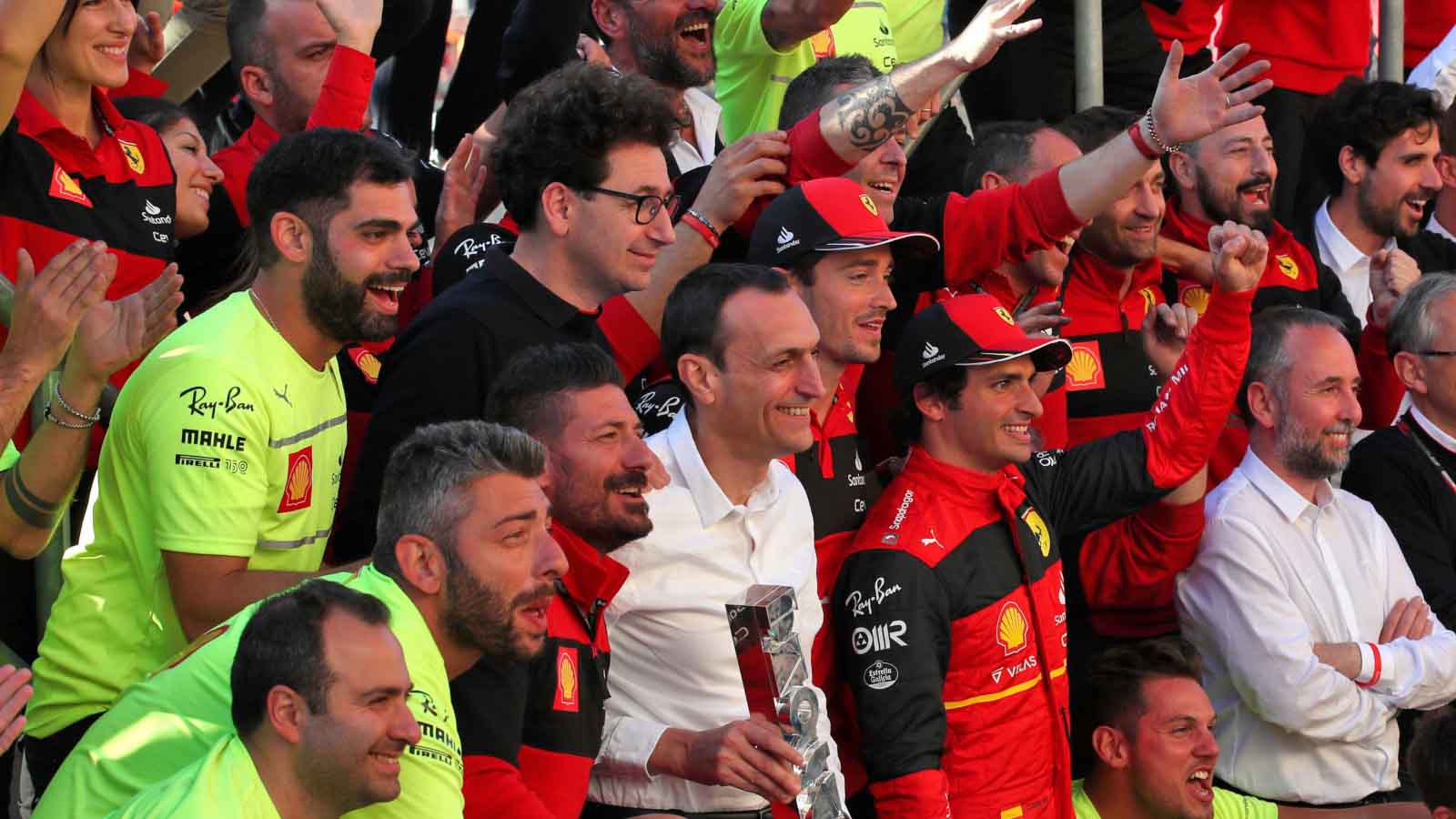 Carlos Sainz has taken matters into his own hands at Ferrari a couple of times this season, and his courage of convictions has arguably shown up where the team have got it wrong in the past few years.
The Spaniard took his maiden victory in Formula 1 at Silverstone at the weekend in dramatic fashion, but there was plenty of back-and-forth on team radio regarding Charles Leclerc wanting to be allowed past Sainz and into the lead.
The swap eventually happened, but not after lap after lap of pontificating and conversation about doing so, before the Safety Car came out.
He then made the decision to tell his team to "stop inventing" when they told him to leave a gap to team-mate Leclerc at the front when the race restarted, assuring that having Lewis Hamilton behind without a slipstream to Leclerc would leave him vulnerable to attack – a choice which Martin Brundle then described as having "saved Ferrari's day" when he took victory.
Sainz duly stayed on Leclerc's tail and swiftly swooped past his team-mate at Aintree to give himself the lead at Silverstone, with Leclerc running on much older tyres than those behind.
The Monégasque driver fought valiantly but could not keep a place on the podium, while the ruthlessness shown by Sainz put him on the top step for the first time.
Norbert Haug: "Unfortunately, it is part of Ferrari's history that such blunders happen from time to time and thus torpedo otherwise brilliant results. At the next race, the pressure will not be less in this way."

[💬 RND] #F1 pic.twitter.com/LQ2fGggkMZ

— PlanetF1 (@Planet_F1) June 6, 2022
When you combine this move with the actions Sainz took at a wet Monaco, highlighting early on that he would be deciding his own strategy and when to swap to dry tyres – which again paid off for him by moving him into the top two – this highlights a couple of issues from Ferrari's point of view.
Namely, Leclerc followed his team's instructions and swiftly went from the lead of his home race to finishing off the podium, much to his chagrin, which effectively confirmed why Sainz was correct to be master of his own destiny instead of following his team's plan.
Put simply, given the data available to them, the team should know more about the best race strategy than their drivers – but this hasn't always shown itself to be the case at Ferrari.
There are several examples in recent years where the team has let itself down in terms of strategic blunders and arguably not being forceful enough regarding team orders, making life harder for themselves unnecessarily in the process.
These have varied in magnitude, of course, but all involve an element of shooting themselves in the metaphorical foot.
Take the 2018 German Grand Prix as an example. Sebastian Vettel, leading the World Championship at the time, comfortably led before his pit stop at Hockenheim.
However, he did not receive the go-ahead from the team to move past Kimi Raikkonen for the lead for 13 laps, which will have cost him significant time to put himself out of sight at the front, and far less pressured when the rain eventually started.
But it eventually came, Vettel went off of his own accord and Hamilton stormed through to take the win after starting 14th, and took the championship lead to boot.
Moving onto Monza a couple of months later. Vettel was very much in the title fight while Raikkonen was lagging a full 68 points behind, but the Finn was offered the slipstream during qualifying, which eventually helped land him pole position over his team-mate.
Vettel was the only one truly in the battle with Hamilton at that time and, while the German started ahead of the Mercedes driver, the pair collided on the first lap – leaving Vettel with a significant recovery drive ahead.
On team order indecision, jump ahead to Russia in 2019. Vettel passed Leclerc at the start of the race with the slipstream offered by the long run to the first braking zone, when the younger driver had taken pole.
Bernie Ecclestone: "I hoped with many people that Ferrari would make it again after more than 14 years.

"Unfortunately, I have to say that anyone who continues to put their money on Ferrari or Leclerc will get nothing!"

[via Blick] #F1 pic.twitter.com/BXrLpa47pS

— PlanetF1 (@Planet_F1) June 22, 2022
Both drivers were told that a position swap would be taking place to give Leclerc priority, but Vettel refused to yield, meaning Ferrari ended up pitting Leclerc early to enforce an undercut on his team-mate – which could likely have been avoided with stronger action from the pit wall.
Then there were mixed messages sent Vettel's way in Spain in 2020, whereby he was told to push on a set of soft tyres midway through the race, but then switching tack and having to nurse those tyres for a much-longer-than-advised 38 laps, leaving the German unsurprisingly furious on the radio.
You could argue that Sainz has seen moments like those unfold in the past and has then refused to put himself in the same situations as those before him.
On one hand, having a driver who is willing to stand up for himself can be a good thing but, on the other, while drivers ultimately exist for the best outcome for themselves, Formula 1 is still ultimately a team sport.
Yet all the while Sainz is showing himself to seemingly know better than Ferrari in live race situations, he could continue to make his own decisions in such a way.
What Ferrari have to do, then, is find a way to assure their drivers that they are in charge, back it up with results, and stop making life so much harder for themselves in the process.
Mixed feelings at Ferrari despite Sainz victory
Carlos Sainz took his first win, but Charles Leclerc was unhappy after the race.