Conclusions from the 2020 season: Part 1
It was far from easy, and hats off to everyone who made it happen, but somehow Formula 1 managed to put together a 17-race 2020 World Championship.
And how happy are we that they did?! In those worrying months when live sport was shut down worldwide, F1's return in early July was just the boost its fans needed.
Despite being anything but a conventional season, there was still a sense of normality about the action on-track – and therefore we were able to draw plenty of conclusions about what unfolded across that rapid-fire stretch of weekends.
Here's the first batch with more coming on Tuesday.
Hamilton reached new heights of supremacy
I couldn't have done this without an incredible team behind me. Thank you for everything @MercedesAMGF1 🙌🏾 pic.twitter.com/pWkXCo0RZ0

— Lewis Hamilton (@LewisHamilton) December 20, 2020
It can be argued whether 2020 was Lewis Hamilton's best season, but surely not in doubt is that he has ever dominated F1 as much before.
You know how strongly an individual sportsman is performing when there becomes a sense of inevitability that they will win. In the last few decades, when they were at their peak I remember it applying to Michael Schumacher, Stephen Hendry, Phil 'The Power' Taylor, Serena Williams and Tiger Woods.
This year, Hamilton joined that list.
Some of his 11 race victories were close to perfection, none more so in terms of complete domination than the Spanish Grand Prix in which the 35-year-old reached an almost trance-like state, saying afterwards he was "just in a daze out there – I didn't even know it was the last lap at the end, that's how zoned in I was".
And what about Turkey? That was a totally different kind of win, with Hamilton on the back foot for much of the race on a slippery, drying track, but once it became apparent he would try to make a set of intermediate tyres last until the end you simply knew who would prevail.
And he did not just take the chequered flag, he smashed the rest of the field by 31 seconds.
Some will say "it's the car" and there is no question Mercedes have been leagues ahead of the other teams.
But a 124-point winning margin in a 17-race World Championship, having also missed one grand prix due to illness, speaks volumes about how far clear Hamilton was of his rivals – the vast majority of whom knew they were beaten before the engines had even been revved up.
Bottas no budding World Champion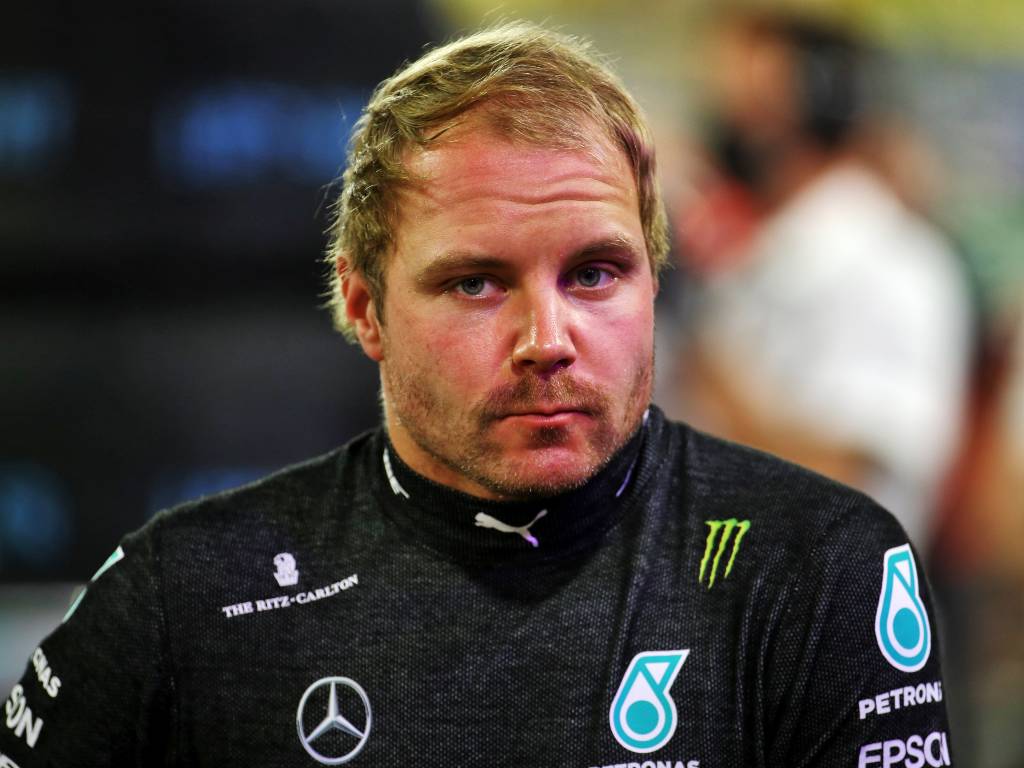 Of course, domination, supremacy, authority are not all a one-way street. They can only exist without a serious challenger and Hamilton certainly did not have one of those for the duration of this year – hence the discussions about whether or not it was his 'best' season.
Valtteri Bottas wants to be a huge threat to his team-mate, but 2020 showed emphatically that a wannabe is all he will ever be.
The Finn can win races and bag pole positions, even in a direct fight with Hamilton. But simply nowhere near often enough to sustain a proper Championship assault for a full campaign.
There was a brief time over the course of the first couple of races, when Bottas had a win and a second place to head the standings, when you thought it might happen, that this was finally the year when he could 'do a Nico Rosberg' and get Hamilton rattled.
But when the circus moved on to Hungary and beyond, Bottas' hopes were left behind in Austria and he gradually fell further and further adrift of his colleague.
Even more worryingly for the 31-year-old, as the Sakhir Grand Prix unfolded, he never looked like beating Hamilton's one-off stand-in, George Russell.
It was not all Bottas' fault, he undoubtedly had some bad luck, but that result capped a run in which he finished no higher than eighth in four races out of six from Eifel through to Sakhir.
Bottas stays with Mercedes for 2021 but with a young, hungry Russell waiting eagerly in the wings for his chance, it will take something extraordinary – which we have not seen from him before – to extend his stay with the team into a sixth season.
Ocon needs to raise his game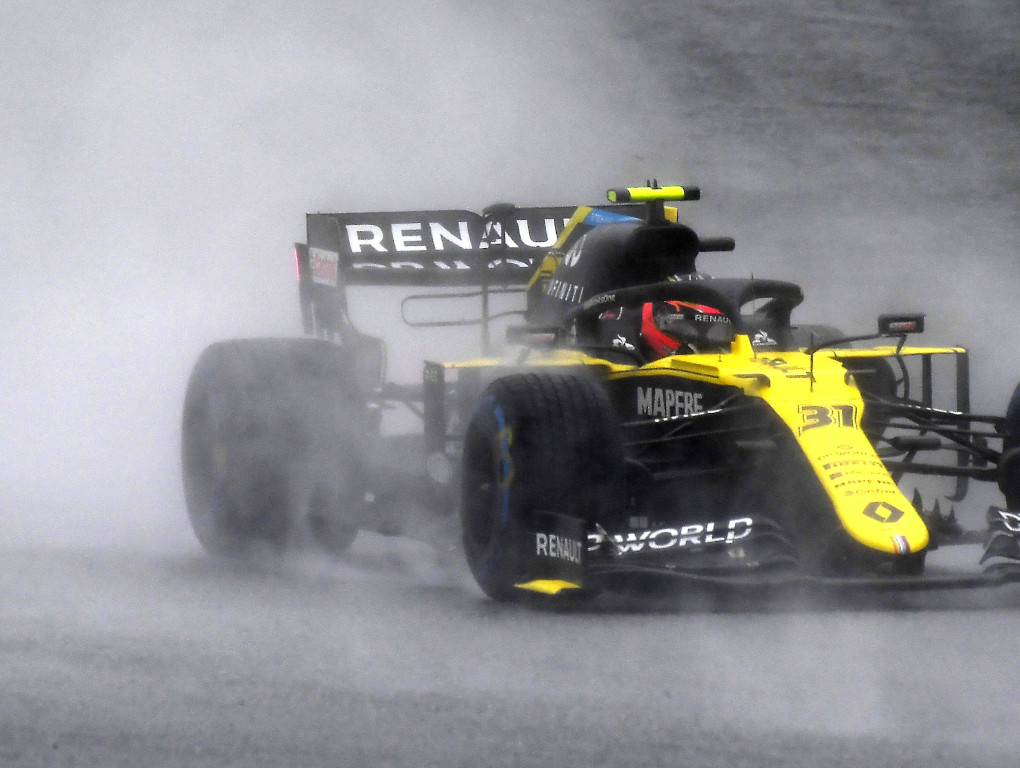 Staying on the subject of drivers whose report card says "must do better in 2021", Esteban Ocon says hello.
Unlike Bottas, the Frenchman has mitigation in his favour. It was his first year with Renault and he was up against a more experienced team-mate in Daniel Ricciardo, who had been there in 2019 and is known for being one of the best pound-for-pound drivers on the grid.
But as someone in whom Toto Wolff has lots of faith – having said, like Russell, he is a potential Mercedes racer of the future – it was difficult not to be disappointed with Ocon given his reputation.
True, he was returning to the grid after a year on the sidelines. But a qualifying head-to-head record of 15-2 to Ricciardo became 13-4 in races with respective points totals of 119-62.
The big highlight of the year for Ocon was P2 in the Sakhir Grand Prix when several of the usual or expected podium finishers offered a big helping hand. It was a good drive, but fortune was on his side.
"I cried on the line," admitted the 24-year-old. "It's been a tough season on our side. It hasn't paid off all the time. At the moment when less and less people are believing in you, it's important to believe in yourself and today we made it happen."
Ricciardo is moving on to McLaren, but things will not get any easier for Ocon – his new team-mate is Fernando Alonso, a man who notoriously takes no prisoners.
You suspect 2020 has been a wake-up call for Ocon in terms of his F1 future and with a pushy two-time former World Champion now just across the garage, he needs to put that self-belief he spoke of into effect consistently from FP1 in Melbourne onwards.
Gasly's Red Bull woes firmly behind him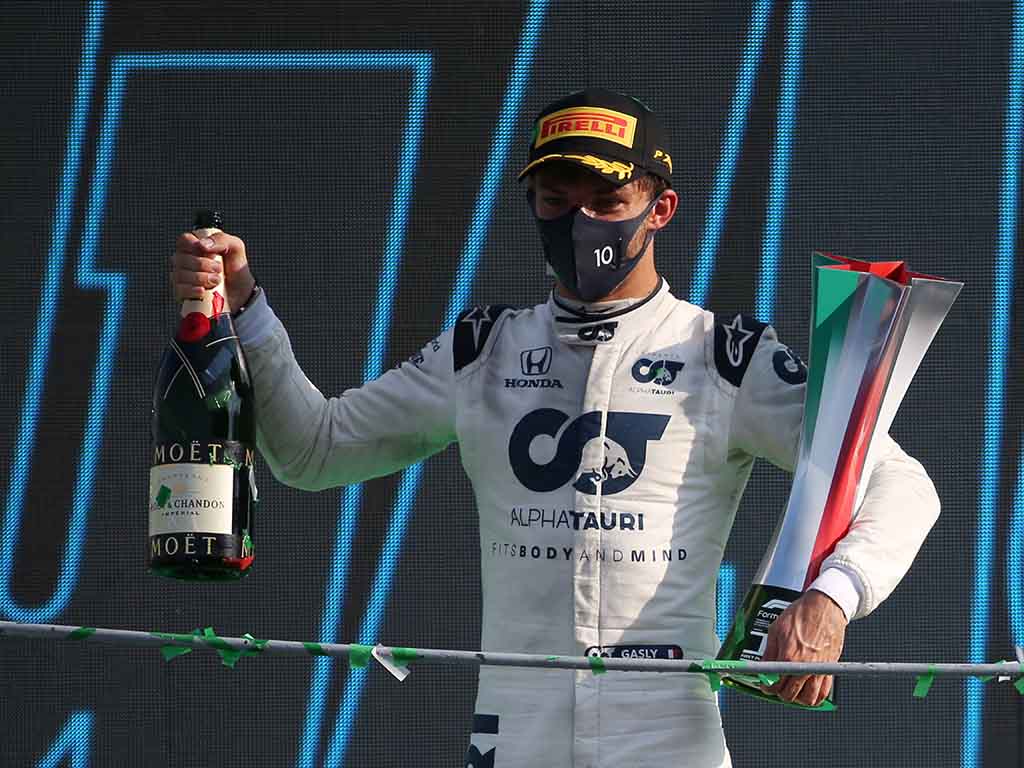 It's said that Ocon and Pierre Gasly, who have known each other since karting, are not exactly best friends these days and there was a definite divergence in their 2020 fortunes too.
Gasly was France's No 1 driver (excluding Monaco's Charles Leclerc) as he completed a superb revival from those dark days in the summer of 2019 when he was dropped by Red Bull.
Only Sergio Perez experienced the same feeling as Gasly – that of winning an F1 race for the first time, which the AlphaTauri driver did in the Italian Grand Prix, admittedly with a slice of luck but also some well-executed defensive driving under late pressure from Carlos Sainz.
Ultimately, Gasly had to deliver. AlphaTauri were clearly determined to promote Red Bull junior driver Yuki Tsunoda for 2021 and someone had to make way. In what amounted to a straight shootout over the course of the season, the 24-year-old Frenchman got the better of his team-mate Daniil Kvyat.
It was not just down to the Monza triumph either. Gasly was a consistent points-finisher in a car that was seventh best of the 10, according to the constructors' standings, and showed why Red Bull had picked him to partner Max Verstappen in the first place.
A different challenge awaits Gasly in 2021, with having a prodigiously talented newcomer in direct comparison, and he will be keen to continue demonstrating that his Red Bull failure should not be held against him in the quest to work his way up to the sport's pinnacle.
F1 has never been safer (thankfully)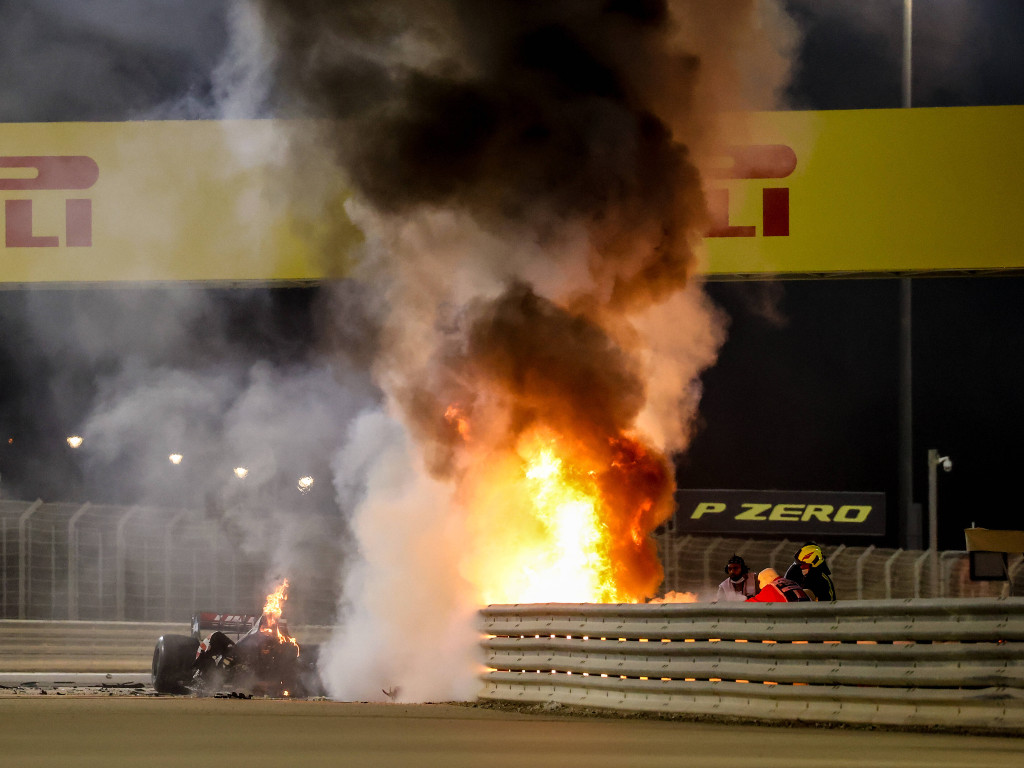 The worst two minutes (or thereabouts) of the season? From the moment a fireball erupted after Romain Grosjean's car crashed into the barrier in Bahrain, to the enormous relief of hearing he was out of the car and seemingly unharmed.
Even a few weeks later, we still cannot really comprehend how the Frenchman was able to walk back into the paddock four days later with only "Mickey Mouse's hands" (his words) and a sprained ankle, and can now spend a happy Christmas with his family.
Well, actually we can. It's all because of the highest levels of safety the sport has reached in its 70-year history.
There were worrying aspects to the Grosjean crash, of course. The fact the barrier was exposed and then pierced, the sudden fire and that it took the driver three attempts to extricate himself from the cockpit.
Happy birthday @marionjolles
Wasn't supposed to be home this week, but I'm 🙏❤🙏 pic.twitter.com/FBJiEaK4TX

— Romain Grosjean (@RGrosjean) December 8, 2020
But even though the Haas car was ripped in half by the impact, the 'survival cell' in which Grosjean was cocooned remained intact and, biggest of all, the Halo did the job it was introduced for – protecting the driver's head from what would have been catastrophic injury had the device not been there.
Grosjean freely admits he was not the only driver opposed to the Halo before it was brought in for 2018, but it has unanimous support now.
An investigation is due to take place which will address some of the concerns raised by the accident, and anything that can be done to avoid a repeat of the horrifying scenes in Bahrain will obviously be welcome.
Yet the FIA can give themselves a pat on the back that Grosjean did make such a miraculous escape – and of all the conclusions we could draw from the 2020 F1 season, that is by far the most satisfying.
Jon Wilde