Dutch GP conclusions: Max Verstappen does it again, so too do Ferrari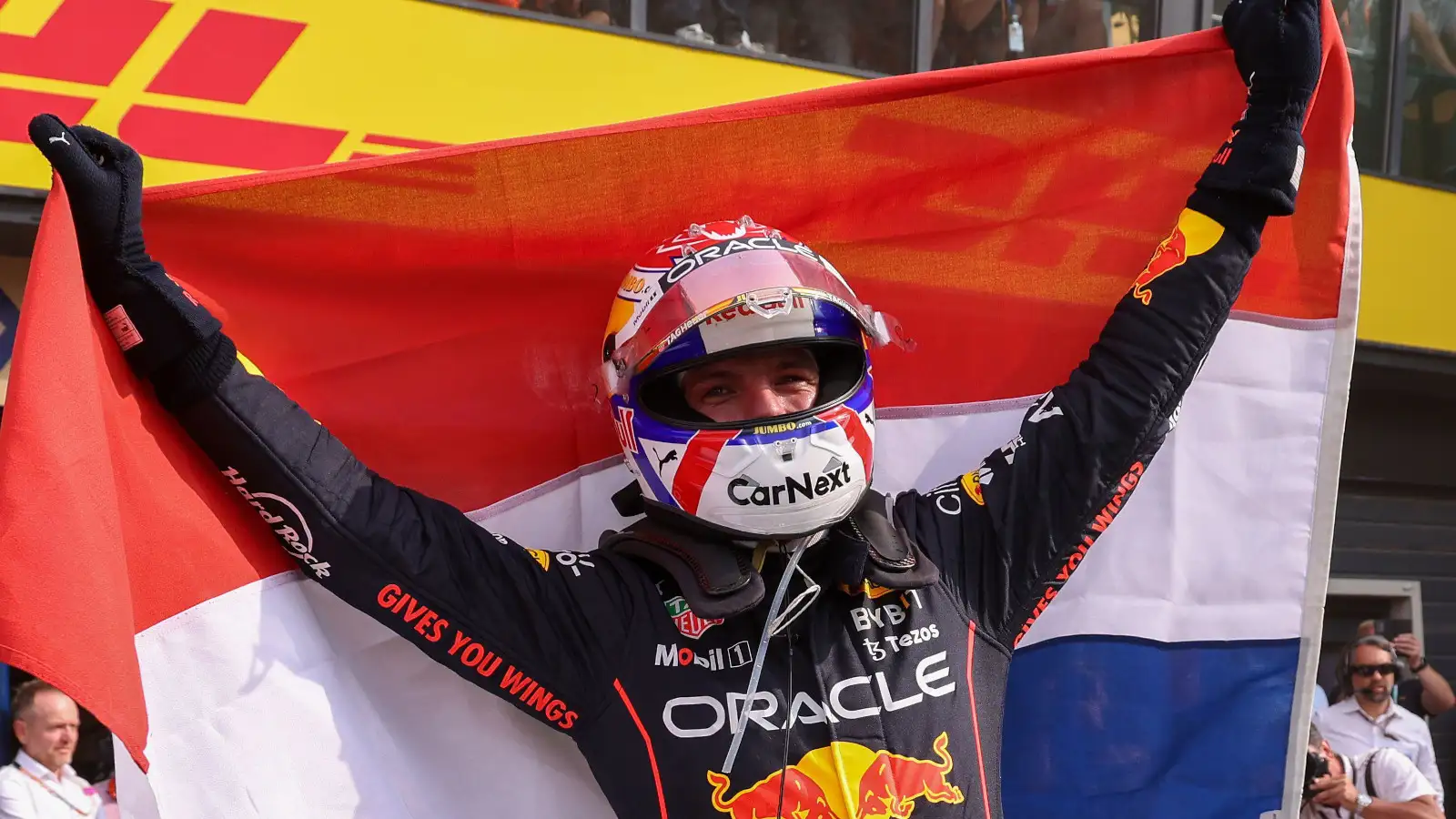 Max Verstappen won at home for the second successive season to edge closer to his second Formula 1 title at the Dutch Grand Prix after seeing off the threat of Mercedes and Ferrari.
Here are our conclusions from Zandvoort…
Max gives the people what they want
It was the sheer bluntness of Max Verstappen's response that amused Charles Leclerc.
Asked in the post-qualifying press conference if he was wary of Mercedes' long-run pace at Zandvoort, Max raised the microphone from his lap and simply said: "No."
Verstappen may have regretted being so dismissive of Mercedes as the Dutch GP developed, the silver cars soon emerging as the real threat on this compact circuit with its high-downforce demands.
The Safety Car interruptions and subsequent cheap stops saved his day to some extent and Verstappen's immediate pass on Lewis Hamilton at the final restart was almost a physical manifestation of the contempt he had shown in the media room 24 hours earlier.
If Verstappen and Red Bull touched the sky at Spa, living up to the will of the people at Zandvoort – a venue more unsuited to the strengths of the RB18 you will struggle to find – was a different challenge altogether.
Yet it is a reflection of the level and confidence at which team, driver and car are currently operating that even after losing track time in practice Verstappen ultimately converted pole position into yet another victory – his 10th of the season already equalling last season's tally – edging ever closer to a second successive World Championship.
Despite only returning to the calendar in 2021, the Zandvoort round has already become one of the highlights of the F1 season and is the home fixture the Dutch fans' devotion to Verstappen deserves.
And while he had to work harder for it than at Spa and, indeed, the corresponding race last year, there was almost an inevitability to Max giving the people what they wanted for the second consecutive season.
They came, they saw, he conquered. Again.
Zandvoort, it's been a pleasure 🧡 pic.twitter.com/EXX5VSBC6p

— Oracle Red Bull Racing (@redbullracing) September 4, 2022
Mercedes mishaps cut deeper for Hamilton in a season of limited opportunities
Until Yuki Tsunoda stopped on track for the second and final time and triggered the Virtual Safety Car, this was the race Spain, Silverstone and Hungary had promised to be for Mercedes.
Again choosing the contrary strategy of starting on medium tyres, the Dutch GP provided a glimpse of what Hamilton could have been capable of in Barcelona had he not come off worst from a first-lap collision, or in Budapest if his DRS didn't falter in Q3.
With Hamilton convinced Sergio Perez's spin in the closing seconds of qualifying had cost him a front-row start, finally he felt he had a car he could work with, rather than against, at Zandvoort.
If the VSC briefly took the race out of Mercedes hands, the full Safety Car for Valtteri Bottas's stricken Alfa Romeo, with Verstappen pitting for softs, appeared to move it back in their favour as the Mercedes cars momentarily ran one and two, both on mediums only eight laps old.
Allowing George Russell to go rogue, also pitting under the Safety Car, may have safeguarded second place for Mercedes but denied Hamilton the rear gunner he required if he was to stand a chance of resisting Verstappen.
After the season they've had, there was a very convincing argument that Mercedes should have done everything possible to seize the day, yet the ease with which Verstappen dealt with Hamilton at the restart suggested it may not have mattered either way and merely delayed the inevitable.
Lewis is FUMING with Mercedes 😳 pic.twitter.com/ot9zqNEmFn

— ESPN F1 (@ESPNF1) September 4, 2022
After lambasting the team over the radio, making a point of praising the mechanics but not the pit wall, there was something slightly performative about Hamilton's determination to focus on the positives in the media pen.
"I want to look at it as a glass half full, we came here struggling from the last race," he said.
"We were fighting against the Red Bulls today. We were quicker than most at many points; without the Safety Car, we would have been challenging them for the win on the one-stop, which I don't think the others could do.
"So, many great things to take from it. The car was finally working. If this can be the same in the future races, we are going to continue to breathe down their necks and we are going to get that win."
Progress has been the party line at Mercedes throughout 2022. Let's hold fire on that until next week at Monza where, on a circuit set to severely punish the W13's drag deficiencies, they are likely to be plunged back into crisis mode…
Ferrari should focus entirely on getting the basics right for the rest of 2022
Verstappen's dominant victory at Spa from 14th on the grid heralded a noticeable change in tone from Ferrari.
Having insisted before the summer break that there was no reason why they couldn't win all of the remaining races to overcome Max and Red Bull, the Scuderia finally joined the rest of us in accepting the title race is over.
Leclerc even admitted during the Dutch GP weekend that he has "stopped counting" the points gap between him and Verstappen, such is the futility of maintaining the illusion of a title fight.
They might only be prepared to admit it now but the 2022 title was lost long ago, in that early-summer stretch of unreliability and days like Monaco, Silverstone, France and Hungary, turning positions of strength into races over which they will look back on and weep.
At this point each mistake – with online images depicting their pit wall as a collection of clowns never far away – breeds the next, Ferrari not only lacking faith in their decisions but their ability to even execute them effectively and efficiently.
Ferrari "really need to start making some changes," according to the 2016 World Champion.#DutchGP 🇳🇱 #F1https://t.co/Yq2L2O8sKZ

— PlanetF1 (@Planet_F1) September 4, 2022
Carlos Sainz's 12.7-second stop, later followed by Perez tripping over a stray Ferrari wheel gun and an unsafe release, completed the Prancing Horse's latest calamitous day at a circuit on which the F1-75 would quite feasibly have been out of sight earlier in the season.
The greatest danger of all is that their shortcomings of this season bleed into the next and, with the title gone, perhaps Ferrari should view the final seven races as an opportunity to reset and restore some confidence before trying again in 2023.
After Russell's podium in Baku in June, Mercedes boss Toto Wolff described his delight that despite lacking the car to challenge for victories, the team's ability to get the basics right – strategy, driving, operations, procedures – was still bringing rewards, still something to cling on to as a point of pride.
If Ferrari can manage to do the same until the end of the year, they might find everything else gets so much easier.
If McLaren are to finish fourth, Norris must do it alone
McLaren know better than most that in a tight battle in the Constructors' Championship, it is the team with two drivers performing at a consistently high level that will prevail.
It was the productivity of the partnership between Sainz and Lando Norris that allowed them to beat Racing Point and Renault, heavily reliant on Perez and Daniel Ricciardo respectively, to third in 2020.
And, on the flip side, it was Ricciardo's inability to adequately support Norris that ultimately lost them P3 to Ferrari – reborn with Sainz and Leclerc behind the wheel – last season.
Fourth place is the limit of McLaren's ambitions in 2022, but the same old problem is likely to cost them against an Alpine team able to count on both Fernando Alonso and Esteban Ocon on a regular basis.
After falling 20 points behind Alpine at Spa, Zandvoort represented a key opportunity for McLaren to strike back.
Norris, naturally, did his thing to qualify in the best-of-the-rest position of seventh, but Ricciardo – qualifying and finishing P17, ahead only of the much-maligned Nicholas Latifi – increasingly has the look of a lost cause.
If it was hoped that being put out of his misery by McLaren would relax Ricciardo into rediscovering a little of the old magic, the reality is that he has never been under greater pressure to justify a place in F1.
With Norris pipped to P6 by Alonso and Ocon finishing ninth as both Alpines recovered from Q2 elimination to score points, McLaren have found themselves losing yet more ground at a circuit where they really should have cashed in.
Points on the board today before we go again in Monza. Rest – pizza – race. That's the plan. 🍕😉 @LandoNorris @DanielRicciardo #DutchGP 🇳🇱 pic.twitter.com/GpIDX7Fk5Y

— McLaren (@McLarenF1) September 4, 2022
With Monza set to reward the A522's straight-line speed, Alpine could take a major step towards solidifying fourth place next weekend.
If McLaren are to stand a chance from here, Norris is going to have to do it alone.
There's still a fine F1 driver hiding somewhere within Stroll
When Alonso's switch to Aston Martin for 2023 was announced on the first morning of the summer break, there was an inclination to pray – and pray some more – for Lance Stroll.
He has measured up reasonably well alongside a four-time World Champion over the last couple of seasons, though most would argue that says more about Sebastian Vettel's decline than it does about Stroll himself.
But against Alonso, a driver still close to his peak at 41, capable of such feats as qualifying a modest Alpine on the front row in Canada and renowned for breaking the spirit of his team-mates? Pray for Stroll.
Maybe it should be no surprise that Stroll – his inputs still on the spiky side, his F1 career spent driving exclusively the extreme-downforce cars of 2017-21 – has been less equipped than most when it comes to adapting to the very different demands of the 2022 machinery.
Another point on the board. 💚

Lance brings it home in P10 as Seb crosses the line in P13 – dropping to P14 after a 5s penalty. #F1 #DutchGP pic.twitter.com/ql1wZfzuZj

— Aston Martin Aramco Cognizant F1 Team (@AstonMartinF1) September 4, 2022
Some of the lessons of this season have been harsh – most notably when he crashed out of qualifying in Australia and Azerbaijan – but every so often Stroll will have a weekend when it all suddenly makes sense.
As Vettel continued to stagger towards retirement at Zandvoort – out again in Q1 after running through the gravel at the final corner before interfering with the Hamilton-Perez battle as he left the pits while a lap down – Stroll was having his strongest weekend of the season.
His second Q3 appearance of 2022, his first since Miami, could have led to his best starting spot of the year were it not for a hydraulic issue in Q3 and Stroll felt he could have finished as high as P7 without the Safety Car on race day. Instead, he was forced to settle for P10 for the fifth time this season.
Five years and one day after he became the youngest driver to start from the front row at Monza, here was another fleeting reminder that there's still a fine grand prix driver in there somewhere.