Conclusions from the F1 2022 season: Max Verstappen unstoppable, Ferrari's failure and more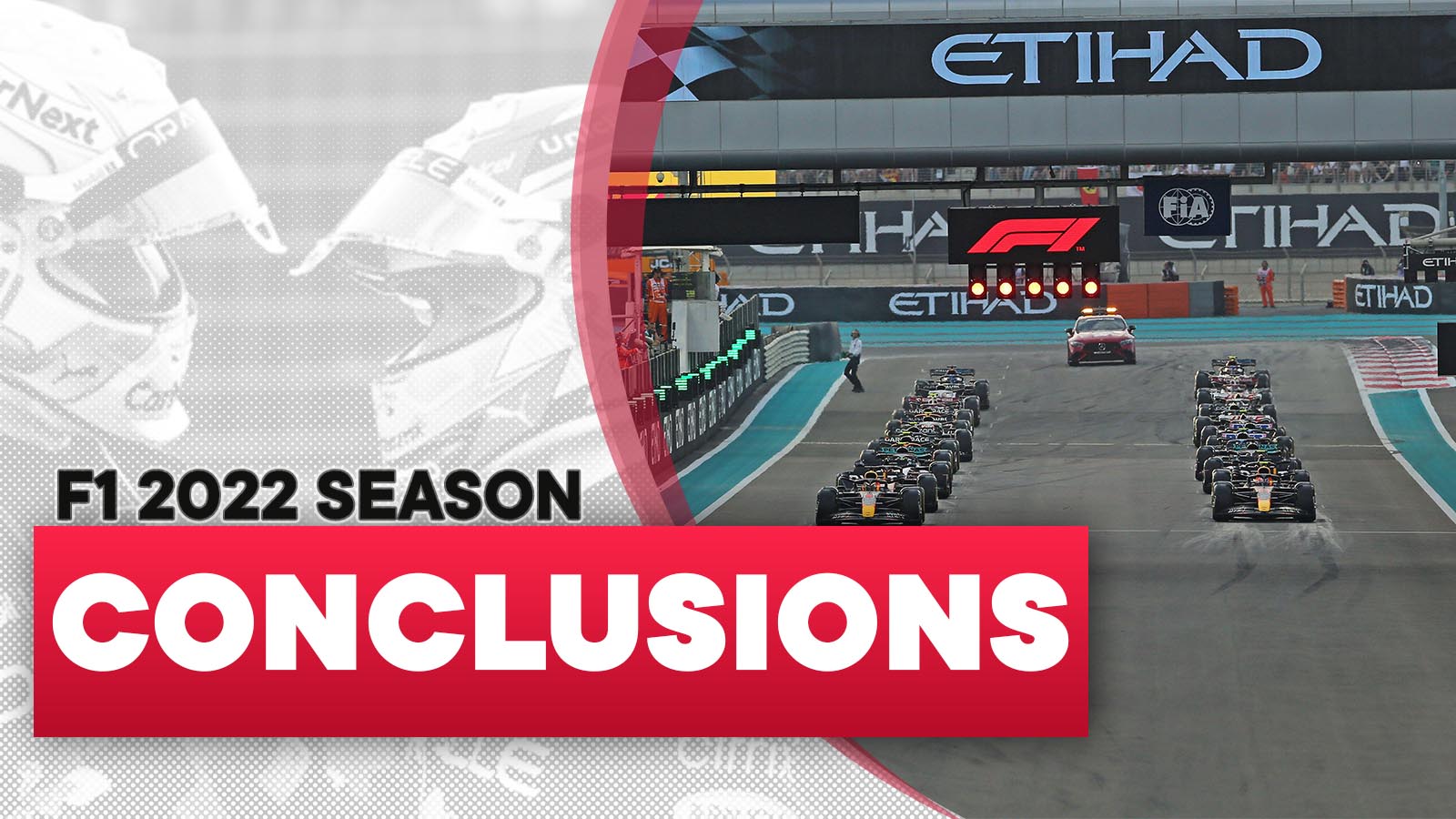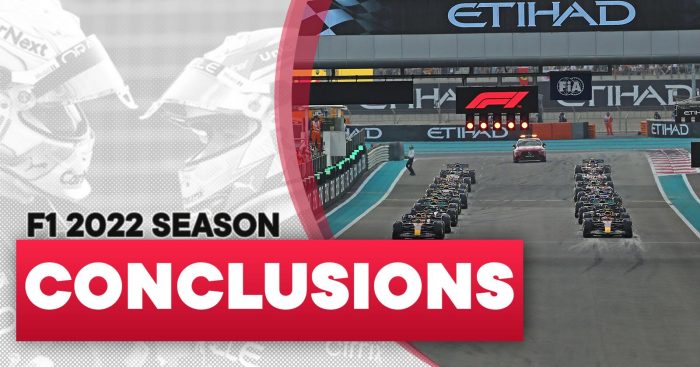 With 22 races completed, the 2022 season was not quite the longest campaign in Formula 1's history – but with one driver winning 15 of them, it certainly felt like it at times.
Max Verstappen and Red Bull were very worthy winners of the World Championship, with the team taking both the Drivers' and Constructors' titles for the first time in nine years.
So what did we all learn from F1 2022? Here are our biggest takeaways from the year…
Welcome to the Max Verstappen era
Like Michael Schumacher in 1995 and Sebastian Vettel in 2011 to name just two examples, a second title was the natural next step for Verstappen after clinching his maiden World Championship in 2021.
History will remember 2022 as The Year After The Year, in which the increased maturity and confidence that came with winning the first title elevated driver and team to an even higher level of performance.
But despite the scarcely believable statistics – with 15 victories Verstappen shattered the record previously shared between Schumacher and Vettel for the most wins in a single season – this year was not always as routine as he and Red Bull ultimately made it appear.
Max was hard on the team when he needed to be, most memorably following his second DNF in three races in Australia and even after winning in Miami where he felt an interrupted Friday at F1's newest venue had cost him pole position.
Sensing the golden opportunity opening up before him after Red Bull successfully negotiated the winter's rule changes, Verstappen's relentlessness – that total rejection of even the slightest drop in standards – was at the heart of the team's response.
As Ferrari started to stagger and stumble, Red Bull took flight with Verstappen touching the sky, scaling heights few drivers in F1 history have ever reached with wins from as low as P10 and P14 on the grid at Budapest and Spa.
Dominance of this nature usually comes at the conclusion of a rules cycle with Schumacher and Vettel's 13 wins in a season coming at the end of their particular eras in 2004 and 2013 respectively.
The most terrifying thing about Verstappen's 2022? This may be just the beginning.
On that note, a word on those regulation changes…
It became obvious very quickly that the new rules had the desired effect as Verstappen and Charles Leclerc raced spectacularly for the victory in Bahrain and Jeddah.
But at the end of a year in which one team won all but five races, were the changes really worth it?
In other words, was the racing so much improved that it justified creating yet another regulatory fork in the road that took Mercedes – and two great drivers in Lewis Hamilton and George Russell – out of the equation and re-established the wall separating F1's haves and have-nots?
Ask most onlookers and they surely would have preferred a 2021 sequel to another rules reset restoring a state of one-team dominance and producing a season in which only one driver (Lando Norris at Imola) outside of the top three teams stood on the podium.
With Verstappen and Red Bull well placed to potentially paint an era orange, one of F1's greatest-ever seasons in 2021 looks increasingly like a bridge between one generation of dominance and the next.
But, we will continue to live in hope.
Charles Leclerc and Ferrari aren't ready to win just yet
Was it a mere coincidence that Ferrari's season started to falter at the precise point they seemed favourites to win the title in 2022?
All was well in the Prancing Horse's world when Leclerc won in Australia to extend his lead over Verstappen to 46 points after three races.
In hindsight, however, it was the worst thing to happen to them, bringing a level of expectation to a team re-emerging from the competitive wilderness of 2020/21.
Suddenly with something to lose – having previously had everything to gain – almost overnight Ferrari became nervous and jittery with Leclerc's first major mistake of the season occurring at the very next race in front of a demanding home crowd at Imola.
From that moment Ferrari were never quite the same as reliability issues intervened and the team soon lost all confidence in their ability to perform the simplest of pit lane and strategic tasks, each mistake breeding the next.
Even Leclerc was not immune to the madness, his roar over the radio after crashing out of the lead in France the defining moment of Ferrari's year.
Yet it is worth remembering that, in his fifth full season in F1, Leclerc in 2022 was at the same stage of his career as Verstappen in 2019 – capable of incredible highs that point to a stunning future but still with his talent too untamed for those peaks to become standard.
If he can follow a similar trajectory to Max over the coming years, the manner of Leclerc's defeat may come to be remembered as a valuable learning experience on the route to greatness.
For Ferrari, the catastrophic collapse of the title challenge provided an insight into the unique pressures the Scuderia face as they seek to end a generation of underachievement since their last Drivers' title in 2007.
With the team also caving in during two tight battles with Mercedes in 2017/18, will it require a dominant car for Ferrari to finally win another title and keep that crippling tension below the surface for a full season?
Surely their best chance of building that car – beyond telling Adrian Newey to name his price – is to have faith in Mattia Binotto, who at the time of writing seems almost certain to pay for Ferrari's underachievement with his job as team principal.
For all the focus on the way the season ended, however, it is only down to Binotto's work – as one of the most creative engineers in the pit lane – on the elegant and innovative F1-75 car that Ferrari even had a Championship challenge to throw away in the first place.
Dare they callously toss away all that genius, and one of the team's most valuable assets, so easily?
Now, more than ever, is the time to let the team breathe and grow rather than pull everything down and build it back up again.
George Russell is going to pose a serious problem for Lewis Hamilton
Sakhir 2020 proved Russell and Mercedes had the potential to be a marriage made in heaven, but outperforming a psychologically shattered Valtteri Bottas at the end of a long, hard season was one thing.
Taking on the most successful driver in F1 history in the same car, in the team he had made his own over the last decade? That was quite another.
Yet with pole position in Hungary and a sprint race victory followed by the real thing in Brazil, Russell was at the heart of everything good about Mercedes in 2022.
An unbroken run of top-five finishes set a strong foundation for his first full year in silver, and if there were any lingering doubts over his ultimate potential they were extinguished during the closing laps at Interlagos.
Overcoming the jeopardy of a Safety Car restart and absorbing huge pressure from a seven-time World Champion breathing down his neck made for arguably the single most impressive phase of a race by any driver all season, as Russell at last joined the list of grand prix winners.
He ultimately finished 35 points ahead of his team-mate in the Drivers' standings, though with Mercedes' porpoising problems taking them out of title contention Hamilton, who spent much of the first half of the season conducting various setup experiments, will argue that matters little.
Most signs suggest Hamilton retains a slight underlying pace advantage, but where does Russell's flawless start to life at Mercedes leave him going forward? Potentially in quite a difficult position.
Considering how his own outlook altered in 2022 – presented with the worst car of his career and a vibrant new team-mate after the trauma of Abu Dhabi 2021 – Hamilton handled his change of status far better than most could have anticipated.
Yet a series of uncharacteristic mistakes in the second half of the season – including a strange collision with Fernando Alonso at Spa to a messy second half of the race in Singapore – ensured his year ended with more questions than answers.
Were these misjudgements merely a case of the frustrations of his first winless F1 season rising to the surface? Or, with his 38th birthday fast approaching, were they the very first small hints of decline? It is at least something to monitor across the opening months of next season.
Combine all these factors – and the notion that Mercedes will require a perfect winter to produce a Red Bull beater – and winning an eighth title from here would rank as his greatest achievement.
In an ideal world, Hamilton would be hoping for a 2023 Mercedes resurgence still with Bottas by his side and the full and unequivocal support of the team.
Instead he must contend with a gifted and tenacious young team-mate, increasingly confident and determined to make Mercedes his team having already acquired a taste for success.
Before he can turn his attention to Verstappen and Red Bull, Hamilton must first contain Russell.
Let there be fireworks.
Sebastian Vettel is bowing out at the right time
The closing years of Vettel's F1 career bring to mind the tale of the football icon Bill Shankly, whose life was stripped of its purpose when he suddenly resigned as manager of Liverpool in 1974.
Years later, Shankly's story inspired a book called Red or Dead – a term that could so easily apply to a latter-day Vettel.
After winning four consecutive titles with Red Bull, Vettel had been open about his desire to replicate the success of his childhood idol Schumacher at Ferrari – his switch in 2015 following the prophecy of his former team-mate Mark Webber almost to the letter.
When it became obvious the dream would not materialise – an error-ridden end to 2018 laid the path for Leclerc to come along and steal Ferrari's hearts the following season – what was left for Seb to do, to target, to achieve?
He remained red for one more year before moving to Aston Martin but his career, in terms of having something worth fighting for, was effectively already dead.
It came as no surprise when, as he became increasingly reflective in his final days in F1, Vettel admitted he had come close to retirement at the end of that pivotal year in 2019.
If there was an increased focus on Vettel's personal qualities during his two years in green, it was partly because there was little left of the driver he once was.
He remained capable of fine feats when the car was in the right window – a run to P6 during his traditional Baku revival, plus battling drives in Japan, Austin and Abu Dhabi, were the highlights of his final season – yet there were more signs to suggest his decline over recent years was irreversible.
Two crashes in 24 hours in Australia were deeply unedifying, as was a costly spin into the barriers at the end of a damp FP3 in Hungary – a rookie error just two days after his retirement was announced – and a series of marginal Q1 eliminations around the same time as Seb somehow sounded increasingly surprised to fall at the first hurdle as each week passed.
Certainly, had you suggested five years ago that Vettel would not destroy Lance Stroll across a season – the qualifying head-to-head for 2022 ended 13-7 in Seb's favour – you would have been laughed out of town.
Vettel's reasoning for continuing beyond 2019 was that he still had some "unanswered questions or unfinished business with myself."
Did, perhaps, the ruthless competitor within need to be suppressed for the human being to flourish?
If so, maybe life after Ferrari was worth living after all.
Daniel Ricciardo's post-2018 distractions have finally caught up with him
How did it come to this?
How had F1 found itself in a position where its folk hero and one of the most gifted drivers of his generation – never let recent events distort memories of how good he once was – was slipping quietly out the back door in Abu Dhabi, potentially never to return?
So unnecessary, so utterly avoidable.
Yet if Daniel Ricciardo has a shred of self-awareness he will accept there is nobody to blame but himself, for every move he made over the previous four years led to the point when he was dropped by McLaren in August.
Back in mid-2018 there was still very much a place for Daniel to be the Jenson to Verstappen's Lewis at Red Bull, but his signing of a lucrative Renault contract set Ricciardo on the road to nowhere.
It is not unusual for athletes to cash in at a certain stage of their career, yet that normally comes when their best days are behind them.
For Ricciardo to gleefully step out of one of the few cars capable of competing at the front when he still had so much to achieve – so many more races to win, so many more shoeys to down – raised suspicions over the very motive of his grand prix career.
In the choice between success or wealth, was nobody there at that time to remind him one invariably follows the other?
With the switch to Renault came a change of management and then the clothing collection and alcohol range as Ricciardo morphed from a racing driver of substance into an Instagram-influencing hologram.
Instantly exposed in 2021 by Norris – in so many ways a younger version of himself – if ending McLaren's nine-year winless streak at Monza had convinced Ricciardo his mediocre season was down to the characteristics of the car, it was a fatal mistake.
With just seven points finishes, 2022 was even worse and his inability to adequately support Norris cost the team a place in the Constructors' Championship for a second consecutive season, convincing McLaren they could not keep carrying him into 2023.
And so having initially quit Red Bull because he couldn't stomach the thought of being Verstappen's number two, he returns 'home' to become the team's third driver next season.
He made his bed – and it is with great regret that he now must lie in it.
What a waste.
And some extras to finish…
Carlos Sainz's limit as a grand prix driver is likely to be as a handy, race-winning number two driver in a top team. The sooner Ferrari fully become Leclerc's team – potentially sooner than we think if his long-term ally Frederic Vasseur succeeds Binotto – the better.
Norris is close to outgrowing McLaren, who are heavily reliant on their new wind tunnel if they are to keep up with Lando's rise.
Haas is no place for a young driver. Guenther Steiner's bluntness may have made him the star of Drive to Survive, yet his lack of emotional intelligence could be seen in his treatment of Mick Schumacher. How Mick could have done with the protective presence of Michael in the Haas garage over the last two seasons. If Mercedes can assist his return to the grid, there is every chance he will shine in a more nurturing environment.
A reminder that Haas willingly sacrificed two full seasons to make a strong start under the 2022 regulations, only to scrape to P8 in the Championship by two points from AlphaTauri. Could it be that Haas have simply found their natural level?
Alpine's struggle to find a driver for next season, with Alonso's sudden move to Aston Martin bringing the Oscar Piastri saga into focus, overshadowed the encouraging progress the team have made recently. Pierre Gasly joins a team very much on the up in 2023.
Esteban Ocon is much better than most will ever give him credit for, with few drivers emerging from their time as Alonso's team-mate with their reputation enhanced.
Bottas is the best team-mate a driver could wish to have, supporting Guanyu Zhou throughout his rookie campaign. How Lewis must miss him…
F1's penalty points system requires a major rethink. How can Gasly stand on the brink of a race ban in a world where Stroll gets off lightly for swiping at Alonso and Vettel on the straights?
So too does the superlicence system, which denied potential American superstar Colton Herta a route into F1 with AlphaTauri and kept his compatriot Logan Sargeant dangling until the last lap of his F2 season was over having already been announced as a 2023 Williams driver.
To end on a rulebook hat-trick, there is an urgent need for a better and less-confusing alternative to grid penalties. Forcing Leclerc to start from the back in Canada, having retired from two of the previous three races with engine failures, added insult to injury, compromised the spectacle and sucked the last remnants of life out of the title fight.
Read more: PlanetF1's 10 best drivers from the F1 2022 season