Conclusions from the Hungarian Grand Prix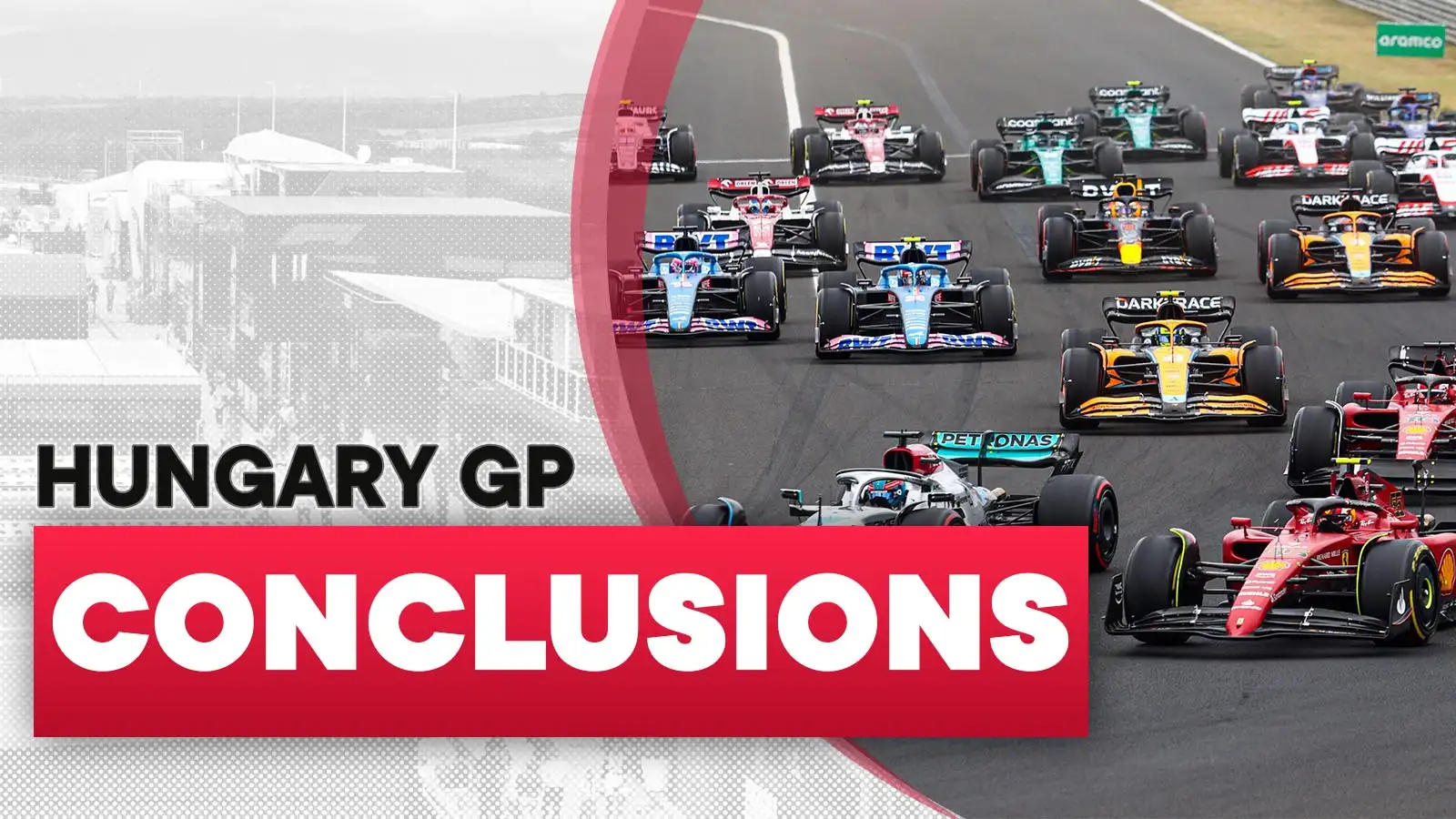 Max Verstappen continued his march towards a second successive Formula 1 title with his eighth victory of the 2022 season at the Hungarian Grand Prix as Ferrari suffered another disastrous day. Ever get the feeling you've seen this all before? Here are our conclusions from Budapest…
Verstappen is laughing all the way to a second title
And to think this was supposed to be one of Red Bull's weaker races of the season…
The Hungaroring had seemed perfectly suited to the strengths of the wonderfully agile, high-downforce Ferrari F1-75, the circuit lacking the long straights for the full force of Red Bull's straight-line speed advantage to be felt.
Ferrari's chances only increased further when the Red Bulls hit trouble in qualifying, Sergio Perez (still seemingly half-asleep after securing his contract extension) falling in Q2 and Verstappen suffering a loss of power in Q3.
Let it not go unnoticed that Max Verstappen is now leading after starting P10, without Safety Car intervention, and even having time for a spin in between.#HungarianGP 🇭🇺 #F1

— PlanetF1 (@Planet_F1) July 31, 2022
Yet despite their problems on Saturday, Red Bull could be encouraged that even then – on a Ferrari track and with their main competition out of contention – Ferrari were still making it difficult for themselves, Charles Leclerc and Carlos Sainz somehow pipped to pole position by George Russell's Mercedes.
Tenth on the grid and with a healthy points lead to preserve, Verstappen entered the race hoping to get somewhere near the podium places.
But as the opposition fell before him – Russell and Sainz fading and Leclerc, invariably the real threat, sent down a hard-tyred cul de sac by the Ferrari pit wall – he found himself leading by almost 10 seconds in the closing laps even after a mid-race spin at the penultimate turn.
The team radio as he took the chequered flag – extending his Championship lead to 80 points – said it all, Verstappen chuckling to himself as he was congratulated by race engineer Gianpiero Lambiase and team principal Christian Horner.
They won't admit it yet, of course, but this title fight is done.
Another day, another Ferrari disaster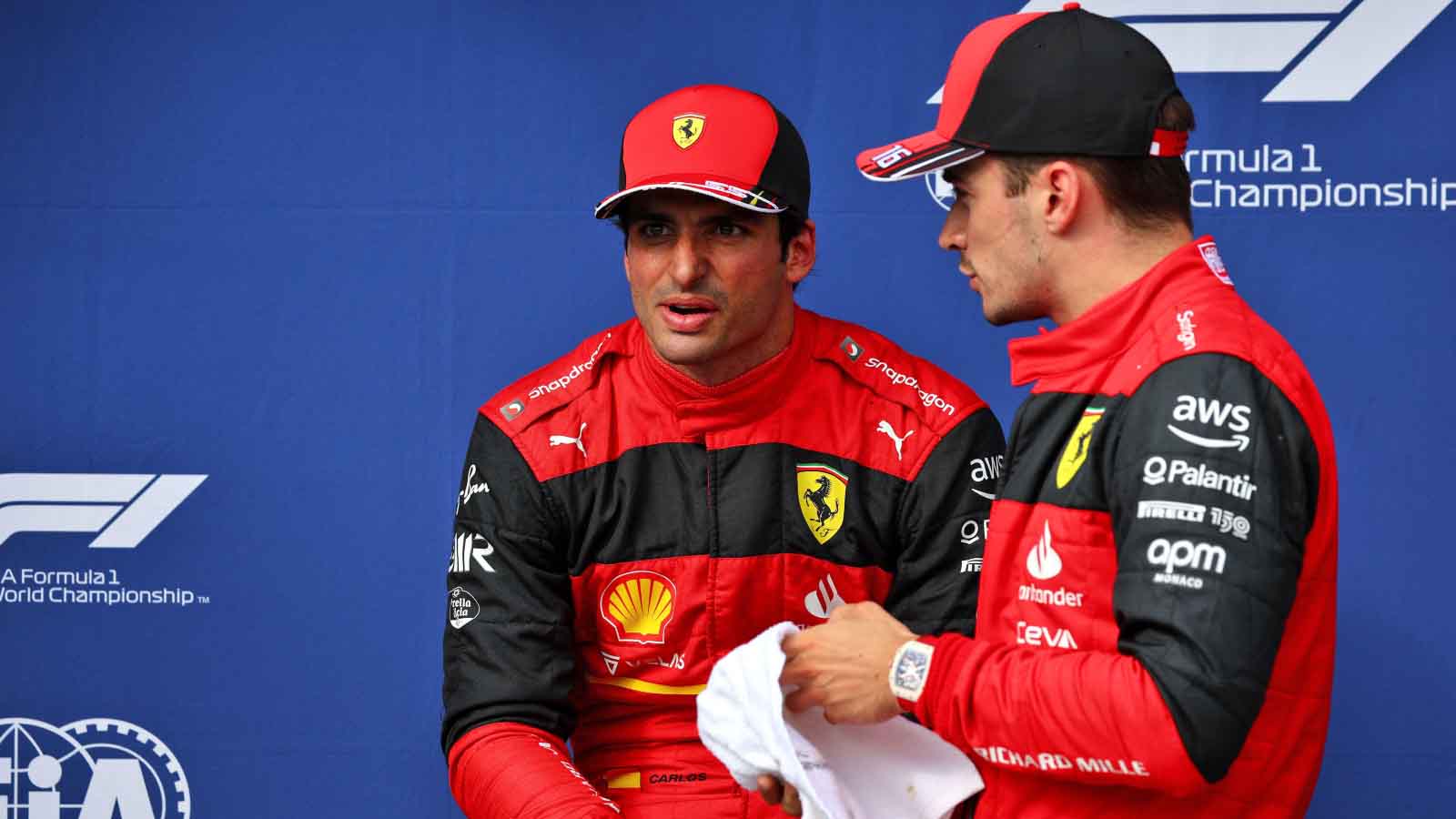 If it's not reliability, it's strategy; if it's not strategy, it's driver error. If there is a way to lose a grand prix in 2022, rest assured Ferrari will find it.
After Leclerc's retirement in France – his third DNF while leading a race this season – Hungary had become a race Ferrari could not afford to lose were they to keep their title hopes alive beyond the summer break.
The manner of their defeat in Hungary was perhaps the worst of all, especially in the context of Red Bull's issues in qualifying – at a circuit where overtaking is notoriously difficult – and Leclerc's ominously strong pace in the opening phase of the race.
The demise of both Alpines following their switch to hard tyres should have been enough to put everyone else in the pitlane off the scent of the white-striped Pirellis, but when reacting to Verstappen's second stop on Lap 39 Leclerc was inexplicably fitted with a set of his own.
Severely lacking grip, Leclerc realised the gravity of the error almost instantly.
He has become an expert at pointing out Ferrari's flaws over recent months, but having admitted he had been minded to extend his stint on mediums for as long as possible was this yet another example – like Monaco and Silverstone – of Leclerc lacking the vision and strength of Sainz to guide the team to the correct call?
Once highly respected, team principal Mattia Binotto has assumed a more confused air over recent months, forced to explain time and again the thinking (or lack thereof) behind Ferrari's latest strategic masterstroke in the paddock after a race.
Having stubbornly defended the decision to keep Leclerc out behind the Safety Car at Silverstone, Binotto did at least eventually concede they made a mistake on this occasion.
That's progress… of sorts.
Two cars on the podium again, but are Mercedes really here to stay?
With two cars on the podium on consecutive weekends and a first pole position of 2022 in the bag, Mercedes have ended the first half of their most difficult season in a decade on a high.
It didn't look like that was going to be the case either on Friday or during the wet FP3 on Saturday morning in Hungary, Russell and Lewis Hamilton desperately struggling for grip and spending much of the session towards the bottom of the timesheets.
A few hours later, however, Mercedes were back on top after Russell's stunning final lap in the closing seconds of Q3 secured his maiden pole position.
How to explain such a dramatic turnaround? Had the cool temperatures on a green track conspired to favour the cars with inherently less downforce, the extra sliding generating more tyre temperature than the usual pacesetters?
Lewis Hamilton is up into P2 and is the fastest man on track…#HungarianGP 🇭🇺 #F1 pic.twitter.com/MYH447HuQO

— PlanetF1 (@Planet_F1) July 31, 2022
That might explain why Nicholas Latifi's Williams produced the third-fastest time through the first sector in the entire hour of qualifying – quicker even than Leclerc, Verstappen and Hamilton – despite being slowest overall in Q1.
Strange things happened on Saturday – not least Latifi setting the pace in final practice – and as such it would be unwise to treat Russell's pole as a breakthrough moment for Mercedes.
Often you sense even they do not fully understand how their fortunes swing wildly from weekend to weekend, sometimes session to session.
What has become clear, though, is that their pace over a stint is far superior to that over a single lap and if Russell faded in the race as he found himself reacting to the cars around him after an assertive start, Hamilton gradually came to the fore from seventh on the grid.
Team and driver were convinced he could have won without the DRS issue in qualifying – just as he could have won at Silverstone without the slow stop and the Safety Car and just as he could have won in Barcelona without the first-lap collision.
"There's no doubt we're making progress," Russell concluded after the race. "We were almost a minute behind the race win at the start of the season and it's been 10 seconds in the last couple of races.
"If we can continue on that path we will definitely be in the hunt."
Finally hints of tension at Alpine?
The only real surprise is that it has taken this long for tensions to develop between two of the most combustible personalities on the grid.
Fernando Alonso and Esteban Ocon have formed quite a potent partnership since the start of last season – driving Alpine forward, celebrating each other's successes and taking it in turns to defend like lions.
But leopards, to continue the big cat theme, tend not to change their spots and one day short of a full year since Alonso helped Ocon to victory in Hungary, the team-mates turned on each other. Such is the way in the animal kingdom that is an F1 starting grid…
Alonso's anger – "never in my life have I seen a defence like Esteban," he complained over team radio – centred on Ocon's move at the start, edging him towards the pit wall and allowing Hamilton to pass them both at the first corner.
"Never in my life I saw a defence like Esteban. Ever."

Fernando Alonso wasn't happy with his team-mate's start there 😬#HungarianGP 🇭🇺 #F1

— PlanetF1 (@Planet_F1) July 31, 2022
Later, after an undercut attempt by Alonso on his own team-mate failed to come to fruition, the Alpines were so busy fighting each other they allowed Daniel Ricciardo to slip through with a strong contender for overtake of the season.
Alonso – who claimed he was "a hundred times faster" than his team-mate over the radio in Canada earlier this season – got past Ocon eventually and led the team's sixth two-car points finish in the last eight races with P8.
The flashpoint comes at a delicate time in Alonso's contract negotiations with Alpine, with the two-time World Champion said to be seeking a multi-year extension and the team, hopeful of promoting 2021 F1 Champion Oscar Piastri to a race seat in the near future, reluctant to commit to Alonso beyond 2023.
There is friction there and with Alonso making his position clear in Budapest, insisting a deal could be agreed within 10 minutes if both parties really wanted it, might this yet have an impact on his future?
Norris continues to shine for McLaren
As the weeks have passed, Lando Norris' podium finish at Imola in April has almost come to symbolise the end of his F1 adolescence.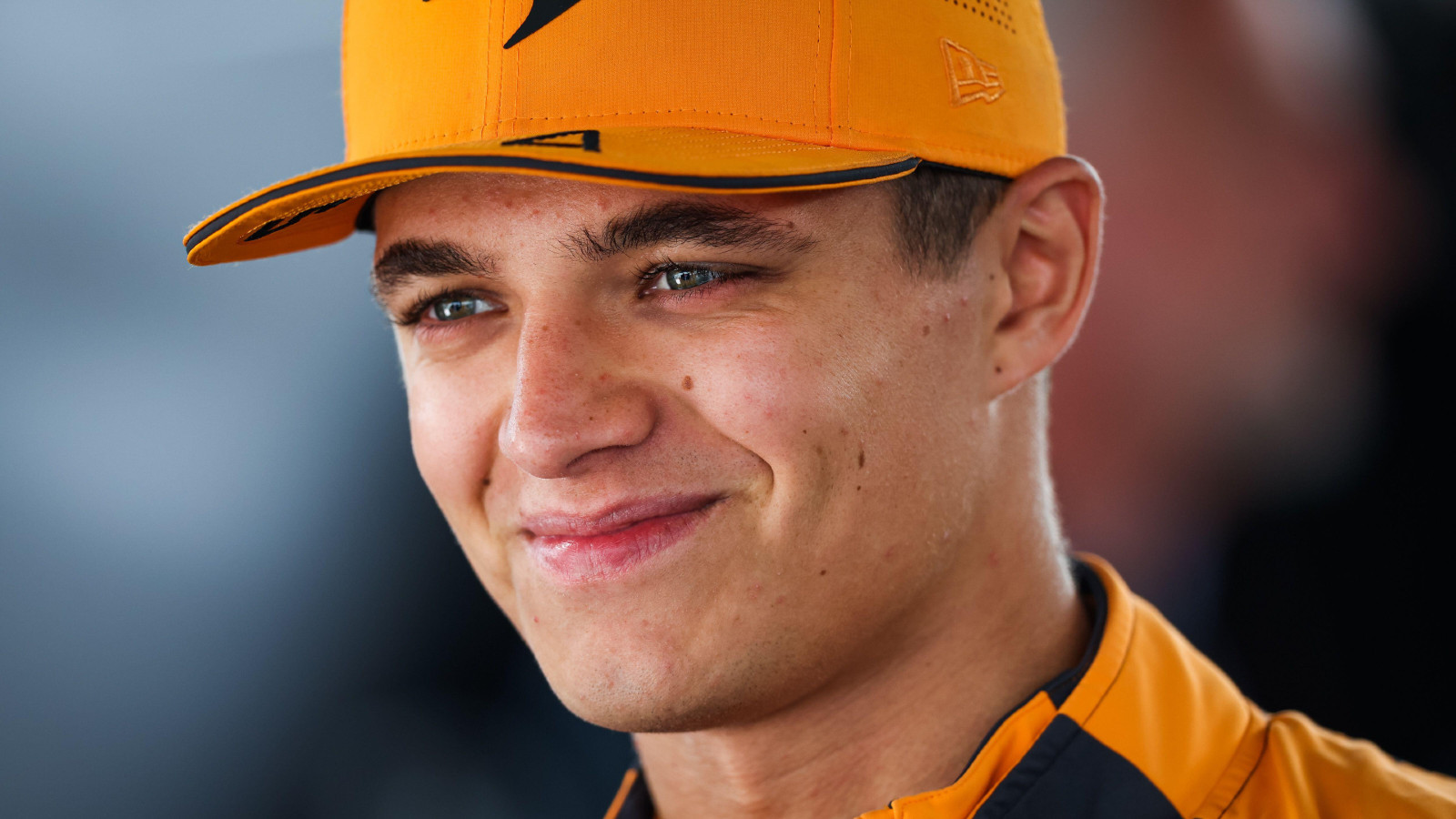 It was a result – a weekend – straight from his breakthrough season of 2021, Norris grinning away to himself in the post-session interviews after finishing third in both qualifying and the race, not quite sure how he got there and not fully aware of how good he really was.
The last few months have resembled a return to reality, Norris no longer able to hit the same heights as last year with a woefully inconsistent McLaren, but the potential very much remains.
After splitting the Mercedes on the grid in France, only Russell's pole prevented Norris from taking most of the acclaim for his own qualifying heroics in Hungary.
His lap for P4 was only two tenths slower than Leclerc's Ferrari, McLaren another team whose usual vices were potentially hidden by the nature of the conditions and layout.
The leading teams were untouchable on race day, of course, but Norris recorded his third consecutive P7 finish, crossing the line 22 seconds ahead of the warring Alpines and was the only driver outside of the top six to avoid being lapped.
The headline results of last season may be out of reach currently, but Norris continues to shine in the shadows.