Conclusions from the Italian GP: A win for Max Verstappen and Nyck de Vries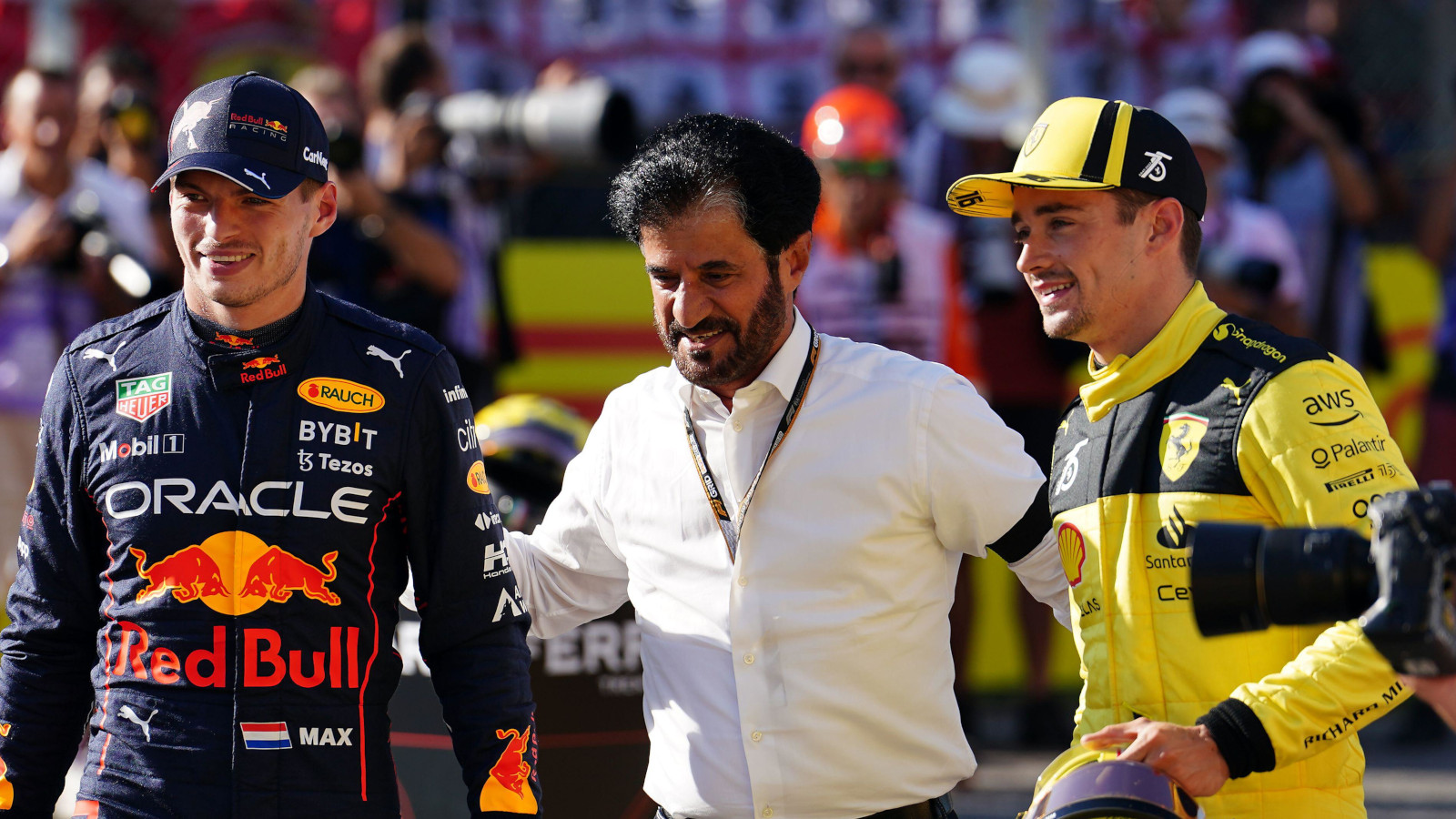 After almost a decade of pain at one of Formula 1's most historic venues, a Red Bull driver returned to the podium at Monza as Max Verstappen rebounded from a grid penalty to win the 2022 Italian Grand Prix.
Here are our conclusions from Italy…
Max brings Red Bull full circle
In the years since Sebastian Vettel claimed the team's last Italian Grand Prix victory in 2013, Red Bull routinely arrived at Monza with a palpable sense of dread.
It was the famous Temple of Speed that most brutally exposed their weaknesses in the early years of the V6 hybrid era, their underpowered Renault and, later, Honda engines just no match for the Mercedes and Ferraris of this world.
All too often Monza was a weekend to write off, to grin and bear the pain in the hope of better days to come at more favourable venues, and the statistic that no Red Bull driver had stood on the podium in the previous eight years was particularly damning.
It was most fitting, then, that in a season in which Red Bull have dared to recapture the all-conquering dominance of their four consecutive titles with Vettel, Verstappen returned the team to the top step of F1's greatest podium.
One of the most mind-bending aspects of F1's season of change in 2022 is that Red Bull, for so long stragglers in a straight line, now set the standard.
That alone made this their best chance of winning at Monza in almost a decade, the great benefit of having more straight-line speed than they knew what to do with letting Red Bull prioritise race pace and add more downforce to the RB18.
It may have cost Verstappen, without the benefit of a tow, pole position on Saturday, but made him unbeatable on Sunday, the reigning World Champion winning with such ease that it made you wonder how Red Bull had struggled so badly here in the past.
Mighty Max 💪

Verstappen wasted no time in going from P7 to P2 after lights out at Monza 🇮🇹#ItalianGP #F1 pic.twitter.com/pfmNs0IpBj

— Formula 1 (@F1) September 11, 2022
Reclimbing the mountain to win once more at Monza was a tribute to the commitment of owner Dietrich Mateschitz, the management of Christian Horner, the potency of their partnership with Honda and the genius of Adrian Newey.
As Verstappen strode across the bridge to take in the wondrous view from the Monza podium for the first time, so Red Bull reclaimed their place on the perch they were knocked from nine years ago.
It's been a long road back to the top.
De Vries can no longer be ignored for 2023 Williams seat
If, in his role as Mercedes' reserve driver, Nyck De Vries could have picked a race to make his F1 debut for any of the Silver Arrows' customer teams in 2022, it may have been for Williams at Monza.
The team's performance at the recent Belgian GP, where Alex Albon was bullet-fast in the high-speed stretches of the first and final sectors and ultimately rewarded with a point, had raised expectations for a strong showing in Italy.
When Albon was ruled out of the race with appendicitis late on Saturday morning, it seemed he had taken with him any chance of Williams adding to their points tally.
Along, however, came De Vries, fresh from participating in first practice for Aston Martin on Friday.
In overcoming the short-notice nature of his arrival to the Williams garage to outqualify Nicholas Latifi and equal the team's highest finish of the season with P9, De Vries has surely ended Latifi's hopes of being retained for 2023 while firmly launching himself into serious consideration for the second seat.
Somebody help that man! @nyckdevries was elated but also exhausted after Sunday's race 😀😰#ItalianGP #F1 pic.twitter.com/XVaAonAbz3

— Formula 1 (@F1) September 11, 2022
Despite winning both the F2 and Formula E titles in recent years, De Vries – discarded by McLaren in 2019 – has been strangely overlooked for full-time F1 seats, with Williams departing from their trend of taking Mercedes-affiliated drivers to sign Albon this time last year.
With reports currently linking Williams with Mick Schumacher, it may be that De Vries will ultimately miss out yet again and is destined to be one of those drivers who somehow slip through the net.
But having slotted seamlessly into Albon's seat – and carried himself with the calmness and class of an experienced campaigner, rather than hiding behind the reality of his situation as a debutant with limited preparation – he can no longer be ignored.
Red flags must not be used as a tool to spice up the show
There was an element of playing to the gallery as the field circulated behind the Safety Car in the closing laps of the race.
Why, the television commentators pontificated, didn't Race Control wave a red flag immediately after Daniel Ricciardo's McLaren stopped between the Lesmos, creating the opportunity for a standing restart and a thrilling sprint to the finish?
That's why we're here, they said. That's what we all want to see.
Or is it?
A cheeky dig at what happened in Abu Dhabi, perhaps?#ItalianGP 🇮🇹 #F1https://t.co/0TImT96DeM

— PlanetF1 (@Planet_F1) September 11, 2022
The reason the race was not suspended is that the incident was nowhere near serious enough to merit it and those calling for red flags to be used in such fashion – as a tool to spice up the show – should be careful what they wish for.
Asking incidents that happen in the final five laps of the race to be treated differently to those that happen in the first five would be asking for trouble, setting a disturbing precedent and encouraging the kind of inconsistently for which F1's authorities are regularly vilified.
It is, of course, regrettable whenever a race finishes behind the Safety Car – and Ricciardo's car should have been retrieved sooner – but it is precisely F1's determination to avoid such a scenario that resulted in the farcical events of Abu Dhabi 2021.
Perhaps it is time to view it not as a horror – a permanent stain on a race's memory – that must be avoided at all costs, but simply an unfortunate yet unavoidable part of motor racing.
In any case, artificial red flags are not the answer.
A major missed opportunity for Alpine
Having emerged from an unfavourable layout at the Dutch GP with an extended lead over McLaren in the fight for fourth in the Constructors' standings, there were some who expected Alpine to effectively finish the job at Monza.
Alpine were another team able to count on straight-line speed as a valuable weapon and, as such, if Monza was destined to deliver a surprise winner for a third consecutive season, it was tempting to look the way of Fernando Alonso and Esteban Ocon.
That was on paper. The reality was rather different for not once did Alpine look likely to replicate the performance that saw Alonso start from the front row in Canada and third at Spa.
After being eliminated from Q2 and then serving a five-place engine penalty, Ocon was lost in the crowd en route to a distant P11 – again raising doubts over his capacity to lead the team into next season, perhaps? – while Alonso's final Q3 time was deleted due to track limits.
That lap, however, would only have been good enough for eighth in the qualifying order behind Lando Norris in a draggy McLaren most had expected to struggle.
Alonso's retirement following issues related to deployment ended his 10-race scoring run, with Norris's seventh-place finish cutting Alpine's advantage from 24 points to 18 with six rounds remaining.
Fernando Alonso team radio before retiring the car.. pic.twitter.com/j3rwRAzDnX

— Fernando Alonso updates (@startonpole) September 11, 2022
"We were expecting more from this weekend," Alonso admitted, all too aware his team's worst weekend since Imola has reopened the door for McLaren.
If Alpine lose P4 from here, they will look back on Monza and weep.
Dark days for Aston Martin
As a high-profile Aston Martin employee might tweet, can it really be two years since this team reached the podium at Monza, won a grand prix and had, on occasion, the second-fastest car in Formula 1?
Yes, it can be and it is.
The prosperous, if highly controversial, days of 2020 feel a long time ago for a team who, for all their impressive appointments behind the scenes, seem to have totally lost their way on track since being reborn as Aston Martin.
As his long goodbye continues, for some reason Vettel still sounds surprised when informed of his elimination from the first round of qualifying despite reaching Q2 only once in the last eight races, the Aston Martins rooted to the penultimate row of the grid at Monza and ahead only of the Haas cars.
Various penalties promoted Vettel and team-mate Lance Stroll to 11th and 12th on the starting grid yet there was no real hope of them staying there, let alone improving on those positions, in race conditions.
Considering how much Monza – the scene of his first grand prix victory and the symbol of everything good about motor racing in his eyes – means to him it was particularly cruel, but in keeping with the closing years of his career, that Vettel's race lasted just 11 laps before he retired with an ERS problem.
Stroll later followed him into retirement as the team elected to preserve engine mileage and it may come as a surprise to some that this was only the second race since Monaco in which Aston failed to score a point.
Still, though, they remain a long, long way from where they really want to be.
Any regrets yet, Fernando?
The only Aston Martin left in this race 😬 #ItalianGP pic.twitter.com/mnBzhcA6Kp

— WTF1 (@wtf1official) September 11, 2022