Conclusions from the Monaco Grand Prix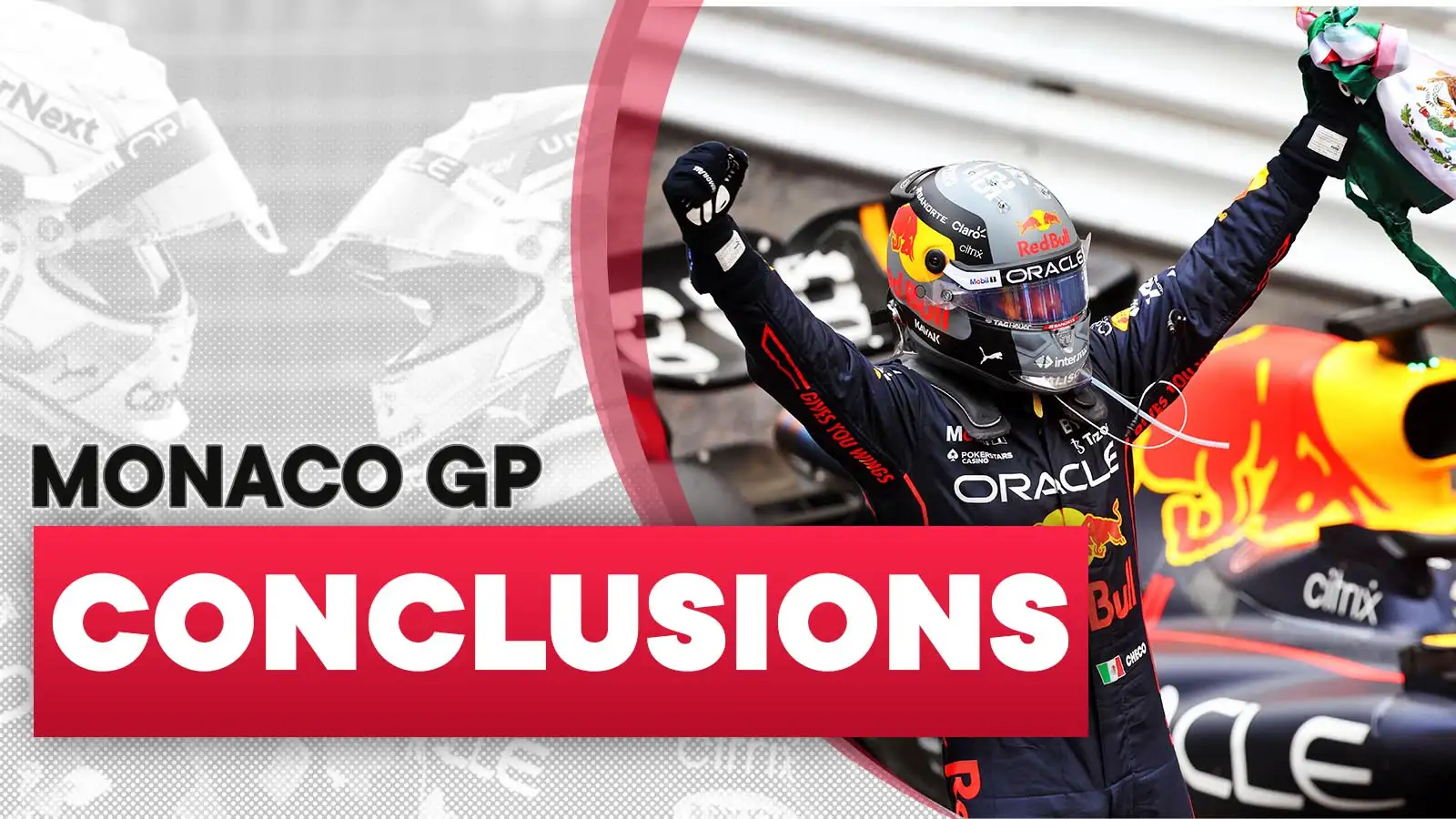 Red Bull's Sergio Perez claimed the third victory of his Formula 1 career in the Monaco Grand Prix after Charles Leclerc's fine work was undone by his Ferrari team.
Here are our conclusions from Monte Carlo…
Sergio Perez: not bad for a number two driver
Perez was left in no doubt of his status at Red Bull after the Spanish GP, where he was instructed to move over for team-mate Max Verstappen.
In the heat of the moment and without the full facts of the situation available to him in the cockpit, Perez described Red Bull's use of team orders as "unfair" over team radio.
The team's preference really shouldn't have come as news to him – Verstappen, after all, is and always will be the point around which Red Bull's world revolves – but the realisation had the potential to break his spirit.
Instead, he responded by producing the finest performance of his Red Bull career to date in Monaco.
Perez was genuinely the fastest of the Red Bull drivers in the principality, where he outpaced Verstappen in every session except Q1 and was better equipped to cope with the slow rotation of the RB18.
His bravery in being the first of the frontrunners to switch to intermediate tyres was rewarded with the lead as he jumped both Ferraris.
And while a huge lockup on mediums into Mirabeau shortly after the restart made for an uncomfortable series of laps as the clock ticked down, Perez had track position and put his car in all the right places, withstanding the pressure to take the victory.
"Winning Monaco, it's a dream come true as a driver; when you come into F1 and when you come to Monaco and when you drive for the first time, you always dream about one day winning the race or racing in here," he said.
"So, it's just incredible, such a big day for myself."
"Drop the pool video." 😍💦 #MonacoGP 🇲🇨 pic.twitter.com/uZViZIZEDr

— Oracle Red Bull Racing (@redbullracing) May 29, 2022
No driver on the current grid competes with a greater sense of national identity than Perez, whose tears on the podium as the Mexican national anthem rang out will stand as one of the highlights of the season.
On a weekend he raced with a helmet design paying tribute to Pedro Rodriguez, his third career victory means he now stands alone as the most successful Mexican driver in F1 history.
And, compellingly, he also now sits just 15 points behind Verstappen in the Drivers' Championship… he couldn't, could he?
Ferrari incompetence ensures Leclerc's Monaco curse goes on
Well, at least Leclerc now has a Monaco Grand Prix finish to his name, but he didn't need telling it could – should – have been so much more.
He may never have a better chance of winning his home race, especially so if the principality loses its place on the calendar in the near future, and for so much of this weekend Leclerc looked destined to soar to victory with one of the great Monaco performances.
Over recent years the number 16 Ferrari has often been akin to a ticking timebomb in qualifying conditions, set to detonate at the climax of Q3 in a gloriously explosive blur of speed and controlled aggression, yet here Leclerc dared to go nuclear.
His breathtaking last run of Q3 was four tenths up on his previous lap at the time the red flag ended the session prematurely, cruelly consigning what would have been a final flourish to just another contender for The Greatest Lap That Never Was.
Still, Leclerc – his first attempt comfortably good enough – had the pole and in Monaco that would be almost job done in most years.
But this is Charles Leclerc. In Monaco.
Leclerc did what he needed to do in the early laps, negotiating the sodden conditions to build a comfortable lead over team-mate Carlos Sainz, but on a day definite decisions were required his side of the garage were caught in a strategic No Man's Land.
Ferrari were arguably too slow to call Leclerc in for the change from extreme wets to intermediates, and when he returned to the pits just three laps later for slicks he had to queue behind Sainz.
The win, by then, was gone.
The turning point of the race…#MonacoGP #F1 pic.twitter.com/ZJQv8SzWlg

— Formula 1 (@F1) May 29, 2022
Having blown the 46-point lead he held over Verstappen after three rounds, this was widely regarded as a must-win race for Leclerc's title chances with the upcoming events in Baku and Montreal set to favour Red Bull's superior end-of-straight speed.
The parallels with the 2016 defeat of Daniel Ricciardo, another driver who was the class of the field in Monaco until his team's error cost him the win, are obvious.
Yet Leclerc – who didn't hold back in describing Ferrari's handling of the race as a "mess" – must resist the temptation to hold it against them unlike Ricciardo, who never let Red Bull forget the day they let him down.
Now more than ever, Ferrari and Leclerc must stick together.
Sainz's intelligence and strength of character shines through
The opening months of this season have proved beyond doubt that, in terms of raw speed and ability, Leclerc is simply on a different level to Sainz.
While Leclerc has won twice to establish the platform for a title challenge, Sainz – with an abrupt driving style defined by harsh inputs – has at times struggled to keep his car on the track, crashing inelegantly in Australia, Imola and Miami.
He may lack the star quality and natural finesse of his team-mate, but Sainz's intelligence and strength of character saw him avoid the same fate as Leclerc in Monte Carlo.
The last Monaco GP to be affected by rain was in 2016, with the abiding image of that race being of Ricciardo sitting helplessly in his pit box as his Red Bull mechanics scrambled around his car searching for tyres.
That miscommunication famously cost Ricciardo victory to Lewis Hamilton, but an often overlooked element of Hamilton's win was his switch straight from extreme wet to dry tyres, which saved him the time loss of a transitional stop for intermediates.
The optimum strategy for a drying track in Monaco was cast in stone that day, and memories of that race were almost certainly on Sainz's mind when, as the temptation to try intermediates was growing, he made Ferrari aware of his intentions on Lap 15.
"We are going to go straight to dry," he announced over team radio.
In almost typical fashion, Ferrari seemed to ignore him as he was instructed to pit for inters two laps later, but still Sainz was unmoved in his determination to stay out and convinced the team to trust him.
Ultimately, his single stop made no difference to his position – he started and would finish P2 – but Sainz was convinced he would have been celebrating his maiden grand prix victory in Monaco were it not for the interference of Nicholas Latifi's lapped Williams on his out lap.
"We stayed patient on the wets, took the right decision to go onto the slicks and a lapped car, a terrible out-lap stuck behind a lapped car, cost me the win today."#MonacoGP #F1https://t.co/Cgh5U70kOM

— PlanetF1 (@Planet_F1) May 29, 2022
Leclerc has shown Sainz the way home for most of 2022, but when it comes to reading a race, the conditions and questioning the decisions of his own team, maybe Carlos can still teach Charles a trick or two.
A bump in the road for Mercedes as Russell maintains top-five record
After finally cracking the code of the W13 in Barcelona, where the team felt Hamilton would have been in contention for victory were it not for a first-lap collision, Mercedes appeared to take a step back in Monaco.
It soon transpired, though, that they were not suffering from aerodynamic porpoising at the principality but a different kind of bouncing related to ride height and suspension stiffness.
Having mixed it with the Red Bulls and Ferraris in Spain, Mercedes were outqualified by Lando Norris's McLaren in Monte Carlo, although George Russell imitated Sainz's wets-to-slicks strategy to overcome Norris and continue his streak of finishing in the top five at every race in 2022.
George Russell gets past Lando Norris as the McLaren driver exits the pits

The move took Russell up to P5, which ultimately saw him continue his streak of finishing in the top five 👏 #MonacoGP #F1 pic.twitter.com/aqHuJH9409

— Formula 1 (@F1) May 29, 2022
Hamilton, meanwhile, once again seemed to struggle a little more with Mercedes' limitations and found himself stuck behind Fernando Alonso having earlier struggled to find a way past the other Alpine of Esteban Ocon.
A venue with such unique demands, Monaco came at a bad time in Mercedes' recovery from their poor start to the season and a more accurate representation of their progress is likely to come as F1 returns to more expansive and conventional circuits.
This, physically and metaphorically, was a bump in the road.
Schumacher's incidents are testing Haas's patience
Guenther Steiner has become used to seeing his cars in the wall over the years. This, after all, is a man who used to employ Romain Grosjean and Nikita Mazepin.
Accidents are simply part of the game, but what Steiner will not tolerate – especially in this budget cap era and with team owner Gene Haas's reluctance to put his hand in his pocket at the best of times – is a car being 'foksmashed' to pieces on a regular basis.
Mick Schumacher's long quest for a first F1 points finish continued in Monaco where he lost control and crashed heavily at the swimming pool section on Lap 27, ripping the rear of the car off the main chassis.
Schumacher: "I'm okay, I just don't understand it"

Thank god he's ok! The gearbox got detached from the car. #F1 #Formula1 #MonacoGP pic.twitter.com/3fwgdIQYJR

— The F1 Magazine (@thef1magazine) May 29, 2022
It was Schumacher's second major incident of the season following his qualifying crash in Saudi Arabia, the damage to the car on that occasion ruling him out of the race and, Steiner estimated, costing Haas up to $1million in repairs.
The Haas team principal's reaction this time was far less protective and felt almost threatening.
"With Mick we obviously saw what happened," he said. "It's not very satisfactory having a big crash again. We need to see how we move forward from here."
Much was expected of Schumacher in 2022 given his trend of excelling in his second season in the junior categories, yet the notion of him one day following in the footsteps of his father at Ferrari is increasingly absurd.
At times, having watched team-mate Kevin Magnussen score points in three of the opening four races, it has almost seemed as though Schumacher is trapped in a vicious circle – the pressure to score points breeding mistakes, which only breed yet more pressure and thus more mistakes.
It is a cycle Schumacher would be well advised to break at the earliest opportunity.
As some of his predecessors and even his current team-mate might tell him, he won't like Guenther when he's angry.
Ferrari cost themselves the race win
Ferrari had the makings of a perfect Grand Prix, but the rain mixed things up, and ultimately they ruined the race for themselves.