Conclusions from George Russell's 'changing-of-the-guard' win at the Sao Paulo Grand Prix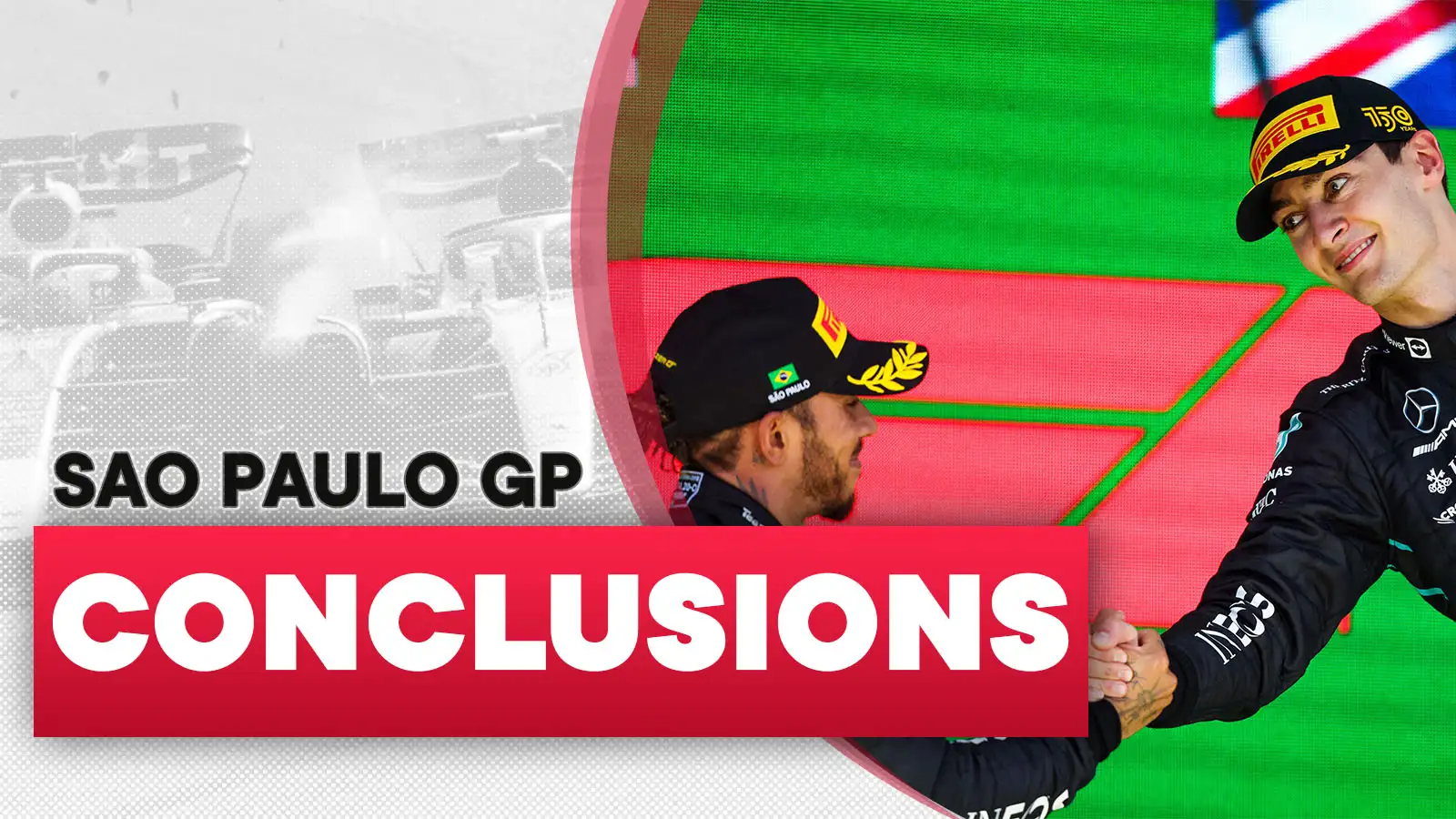 George Russell negotiated a late Safety Car restart and withstood intense pressure from team-mate Lewis Hamilton to claim the first victory of his Formula 1 career – and Mercedes' first win of the 2022 season – with a fine drive at the Sao Paulo Grand Prix.
Here are our conclusions from Interlagos…
Russell, Hamilton and a potential changing-of-the-guard moment
George Russell's greatest strength? His self-confidence, bordering on a sense of certainty. It can make it difficult to warm to him at times, but it will serve him well for the duration of his F1 career.
Even the most confident of athletes, however, can be riddled with insecurity until they begin to achieve the results to reflect their talent. Only then can they truly feel that they belong.
If there was any justice in the world, Russell would have already had that moment of validation two years ago, when he was cruelly denied a first win deputising for an unwell Hamilton in Sakhir.
Having finally graduated to a full-time Mercedes drive for 2022, his unbroken run of top-five finishes to start the season was fiercely impressive, but not exactly what he had signed up for.
That confidence of his had been knocked slightly following a difficult run of races recently, but finally in Brazil he had a car with which he could compete for victory on merit.
After winning the sprint race with a typically tenacious drive, Russell led brilliantly – helped by Hamilton's collision with Max Verstappen – before the late Safety Car brought his team-mate back to breathing down his neck.
With Mercedes making a departure from their tradition of locking down a one-two finish at the earliest opportunity, Russell was informed he would have to contain the seven-time World Champion if he was to hold on for the win.
For the first time, the Mercedes team-mates went eyeball to eyeball – Russell's hot to Hamilton's cold – in equal conditions in the hunt for victory.
Few in the recent history of Formula 1 have overcome Hamilton in a hunt for victory, equal conditions or not.
Yet there under the most intense and unwelcome pressure was Russell as the quicker of the two, holding the gap at just over a second in the final laps and doing to Lewis what Lewis did to Fernando Alonso – unbalancing his decorated team-mate with a perfect mix of pace and poise – all those years ago.
If that restart served as a final examination of his credentials as a grand prix winner, it was passed in the most stylish fashion imaginable.
And as he sat wiping away the tears in parc ferme, the three-pointed star rising again, at last Russell could say that he belonged.
If Hamilton had had his way, of course, Russell's seat would still be occupied by Valtteri Bottas and despite his claims to the contrary it will hurt that on the one day the Mercedes was fit to win in 2022 – with his record of winning a race in each season of his career in serious jeopardy – it went to his team-mate.
In truth, Hamilton was fortunate to avoid a penalty for his contact with Verstappen, the bitterness between them manifesting on track as they met in reasonably equal machinery for the first time since the end of the last season.
Having spent most of 2021 jumping out of the way of Verstappen's moves, this time he refused to budge alongside his old foe at the Senna S.
The collision was the latest in a string of uncharacteristic incidents – including his contact with Alonso at Spa, two mid-race mistakes in Singapore and a strange track limits breach in Q3 in Mexico – since the summer break.
As previously suggested, it may be that these are simply the frustrations of the most challenging season of his career coming to the surface.
But – and whisper this quietly – while Hamilton remains capable of amazing feats in an F1 car, with his 38th birthday on the horizon might all these little lapses in judgement be the very first tiny hints of decline?
Russell's remark over team radio that "this is just the beginning" after the crossing the finish line may come to have a wider meaning.
.@GeorgeRussell63's first @F1 win in his own words. 🥰 pic.twitter.com/ME1GaoksOz

— Mercedes-AMG PETRONAS F1 Team (@MercedesAMGF1) November 14, 2022
Why don't Mercedes develop two different car concepts for 2023?
In recent weeks Mercedes have been open about their plans to alter their development path for 2023, promising that a change of DNA will result in next year's car looking quite different.
In fact they've been almost too open, so much so that it's tempting to wonder whether their words are to be taken at face value.
It is said that Mercedes face a simple dilemma for next season: to persevere with the current concept, zero-pod 'n' all, in the hope that its mythical potential can be fully unlocked, or simply copy the Red Bull concept that has become commonplace across the pit lane.
A decision was surely made long ago, but the team's progress across the second half of the season has been encouraging and may be enough to trigger second thoughts.
Already following Russell's success in the Brazil sprint race, even Christian Horner managed to grit his teeth to praise Mercedes' work in developing the W13 into a winner.
"Mercedes had a very quick car today and we couldn't hold them off," the team principal of the 2022 Constructors' Champions told Sky Sports on Saturday.
"They've been heavily developing this car through the season and they've been getting closer, so it's no real surprise that they've had this kind of performance."
With that intense development work rewarded with a first grand prix win of 2022 the following day, is this really the mark of a team who are about to completely abandon their philosophy?
Perhaps there is a lesson to be taken from one of Mercedes' customer teams, Aston Martin, who unveiled a Red Bull-esque design of their own at Barcelona in May.
Facing accusations of directly copying the Red Bull, chief technical officer Andrew Green explained the team had developed two different concepts for the 2022 regulations.
The first generated an eye-watering level of downforce but had challenging characteristics; the other was more malleable in design but produced relatively modest downforce.
Aston started the season with the more ambitious option but quickly cut their losses and remain woefully inconsistent – proof, maybe, that while it may be possible to physically replicate a Red Bull, recreating the aero efficiency of the RB18 is another matter entirely.
Transpose that to a Mercedes context – the high-risk, high-reward (and now race-winning) zero-pod versus a silver Red Bull, reasonably competitive but always a step behind the blue one – and there is a potential quandary here.
Do not dismiss also the political significance of an organisation of Mercedes' stature giving up on their concept to meekly follow the Red Bull route.
Mercedes themselves are no strangers to producing two cars, often arriving at winter testing with a basic design before introducing a significantly more advanced specification when things get more serious.
Rather than committing to a single concept when all there is to inform a choice is theory, why not develop both and make a decision later?
If they are to stand a chance of taking down Red Bull and Adrian Newey – even an Adrian Newey with significantly less wind tunnel time – in 2023, it is integral that they give themselves options.
More power to Max Verstappen in Red Bull team orders row
Having gone without a title for almost a decade, you would have thought Red Bull would be satisfied with a Drivers' and Constructors' Championship double in 2022.
Why this concentrated push for Sergio Perez to finish second in the standings? Why, more to the point, expect his team-mate to support it?
It is almost as though, after sealing both titles last month, the team have had a little too much time on their hands and have found themselves searching for trouble where there really should be none at all.
Red Bull's argument is that their drivers have never before finished first and second in the Championship and, with the record-breaking RB18 at their disposal, they may never get a better chance.
It is a truism of sport, however, that the record books rarely remember who comes second. Who cares?
Since his earliest days in F1 Verstappen has made a very conscious effort to construct a reputation as a driver who gives no quarter both on and off track.
When he was first dragged into a team orders controversy during his debut season in 2015, his explanation for refusing to move aside for team-mate Carlos Sainz in Singapore was that his father Jos would "kick him in the nuts."
In his eyes, willingly giving away a position – even if it is only P6 on the final lap in Brazil – would be a sign of weakness.
And if there is one thing Verstappen – who has previously admitted to being bemused by his competitors' openness in discussing their mental health – will not do in any circumstances, it is offer a hint of weakness.
Asking him to do so is an insult to his identity and reveals a misunderstanding of his whole outlook as a competitor – strange for a team who have worked closely with him throughout his F1 career.
It should have come as no real surprise to his closest colleagues that he was so firm in demanding that Red Bull never ask that of him – never disrespect him in that way – again.
With Perez claiming to see his team-mate for what he really is – let down after assisting Max on numerous occasions over the last two seasons, most memorably at the 2021 title decider – there is a risk that Verstappen has been wilfully short-sighted in refusing to return the favour.
Yet, having reached a level of performance few drivers have ever scaled in 2022, maybe Verstappen – stung by the circumstances of his team-mate's victory in Monaco this season – feels he no longer requires Perez's help going forward.
More power to him.
Tension after the flag for Max and Checo 🏁#BrazilGP #F1 pic.twitter.com/hyEX5OZwa9

— Formula 1 (@F1) November 13, 2022
Time for Leclerc to start positioning himself as Hamilton's Mercedes successor
The problem with Charles Leclerc, his detractors tell us, is that he just makes too many mistakes.
It is why – despite a stunning breakthrough season in 2019, some explosive qualifying laps in an uncompetitive car across 2020/21 and a fine start to this year – some are still reluctant to regard him as a match for Verstappen and Hamilton.
With Leclerc spinning out of a podium place at Imola and crashing out of the lead in France as his 2022 title challenge rapidly disintegrated, the unbelievers have a point. Leclerc may have the innate talent, but it remains untamed.
Yet drivers are often products of their environment and it has become increasingly obvious as the season has developed that, at Ferrari, Charles must deal with things Lewis and Max do not have to worry about.
If he was in a Red Bull or a Mercedes – protected from politics and left simply to drive the car as part of a well-organised team where such matters as strategy is left to the strategists and not debated over the radio during the race – could Leclerc reach the level of consistent excellence at which Verstappen and Hamilton have operated in recent years?
It is something he must start asking himself following Ferrari's latest blunder in Brazil – the mistakes still coming, actually worsening, even though the pressure has long been off – where on Friday he was the only driver to begin Q3 on intermediate tyres and missed the window for a slick lap.
His post-qualifying explanation that Ferrari were expecting rain did not wash considering Carlos Sainz, as in Monaco, managed to avoid falling into the same trap as his team-mate, but Leclerc's reaction in the heat of the moment was more instructive.
Having been publicly critical of Ferrari in Monaco and Baku, Leclerc has been more measured in the months after being collared by team principal Mattia Binotto in the immediate aftermath of July's British GP, but could not resist straying into sarcasm in Sao Paulo.
"Nice. Nice one!" he remarked over team radio when the call to abandon the lap on inters came too late before he responded to the news that he would start the sprint no higher than 10th with: "Nice, beautiful. F*cking beautiful!"
As Ferrari found out with Alonso, it is when the pain becomes predictable – when even the star driver joins in with the mockery – that it is time to worry.
For the remainder of the weekend Leclerc – who sat alone on the grid shortly before the start on Sunday – had the look of a detached, dispirited, almost diminished figure, his early collision with Lando Norris doing little to improve his mood.
Can his faith in Ferrari ever be fully restored after all the mistakes of 2022?
Leclerc at Ferrari has become increasingly reminiscent of Hamilton in his final years at McLaren – a rare if unrefined talent struggling to hide his frustration with the team to whom he owes so much but who keep letting him down.
Hamilton himself is making all the right noises about prolonging his F1 career, recently indicating that he is prepared to race on beyond the age of 40, and given the way 2021 ended he has handled Mercedes' difficult season far better than anyone could have imagined.
But what if the 2023 car is also detached from the front? At that point might he decide that after all he has achieved, he doesn't need this anymore?
When the time comes, whenever that may be, the onus should be on Leclerc – as the quickest and most compelling option likely to be available to Mercedes, much as Kimi Raikkonen was to Ferrari when Michael Schumacher retired in 2006 – to position himself at the very front of the queue.
If he was already having doubts, qualifying in Brazil may have crystallised the idea in his mind that life at Ferrari is holding him back.
Time to draw a line under the sprint experiment
And so ends another year of sprint racing, the format held for the third and final time this season in Brazil.
The sprint concept justified its existence when it was introduced last year, having an undeniable effect on shaping the events of Sundays at Silverstone, Monza and Interlagos, but a highlights reel for 2022 will be far more challenging to produce.
With Imola and Austria largely forgettable affairs it was left to Sao Paulo – the one venue on the calendar where close racing is virtually guaranteed, no matter how many laps there are to play with – to keep the sprint flag flying high.
It was an entertaining race, sure, and without question the most enjoyable sprint to date.
Yet the identity of its surprise winners presented another problem to go alongside the tacky medals, the skewing of statistics and, worst of all, the pointless Saturday practice session, which seems to exist only to give the broadcasters their usual fill of on-track action.
The only slight tinge of regret following Kevin Magnussen's pole position on Friday was that it was for the poxy sprint race and not the main event and a similar sense of unease was in the air 24 hours later.
Russell had spent all year dreaming of winning a race for Mercedes and at last, after 20 rounds, he did after a fine drive from third.
Yet with few seriously counting it as his maiden F1 victory and Mercedes' first of 2022 – those who did went 24 hours early – how were we meant to gauge the merit of his achievement on Saturday?
What exactly does it mean to win a sprint race? Is there any meaning to it at all?
"Better than a practice session," is the standard retort of those who defend the sprint, yet it is not even the best experimental format F1 has come up with in recent times.
That honour still belongs to Imola 2020, the two-day event where two practice sessions were dropped entirely, leaving only a 90-minute FP1 on the Saturday morning before qualifying took place that afternoon.
As the calendar continues to swell, it seems perfectly suited to modern F1 but works on the basis that less is more – which of course is completely at odds with Liberty Media's modus operandi.
Having grown accustomed over the last 18 months to F1's suits praising the sprint as though it is the greatest invention since carbon fibre, it was encouraging to hear Verstappen and Norris finally say what some fans are thinking as both made plain their lack of enthusiasm for the format.
Yet with a further six events already announced for 2023, it is unsettling to consider how the concept might be expanded over the coming years.
Will the number of events gradually increase year on year to the point where, before we know it, a sprint is held at half the races on the calendar and ultimately becomes a feature of each and every grand prix weekend?
The sprint, it seems, is here to stay – but with a sample size of six over the last two seasons, many of us have already seen enough.