Lewis Hamilton is the full orchestra while Formula 1's future arrived in Charles Leclerc and Max Verstappen.
Hamilton the musical
The best drivers are like violin maestros. The greats are like an entire orchestra. Not only can they can perform under pressure but they can master any situation, regardless of the challenges in front of them.
Lewis Hamilton retains the raw speed from his early days in the sport and he remains a fearsome competitor and a brilliant racer. But as he has matured he has become the full orchestra. Quick over a lap, fast in the wet, and able to coax tyre life out of Pirelli's fragile rubber, Hamilton has no obvious weaknesses and is on course to challenge some of Michael Schumacher's most monumental records.
A seventh title is within reach and Hamilton is seven grand prix victories short of Schumacter's record 91 race wins – something many will be backing him to do next season in the sports betting with Betfair. The Brit already has as many pole positions as Ayrton Senna and Alain Prost combined, has more consecutive race starts than any other driver, and has won a race in every season in which he has competed.
Most worrying for the rest of the grid, for portions of the season the Mercedes was not the fastest car on either Saturday or Sunday. Yet it was Hamilton – through a combination of sheer force of will to win and unmatched consistency – who brushed aside the challenge from his team-mate and from some of the young guns. The music shows no sign of abating and Hamilton made it a super six quite comfortably.
Champion. Of. The. World 🏆✊

"Still we rise, guys. Still we rise!"#ATeamComeTrue #SixTimes pic.twitter.com/ripF9B8NnY

— Mercedes-AMG F1 (@MercedesAMGF1) November 3, 2019
The future is here
While Hamilton churned out results and delivered when it mattered, some of the season's most eye-catching performances came from Charles Leclerc and Max Verstappen.
Leclerc was desperately unlucky to be robbed of victory in Bahrain yet also made mistakes that highlighted his relative inexperience – most notably in Baku and Germany. Bad luck, bad strategy calls, and team orders also cost the Monegasque potential victories. Just two race wins in 2019 a poor return considering his speed and maturity. The win in Monza, though, has forever etched his name into Ferrari mythology.
For the neutral, Leclerc's budding rivalry with Verstappen is a thing of beauty. Leclerc was unhappy with how Verstappen overtook him for the victory in Austria but got his own back in Silverstone a few weeks later.
As for the Red Bull charger, each of his three wins in 2019 underscored his array of skills. The young Dutchman was not afraid to get racy in Austria, kept his head in changeable conditions in Germany when everyone else – even Hamilton, remarkably – made mistakes, and with the best machinery in Brazil was untouchable throughout in what was one of his most ruthless race weekends. Hamilton is still favourite to win another title in 2020 but Leclerc and Verstappen, if given a fast race car, will be biting at his heels.
Ferrari: An enigma
Ferrari team boss Mattia Binotto is the likeable science teacher to the strict headmaster that was Maurizio Arrivabene. Under Binotto the Scuderia are more likeable, more open, and more progressive. But the change in team culture did not help to improve race-day operations, or help it to improve strategy, or cut out errors. From a managerial perspective, Binotto knows that he has a great deal of work to do to get Ferrari operating at the same standard as Mercedes and Red Bull.
There are also questions about the aero philosophy. Ferrari's inboard approach to the airflow did not work and the SF90 lacked consistent downforce compared to Mercedes, which took the opposite approach.
Ferrari fell short in their latest attempt to end the Mercedes dominance.

Team principal Mattia Binotto believes the title race was over as soon as they designed the SF90.https://t.co/0fD1v0HorX #F1 pic.twitter.com/3DvWxwNKHF

— Planet F1 (@Planet_F1) December 4, 2019
Be that as it may, Ferrari's power unit now sets the benchmark after years of Mercedes dominance. Ferrari were untouchable at high-speed circuits due to their straightline speed and their "party mode" in qualifying consistently raised the bar.
How the Italian constructor produces their horsepower has become the centre of paddock intrigue, amid allegations of clever tricks to bypass fuel-flow regulations. The FIA has so far cleared Ferrari of any wrongdoing but given Red Bull's suspicions we can be sure that horsepower output and fuel flow will be a theme throughout 2020.
Pressure, pressure, pressure
Red Bull's mid-season decision to demote Pierre Gasly and Renault's decision to drop Nico Hulkenberg for next season proves that F1 remains a cut-throat game. Gasly struggled to match Verstappen in qualifying and in the race lacked the pace to stick with the leaders, thus narrowing Red Bull's strategic options when out front and fighting against the likes of Hamilton. This was made apparent in Hungary when Mercedes used a smart strategy to beat Verstappen to the line.
Alex Albon was parachuted in at Red Bull from Belgium onward and strung together a series of P6, P5, and P4 finishes. The youngster impressed with his consistency but in 2020 will need to get closer to Verstappen if he is convince Red Bull to retain is services.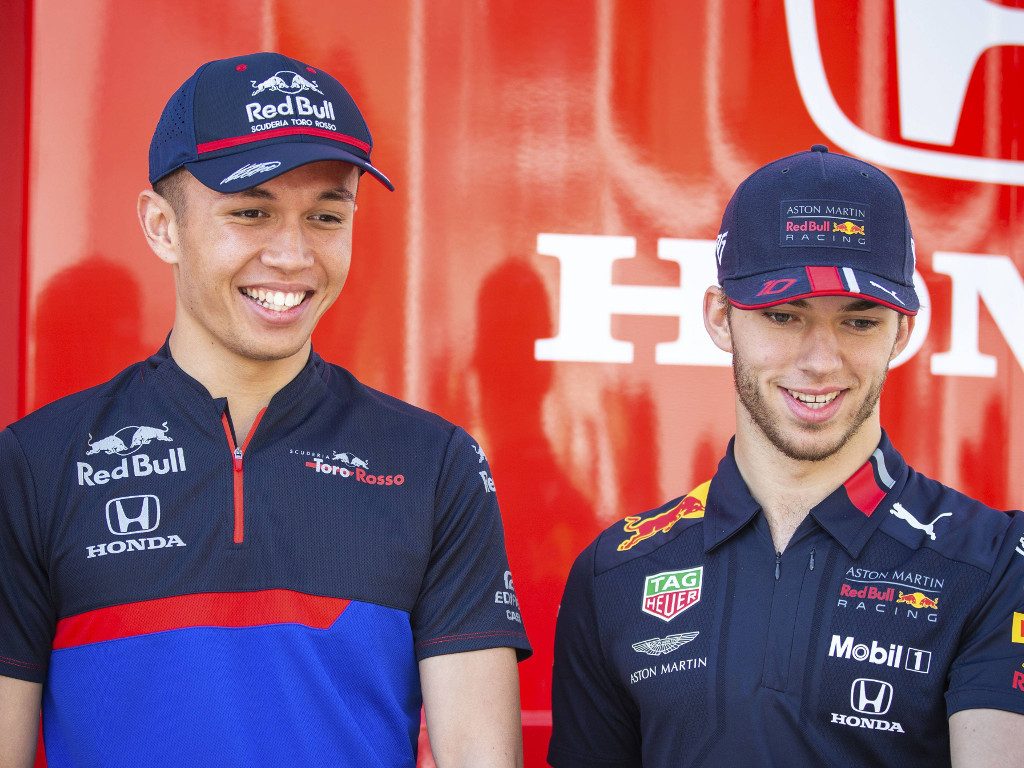 As for Hulkenberg, the German leaves the sport without a podium, let alone race win, after largely failing to fulfill his promise. He was evenly matched with team-mate Daniel Ricciardo in qualifying, but the Australian did outscore him 54 points to 37.
On the 2020 grid, several drivers will feel the pressure with immediate effect. Valtteri Bottas knows he must deliver because Mercedes junior Esteban Ocon replaces Hulkenberg at Renault and will be ready to step up. Ocon, though, will have to impress against Ricciardo, who himself needs strong results next season to remind the top teams of his not inconsiderable talents. Meanwhile, at Ferrari Sebastian Vettel will want to highlight his credentials against the impressive Leclerc.
McLaren march on
Carlos Sainz Jr failed to score points in the first three races of the year but as the season rolled on so did his momentum. While McLaren remain well adrift of the top three teams, the British team have pulled clear of the midfield in terms of driver lineup, operational consistency, and speed.
Sainz was core to this progress, maximizing results wherever possible and leading McLaren's programme during free practice sessions. Sixth in the Championship was a fair reward for the Spaniard's efforts and a maiden podium in Brazil was thoroughly deserved. Lando Norris impressed too and with more experience in 2020 will help McLaren to be an even better outfit.
Last race, last lap, for P6 in the Championship……SEND IT!
🎥 @F1 @McLarenF1 @EG00 #carlossainz pic.twitter.com/Y1CCyBXvAs

— Carlos Sainz (@Carlossainz55) December 1, 2019
After the pain of the Honda years and an interim spell with Renault, McLaren return to Mercedes power next year – a combination that brought great success for Mika Hakkinen and Lewis Hamilton. McLaren may not be back but they are on their way.
Final conclusion
F1 historians will view 2019 as the year in which Hamilton underlined his status as one of the greatest of the greats. It was also a year of hellos and goodbyes.
Verstappen remains the hottest property on the market bar Hamilton and Leclerc proved he is the real deal. The likes of Sainz (25), Albon (23), George Russell (21) and Norris (20) underscored the depth of talent in the sport. But the sport also said farewell to Hulkenberg and Robert Kubica, who in some ways could be considered driver of the year for making the unlikeliest of comebacks.
In some ways 2019 and 2020 will be transitional years for both the driver market and constructors, ahead of massive regulatory changes in 2021. The rumour mill is already awash with speculation about Hamilton's future, while the older guard — drivers such as Vettel, Ricciardo and Romain Grosjean will need to find greater speed and consistency if they are to remain players come 2021.
And we can't wait.
Richard F Rose
Follow us on Twitter @Planet_F1 and like our Facebook page.