The Champ is back on top, F1's young guns get feisty, Silverstone lives up to the hype and Haas find new ways to disappoint.
Hamilton gets a helping hand to claim home glory
It's fair to say that Antonio Giovinazzi has made his way onto Lewis Hamilton's Christmas card list. The Sauber Alfa-Romeo driver's spin into retirement on lap 20 prompted the deployment of the safety car, which handed Hamilton a free pit stop.
Valterri Bottas, who had up until then led the race after repelling Hamilton's early attack, had stopped earlier in the race and so dropped behind the Brit who benefited from a cheap pit stop under safety car conditions. It was a decisive moment that ended Bottas's hopes of a victory.
Bottas had earlier fought back valiantly after Hamilton had passed him – a massive psychological boost for the Finn who has often struggled to match or best his team-mate in the heat of battle. But the psychological trauma of losing the race due to a safety car, and seeing Hamilton claim the point for the fastest lap of the race on the final tour, represents another blow to Bottas's title aspirations. As for Hamilton, he recovered from the relative blip in Austria to win for the seventh time this season.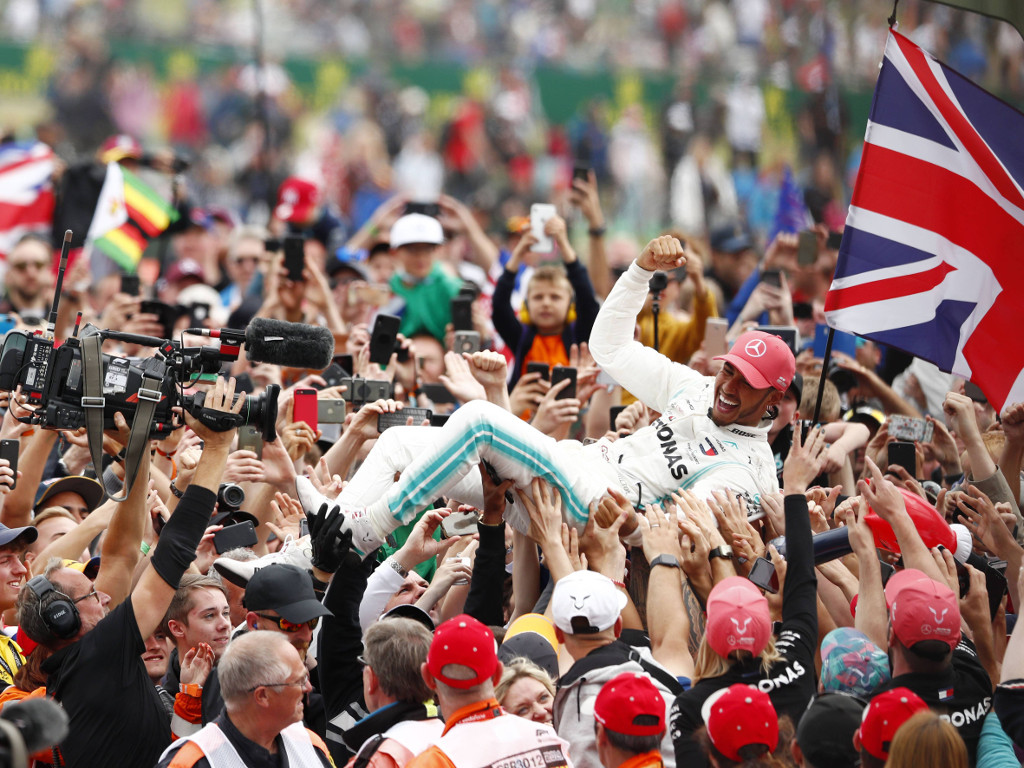 Fast, furious, fair
Silverstone is one of the legendary tracks on the calendar, favoured by drivers and fans alike for its sweeping sequences of challenging corners and its depth of history. The 2019 British Grand Prix was another to savour due to overtaking throughout the pack, throughout the race. That the British Grand Prix will remain on the calendar for another five years is brilliant for F1.
The racing was fast and furious – but generally fair in what was a breathless grand prix. Sebastian Vettel's crash into Max Verstappen aside, there was little of the shenanigans that have blighted several races this season, as the stewards did not feel the need to intervene in the racing. More please.
Incredible scenes here at Silverstone!

Stewards are looking at the incident between Vettel and Verstappen#BritishGP 🇬🇧 #F1 pic.twitter.com/awraiuT6se

— Formula 1 (@F1) July 14, 2019
Charles vs Max part II a sign of what's here
With memories of Verstappen's barge past Charles Leclerc in Austria still fresh in the memory, it was breathtaking to see the pair back at it in the British Grand Prix. Leclerc's defence against the quicker Verstappen was assured but also punchy. The Ferrari man quite simply gave no quarter.
THIS is what F1 is all about #BritishGP pic.twitter.com/NhiMScS93q

— iGP Manager (@iGPManager) July 14, 2019
While much has been made of Verstappen and Leclerc as the future custodians of the sport, the evidence of the last two grands prix show that their time is now, even if Hamilton seems unstoppable in his march to the title.
Sainz sizzles again but no luck for Lando
McLaren's upturn in form continued in Britain with Carlos Sainz claiming his third P6 finish in five races. The Spaniard, like Hamilton, was fortunate to benefit from the safety car, but he was made to work for the position as he had to fend off sustained attacks from Daniel Ricciardo's Renault.
Meanwhile, Lando Norris started brilliantly to get past Ricciardo for P7 but McLaren's pit strategy and the safety car squeezed the young Brit out of the top 10. Although McLaren continue to make progress the British Grand Prix showed that the team still has work to do both strategically and operationally before it can truly push on to mount a challenge to the big three.
A song of fire and Haas
Poor Guenther Steiner. The Haas team boss has seen his outfit struggle since the opening grand prix of the season. Recent form makes for sorry reading, with a slew of retirements and just one points finish to show for their last five grand prix.
Haas update: OH GOD THEY'RE CRASHING INTO EACH OTHER NOW HOW CAN THIS GET ANY WORSE pic.twitter.com/6Ejk7F41ok

— iGP Manager (@iGPManager) July 14, 2019
The American team plumbed new depths at Silverstone. Romain Grosjean managed to spin at the pit exit and crash in practice while both cars were forced into retirement after contact with each other early in the race. And that's before taking into consideration the off-track issues with a sponsor that is not a sponsor anymore…
Richard F Rose
Follow us on Twitter @Planet_F1 and like our Facebook page.