Conclusions from the German Grand Prix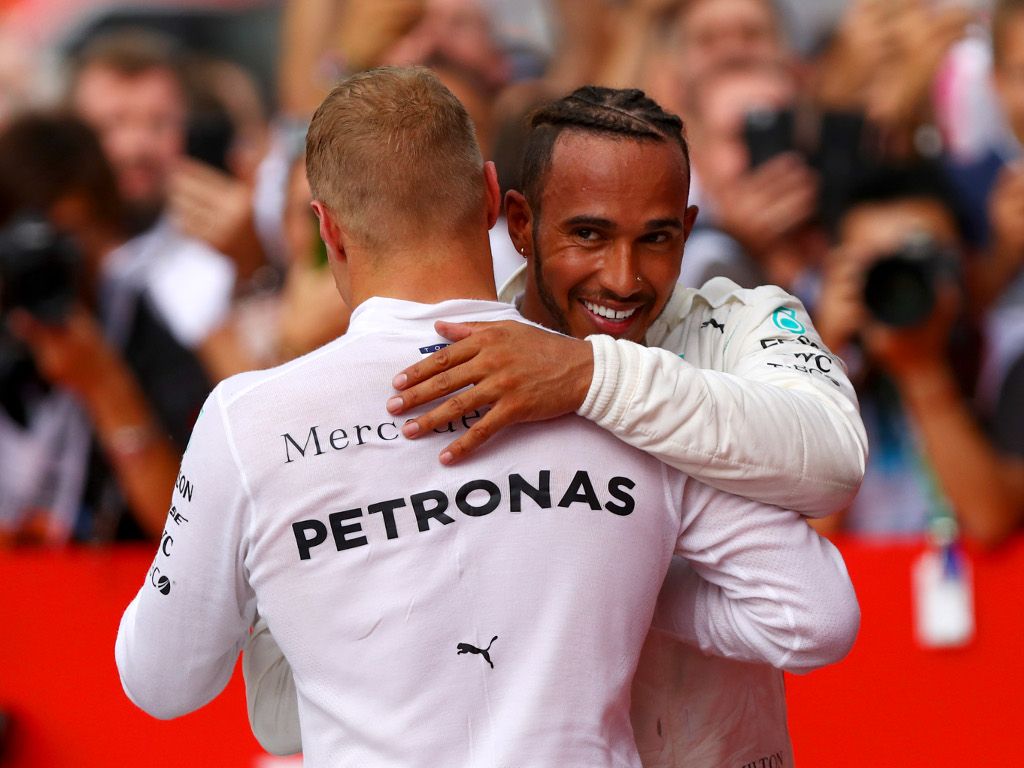 A different Lewis Hamilton emerges from the German Grand Prix, Sebastian Vettel and Ferrari throw it away again, Max Verstappen moves to within a point of Ricciardo and Charles Leclerc finds himself in a spin.
A weekend of Crestfallen champions
The imagery beamed from Hockenheim was potentially season-defining on Friday when Lewis Hamilton trudged into the Mercedes motorhome. His mood seemed grim.
His team said nothing was wrong with the Brit, but the image of Hamilton trying to push his car back to the pits in Saturday qualifying after a technical problem and then his distraught body language next to the prone W09 were powerful images that reflect both driver and team's recent woes.
Little did Hamilton know that it would be his title rival, the dominant Sebastian Vettel, who would be disconsolate on Sunday — on the day that it matters most. Vettel's error in the rain cost him the win, but also the lead in the standings and halted the momentum that the Scuderia have built on recent race weekends.
Hamilton, like a modern day Lazarus, was back from the dead and found himself on the top step of the podium.
What happened in Germany on Sunday isn't new to Ferrari, as the team still struggles to find a path to title glory. Last season there was Vettel's madness in Baku, his engine problem in Malaysia and the collision between him and Kimi Raikkonen in Singapore.
Even before Vettel's slithered off the track and into the barrier at Hockenheim, Ferrari had erred in letting Raikkonen hold up the German after the first round of pit stops.
Mercedes have admitted that Ferrari are now the team to beat, yet so far the men in red have shown a worrying tendency to beat themselves.
Mercedes and Hamilton get smart…and lucky
While Ferrari left Vettel behind Raikkonen for lap after lap before asking the Finn to step aside — Raikkonen memorably pushing Jock Clear on the pitwall to "just tell me" to move over — Mercedes had no such qualms in asking Valtteri Bottas to back off after his onslaught on the leader Hamilton after the safety car caused by Vettel's crash.
Toto Wolff said post-race that the team had no choice to make that decision given that Ferrari are faster and that Vettel's retirement meant that they had to do all they could to maximise points.
Yet the Silver Arrows pitwall was a right mess of confusion when the safety car came in. Hamilton was told to pit, and then told not to, with the four-time champion eventually choosing to bail out of pitting after entering the pitlane. Hamilton was hit with a reprimand for this — a lucky escape considering that Raikkonen was handed a time penalty at the 2016 European Grand Prix for failing to enter the pitlane after crossing the lines demarcating pit entry.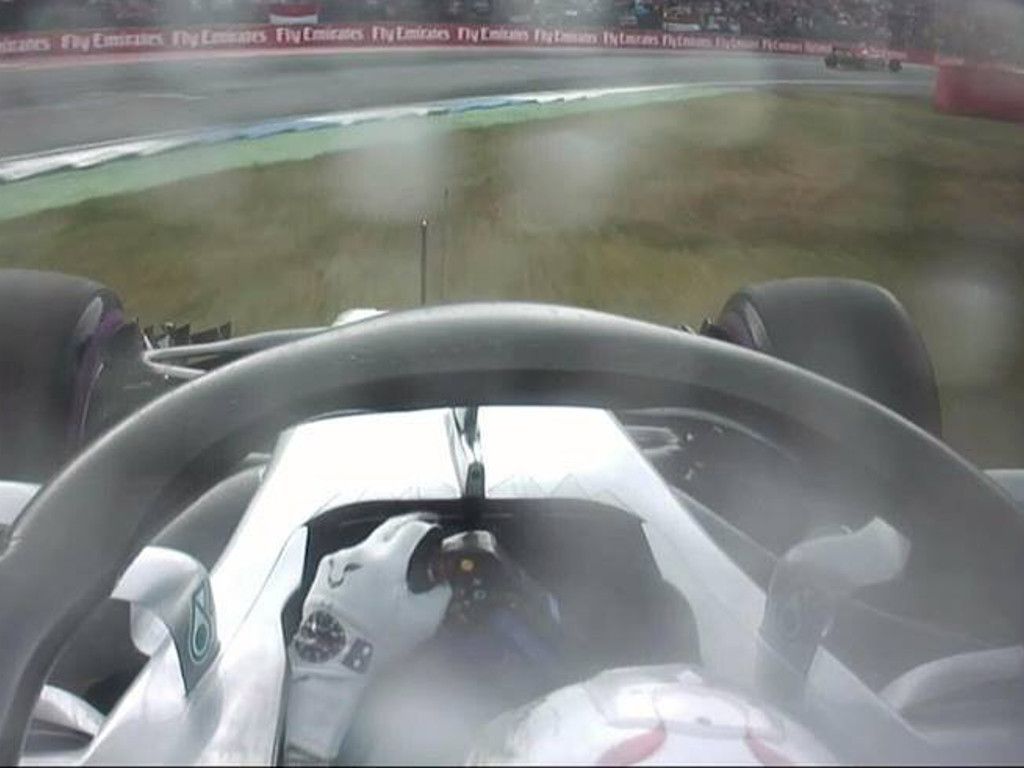 Hamilton deserves credit for winning from 14th yet this — much like his season so far — has been far from stellar. He has done well to maximise results when faced with tricky situations but what's fascinating is that he has had to call upon his experience far more than his raw pace to stay in the running for title.
It's not vintage Hamilton, though it is a different Hamilton, one that will be very difficult to beat over a long campaign.
Others push to hard to make their own luck
When the rain started on lap 45 Charles Leclerc, Pierre Gasly and Fernando Alonso all jumped at the opportunity to pit for intermediate tyres. It was a decision born of opportunism that has worked in the past — yet to pit when the track was still largely dry smacked of desperation and didn't work out for any of the aforementioned drivers.
At least Max Verstappen's stop two laps later made sense, as he only lost a place to Hamilton, which he probably would've lost anyway due to the speed that the Mercedes had on the ultrasoft.
Leclerc, so highly rated and deservedly so, had a scrappy race. He skipped across the gravel and also pulled off an outrageous 360-degree spin.
This was a race for the scrapheap rather than the scrapbook, though, and it's worth noting that since rumours of Leclerc's potential promotion to Ferrari gained traction, the incumbent Raikkonen has cobbled together a string of strong podium finishes — and also complied with a team order to let Vettel past.
As for Alonso, his response to being asked what he thought about the new regulations said it all. "I don't know. I won't be here," he said.
Ricciardo's season unravels
Less than two months ago Daniel Ricciardo won in Monaco, his second grand prix win of the season, while Verstappen found himself in all sorts of scrapes and under pressure from various quarters for reckless driving and poor decision-making.
At the same time Ricciardo was strongly touted as being in the running to join either Ferrari or Mercedes in 2019 and was comfortably shading his younger team-mate in the standings.
[Lap 29/67]

RICCIARDO IS OUT!

It's the second time in three races that the honey badger has had to retire 😢#GermanGP 🇩🇪 #F1 pic.twitter.com/MyFJbQgXvJ

— FOX Sports LIVE! (@FSAsiaLive) July 22, 2018
Since Monaco, however, Verstappen has beaten Ricciardo in each race that each RB14 has finished and has scored three podiums, including a win in Austria, while the Australian has done no better than fourth.
Moreover, Verstappen is now just a single point behind Ricciardo in the standings, and any hope Ricciardo had of a move to one of the big two manufacturers has completely dissipated.
It was a good Sunday for…
After a solid sixth at Silverstone, Nico Hulkenberg marked his and Renault's return to form with fifth in Germany. In the eight races in which both he and Carlos Sainz have finished, the German has finished ahead seven times.
It was also a good day for Marcus Ericsson too. The Sauber man finished ninth to secure a second straight points finish, while Leclerc hasn't scored since Austria.
Prior to Germany, Esteban Ocon had outqualfied Sergio Perez in the last seven races and had beaten the Mexican 5-1 in races in which both have finished.
Perez, though, outqualifed the young Frenchman and claimed P7 at Hockenheim, which was a much-needed result for a man who not long ago savoured a podium in Baku.
Richard F Rose
Follow us on Twitter @Planet_F1 and like our Facebook page