Lewis Hamilton's superb racecraft and error-free driving extends his lead in the standings, Kimi Raikkonen did everything he could but it wasn't enough, Sebastian Vettel errs again, Sergio Perez delivers a blinder and McLaren's woes deepen….
Red tide has no response to peak Hamilton
Every season has its symbolic moment. Ayrton Senna and Alain Prost colliding at Suzuka in 1989 and 1990, Michael Schumacher's clash with Damon Hill in Adelaide in 1994, and Lewis Hamilton's engine failure in Sepang in 2016 are all moments on which titles were decided. For 2018, that moment may well be Sebastian Vettel facing the wrong way on lap 1 at Monza after contact with Hamilton.
Watch: Hamilton and Vettel crash on Monza opening lap
Worse, still, for both Ferrari and the Tifosi was the sight of the Silver Arrows driving home in formation after securing P1 and P3 on the Scuderia's home patch.
Now 30 points adrift of Hamilton, Vettel's hopes rest on at least one DNF for the Mercedes driver and Ferrari winning the majority of the races in the season run-in. This season Hamilton has transcended even the extraordinary with an incredibly consistent season that has been peppered with brilliant drives.
Moreover, the Brit has cut out the errors, which leaves him on the cusp of a fifth title despite Mercedes having the second-best car on the track. Love him or loathe him, Hamilton's dogged mental approach and natural speed look very difficult to beat. Add to that Valtteri Bottas's willingness to sacrifice himself for the cause, and Mercedes look near unstoppable.
Can Singapore slingshot Vettel back into contention?
The moment that defined 2017 was, of course, Vettel and Raikkonen's collision at turn 1 of the Singapore Grand Prix. There was a similar sense of doom and desperation among Ferrari in Monza. Maurizio Arrivabene described the front-row lockout in qualifying as but "a comma in Ferrari's history" and refused to make predictions for the race. As it turned out, the race will enter the Ferrari history books for all the wrong reasons.
Vettel blamed Hamilton for the turn 1 incident, but whichever way you slice it, the clash is yet another in a long litany of mistakes that the German has made in 2017 and 2018. Raikkonen, meanwhile, fought bravely but Ferrari's lack of tyre preparation had massive implications as the Finn took too much out of his rubber early in his second stint and blistered his rears.
Watch: Hamilton's race-winning pass on Raikkonen
The SF71H is expected to be quicker than Mercedes in Singapore, which will present Vettel the opportunity to claw back some of the 30 points he trails Hamilton by. But Red Bull historically go well in Singapore and based on his showing in Monza, Max Verstappen will be eager to spoil the party, and don't rule out Daniel Ricciardo who has endured a horrible run of reliability issues but who is due a good result.
Tick-tock on Raikkonen's career
The silliest silly season in many a year keeps on giving, with rumours swirling from the Monza paddock that Charles Leclerc will replace Raikkonen in 2019. This would be a bitter pill for Raikkonen, who has five podiums in his last six races, and may have had another but for the carnage on lap 1 at Spa. It's the type of points accumulation that can help a manufacturer to win the title.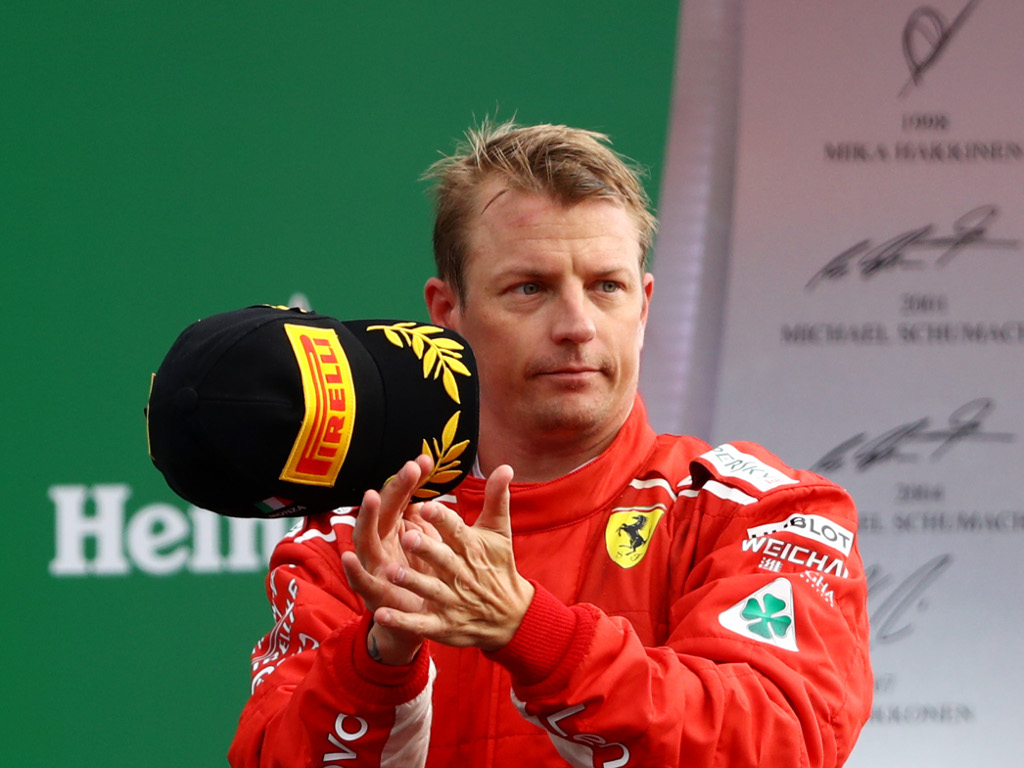 That said, Raikkonen has not really been the support act for Vettel that Vettel would have wanted — especially this season, when compared to Bottas. At the same time, Ferrari want both drivers to be able to win races; something Raikkonen has not delivered since rejoining the team. It's a tough call, but there is the very real possibility that Monza presented Raikkonen's last chance to add to his tally of 20 career victories.
Monza puts on a show to remember
Alas for the Tifosi, the 2018 Italian Grand Prix was not to be Ferrari's first win on home soil since 2010. However, the event was one to savour. The dramatic rendition of the national anthem, 'Fratelli d'Italia', before the start, coupled with the fly past of the Frecce Tricolori aerobatic team set the stage for an epic.
LAP 45/53: Hamilton makes his move on Raikkonen, and takes the lead

📻 @MercedesAMGF1 "Nice work, eight laps to go"#ItalianGP 🇮🇹 #F1 pic.twitter.com/LvgRNOSngR

— Formula 1 (@F1) September 2, 2018
And Monza delivered on-track action to match the atmosphere, with Raikkonen and Hamilton trading the lead with some daring overtaking during the opening phase of the race. Vettel got in on the action in yet another recovery drive; his overtake on Sergio Perez on the inside of Ascari being the move of the day. There was plenty of action throughout the field, too, underscoring just how special Monza is to F1.
Other observations
* A good shout for driver of the day: Perez. The Force India recovered from a poor qualifying to finish seventh after starting 14th. Team-mate Estaban Ocon was an impressive sixth to cap an all-round good day for the Pink Panthers. Yet Ocon, as it stands, is without a drive for 2019. What a travesty.
* Verstappen's time penalty for coming across the track and hitting Bottas was justified, but it was also entertaining to hear his radio messages and watch him put up a fight and refuse to yield to the faster Mercedes.
* It was an encouraging weekend for Williams. Lance Stroll grabbed a couple of points and Sergey Sirotkin qualified well and finished a reasonable 11th before picking up his first point of the season following Romain Grosjean's disqualification.
* Oh, McLaren. Zak Brown was adamant that McLaren would find gains in race trim. They didn't. Fernando Alonso's career continued its slide into a farcical end (more below) with a DNF and Stoffel Vandoorne was an anonymous 12th.
* What a pity that Alonso's best moment of the weekend was the laugh on team radio after becoming entangled with Kevin Magnussen during qualifying. KMag said in response that he "can't wait for Alonso to retire". The sport will be poorer for Alonso's absence, but in truth it's almost as if he retired a few years ago such has been the stark decline.
Richard F Rose