Mexican GP conclusions: Hamilton masterful, Ferrari falter again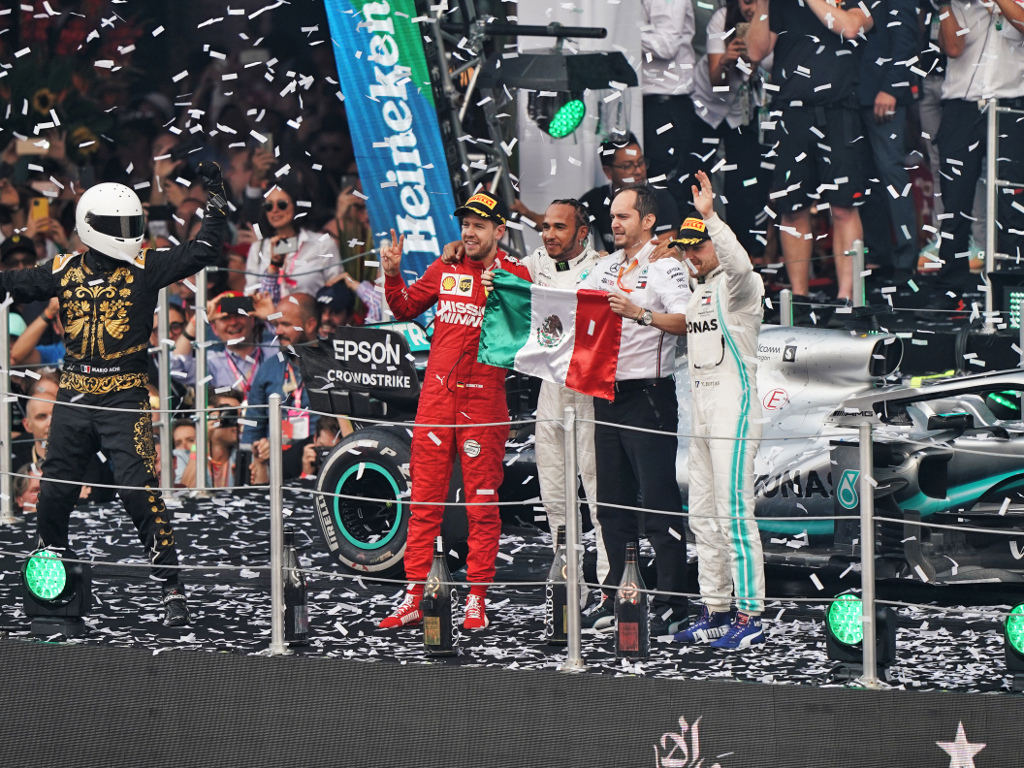 It was another masterclass from Lewis Hamilton in Sunday's Mexican Grand Prix, but his rivals did make it easier than it should've been.
Another Hamilton masterclass takes him to the brink of 6
Only fourth fastest in qualifying, Lewis Hamilton found himself with a fistful of oversteer through the first sequence of corners on the opening lap.
There was contact with Max Verstappen, too, and a trip through the grass, all of which damaged the skirting of the floor on the W10. After the fighting in close quarters, the race settled and was won on a strategy that Hamilton executed with the calmness befitting a man about to win a sixth title (even though he initially disagreed with the call).
Hamilton was not convinced that stopping earlier than both Sebastian Vettel and team-mate Valterri Bottas was the right decision. But the expected tyre drop-off did not materialise and neither Vettel, Bottas, nor the two-stopping Charles Leclerc could get to within 1.5 seconds of the Brit.
On more than one occasion Hamilton told his team to "leave me to it" on the radio as he managed his pace and tyres on his way to what was, in the end, a comfortable win. Making the difficult look easy is very much the mark of a great champion who now needs just four points in Texas to wrap up the Drivers' Championship.
We've been busy since 2013 😉

1️⃣0️⃣0️⃣ podiums with the Team for @LewisHamilton!!

And how about that for an entrance… ⬆️ pic.twitter.com/wOuVryuRNj

— Mercedes-AMG F1 (@MercedesAMGF1) October 27, 2019
But, but, but… rivals did make it easier than it should've been
Most of the frontrunners will feel that they left too much performance on the table or made too many mistakes. Bottas compromised his weekend by crashing in qualifying — especially considering the race pace he could unleash on Sunday. The win was probably there for the taking.
Verstappen's woes began on Saturday when he admitted that he had not slowed under the yellow flags brought out due to Bottas's crash. The ensuing three-place grid penalty triggered a series of events that ruined his race, as he managed to tangle with both Mercs and in overtaking Bottas managed to slice open his rear tyre. The win was probably there for the taking.
As for Ferrari, Charles Leclerc was lucky to inherit the pole through Verstappen's penalty, but was again on the receiving end of a bad Ferrari strategy. Two-stopping just did not work out and anyway Ferrari mechanics struggled to fit his right-rear tyre at his last stop, which cost him several seconds. The win was probably there for the taking.
I love just how intense the camerawork here is, like a slow pitstop for Leclerc is gonna lead to the end of the world #MexicoGP pic.twitter.com/tTj9DkpDSl

— iGP Manager (@iGPManager) October 27, 2019
Remember these numbers
Ferrari have started on pole position nine times in 2019 and have won just three times. Seven of those poles have gone to Leclerc, who has recorded two victories.
The numbers are indicative of the Scuderia's strengths and weaknesses: strong one-lap pace on Saturday cannot be consistently replicated on Sundays, and because Mercedes usually have better race pace the Italian outfit is often pushed into making marginal strategic calls. Team boss Mattia Binotto will know full well that is isn't good enough to convert a 1-2 start into a 2-4 finish.
If the men from Maranello want to be in the running for any silverware in 2020 these are key areas that need to be addressed, starting in the US a week from now.
The showdown (that didn't quite happen)
Only six seconds or so separated the top four at the end of the grand prix. But the showdown that was on the cards rather fizzled out as the chasing cars couldn't get close enough to the ones in front without overheating their tyres, brakes, engines etc.
The hard rubber, too, could easily run for 50 plus laps without a massive performance drop-off. Although it's not a surprise to see this, a grandstand finish or even an attempted overtake in the closing stages would've been a great way to cap an otherwise brilliant grand prix.
What's going on with Max?
Verstappen was widely praised for reining in his wilder, more impetuous side. The brilliant wins in Austria and Germany now seem like they happened a lifetime ago.
While the Dutchman clearly has the measure of his team-mate Alex Albon in qualifying, it is the London-born Thai who has scored the most points for Red Bull since joining in the summer. This is no cause for panic, yet Verstappen will be eager to piece together a few fast, clean sessions before the campaign comes to an end.
LAP 5/71

VERSTAPPEN PUNCTURE 😩

From the highs of Saturday… the Dutchman drops to last place#MexicoGP 🇲🇽 #F1 pic.twitter.com/yyL4lb9Mwy

— Formula 1 (@F1) October 27, 2019
Home-town hero wins 'Class B'
Based on form and qualifying, few would've given Sergio Perez a chance of beating the likes of McLaren, Renault and even Toro Rosso. But a trademark display from the Mexican, including excellent tyre management and resolute defence under pressure, helped the Racing Point star to seventh in front of his home fans. A great result for Racing Point but also for F1, which has been truly embraced by Mexico.
Renault make the offset work
A long first stint on the hard tyre handed Daniel Ricciardo track position among the midfielders as he ran deep into the race. His charge through the pack was halted when he locked up attempting to overtake Perez for seventh, but Renault will be happy with a P8 result given their poor showing in qualifying. But there is still an overwhelming sense of sadness that a man of Ricciardo's talent has to rely on a bold strategy in order to fight for P7. What a waste.
McLaren's nightmare
Mexico 2019 will probably feel like a reprise of the lows and woes of the Fernando Alonso era for McLaren. Carlos Sainz was punchy at the start and initially ran as high as P4 before settling into a holding pattern behind the big three outfits. The Spaniard could not make his hard tyres work and had to stop for a second time for mediums.
It was even worse for the hapless Lando Norris as his pit crew couldn't even get all of his tyres on the car when he pitted.
WOW. @LandoNorris back to race!! What a day! #MexicoGP pic.twitter.com/Zk4jCfmkCr

— onboardtime (@onboardtime1) October 27, 2019
The team has improved immeasurably in this campaign but the reality check at the Mexican Grand Prix proves that they're still closer to being swallowed up by the midfield than to being able to compete with F1's leading teams.
Richard F Rose
Follow us on Twitter @Planet_F1 and like our Facebook page.