Why Daniel Ricciardo should be banging on the door for a Haas drive
When Daniel Ricciardo walks into the paddock for the United States Grand Prix, should he shorten his stride passing the Haas motorhome and hope to catch Guenther Steiner's eye?
Or would the soon-to-be-out-of-work Australian be better off turning his head in the other direction and walking on without so much as a glance at one of the two teams still seeking a driver for 2023?
Steiner, the Haas team principal, has hinted he would be open to partnering Ricciardo with Kevin Magnussen next year. But he will not be banging on McLaren's door to try and convince the 33-year-old to join his squad.
"If he's interested in us, he's not shy to call me up. I'm not going to chase him down," said Steiner.
"I want him to decide what he wants to do for himself first, before being talked into something."
For a driver who insists he has no interest as yet in switching to any other series, Ricciardo has only two options for next season – fix himself up at a team towards the back of the pack, either Haas or Williams, or spend the year on the sidelines.
Already, the former Red Bull and Renault driver appears to have reconciled himself to the latter, saying at the Japanese Grand Prix "the reality is now that I won't be on the grid in 2023" after Alpine confirmed they had signed Pierre Gasly.
But is Ricciardo doing the right thing in taking that stance before he has exhausted all of the possibilities?
When F1 met NASCAR at COTA. 🇺🇸😳 pic.twitter.com/wm3GPe18mz

— McLaren (@McLarenF1) October 18, 2022
'Goal-hanging' around Mercedes is probably a fruitless exercise
If Ricciardo really does not want to race on just for the sake of it at, say, Haas, is there any merit in trying to cosy up to Mercedes?
There has been talk of him becoming their third driver and perhaps putting himself in prime position to take over from Lewis Hamilton if the seven-time former World Champion decides to retire at the end of 2023 when his current contract expires.
Heck, what if Hamilton even called it quits after this year? Who would be in better position to slot in alongside George Russell than a contract-free Ricciardo, to provide valuable race-winning experience to the Silver Arrows?
Like a goal-hanging striker biding his time for that perfect opportunity to strike, that could even be in Ricciardo's mind right now – not that he would admit it, of course.
But that scenario being credible, for 2023 or 2024, would do Toto Wolff a major disservice. Such a shrewd operator surely has a Hamilton succession plan in place, which does not entail scrambling around for a free agent like Ricciardo.
That could mean Esteban Ocon eventually moving in alongside Russell to form a line-up of two ex-Mercedes junior drivers.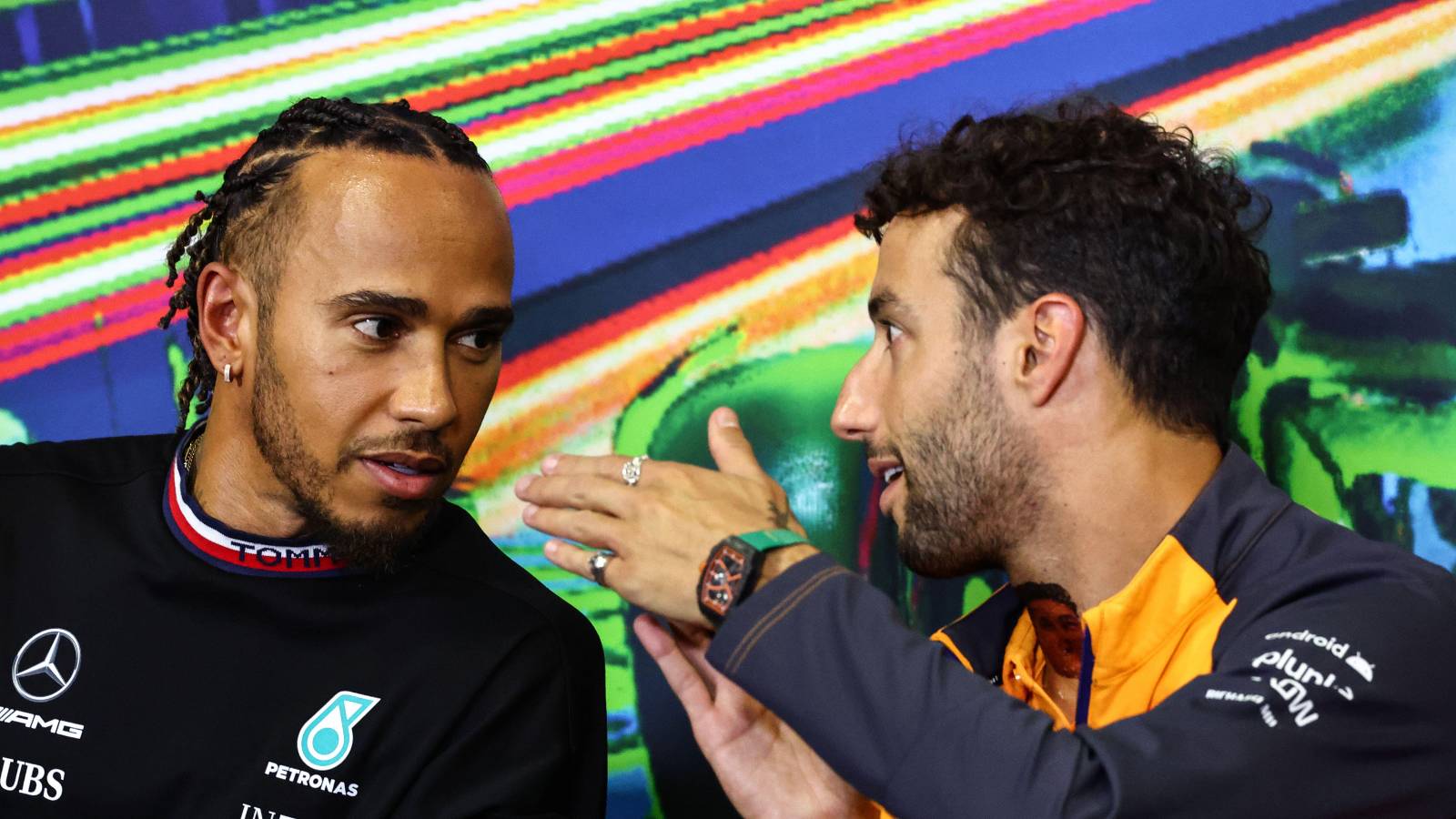 Go on, Daniel, give Guenther a call
There are only 20 F1 drivers and a multiple of that number with the prefix 'former'. Very few make it back with any permanency having lost their place.
Ricciardo may well be the first cab on the rank if he steps aside for next year but there are no guarantees anyone will come calling – not when he has turned 34 years of age.
He is a walking example of a team favouring young blood, having been ousted from McLaren in favour of his rookie compatriot Oscar Piastri.
Plus, he will have two years of under-achievement at McLaren adding an off-putting scent to his CV – an odour which could be expunged if he went elsewhere, say to Haas, and showed he can be a force again.
He is in the last chance saloon for his career, no doubt, but Ricciardo needs to show somehow, somewhere, that he can still be a valuable asset to a competitive team.
Of course, without our knowledge, the decision at Haas may already have been taken. They may have decided to keep faith with Mick Schumacher for a third year and announce it when they hold a press conference in Austin.
Or another scenario that has been described, which is a straight fight between Schumacher and Antonio Giovinazzi, who will drive the two Haas cars in FP1 at the United States Grand Prix, could actually be a reality.
But if you had eight-time winner Ricciardo as a third option, why not take it?
"For us, he would be a big hit," added Steiner of the Aussie. "I rate him as a driver, but I think he needs to come clean with himself and decide what he's going to do."
He may be staring more longingly in Mercedes' direction in the Austin paddock, but perhaps Ricciardo ought to be looking down at his phone – scrolling for the number of Guenther Steiner.
Read more: Daniel Ricciardo explains his 'how the f**k's that happened' driving problems