Mercedes lost both cars from the Austrian Grand Prix due to mechanical failures, as they lost a potential 1-2 off the grid, gifting the Championship leads to Sebastian Vettel and Ferrari.
It was the same story for the birthday boy, Daniel Ricciardo, as it was a dreadful day in Austria. The Australian retired from the race with 18 laps to go.
Red Bull did take the victory, though. Max Verstappen held off the two Ferraris to take the 25 points away from Spielberg, and move up to P5 in the Drivers' standings.
Sunday afternoon saw the second part of the first ever triple-header in Formula 1 history. Spielberg was the host for the Austrian Grand Prix, and race nine of the 2018 season.
The Austrian Grand Prix fell on Daniel Ricciardo's 29th birthday, but it might not have been the best omen for the Australian…
Just two drivers have won a Grand Prix on their birthday:

James Hunt, 🇳🇱 1976 (29th birthday)
Jean Alesi, 🇨🇦 1995 (31st birthday)

Can @danielricciardo deliver from P7, on the day he turns 29? 🎂#AustrianGP 🇦🇹 #F1 pic.twitter.com/KnFXmKOlCE

— Formula 1 (@F1) July 1, 2018
Despite it being his birthday, he couldn't get out of wearing the traditional lederhosen for the team's home race…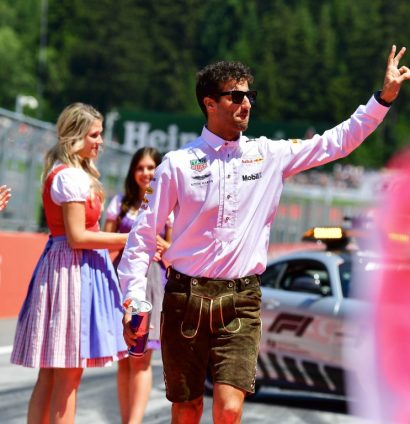 It was a landmark race for both Haas and Force India. The American outfit celebrated their 50th grand prix, while Force India were in their 200th race.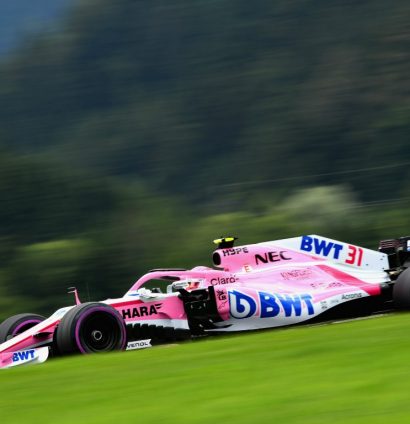 There were penalties galore before the race. Sebastian Vettel (P3-P6, blocking), Charles Leclerc (P13-P17, gearbox), Brendon Hartley (P18-P19, engine) all took grid drops. Meanwhile, Fernando Alonso would start from the pit lane after the front wing on his McLaren had to be changed in parc ferme.
Due to some configuration changes, Fernando's starting the #AustrianGP from the pitlane, but he'll push as hard as ever. pic.twitter.com/DZj502uqpa

— McLaren (@McLarenF1) July 1, 2018
Before the race, Alonso and Lewis Hamilton were having a chat. Fernando to Mercedes?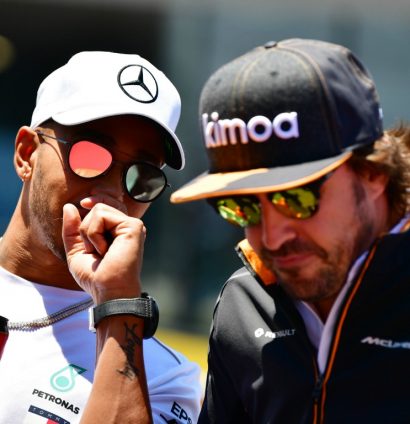 Taking a look to the stands and there was a sea of orange for the race, with Max Verstappen being well supported by the Dutch.
Orange army 👊🏻 Incredible support! 🙌🏻 #AustrianGP 🇦🇹 pic.twitter.com/heuSXZa245

— Max Verstappen (@Max33Verstappen) July 1, 2018
The temperatures for the race were much hotter than they had been for the entire weekend, with a track temperature of nearly 50C.
A gorgeous day for a motor race ☀️#AustrianGP 🇦🇹 #F1 pic.twitter.com/MHfgunSWGW

— Formula 1 (@F1) July 1, 2018
Kimi Raikkonen got a lightning quick start and almost took the lead by Turn 1..
⚫️⚫️⚫️⚫️⚫️
⚫️⚫️⚫️⚫️⚫️

LIGHTS OUT in Spielberg, the #AustrianGP is GO! 🇦🇹 #F1 pic.twitter.com/hAsfKan220

— Formula 1 (@F1) July 1, 2018
However, the Finn dropped down to P4 after both Mercedes, and then Max Verstappen got past the Iceman. Further down the field, Stoffel Vandoorne broke his front wing (again!) and had to pit, immediately dropping off the lead lap.
Another damaged front wing for McLaren 😕

Vandoorne has pitted for damage, and is a lap down after just seven laps#AustrianGP 🇦🇹 #F1 pic.twitter.com/gb0nT1ndtz

— Formula 1 (@F1) July 1, 2018
Nico Hulkenberg became the first man to retire from the grand prix, his third DNF in the last six races, as his engine gave way on Lap 12..
Valtteri Bottas' bad luck continued, as he had to retire from the race just a couple of laps later, with the gearbox on his Mercedes failing due to hydraulic pressure. That brought out a VSC.
Lewis Hamilton was the only man not to pit out of the top five, with both Red Bull and Ferrari double-stacking their cars during the VSC period, and it turned out to be a mistake from the strategists…
That's our mistake. All we can do now is back Lewis! Three cars to pass…

The fightback starts here! 👊 He's right with Kimi and Ricciardo! #AustrianGP 🇦🇹 #F1

— Mercedes-AMG F1 (@MercedesAMGF1) July 1, 2018
The two Force Indias also took advantage of the VSC, but came unstuck with their pronunciation of the plural for a Haas car…
Guess if you stick to Haas as Dutch for "hare", the plural would be Hazen.

One Haas. Actually, two.

— Sahara Force India (@ForceIndiaF1) July 1, 2018
Lewis Hamilton pitted from the lead on Lap 26, and fed back out in P4, with Max Verstappen and Daniel Ricciardo in a Red Bull 1-2 at the Red Bull Ring, and Kimi Raikkonen in P3.
It looked like the birthday boy was not going to have the best day, as his left rear tyre started to blister badly..
LAP 35/71

That doesn't look like a birthday present 😬

Ricciardo's blistered left-rear tyre could be cause for concern#AustrianGP 🇦🇹 #F1 pic.twitter.com/oKOYPVevmE

— Formula 1 (@F1) July 1, 2018
The Australian came in to make a second pit stop, while there was a big move up towards the front!
LAP 39/71

The Ferraris are on the move!

Vettel squeezes Hamilton for third place 💪#AustrianGP 🇦🇹 #F1 pic.twitter.com/xjec2VsroA

— Formula 1 (@F1) July 1, 2018
Two thirds of the way through the race, and Ricciardo's team-mate was still out in front, with everyone now nursing their tyres.
RACE ORDER (47/71 LAPS)

Smooth sailing out front for Verstappen#AustrianGP 🇦🇹 #F1 pic.twitter.com/DFlfKqCEeH

— Formula 1 (@F1) July 1, 2018
Nursing the tyres went out of the picture for Mercedes, who brought Lewis Hamilton in for a second stop, and he came out behind Daniel Ricciardo in P5. The Brit showed his anger before coming in for a second time…
LAP 53/71

"I don't know what to say to you guys, these rears are not gonna ******* last!"

Hamilton pits for Supersoft tyres and rejoins behind Ricciardo#AustrianGP 🇦🇹 #F1 pic.twitter.com/1gFkWfOSTt

— Formula 1 (@F1) July 1, 2018
Within the space of three laps, two of the Red Bull four retired from the Austrian Grand Prix. Daniel Ricciardo suffered the worst possible outcome on his birthday, before Brendon Hartley then also dropped out of the race.
The fifth retirement of the grand prix was Lewis Hamilton, making it a double disappointment for Mercedes, and for both their Drivers' and Constructors' Championship prospects.
That's our #AustrianGP over… Lewis Hamilton parks his car at the side of the track and is out of the race…

Gutted. Absolutely gutted… 💔

— Mercedes-AMG F1 (@MercedesAMGF1) July 1, 2018
With all the retirements, it meant double points finishes for Haas (P4 and P5), Force India (P6 and P7) and Sauber (P9 and P10).
But it was Max Verstappen who took the race victory for Red Bull, their first win at their home grand prix.
BREAKING: @Max33Verstappen WINS the #AustrianGP!

That's the 20-year-old's fourth career victory 🏆🏆🏆🏆#F1 🇦🇹 pic.twitter.com/v5ODlMMEbe

— Formula 1 (@F1) July 1, 2018
Kimi Raikkonen and Sebastian Vettel finished on the podium, with Romain Grosjean and Kevin Magnussen scoring 22 points for Haas.
🏁 #AustrianGP 🇦🇹

AMAZING DAY IN AUSTRIA!!!

DOUBLE POINTS – 22 TOTAL

P4 – @RGrosjean (12 pts) 👍
P5 – @KevinMagnussen (10 pts) 🙌#HaasF1 🏎🇺🇸👊😀 pic.twitter.com/jpRLRizcXj

— Haas F1 Team (@HaasF1Team) July 1, 2018
Behind them, Esteban Ocon and Sergio Perez came ahead of Fernando Alonso, who started from the pit lane. Charles Leclerc and Marcus Ericsson gave Sauber their first double points finish since China 2015.
A disastrous day for Mercedes, then. Sebastian Vettel takes the lead in the Drivers' Championship, while Ferrari overtake Mercedes in the Constructors' Championship.
READ MORE: Hamilton keeps the faith with Mercedes after big blunder