Why disproportionate Fernando Alonso penalty shows FIA must reverse course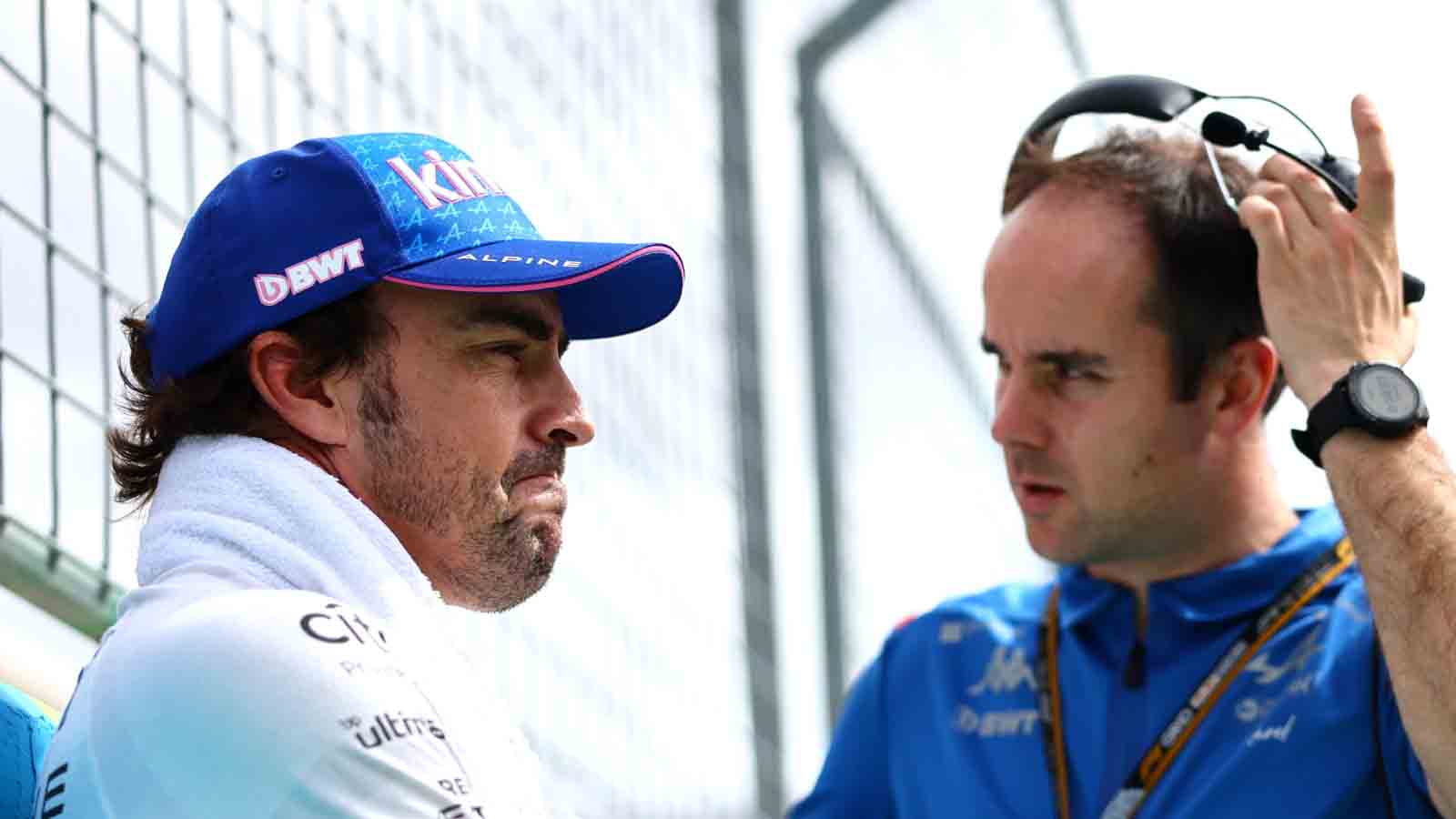 To put it mildly, the two penalties given to Lance Stroll and Fernando Alonso at the United States Grand Prix appear pretty disproportionate.
Criticism for Stroll over his jink to the left while defending from his future Aston Martin colleague has been widespread, with his late move as Alonso looked to draw alongside causing the two to collide at high speed.
Alonso's car went airborne as a result, and he even said himself he was "amazed" he could keep going afterwards.
Notwithstanding the quite remarkable drive he then put in to go from P17 to P7 come the chequered flag, the fact he was penalised himself after the race for a factor beyond his control is what will have irked Alpine most about the incident.
Not least because of how sizeable the punishment was.
For context, Jacques Villeneuve called for Stroll to be given a race ban for his "pathetic and extremely dangerous" move, while four-time former IndyCar champion Dario Franchitti has urged the FIA to take strong action against such moves before one ends fatally.
The stewards found Stroll predominantly responsible for the crash, which ended his race in the process, but a three-place grid penalty for Mexico and two penalty points was as far as it went.
Somehow, Alonso's car kept moving, albeit with a damaged mirror – which is where we head to next.
It was attached loosely on his car after the impact before flying off later in the race, but given the amount of opportunities Race Control had to show him a black-and-orange flag, as well as the danger in his crash compared to his transgression, the 30-second penalty retroactively awarded to him feels more than a little harsh.
The time addition wiped out the recovery Alonso had made in the race but, more pertinently, the fact the case was only looked into upon a protest from Haas says a lot about how the stewards and race director Niels Wittich seemingly disagreed on a matter of FIA regulations, when they are meant to very much be on the same team.
Fernando Alonso: "The fear is still in my stomach. After the crash, I couldn't stop thinking about it for the rest of the race."

[DAZN] pic.twitter.com/ndw9ITdXmP

— PlanetF1 (@Planet_F1) October 24, 2022
The stewards noted in their verdict on Alonso they were "deeply concerned that Car 14 was not given the black-and-orange flag, or at least a radio call to rectify the situation, despite the two calls to Race Control by the Haas team" and "a car must be in a safe condition throughout a race, and in this case Car 14 was not".
But because the chance to pull Alonso into the pits was there to make Alpine fix his car, the assumption at the finish was the Spaniard had finished under a 'safe condition', as the regulations stated.
Haas admitted their protest came as they wanted to see consistency from the FIA after Kevin Magnussen had been forced to pit under the so-called 'meatball' flag more than once this season – which is well within their rights to do.
So in Haas proving themselves right by the penalty coming Alonso's way, the FIA's own investigation in turn proved themselves wrong in them saying Alonso should have been penalised while the race was happening.
So now, the FIA are in a situation where they are damned if they do and damned if they don't regarding keeping Alonso's penalty when a hearing takes place between the two teams on Thursday.
Keep the penalty and it is an admission they had allowed Alonso to run while in an unsafe condition. Remove it, and it is effectively the stewards doubling back on themselves – only serving to make Race Control look indecisive at a wider level.
Whatever the outcome of Thursday's hearing, there are a couple of takeaways to be considered.
First, a three-place grid penalty for the driver found responsible for such a collision in circumstances like Stroll and Alonso seems a bit too lenient, given how dangerous the outcome could have been.
Second, the decision about whether or not Alonso was safe to carry on in his damaged state should have been taken during the race, to leave absolutely no question marks afterwards.
Fernando Alonso has had his say on his post-race penalty on Instagram 👇 #F1 pic.twitter.com/LWbmQARNPY

— PlanetF1 (@Planet_F1) October 24, 2022
Alonso perhaps said it best himself when he posted on his Instagram story on Monday night.
"It's one of those rare times in sport that I feel we are all on the same page and share the same opinion towards rules and regulations," he wrote.
"Therefore, Thursday is an important day for the sport we love so much, as this decision will dictate if we are going in the right direction for the future."
The FIA admitted where they went wrong at Suzuka, and there will be no shame in doing so again on Thursday if they are to remain on a positive trend in learning about how best to enforce their regulations.
We shall wait and see.
Read more: F1 penalty points: Pierre Gasly back in front after United States punishment