The new and improved Valtteri Bottas shone in Baku, but he will have to share the spotlight with two midfield drivers that had superb races.
It was another day of frustration for Ferrari while the likes of Renault and Haas have some serious work to do heading into the all-important European legs.
Here are Late Braking's driver ratings from the Azerbaijan Grand Prix…
Valtteri Bottas:  After conceding the championship lead to Lewis Hamilton last time out in China, Valtteri Bottas responded in perfect fashion as he became the first driver to convert pole position this season.
Despite pressure from Lewis Hamilton on the first lap, Bottas held his nerve to keep the lead. The threat of Hamilton re-emerged in the final laps of the race but Bottas did enough to seal win number two of the season.
The Bottas of old may have crumbled under pressure, but not the new one. 9
This is the strongest start to a season for a team in F1 history. 4 back to back 1-2's, wow. I couldn't be prouder of this team, the sheer amount of hard work and vision I see each day from everyone here is mind blowing @MercedesAMGF1 📷 @MSI_Images pic.twitter.com/5CGMkI3bfN

— Lewis Hamilton (@LewisHamilton) April 28, 2019
Lewis Hamilton:A fourth consecutive Mercedes 1-2 and this time it was Lewis Hamilton who had to settle for second best. A great start from the Brit gave Bottas plenty to think about in the first few corners but he wasn't quite able to seize the initiative.
Baku has never been the happiest hunting ground for Hamilton and 18 points is a long way from a disaster. The F1 circus heads to Spain next, a circuit that Hamilton dominated in 2018. He'll be hoping for a similar story. 8
Sebastian Vettel: A tough race to judge Sebastian Vettel. Considering Ferrari's advantage in a straight line and in low-speed corners, Baku promised to be a prosperous circuit for the duo but once again they find themselves trailing behind.
Vettel constantly did enough to remain in the picture but could never do enough to close to either of the Mercedes drivers. A solid, if unspectacular race for the four-time champ but unfortunately this represents another opportunity spurned. 7
We maximised our result today by finishing 4th. Our race pace on the medium tyres was really good, but after the VSC we couldn't get the tyres up to temperature anymore. We're getting closer #KeepPushing 🇦🇿 #AzerbaijanGP pic.twitter.com/sKzujSiMwS

— Max Verstappen (@Max33Verstappen) April 28, 2019
Max Verstappen: Unlike 2018, Verstappen has started 2019 fantastically well and is maximising any opportunity he gets in the Red Bull. He might not be competing for wins at the moment but you feel as if that Red Bull is not a million miles away and is just looking for the final piece in the jigsaw.
Staying out slightly longer than his rivals, Verstappen proved to be quick in the second stint but just couldn't get into DRS range of Vettel. Fresher tyres might well have helped had there been a Safety Car to squeeze the pack together but it wasn't to be. 8
Charles Leclerc: Starting in P8 on fresh medium tyres gave Leclerc the opportunity to try something different in the race, but after a promising start the strategy did not materialise.
The medium tyres worked effectively for Leclerc but his pace was perhaps masked by the fact that none of the top runners were on the same tyre at that time. Once everyone else also showed pace on the mediums, any chances of a win or podium disappeared.
It's a weekend of what could have been and it's hard to argue against his weekend being decided on Saturday rather than Sunday. However, you can't help but feel it's only a matter of time before a win is his. 7
Excellent job from all the team the whole weekend. A perfect weekend where we came out with an unexpected result. Great points for the championship where we rank 6th in the drivers championship and 5th in the constructors. Thank you everyone for your support, this just begins!!! pic.twitter.com/KZCzEeZwv2

— Sergio Pérez (@SChecoPerez) April 28, 2019
Sergio Perez: Sometimes drivers and circuits click, Perez and Baku definitely come under that category. The Mexican already had two podiums at the track coming into the race and whilst another one wasn't achievable this time, he still claimed the unofficial tag of 'best of the rest'.
Some nifty defensive work saw him keep Verstappen behind him early on and maintained a gap to the ever-present McLaren drivers behind him. The eight well-deserved points now puts him level with Raikkonen and Gasly in the championship. 9
Carlos Sainz:  After some terrible bad luck in the first few races, it finally came together for Sainz who grabbed his first points of the season. Following some early overtakes, he found himself duelling with his team-mate for the rest of the race. A battle he eventually won thanks to Norris pitting late under the VSC. 8
Lando Norris: Whilst Norris didn't quite hit the same heights in Azerbaijan as he did in Bahrain, this was another solid result in just his fourth Grand Prix start. It would have almost definitely been 7th place but the Brit took a late gamble as he pit under the VSC. The fresh softs didn't work out for him but overall he can pleased with another good effort. 8
Lance Stroll: This is somewhat of a repeated story but just imagine how much better Stroll would be if he could qualify well.
After yet another Q1 elimination, Stroll demonstrated effective tyre management in the race and performed some strong overtakes. The result was two points and a P9, a distant P9, but P9 nonetheless. 8
Starting P17 + Pitlane.
Finishing P10 + P12.
Scoring 1 point 🔥

That can be called "Damage Limitation" 😑#AzerbaijanGP #F1Baku #AlfaRomeoRacing #Sauber #GetCloser #Kimi7 #AG99 pic.twitter.com/ZZUiSjNdhm

— Alfa Romeo Racing (@alfaromeoracing) April 28, 2019
Kimi Raikkonen: For the second race in a row, a driver starting from the pit lane has finished P10 for the final point. The first ten laps proved that the soft tyre was much less durable and not as quick as most expected.
Kimi took the opportunity to get off that tyre as quickly as possible and he was rewarded as he kept up his streak of scoring points at every race so far. 9
Alexander Albon: Going into the weekend it was thought that Toro Rosso might be sneakily strong but Albon just couldn't get it going like he did in the previous race. P11 is where he started and P11 is where he finished. There were some bright moments in there but ultimately no points. 6
Antonio Giovinazzi: Talk about a badly timed penalty. Things finally came together for Giovinazzi in qualifying as he made Q3 ahead of some quick cars but a 10-place grid penalty meant he started P17 rather than P8. Unable to make the progress that his team-mate did, Giovinazzi will have to wait a bit longer for his first F1 points. 6
Kevin Magnussen: Just what is going on at Haas? The car appears to be struggling badly in races and cannot compete with midfield rivals it was previously ahead of.
The Haas cars did not receive a huge amount of attention but that might be for the best. Whatever it is that is causing them problems needs to be found and solved as quickly as possible. 5
🎙 "We must absolutely see the start of the European season as an opportunity to reset."

And now a word from the boss on the #AzerbaijanGP.
Full report 👉 https://t.co/xLg3jTEnfK #RSspirit pic.twitter.com/Pce5w7FZ9y

— Renault F1 Team (@RenaultF1Team) April 28, 2019
Nico Hulkenberg:  We are racking our brains for the last time Hulkenberg had a race this bad, it's been a while that's for sure. An unfamiliar Q1 exit on Saturday was compounded by a tough race on Sunday where points never appeared on the cards. 4
George Russell: It's very difficult to fault Russell and he is essentially taking part in a two-driver championship this year against team-mate Robert Kubica. Russell kept up his streak of out-qualifying and out-racing Kubica and did so convincingly. It's hard to ask for much more. 7
Robert Kubica: A drive through penalty for being ready in the pit lane too early just about sums up the season that Kubica and Williams have faced so far. The heroic comeback of Kubica can never be taken away from him but this is not the return he was after. Hard times at Grove. 5
Did not finish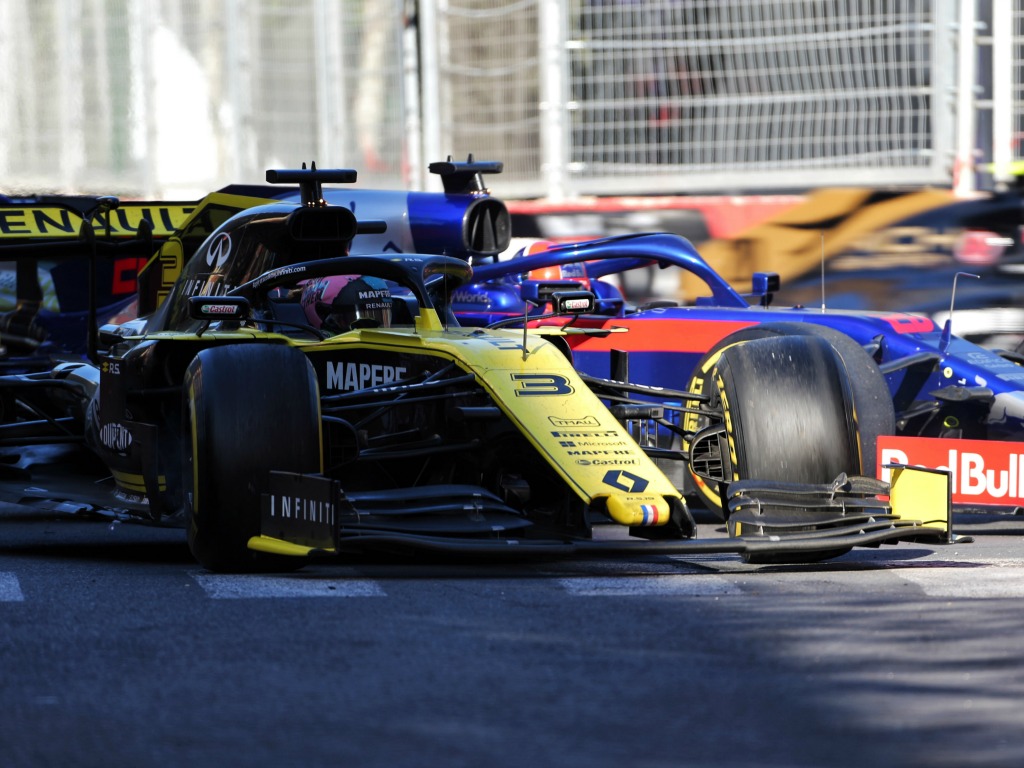 Romain Grosjean: He was overtaken by everyone and then retired. That's the short version at least. Grosjean was one of the drivers to try an alternate strategy but before he got the chance to pit, everyone had already soared past him. The infamous Grosjean brake issue then struck, leaving him to retire. 5
Pierre Gasly: It is fair to say the racing gods did not shine down on Pierre Gasly this weekend but whilst he has no points to take away, it was arguably his best performance in a Red Bull so far.
After advancing himself from the pit lane to P6, Gasly suffered an issue and was forced into retirement. There are plenty of positives to take away though and the good pace he showed is encouraging. 7
Daniel Ricciardo:   The last time Ricciardo started P10 at Azerbaijan he went on to win the race. A long way from what happened this time out.
Ricciardo did a good job early on as he did his best to remain in the points but the car's pace eventually caught up with him. Reversing into Kvyat ended his race and he'll be begging for better in Spain, where he already has a three-place grid drop to contend with. 5
Daniil Kvyat: Kvyat must have been full of confidence after a strong qualifying display but a failure to keep the tyres in the right window saw him drop through the field in his first stint.
Any hopes of salvaging a point or two were taken away after a skirmish between him and Ricciardo which saw the Aussie perform an exceptional reverse torpedo on his former team-mate. 6
The Azerbaijan Grand Prix driver ratings are courtesy of the good folks at Late Braking. You can check them out in the following places:
Subscribe to Late Braking on YouTube
Follow Late Braking on Twitter
Follow Late Braking on Instagram