As per usual, the Russian Grand Prix wasn't the best race for spectators, but it was an excellent one for a number of drivers.
Here's how we've rated each driver's performance at Sochi…
Valtteri Bottas: To say Bottas needed to win in Russia is an understatement. He hadn't stood on the top step of the podium since the season opener and it was beginning to look like he didn't have what it takes to beat Lewis Hamilton over a race weekend, let alone a season. Granted, he needed the Brit to get a penalty, but he was flawless himself and deserved the victory.
The Finn made an excellent start to get ahead of Max Verstappen and put pressure on Hamilton to so nearly take the lead. He got it 17 laps later and never looked back. While he never stormed away from the Dutchman, he maintained a comfortable lead at the front and did everything he needed to secure victory comfortably.
Not only did he win, but he also set the fastest lap of the race to take an extra point and bragging rights. Whether he would have won if not for Hamilton's penalty is up for debate, but he did have better pace than the Brit for large portions of the race. He hasn't silenced his critics like he may like to believe, but it's a start. 8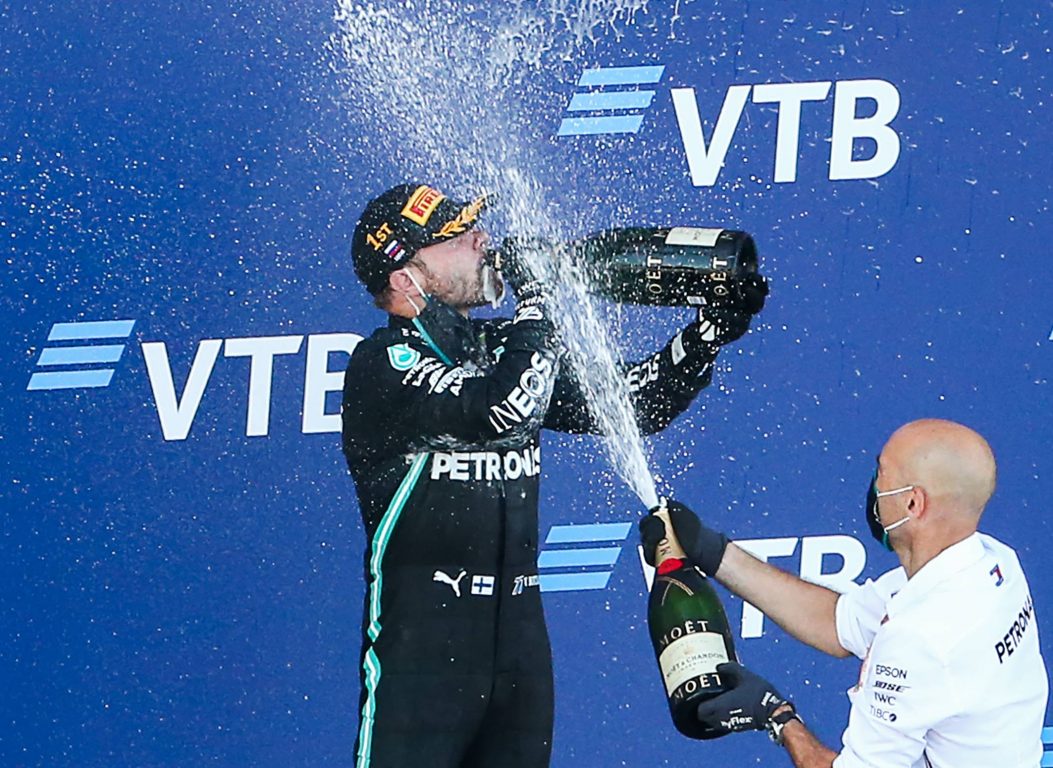 Max Verstappen: The TV cameras barely showed Verstappen for the entirety of the race, and that's weirdly a testament to how well he drove. He couldn't challenge Bottas, but of the drivers not lucky enough to be driving a Mercedes, he was in a league of his own.
It briefly looked like he may have had a fight on his hands to secure a podium after a poor start dropped him behind Daniel Ricciardo. However, he crucially reclaimed P3 before the Safety Car came out and was nowhere near the midfield runners for the rest of the race.
His pace was also good enough for him to stay ahead of Hamilton with ease and, in the closing stages, he was as quick as both the Brit and Bottas. All in all, it was a performance that brought an end to the bad run he's been on and reminded everyone just how good he is. Come on Red Bull, give him the car to fight the Mercs. 8
Lewis Hamilton: Hamilton's Sunday got off to the worst possible start when he was handed a 10-second time penalty for doing practice starts in the wrong place before the race, and he never really recovered from that setback.
He showed excellent pace in his first stint to minimise the damage of the penalty and ensure he came out of the pits in a decent position. However, after getting back to P3, he seemed more concerned with criticising his team for their decision to bring him in early than he did with catching Verstappen.  6
Sergio Perez: Like Verstappen, Perez too was barely shown throughout the race, and that was because he was so far ahead of the rest of the midfield. That's seriously impressive considering his car wasn't a great deal faster than the Renaults.
He dropped down to P6 at the start but passed Daniel Ricciardo on-track before executing the perfect overcut on Esteban Ocon to get track position. From that point onwards he never saw the black and yellow cars in his mirrors again and finished over 20 seconds clear of Ricciardo. He was also only 30 seconds off Bottas which is very good going in a Racing Point.
It was the solid, faultless drive we've come to expect from Checo over the years and put him within one point of team-mate Lance Stroll, despite the fact that he missed two races after testing positive for COVID-19. Given how the team has dumped him, he'd no doubt love to beat the Canadian, and if he drives like he did today, he most likely will. 10
Daniel Ricciardo: Hamilton could learn a lot from watching how Ricciardo reacted to being handed a time penalty. After being told he had one for going wide at Turn 2 and not returning via the bollards, he simply responded: "OK, I'll drive faster," and that's just what he did.
He made quick work of passing the Ferrari of Sebastian Vettel that his team-mate had been stuck around for quite some time. Then, he put his foot down to open up a significant gap to Charles Leclerc, who came out of the pits just behind him, and kept opening it up until the end of the race.
The Aussie now has four top-six finishes in a row and is a whopping 29 points clear of Esteban Ocon. He may still be waiting for a first podium since leaving Red Bull, but he's driving as well now as he was during his best years there. 9
In his own words: "Easy right 🤷🏻‍♂️"@danielricciardo#RSspirit #RussianGP pic.twitter.com/yhpWgWX3yG

— Renault F1 Team (@RenaultF1Team) September 27, 2020
Charles Leclerc: Leclerc was hugely fortunate not to be penalised for taking Lance Stroll out of the race in the opening lap in an incident that was clearly his fault. After that, however, he was one of the drivers of the day.
After starting in P10, an excellent first stint in which he made his tyres last longer than anyone around him and maintained decent pace moved him up to P6, just ahead of Esteban Ocon who was in a considerably faster car.
Remarkably, he then kept the Frenchman behind him for the remaining 20 laps or so, driving perfectly to never even give him a chance of getting past. It wasn't quite the perfect race given his reckless mistake at the start that he should have had a penalty for, but it wasn't far off. 8
Esteban Ocon: On paper, finishing in P7 is a decent result for Ocon, but it could and should have been even better. Unfortunately for him, he just didn't have the overtaking skills of his team-mate.
Things were looking good in the first stint as he moved up to P4 thanks to the perfect start and was even keeping up with Verstappen for a bit. However, as soon as he pitted for hards, things started to go downhill. First, he couldn't get past Vettel and therefore had to let Ricciardo through, who got past the German almost immediately.
He did eventually overtake Vettel himself but the exact same thing then happened with Leclerc. His pace began to drop off as he was stuck behind the Monegasque and he ended up defending for his life to hold onto P7. He did so well but, considering his team-mate had a five-second time-penalty, really should have been challenging him instead. 6
Daniil Kvyat: With Yuki Tsunoda continuing to impress in F2, Kvyat desperately needed a strong result at his home race, and he rose to the challenge with one of his best drives of the season.
Starting on the slower but more durable hard compound, he balanced pace and tyre management perfectly to stay out until lap 31 and then rejoin in P8 with a fresher set of tyres than anyone else in the top 10.
He used them to quickly catch Ocon and will be slightly disappointed that he couldn't get past the Frenchman given his tyre advantage. Nevertheless, all things considered, finishing in P8 is still an excellent effort. 8
Pierre Gasly: At one point it looked like Gasly was set to fail to score points for the second consecutive race, but an impressive late charge ensured that that wasn't the case.
He was quite frankly stuck behind Kimi Raikkonen for far too long and that ended all hopes he had of picking up any more than two points. Given this, it's hard to see why AlphaTauri opted to pit him from P9 and send him back into traffic when the VSC came out with 10 laps to go. However, the Frenchman made sure the team didn't pay for their decision.
Getting past the Red Bull of Alex Albon to move back into the points would have been hugely satisfying for him and, unlike the Thai driver, he comfortably overtook Lando Norris shortly afterwards to return to P9 and finish there, making it an excellent day for his team. He'll just wish he was equally as effective at passing the Iceman. 7
💬 "It wasn't an easy race for us. I had a good start and was running in P7, but then we lost quite a lot of time in the middle part of the race when I was fighting with Alex and Kimi." @PierreGASLY's full quote on the #RussianGP 🇷🇺👇

— Scuderia AlphaTauri (@AlphaTauriF1) September 27, 2020
Alex Albon: After his maiden podium at Mugello, many hoped that Albon would kick on and secure his 2021 seat at Red Bull. After this weekend, however, the rumours will inevitably begin to swirl again.
It got off to a bad start as he only qualified in P10 while Verstappen made the front row. Things then got worse when he was handed a five-place grid penalty for a new gearbox. Starting in P15 on the soft tyre was far from ideal, which is why the team pitted him on Lap 1 when the Safety Car came out. He'd been gifted a free stop, but didn't make the most of it.
Albon took too long to get past George Russell and near the top 10 in his first stint. Then, in the second, he got stuck behind Norris, causing him to get passed by Gasly. He at least gained five positions from where he started and scored a point, but given the pace of the car, he should have done more. 5 
Antonio Giovinazzi: This was Giovinazzi's best race weekend in a long time. He out-qualified team-mate Raikkonen and then beat him and every other driver in a similarly paced car throughout the race.
His excellent overtake on Romain Grosjean was one of the moves of the season, and was the highlight of a strong race for him. The Italian ended it just outside the points, six places up on where he started. 8
Kevin Magnussen: Somewhat bizarrely, the worse his car is, the better Magnussen seems to drive, and that was again the case in Russia.
He made an absolutely stunning start to move up nine (!) places on the first lap and managed to stay in and around the points for the rest of the race. The only thing he'll be disappointed about is that he couldn't stay ahead of Giovinazzi. 7
What a start from @KevinMagnussen 😮 🚀 👏#RussianGP 🇷🇺 #F1 pic.twitter.com/HWOeZy1ZJG

— Formula 1 (@F1) September 27, 2020
Sebastian Vettel: An already terrible season for Vettel continues to get worse and worse. it wasn't all bad – he managed he helped his team-mate out by holding up the Renaults in his first stint – but most of it was.
He didn't manage his tyres as well as Leclerc and was considerably slower than him,. Even if the car is built for the Monegasque these days, he still should have been closer. He's now 40 points behind; asides from the Red Bulls, that's the biggest gap between any two team-mates this season. 4 
Kimi Raikkonen: Raikkonen officially became the joint-most experienced F1 driver ever in Sochi, joining Rubens Barichello on 322 race starts. However, there's little else he'll remember it for.
Starting in P19, he did a solid first stint to end up on the verge of the top 10. However, his team then let him down with a poor pit-stop and he couldn't recover, getting stuck behind Vettel. 6 
Lando Norris: A huge amount was asked of Norris when his team put him on hards at the end of Lap 1 and told him to go to the end. What's more, his car was damaged in an incident at the start.
It was a valiant effort from the Brit as he did everything he could to hold onto P9 in the closing stages but, somewhat inevitably given the state of his car and tyres, a mistake dropped him out of the points. 6
Nicholas Latifi: Latifi may not be able to beat his team-mate, Russell, on Saturdays, but he proved again at Sochi that he's more than a match for him on Sundays.
In the slowest car on the grid, he looked a lot more comfortable than the Brit throughout the race and will have been pleased to beat a non-Williams car by holding off Grosjean. 7 
Romain Grosjean: Things looked ever so promising when he climbed up to P10 in the opening stages. Sadly for him, it was all downhill from there. He seemed far less happy with his car than Magnussen, and it showed on track.
While the Dane kept things ready in P12, Grosjean struggled and went off multiple times, destroying some poor innocent bollards in the process. Neither he nor Haas is getting much from the partnership, and it's looking likely that this will be his last year on the grid. 5
George Russell: Russell yet again impressed in qualifying and treated us to some entertaining racing with Albon and Norris, but this was one of his worst races in F1.
The problems started on Lap 1 when he went off at Turn 2 and dropped down to the back of the grid. After that, he was constantly the slower of the two Williams cars and ensured he'd finish last when he flat-spotted his tyres, forcing him to make a second pit-stop. 5
Did not finish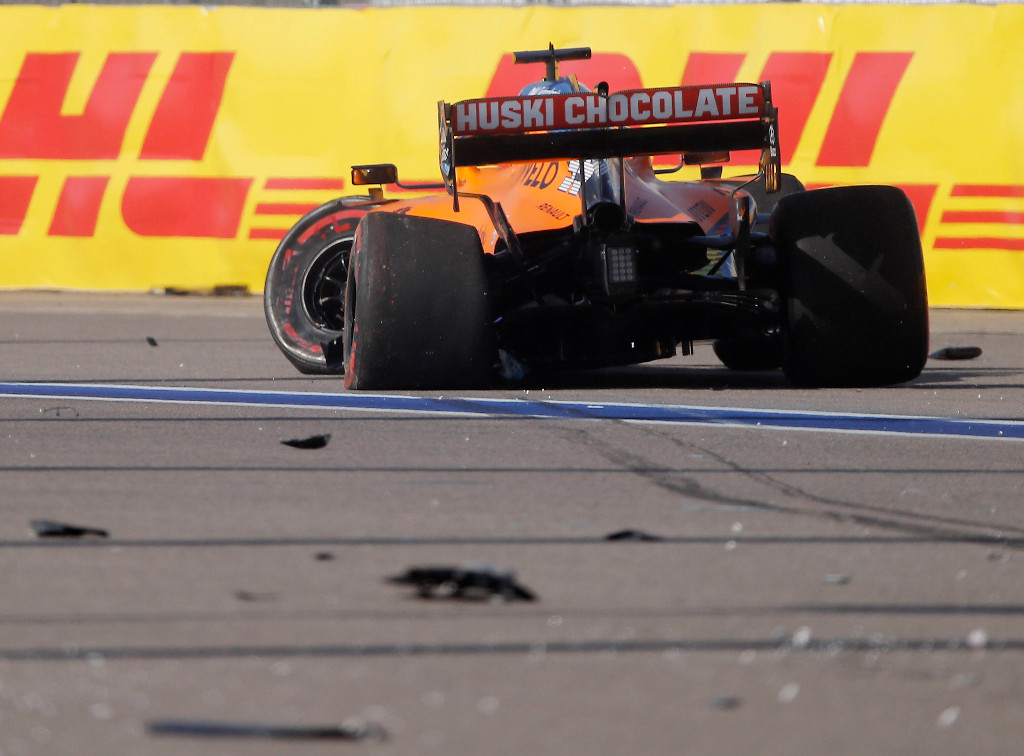 Carlos Sainz: N/A
Retired on the first lap and only has himself to blame. After going wide at Turn 2, he tried to rejoin via the bollards but miscalculated and hit the wall, taking his wheel off in the process.
Lance Stroll: N/A
Also retired on Lap 1 but unlike Sainz, through no fault of his own as Leclerc punted him off the track and into the barriers.
Finley Crebolder
Follow us on Twitter @Planet_F1 and like our Facebook page.