Should drivers with grid penalties be barred from qualifying?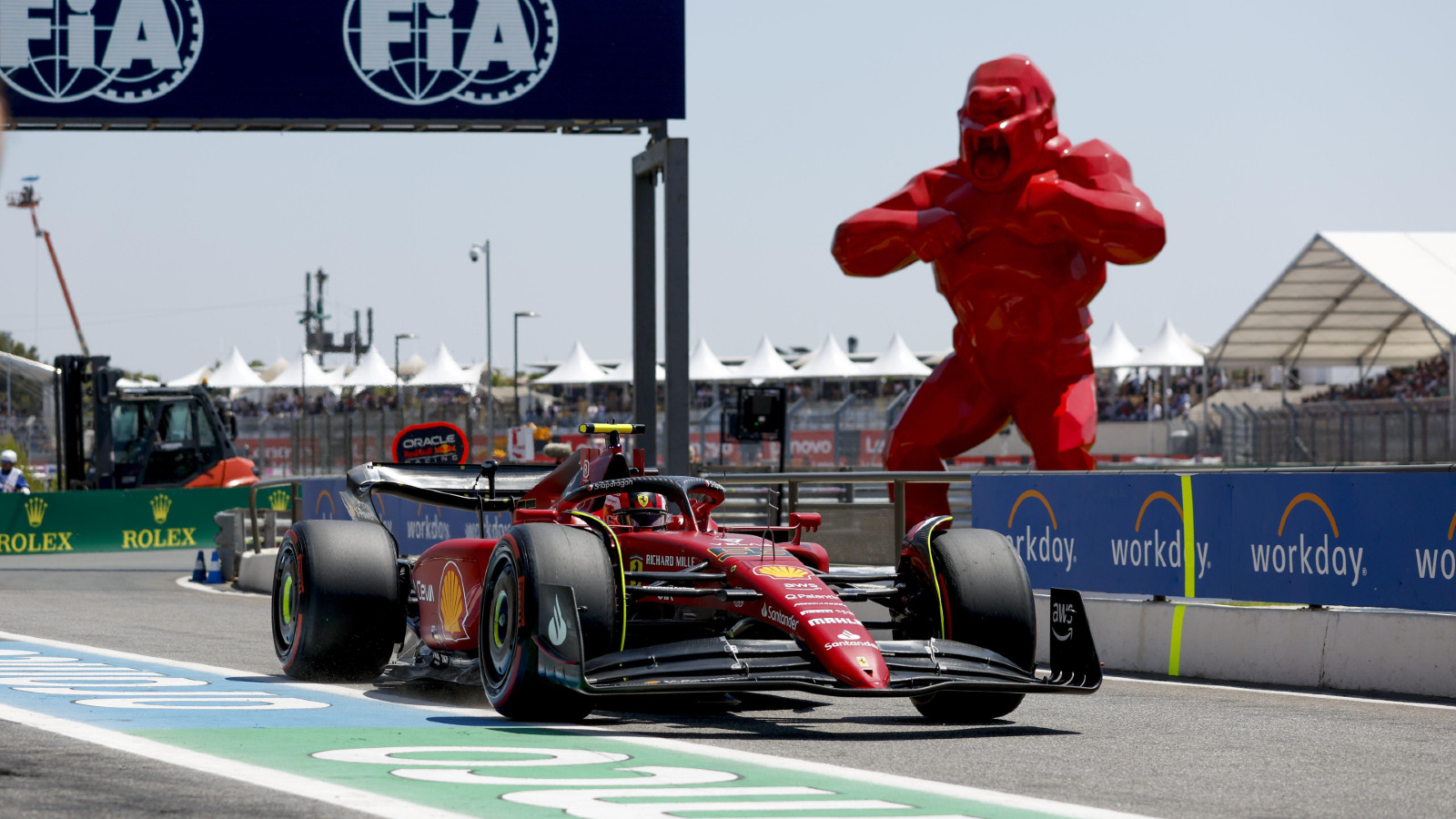 Should a driver already confirmed as having a penalty to start a race at the back of the grid be permitted to take part in qualifying?
Charles Leclerc and Max Verstappen's epic cat-and-mouse first stint during the French Grand Prix was thrilling to watch, given the different set-up directions the two drivers had employed for the race.
Leclerc's higher-downforce set-up was proving the match of Verstappen's quicker straight-line speed, with the Monegasque capitalising upon his pole position start – a pole position that had been aided directly by his team-mate, Carlos Sainz.
During the final part of qualifying, Sainz went out on track specifically with the intent of giving his team-mate a 'tow' down the long Mistral Straight into the Signes corner – and performed that task admirably for both of Leclerc's Q3 runs.
Sainz's act proved hugely beneficial to Leclerc, who took pole position by three tenths of a second over Verstappen.
Sector times reveal Leclerc all but matched Verstappen's time through the second sector, with the Ferrari driver revealing afterwards he believed Sainz's actions had given him up to quarter of a second's worth of lap time: "I think it's around two tenths of what I remember in the car, compared to the lap of Q2 without the tow. So it's significant. It would have been a lot more tight with Max without the tow. It was a nice help anyway."
Of course, Sainz was not doing it as a selfless act of sacrifice for his team-mate's championship bid. Sainz already knew his qualifying session was irrelevant as at the start of FP3 on Saturday morning, the FIA confirmed the Spaniard would start from the back of the grid due to an engine penalty.
Following his power-unit failure during the Austrian Grand Prix, Sainz was fitted with a new Internal Combustion Engine, Turbocharger, MGU-H, and MGU-K – all four components being outside the three-part limit for each car for the season. With a grid penalty of more than 15 positions imposed as a result, the Sporting Regulations clarify a back-of-the-grid start is required.
Knowing he was set to start from the back of the grid, Sainz went out on track with no other mission than to make it through into Q3 and help Leclerc achieve a higher top speed down the straights.
Separately, Haas did the same with Kevin Magnussen, for the same reasons. However, the Danish driver made it through to Q2 as Mick Schumacher was knocked out, and proceeded to place eighth in Q2 as it was "kind of fun" (according to Magnussen). He did not take part in Q3.
Red Bull, in contrast to Ferrari, could not play such games – meaning Verstappen and Sergio Perez had to simply proceed with qualifying by themselves and given their straight-line speed advantage was being negated by Sainz's towing service, had to be content with second and third at the end of qualifying.
Unlike a standard five or 10-place grid penalty, for which a driver still heads out for qualifying with the intent of trying to secure as high a grid slot as possible, Sainz was being used as a tactical pawn by Ferrari – a pawn unavailable to the other teams, who had not got the 'benefit' of having a driver with a penalty, and one that could be used for more nefarious purposes if Ferrari were that sort of team.
For instance, given his existing penalty, it would have been no skin off Sainz's nose had he ended up dawdling in front of another car attempting a flying lap – the resulting penalty would have had no impact. Imagine if he had been involved in a coming-together with another car, disastrously in light of the budget cap – the team involved would surely have every right to feel aggrieved by the fact there was another car on track during qualifying that was there with a tactical objective and not the same as everyone else's.
Is this a potential tactical avenue that needs closing down, given how it could be open to abuse by a team or driver who are not feeling particularly sporting, to simply prevent a driver confirmed as starting from the back of the grid from participating in the qualifying session?
Obviously, given the requirement for the 107% rule to ensure a driver has safely qualified for an event, the regulations could be tweaked to permit the driver to start based on their practice times, as is the norm if a driver fails to set a qualifying time within the required range.
If there are multiple drivers with a back-of-the-grid penalty, the FP3 classification could be used to determine who starts ahead of whom in the battle at the back.
If such a rule were to be introduced, it would also lead to the possibility that rather than grid penalties being imposed pre-qualifying, teams would have to weigh up the impact of not being permitted to participate in qualifying vs the risk of going on track with an older power unit they are clearly lacking confidence in and then taking a grid penalty after qualifying – but not having had the opportunity to play games during qualifying.
The flipside is, of course, that the tactics available to the affected team have come with a price, given the imposed grid penalty on their driver. Is that sufficient to allow for the prospect of a team having access to a 'tow car' in these, admittedly unique, circumstances, with the trade-off of having the potential to disrupt others or eliminate drivers who have not picked up a penalty?