The ten drivers ranked 11-20 in the F1 2022 season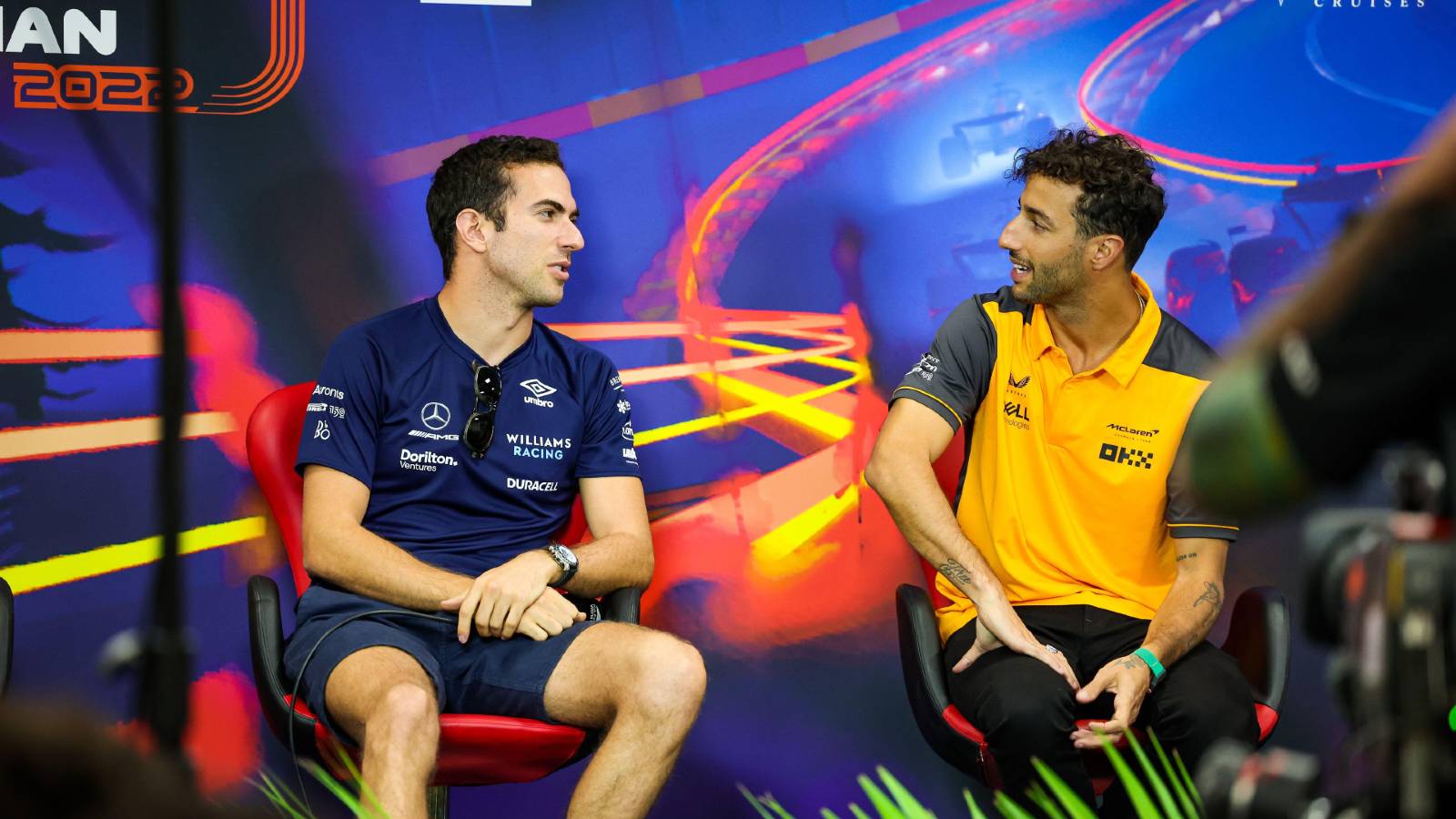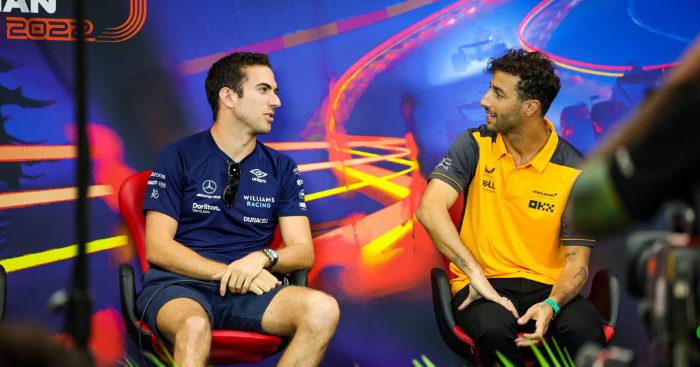 Part one of our driver rankings for the 2022 F1 season focuses on those in the 'could have done better' category.
To be fair, in some cases they were hamstrung to an extent by the machinery at their disposal, while others will know improvement is needed in 2023 – if they even have a chance to produce it.
Like an old-school chart show, here, pop pickers, is our countdown from numbers 20 up to 11.
20 Nicholas Latifi
Points: 2. Championship position: 20th.
Did you expect to see any other name in this position? Latifi could not even average 5/10 per race in our driver ratings for the campaign, so this was always going to be a no-brainer.
With the spectre of his Abu Dhabi 2021 crash and the repercussions it brought – including vile social media abuse and death threats – hanging over him, the Canadian simply never got to grips with the Williams FW44 this year and was off the pace throughout.
It came as a 0/10 surprise when the team announced he would be replaced for 2023 after three seasons – Logan Sargeant to be his successor – and we genuinely hope there are brighter days ahead for Latifi in the future whatever direction he takes.
Season high: Blindingly obvious – P9 in the Japanese Grand Prix, in difficult conditions, was only his third F1 points finish on a day when Williams got their strategy spot-on regarding the transition from full wet tyres to intermediates.
Season low: Obviously the news that he was being dropped, but crashes in both qualifying and the grand prix in Saudi Arabia were an early sign that another difficult year was ahead.
19 Daniel Ricciardo
Points: 37. Championship position: 11th.
It feels like Ricciardo has gone on from being one of the sport's most respected and celebrated racers to a driver having to settle for a reserve role with breathtaking speed – a speed he was rarely able to produce for McLaren.
Sadly, 2022 was a continuation of 2021, only without the shock victory. Even with the all-new MCL36, the Australian was unable to match what his team-mate Lando Norris could achieve so consistently.
By the summer break, enough was enough for McLaren. They dumped the 33-year-old in favour of his rookie compatriot Oscar Piastri for 2023, and if anything Ricciardo's subsequent performances only served to show the decision was justified.
Season high: There was definitely still hope for Ricciardo when he crossed the line right behind Norris to take sixth at his home race in Australia, but only in Singapore, after his fate had been sealed, did he replicate or improve on that position.
Season low: Already resigned to not being on the grid next year, Ricciardo ran into the back of Kevin Magnussen on the opening lap of the Sao Paulo Grand Prix, an incident that ended both of their races.
18 Yuki Tsunoda
Points: 12. Championship position: 17th.
Whatever happened to that exciting young talent that lit up the timing screens at the 2021 pre-season test on his debut for AlphaTauri?
Helmut Marko has been so patient with him after a year when the Japanese racer made no discernible progress and continued to get involved in a series of avoidable scrapes that earned reprimands or penalty points on his licence.
Admittedly, AlphaTauri produced a comparatively poor car, but the suspicion is that Marko did not feel Red Bull had another prospect ready to come off the conveyor belt and replace the underwhelming Tsunoda for 2023.
Season high: Imola, the home circuit for AlphaTauri, was a familiar one for Tsunoda as he had put in lots of testing mileage there, and he utilised that familiarity to good effect by finishing P7, his best result of the campaign.
Season low: A toss-up between Canada and Britain, where he collided with his team-mate, but we will opt for Montreal because Tsunoda only had himself to blame for driving out of the pits on cold tyres straight into the wall.
17 Mick Schumacher
Points: 12. Championship position: 16th.
Three drivers have been dropped by their teams for next year and all of them appear in our bottom four, the highest-placed being Schumacher.
It may have been a fairly close call as to whether the German would be kept on by Haas, rather than replaced with Nico Hulkenberg, but you also have to question whether his costly crashes in the first half of the year meant the die was cast quite early.
Nevertheless, there were some spirited drives from Michael's boy that went without reward and it would be a shade harsh if Abu Dhabi turned out to be his last F1 race.
Season high: A week after he first scored points at Silverstone, Schumacher duelled with Lewis Hamilton in the Austria sprint and the following day finished sixth – the highest position of his F1 career so far.
Season low: On track, it has to be the qualifying crash in Saudi Arabia from which he was taken away in an ambulance and was unable to start the race because Haas did not have enough parts available to rebuild the car.
16 Alex Albon
Points: 4. Championship position: 19th.
A couple of mitigating factors for Albon's place in this ranking, and which are inter-connected. Firstly, he is the first driver ranked higher than his position in the championship. Secondly, Williams were last in the Constructors' by some distance, which limited his chances to do much better.
On a positive note, Albon showed he was a good choice to be brought back from a year on the sidelines following his Red Bull axing, settling in well with his new team and scoring points on three occasions.
But on the flip side, he never seemed quite the same after having to miss the Italian Grand Prix with appendicitis and the scary complications that followed it. A winter's rest will hopefully see him back to his best in 2023.
Season high: Going almost the whole race distance on a single set of tyres to open his and the team's points account in Australia.
Season low: It does not get much worse than being rushed into intensive care in Monza following surgery, but on track the successive retirements that followed made it an early autumn the 26-year-old will want to forget.
15 Pierre Gasly
Points: 23. Championship position: 14th.
Like Tsunoda, Gasly was a victim of the disappointing AT03, which he was unable to outperform – unlike its predecessor in which he undoubtedly shone.
The sparkling qualifying performances of 2021 were rarely to be seen and there were even too many Q1 exits for Gasly, who had the increasing look of a man who wanted to be somewhere else as the season went on.
That will, of course, be the case for him at Alpine next year and could breathe new life into the Frenchman's career – although after this campaign, he does go there with something to prove.
Season high: Azerbaijan was a venue where Gasly had found himself on the podium in 2021 and it also produced his best result this year, P5.
Season low: Being taken out of the British Grand Prix by his team-mate was one of only three retirements for the 26-year-old – while from a personal standpoint, seeing a recovery truck on a wet circuit in Japan was something he will never want to witness again.
14 Kevin Magnussen
Points: 25. Championship position: 13th.
Not even rumoured to be returning to F1 when unofficial testing took place in Barcelona, the global landscape then changed quickly and within a month, K-Mag was finishing fifth in the Bahrain Grand Prix.
Including sprints, that was the first of nine points-scores for the Dane in a much better Haas car than when he had left the team in 2020, while the pole position he achieved in Sao Paulo was a fantastic achievement.
A strong return for Magnussen but there were too many weekends, especially just after the summer break, when you felt he was lacking pace compared to his less experienced team-mate Schumacher.
Season high: A dead-heat between that magnificent P5 in Bahrain and pole position in Brazil, both of which represented feelgood moments for a smaller team – and those were in fairly short supply during 2022.
Season low: The black-and-orange flag seemed to be reserved especially for Magnussen as he kept getting involved in front wing-damaging collisions, while his Sao Paulo race exit at the hands of Ricciardo was an unfortunate end to an otherwise memorable weekend.
13 Valtteri Bottas
Points: 49. Championship position: 10th.
Now here's a surprise, because Bottas made the top 10 in our ranking at the summer break, but it was not a strong second half of the season for the Finn.
Team leader at Alfa Romeo, everything was going swimmingly when Bottas recorded seven points finishes in the first nine races, but he then drew a blank for the next 10.
Reliability issues dogged the Swiss-based squad but, set in the context of the vast experience gulf between Bottas and his team-mate and their respective performances as the campaign evolved, there could perhaps be a few nagging doubts in the 33-year-old's mind this winter.
Season high: Alfa Romeo ultimately owe their P6 in the Constructors' standings to Bottas' fifth position at Imola – where he finished eight places ahead of his former Mercedes team-mate, Lewis Hamilton.
Season low: When his engine failed in the Dutch Grand Prix, that made it three retirements in a row – after a second consecutive Q1 exit having gone 147 races without falling at the first hurdle in qualifying.
12 Lance Stroll
Points: 18. Championship position: 15th.
He certainly would not be 12th in a popularity ranking, but the job Stroll did across the season as a whole, especially in the final quarter, went somewhat under the radar.
It was a year of solid midfield running for the Canadian, who bagged eight points finishes and missed out on three more by just a single position – although some of his defending of places overstepped the mark with both his fellow competitors and the stewards.
A strong starter, the 24-year-old dovetailed fairly well with Sebastian Vettel – but how he gets on alongside Fernando Alonso at Aston Martin next year will be interesting to observe.
Season high: Stroll goes well in wet conditions and thrived in Singapore, where he started 12th and worked his way up to a season's best finish of sixth.
Season low: In the United States Grand Prix, he edged across when defending from Alonso and sent the Alpine briefly airborne as they tangled – ending his own race and incurring two more Super Licence penalty points.
11 Zhou Guanyu
Points: 6. Championship position: 18th.
If Stroll was 2022's original under-the-radar performer, then Zhou is the sequel. It really should not be overlooked how creditably the Alfa Romeo rookie fared.
He did not have the points to show for it, but the 23-year-old from China was especially solid during the second half of the season and a particular highlight was qualifying, where he outperformed Bottas in five of the nine races after the summer break.
A second season was fully deserved and if Alfa Romeo can produce a 2023 car with a better reliability record, Zhou should significantly increase this year's points total which does not reflect the promising start to his career.
Season high: Rarely did Alfa look more competitive than at the season-opening race in Bahrain, where Zhou accomplished the admirable feat of scoring a point on his debut.
Season low: It was understandable to fear the worst on seeing his terrifying crash at Silverstone but while that was unquestionably a horrible moment, it then turned into one of huge relief when it emerged he was unhurt.
Read more – From Lewis Hamilton to Pierre Gasly: Five drivers glad the 2022 F1 season is over