Dutch Grand Prix driver ratings: Another abject Daniel Ricciardo display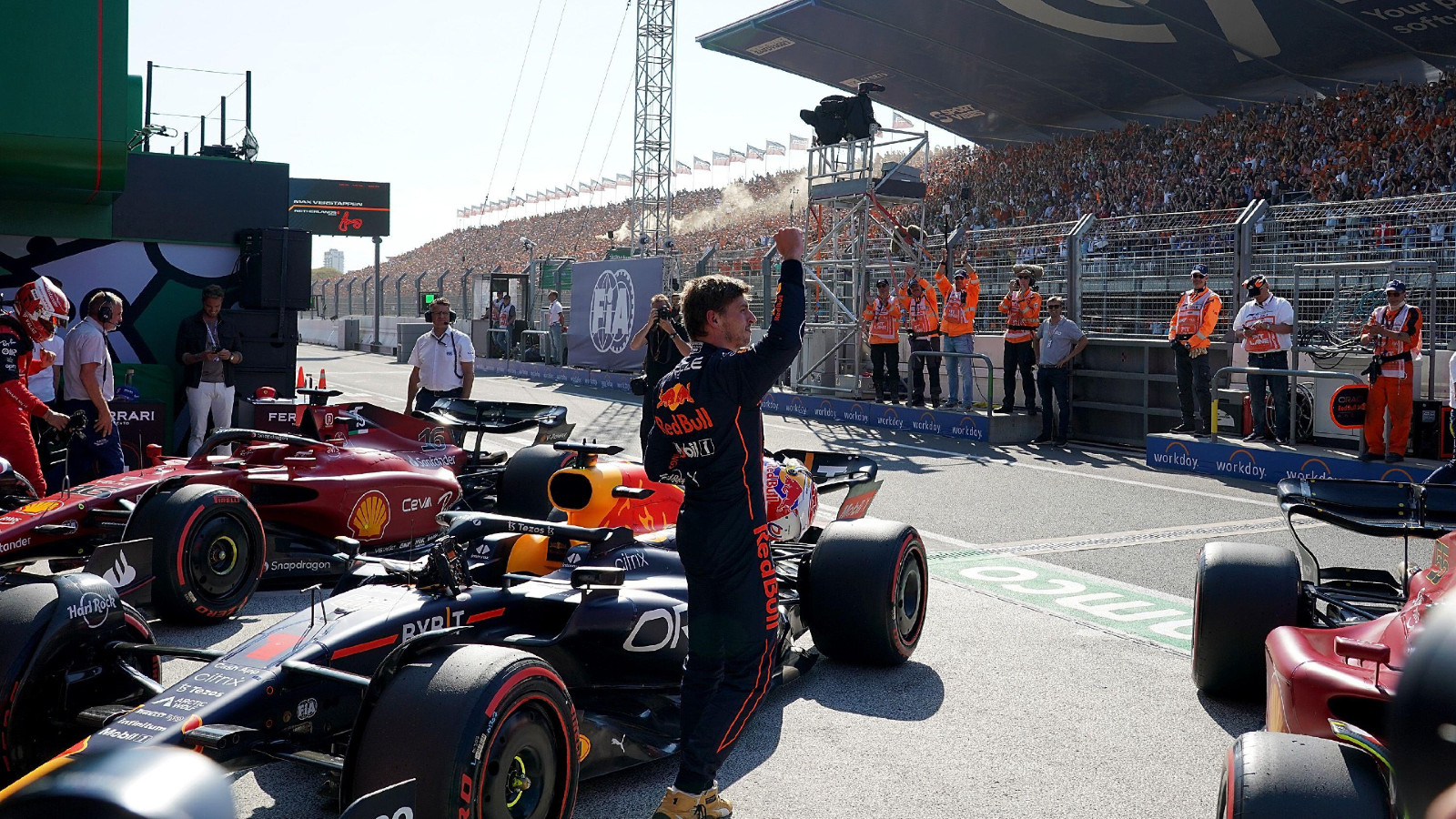 A crowd of 105,000 mostly orange-clad fans witnessed exactly the result they had hoped for in the Dutch Grand Prix.
For the second successive year, Max Verstappen turned pole position into victory and completed the double in his two home events on back-to-back weekends.
But the 2022 Netherlands success was tougher to achieve than the one 12 months ago as Mercedes, and Lewis Hamilton in particular, proved a tough nut to crack.
Here's our assessment of how the 20 drivers performed by the seaside at Zandvoort.
Max Verstappen: It's now four triumphs in a row for the World Champion but this was something of a paradox to the previous two, in which he had started down the grid but ended up winning comfortably.
This time, the Red Bull driver, who had led away from pole, had to execute a move on his old rival Lewis Hamilton at the Safety Car restart, able to do so quite comfortably with the fresher set of tyres – where have we heard that before?
Pole position, race win, fastest lap – almost the full set, and the fact he did not lead for the entirety will not matter a jot to his supporters as this was another faultless display. 10.
George Russell: He would not say so publicly, of course, but there must be some inward satisfaction from Russell that he cleanly passed Hamilton on track to finish second.
The younger of the two Britons benefited considerably from a Mercedes strategy – to which he had also contributed with team radio input – that was strangely reminiscent of what Ferrari had done at the British Grand Prix, only he could not emulate Carlos Sainz at Silverstone by bagging the race win.
A very strong showing from Russell and he is edging closer to a maiden F1 success. 9.
Charles Leclerc: On another Sunday that showed Ferrari have fallen behind Red Bull in terms of race pace – well, Verstappen at least – Leclerc quickly fell away from being a victory contender.
He got past Hamilton to finish third but although he did little wrong, this will have been another frustrating afternoon for the Monegasque considering he had missed out on pole position by such a slender margin. 8.
Lewis Hamilton: Sending the bleep machine into overdrive with a team radio rant, Hamilton sensed a first win of 2022 was on the cards until he was hung out to dry when left out on his medium tyres following the Safety Car period.
Before that, he had been as fast as anyone out there and looked to have team-mate Russell's measure, with victory hopes hinging on whether Mercedes could make a one-stop strategy work.
Monza may not suit the W13 as well as Zandvoort, but could Singapore see Hamilton back on the top step? 9.
Sergio Perez: This was a fairly typical Perez performance of late, currently unable to produce anything like the same pace as his team-mate.
They are running different floors on their RB18s, which may be a factor or not, but it is difficult to believe now the Mexican was being talked about as a potential World Championship threat to Verstappen back in early summer. 6.
Great job by @Max33Verstappen and @redbullracing to win the race today, on our side it wasn't the best day, but we scored good points. #DutchGP
Now on to the next one in Monza #ItalianGP pic.twitter.com/upaCcHUZED

— Sergio Pérez (@SChecoPerez) September 4, 2022
Fernando Alonso: A disappointing qualifying day was left well behind as this was a terrific drive from Alonso, 13th on the grid up to sixth – admittedly helped to an extent by Carlos Sainz's penalty.
Early passes on the two AlphaTauris set the tone and although there was an awkward moment in a dice with Lando Norris, he eventually got past the McLaren – importantly in the battle for P4 in the Constructors' Championship. 8.5.
Lando Norris: Seven is many people's lucky number, but Norris may not view it too favourably after starting and finishing seventh and still occupying that position in the Drivers' standings.
Norris will have been disappointed to finish behind Alonso on the weekend when he found out he is to be the undisputed team leader for 2023, with rookie Oscar Piastri for company.
As for the rating, it can only be…7.
Carlos Sainz: A race when everything went against the Spaniard, three days after his 28th birthday.
Losing 12 seconds at his first pit-stop, Sainz was later penalised for an unsafe release – not his fault – while there was also an initially controversial-looking pass on Esteban Ocon under yellow flags.
He deserved better than P8 on the day and understandably described it as "a mess", although his race pace did leave a bit to be desired compared to his colleague. 7.
Esteban Ocon: A good start in which he made up three places and then a planned one-stop strategy which obviously had to be adapted due to the Safety Car.
Solid enough from Ocon, who had spent the earlier part of the weekend pleading – probably in vain – for Mick Schumacher to be his team-mate next year rather than Pierre Gasly. 7.5.
Lance Stroll: Like his friend Ocon, Stroll made gains on the opening lap and was able to bring home a point.
Started where he finished, but that was creditable in the circumstances and he deserves praise also for a strong qualifying performance. 7.
Pierre Gasly: A nondescript kind of race from Gasly, who could be forgiven if his mind is elsewhere just now – namely Alpine.
He may not have too many more weekends left for AlphaTauri and given the car's lack of competitiveness, is unlikely to consider that a bad thing. 6.
Alex Albon: Barely featured at all but that does not mean it was a bad race, because finishing 12th is never a bad achievement with the 10th best of the 10 cars.
Given the strengths and weaknesses of the FW44, Albon will almost certainly be looking forward to the straights of Monza more. 7.
Mick Schumacher: Losing places on the opening lap from his unexpectedly high starting place of eighth, Schumacher's prospects were also damaged by a slow first pit-stop.
Not a strong race for the German, but we will ramp up his rating a notch thanks to that excellent qualifying display. 6.5.
Sebastian Vettel: First to pit, Vettel later found himself in the way of a battle between Hamilton and Perez – and received a five-second penalty for ignoring blue flags when he emerged from the pits.
A big mistake in qualifying meant he started down in 19th and he was always on the back foot from there. 6.
Kevin Magnussen: It looked like it might be all over for K-Mag when he ran wide and brushed the wall on lap two, but he reported the car was okay.
Never a factor thereafter though, and those excellent efforts straight after his F1 return now seem a very long time ago. 5.
Not the weekend we dreamed of. Onto Italy ➡️👊 #HaasF1 #F1 #DutchGP pic.twitter.com/ciRa932Ij4

— Kevin Magnussen (@KevinMagnussen) September 4, 2022
Zhou Guanyu: Inadvertently, Zhou's team-mate spoiled his chances of a better finish – the Chinese driver said he had no new tyres available when having little choice but to make a pit-stop following Valtteri Bottas' retirement.
That cost Zhou performance-wise in relation to those around him and all hope of points disappeared, especially as he was also penalised for speeding in the pit lane. 6.
Daniel Ricciardo: A man featuring in so many headlines at present had yet another weekend to forget and was lapped even before the halfway mark.
Literally nothing the Australian is doing on track when it counts just now would attract another team and this was another abject performance – only a week after the previous one. 4.
Nicholas Latifi: Almost a second down on everyone else in qualifying, Latifi revealed afterwards that had been due to an engine problem.
Describing it as "a race to forget", the Canadian looks more unlikely with each passing race weekend to still be on the grid next year. 4.
Valtteri Bottas: "Probably the most difficult weekend of the season" was Bottas' take after a second consecutive Q1 exit turned into a retirement due to an engine failure.
He had been running close to his Alfa Romeo team-mate Zhou before that and even if he had got round, it was never going to be a vintage race for Valtteri. 6.
Yuki Tsunoda: You can often rely on Yuki for some entertainment and he let nobody down with a quite bizarre retirement, twice stopping out on track with a trip to the pits in between – complete with mechanics furtling around in the cockpit to refasten his seatbelts.
Conspiracy theorists leapt into action as the ensuing Safety Car helped Verstappen, but it seems there was indeed a genuine technical issue. 5.