Conclusions from the Eifel Grand Prix
Lewis Hamilton equalled Michael Schumacher's record of 91 Formula 1 race wins at the Nurburgring on another disappointing day for his Mercedes team-mate Valtteri Bottas.
Here are our conclusions from the first – and possibly only ever – Eifel Grand Prix.
Hamilton's historic day
He's done it! Lewis Hamilton has tied the all-time record of 91 #F1 race wins after victory at the #EifelGP 🇩🇪 pic.twitter.com/l4jahLABZz

— Planet F1 (@Planet_F1) October 11, 2020
In a race that will be remembered much more for what certain drivers achieved than for the action on track, Lewis Hamilton nipped in the bud any notion that the World Championship pendulum might be starting to swing back towards Valtteri Bottas.
Even Nico Rosberg, surely more in hope than expectation, had raised that suggestion after Bottas, who triumphed in Russia last time out, claimed pole position at the Nurburgring.
But the title race is now done and dusted for sure with the Briton holding a 69-point lead with six races remaining.
Bottas had to retire with a power-unit problem, yet the writing had been on the wall when he was overtaken for the lead by Hamilton on lap 13 after locking up and running wide at turn 1.
From then on, there was never any serious danger that Hamilton would miss out on matching Schumacher's total of 91 race victories at a circuit just 55 miles from the seven-time World Champion's home town of Kerpen.
And it was a real poignant moment when Hamilton was presented with one of the German legend's race helmets by Schumacher's son Mick during the post-race interviews – a gesture which clearly touched the 35-year-old.
The outright record will almost certainly be Hamilton's within the next few races and 100 victories reached next year.
But of more immediate significance will be drawing level with another Schumi record – the seven World Championships, which he can look forward to doing at some point this autumn.
Possibly even as early as the Turkish Grand Prix on November 11.
Ricciardo's Renault regrets?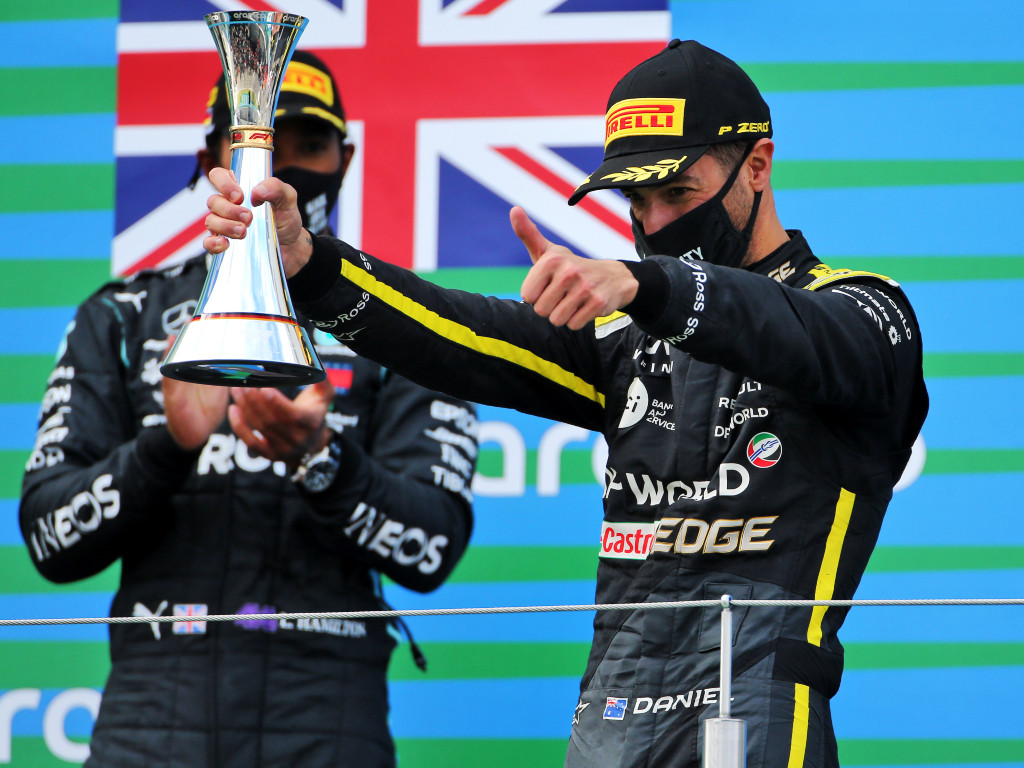 Finally, the tattoo story has been put to bed. We now have the dubious pleasure of looking forward to seeing what design, and where, is inked in on Renault boss Cyril Abiteboul after Daniel Ricciardo gave the team their first podium finish since 2011.
From the driver domino rally that took place during the spring and summer, Ricciardo must be the one having the biggest doubts about the move he decided to make.
Not that Sebastian Vettel had any choice but he gives the impression he cannot wait to get out of Ferrari, while Carlos Sainz will at least have the kudos of joining a team as prestigious as the Scuderia and is now starting to voice discontent about his treatment at McLaren.
However, for Ricciardo, things are working well at Renault. The Australian justified his claim that he is "the guy to beat" outside the top three in the Championship at present with P3 at the Nurburgring and has risen to fourth in the drivers' standings.
Only two points separate McLaren and Renault in the constructors' list but momentum is with the French manufacturer, whose company CEO Luca de Meo was present at the Nurburgring and has grand plans for a team that will be rebranded as Alpine next year.
Despite putting on a brave face about his departure, saying he will be happy to leave Renault on a high, Ricciardo must be fearing he has jumped ship too soon…as he makes way for Fernando Alonso.
Ricciardo will need to hope that McLaren switching to Mercedes power for 2021, which was high up on the list of factors that influenced his decision, does pay the dividend he hopes for.
All power to the Hulk
They were quick with the Hulkenback banner!#EifelGP pic.twitter.com/kVDvlkqwqK

— tami. (@Vetteleclerc) October 11, 2020
From sitting chilling with a coffee an hour away from the circuit, preparing for some TV punditry work, to finishing P8 at the Eifel Grand Prix in the space of 29 hours meant the weekend was some turnaround for Nico Hulkenberg.
It was, of course, the second time the German had been called up to stand in for a Racing Point driver this season and after understandably qualifying slowest of the 20 cars, to score points was an accomplishment well worthy of being awarded Driver of the Day.
Yet again, Hulkenberg illustrated that he remains deserving of a permanent drive. The problem is that spaces for next year are desperately few, especially with Alfa Romeo appearing set to announce Kimi Raikkonen and Mick Schumacher as their partnership.
Ironically, Sergio Perez, who was Hulk's team-mate this weekend – as he was between 2014 and 2016 – finds himself in the same boat. He again advertised his credentials to stay on the grid by finishing P4, whereas his Racing Point successor Vettel had another scruffy race.
It's starting to look like Haas or nothing for both Hulkenberg and Perez, unless a big surprise is in store.
Which brings us on to…
Albon facing Red (Bull) alert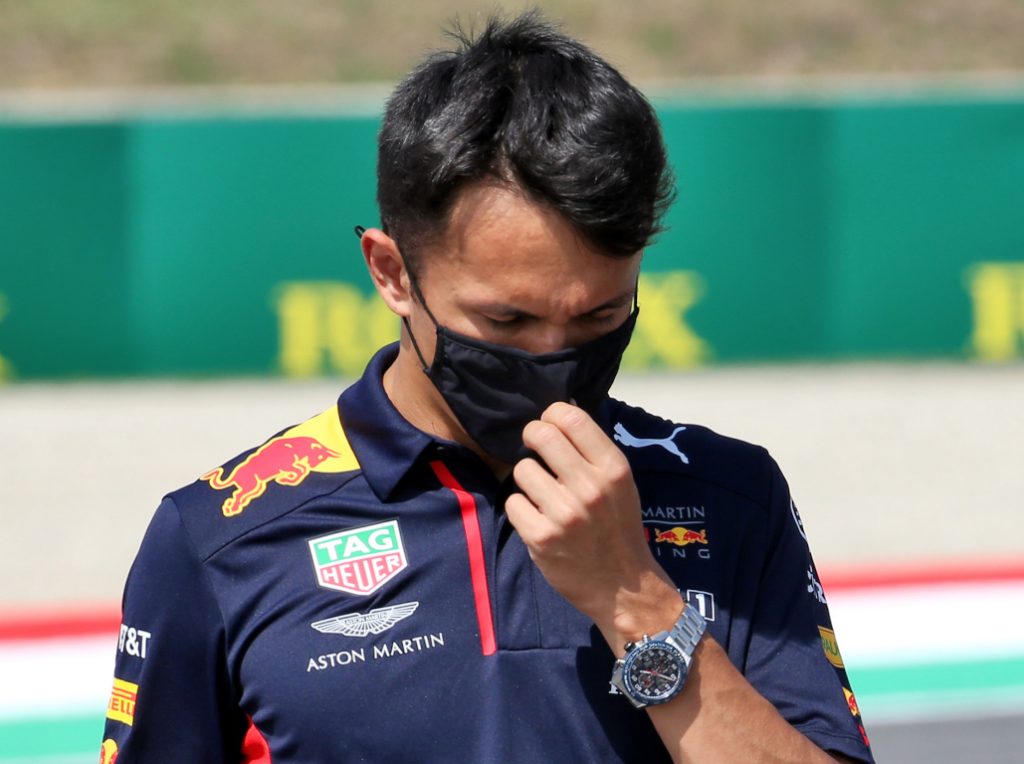 This race could hardly have gone any worse for Alex Albon. He produced one of his stronger qualifying performances, starting P5, but not for the first time was never a factor at the sharp end after lights out.
Eventually retired by the team with a pierced radiator, Albon had caused his own problems with a big early lock-up that flat-spotted his tyres and he also did himself no favours when taking off Daniil Kvyat's front wing during an overtaking move.
Another lock-up on lap 23 when trying to pass the other AlphaTauri of Pierre Gasly prompted a radio message of "they race me so hard" from Albon, clearly referencing his promotion to Red Bull last year at the expense of the Frenchman with whom he was dicing.
Red Bull now have a major quandary. Christian Horner has defended Albon staunchly all year but even he appeared to be clutching at straws when he said the driver had made "another step forward"…it looked like a definite step backwards to us.
Hulkenberg and Perez are available for next year. It would require a big policy shift to make either of them Max Verstappen's team-mate, but can Red Bull really persist with Albon?
Another option is to switch him back with Gasly, but Paul di Resta's claim on Sky Sports that the Italian Grand Prix winner had "upset a few people at Red Bull" sounds like it could count against him – and we may well hear more about that in the coming weeks.
Friday on their minds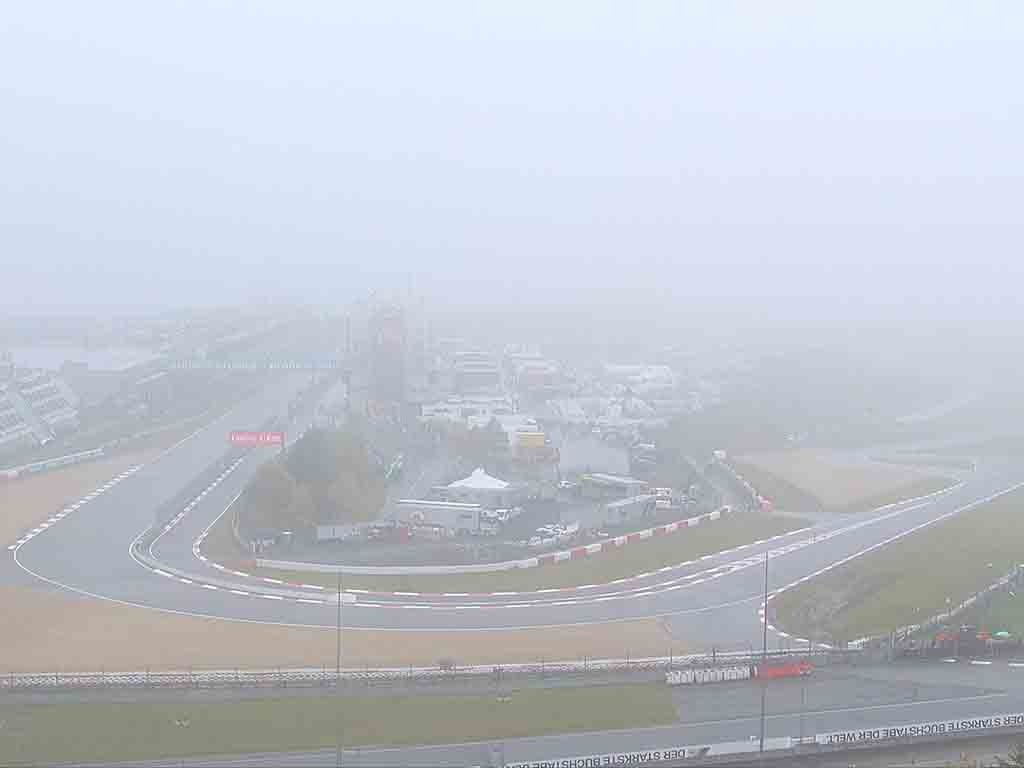 The consensus among the drivers was that a two-day weekend of running – albeit unscheduled after the weather put paid to FP1 and FP2 – had been a positive. One practice session on Saturday morning and then straight into qualifying.
That's what they will experience on a planned basis at Imola at the end of this month – and you have to wonder if it will become a more regular occurrence, if not the norm.
Hamilton said in the post-qualifying press conference "I don't think we need to be here on Fridays" while Perez went one further after the race and mentioned Thursdays too, referring to media commitments. Come on, Sergio, that would make life harder for us!
Circuits would obviously be up in arms about losing a day's revenue when full crowds are able to return, but you suspect that if the drivers and teams have their way then two-day weekends will not only be limited to this highly unusual season.
Jon Wilde
Follow us on Twitter @Planet_F1, like our Facebook page and join us on Instagram!