The Eifel Grand Prix was an excellent race for a number of drivers, with two breaking records and many other getting huge results.
Here's how we think all 20 competitors got on at the Nurburgring…
Feeling really honoured to be mentioned in the same likeness as a driver like Michael. What happened today is beyond my wildest dreams. I can't express how grateful I am to all the fans, and to my amazing team for being with me on this journey. This is for us #91 pic.twitter.com/ZXaq17qd06

— Lewis Hamilton (@LewisHamilton) October 11, 2020
Lewis Hamilton: After being out-qualified by his team-mate yesterday, Hamilton didn't have an answer to Valtteri Bottas's pace early on in Germany. However, he capitalised on a mistake from the Finn to take the lead, and victory number 91 never looked in doubt from that point onwards.
Whether that would've been the case if Bottas didn't retire is unclear, but ultimately irrelevant. Max Verstappen ended up being Hamilton's only challenge for the win, and could never close. The Brit managed his pace and tyres perfectly to stay comfortably ahead of the Dutchman.
His hard work was undone with a late Safety Car, but he nailed the restart to fly away from Verstappen again and secure victory. He wasn't as dominant as he has been at times this season, but he won't care. He's now the joint-most prolific race-winner ever, and deservedly so. 9 
Max Verstappen: It was an all too familiar story for Verstappen as, once again, he was leaps and bounds clear of everyone but the Mercedes drivers, who he couldn't fight with. Given the improved pace of his car this weekend, he'd have hoped for better, but he couldn't have done much more.
The Red Bull driver made a poor start to lose ground on Bottas and Hamilton immediately. However, after the opening lap, he, rather impressively, largely kept up with the two cars ahead of him. So much so that he looked set to overtake Bottas before engine issues got him out of the way.
Said retirement and the Safety Car gave Verstappen a small chance of victory, but it quickly disappeared after he made yet another poor getaway at the restart to lose touch with Hamilton. he did at least go purple on the final lap and, all in all, can be happy with a 19-point haul. 9
IT'S A ****** PODIUM!! 🏆🍾#RSspirit #EifelGP pic.twitter.com/IKJh0Gzmq6

— Renault F1 Team (@RenaultF1Team) October 11, 2020
Daniel Ricciardo: Ricciardo headed to the Nurburgring with consecutive top-six finishes to his name. He looked set to continue that impressive run in Germany, but Bottas's retirement presented him with the chance to do even better, and he never looked like failing to take it.
A brilliant early pass on Charles Leclerc gave him a decent lead over his midfield rivals, but it was eradicated when his team made the questionable call to pit him early under the VSC, Nevertheless, he manged his tyres excellently to stay clear of Sergio Perez and was rewarded when a full SC gave him a free pit-stop.
Even with the Mexican having fresh tyres and DRS, Ricciardo held him off at the restart and even pulled away in the final few laps to make the podium for the first time since 2018. The only blotch on his performance is that he forgot to do a shooey. 10
Sergio Perez: Perez probably would have been disappointed to miss out on a podium just after the race, but after the dust settles, he'll undoubtedly be pleased with what was an excellent result.
He immediately gained a position at the start and then put himself into contention for a top-three finish when he passed issue-ridden Lando Norris. At that point, he looked set to catch Ricciardo and finish in P3.
He was hard done by with the timing of the Safety Car, but he'll regret not pushing the Renault man harder at the restart. Even so, finishing P4 after starting P9 is an excellent drive. 9 
Carlos Sainz: Sainz described his race as 60 laps of suffering due to the upgrades he's been unhappy with all weekend. Given this, a top-five finish and 10 points isn't bad going at all.
It's fair to say that wouldn't have been the case if it wasn't for four cars retiring ahead of him. In terms of pace alone, he was the slowest of the upper-midfield drivers throughout Saturday and Sunday.
No matter, he deserves credit for keeping things clean and not putting a foot wrong in a car he was clearly struggling with. He'll just be hoping the team can sort out the update package before the next race. 8
Pierre Gasly: What a season Gasly is having. With yet another near-perfect performance, he's making it impossible for Red Bull to keep ignoring him.
He proved how well he can defend when he held off Alex Albon, causing the Thai driver to complain on the team radio that the Frenchman wasn't letting him through. However, what made Gasly's race so great was his attacking.
His former team's main criticism of him was that he was a poor overtaker, and he has emphatically proved that that simply isn't true. We saw him pass Magnussen, Raikkonen, Vettel, Grosjean and Leclerc at the Nurburgring, and may have even missed a few. Right now, there aren't too many drivers performing better than him. 9
Charles Leclerc: Leclerc was looking on course to claim the Driver of the Day accolade in the opening stages after heroically holding onto P4, but, sadly for him, it was all downhill from there.
He simply didn't have the car to keep those behind him at bay and seemed to largely give up trying to do so after a while. You can criticise him for that, but it's hard to blame him.
Sure, he could have defended harder at some points, but it likely wouldn't have made a difference. All in all, finishing P7 in that Ferrari is good going, especially when you compare Leclerc to his team-mate. After qualifying though, he would have hoped for more. 8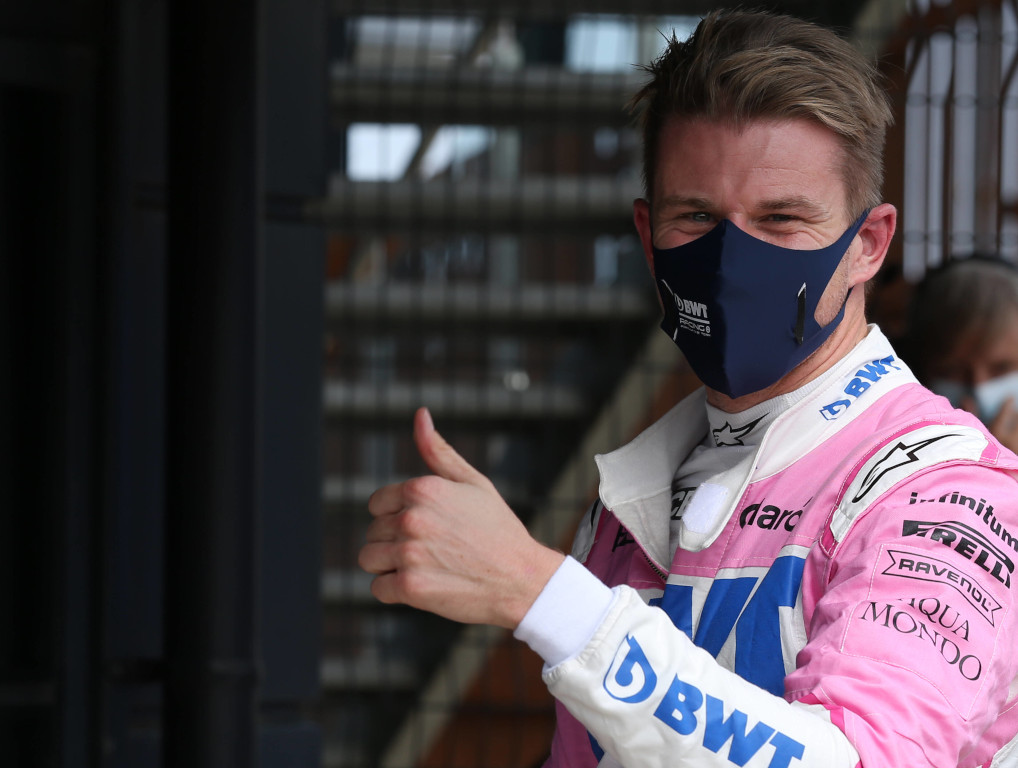 Nico Hulkenberg: Hulk woke up on Saturday morning expecting to be at the Nurburgring as a TV pundit. He was thrown in the deepest of deep ends when Racing Point asked him to stand-in for Lance Stroll, and how he performed is quite frankly incredible.
Starting the race in P20 with only four laps of running under his belt, nobody expected him to get anywhere near the points. However, he immediately moved up four places and maintained a steady pace to keep climbing up the order.
Sure, he had a good car, and a lot of drivers ahead retired, but going 60 laps of racing with no practice at a tough track without making a single mistake is mind-boggling. Someone give this man a seat. 10 
Romain Grosjean: We'll be honest – we're not entirely sure how on earth Grosjean ended up in P9. After dropping down to P20 and injuring his finger at the start, scoring points looked near impossible.
Nevertheless, he hung in there and managed a set of hard tyres extremely well to find himself in P7 when the Safety Car came out. Granted, he lost tow positions, but not dropping down, even more, is an achievement in itself.
His index finger may be broken, but his middle one is just fine, and he'll no doubt be raising it to his many critics after moving ahead of his team-mate in the standings. 9
Antonio Giovinazzi: Prior to the race, if Giovinazzi's name was mentioned at the Nurburgring, it was almost always in relation to Mick Schumacher replacing him next season. Therefore, he'll be delighted to have scored a point on race day.
The Italian had the upper hand on team-mate Raikkonen in qualifying and this continued in the race, as he also got the better of every other similarly-paced bar asides from Grosjean. He would have hoped to pass the Frenchman at the end but did excellently to hold off Vettel. 8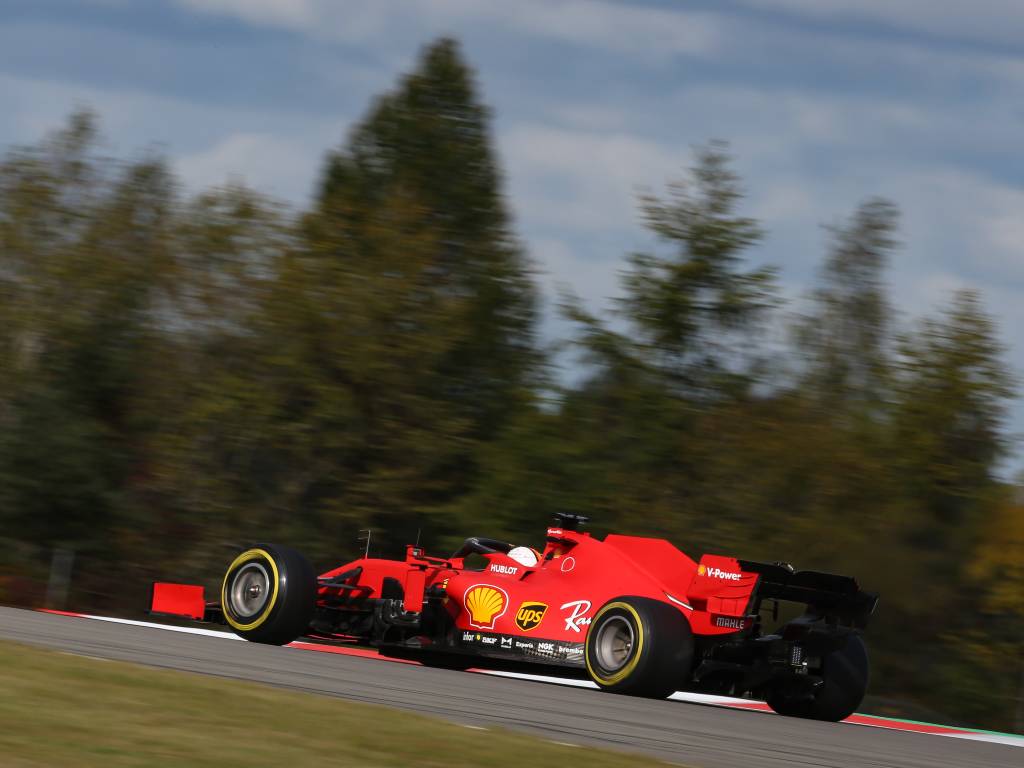 Sebastian Vettel: Fun fact: in the last eight races, Hulkenberg has scored more points than Vettel. On home turf, the Ferrari man was as poor as ever.
Failing to make Q3 while his team-mate qualified in P4 was embarrassing, and things didn't get any better on Sunday. He really should have finished in the top 10 given how many retired ahead of him, but hurt his chances of doing so after spinning and destroying his first set of tyres.
He was no better on his second set and never looked like fighting his way into the top 10, even after the Safety Car gave him a golden chance of doing so. 4 
Kimi Raikkonen: It's a good thing Kimi broke the record for race starts in Germany because otherwise, the only reason he'd be mentioned would be for taking out George Russell.
Not only did he pick up a penalty for doing so, but he also damaged his car. Therefore, P12 was the best he could do. Still, at least he has a rather impressive record, one that will take some beating, to show for his efforts. 5
Kevin Magnussen: The only time we remember seeing Magnussen was when he defended typically aggressively against Vettel, and still lost the place.
He didn't risk running hard tyres like his team-mate, and as a result, is now behind Grosjean in the standings. A day to forget for the Dane. 5 
Nicholas Latifi: Not much to say here. With the slowest car on the grid, anything other than running at the back was a long shot, even after the safety Car briefly bumped him up to P12. At least he wasn't rock bottom… 6 
Daniil Kvyat: That honour goes to Kvyat, though he's not to blame. His race was ruined by Alex Albon, not a kerb as the team would have you think, who took off the Russian's front wing while passing him. Before that, he was in with a chance of scoring points. 6 
Lap 18/60: ⚠️ @kvyatofficial's front wing has gone after heavy contact with the kerb!

He pits after a lap and rejoins at the back of the pack #AlphaTauri #F1 #EifelGP 🇩🇪 pic.twitter.com/c2ZDVd5aSD

— Scuderia AlphaTauri (@AlphaTauriF1) October 11, 2020
Did not finish
Lando Norris: With a bit of luck, Norris could have taken the second podium of his career at the Eifel Grand Prix, but his engine had other ideas.
Before he lost power, he was running as high as P4 and could have been the one to challenge Ricciardo instead of Perez. Even with the issues, he remained impressive, staying in the points until his car finally gave in. 7 
Alex Albon: We're not exaggerating when we say that the happiest moment of Albon's race was probably when his team told him to head to the pits and retire. He was, to be frank, terrible.
Why? Well, he flat-spotted his tyres twice, took out one AlphaTauri when passing them and whined on the radio after failing to pass the other.
Maybe we're being harsh. Maybe he had an issue the whole time which led to his retirement. However, the fact that many actually believe that it's feasible that his car was fine and Red Bull just brought an end to his day because of his poor performance speaks volumes. It's getting hard to see why the team would keep him on for next year. 3
Esteban Ocon: Ocon probably would have scored a decent amount of points if mechanical issues didn't end his race, as he was running well inside the top 10 and looking good compared to most of his rivals.
However, he was never particularly close to his team-mate when he was running, and that has been the case all too often this year. The Frenchman's performances might look respectable if he was alongside a lesser driver, but, with 42 points separating them now, Ricciardo is embarrassing him. 6 
Valtteri Bottas: For a brief moment this weekend, it looked as if Bottas would pick up from where left off in Russia and really take the fight to Hamilton. It didn't last long.
He did well to get pole and hold onto P1 at the start with some punchy racing, but the mistake he made to gift his team-mate the lead is one he simply can't afford to make. In all fairness, his pace suggested that he may have been able to fight back, but we never got the chance to find out. 6
George Russell: There was nothing he could do about the incident that took him out of the race, with Raikkonen fully to blame. Before the incident, he was doing as well as he could given the car he's in. 6
Finley Crebolder
Follow us on Twitter @Planet_F1 and like our Facebook page.