Emilia Romagna GP OFF: Five F1 races to be cancelled – and what happened next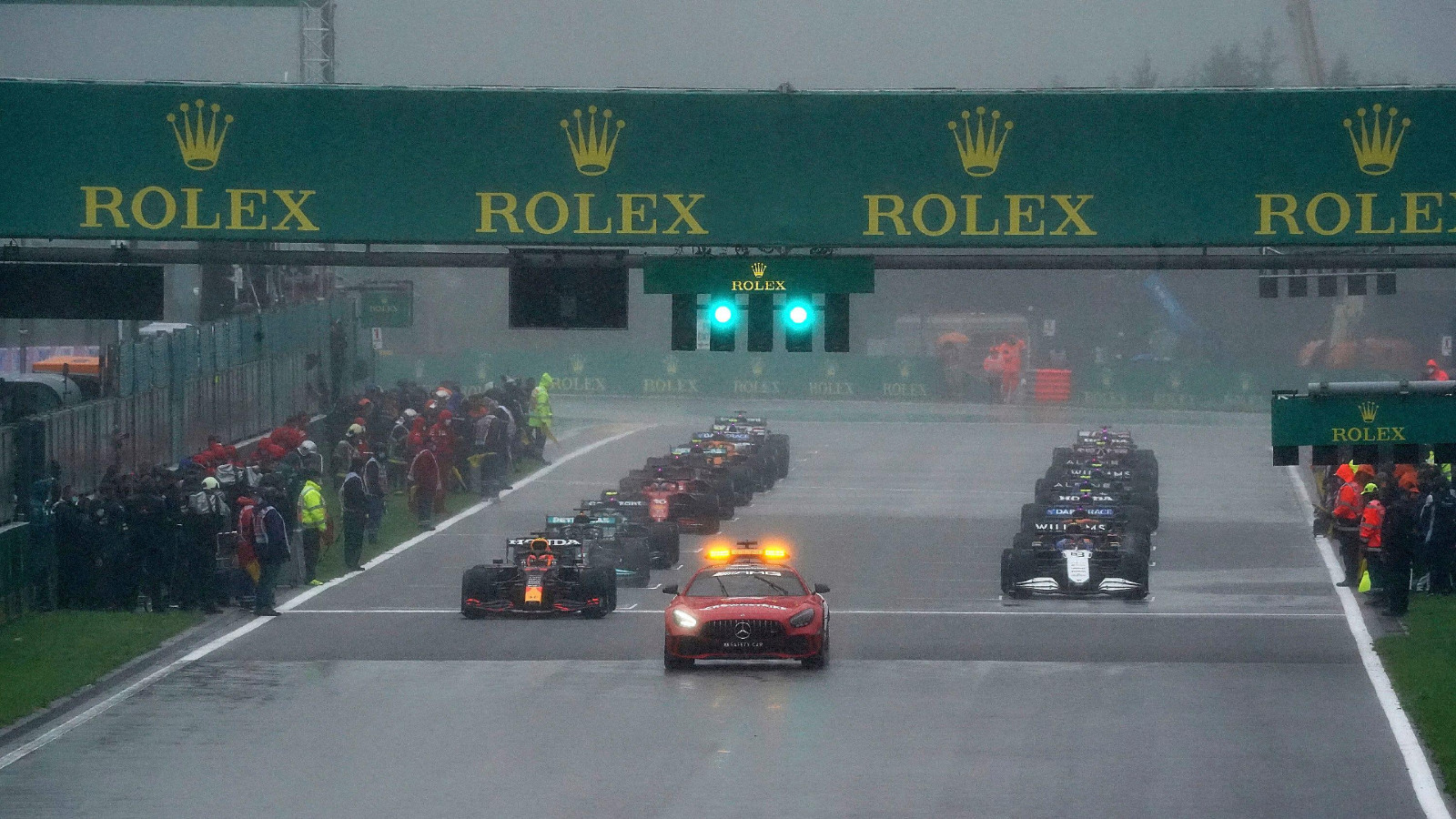 With deadly storms affecting the Imola circuit and the surrounding area, Formula 1 has taken the decision to cancel this weekend's Emilia Romagna Grand Prix.
It is hardly the first F1 race to meet such a fate, with several grands prix dropped for a variety of reasons – some more sinister than others – over the years.
As everyone scrambles to make alternative plans for the weekend (and, of course, send our best wishes to those affected) here are five races to have been cancelled – and what came next…
1969 Belgian Grand Prix
Merely the unexpected star of the grid walk to the uninitiated, Sir Jackie Stewart is a racing driver of significant substance and a human being with the courage of his convictions.
No individual in history has done more to improve safety standards in motor racing yet, strange as it may seem today, his campaigning was met with quite some resistance.
Having witnessed no shortage of brave and talented men fall, Stewart had his own scare at the Belgian Grand Prix of 1966 with an accident at the famous Masta kink.
With no marshals in sight, Stewart was trapped in a pool of fuel in his cockpit for 25 minutes until fellow drivers Graham Hill and Bob Bondurant removed the steering wheel with a spanner from a spectator's car to free him.
Stewart insisted on having a couple of spanners taped to his cockpit from that day and was not amused upon discovering the Belgian authorities had failed to act on his safety recommendations – centered around crash barriers and the track surface – ahead of the 1969 race.
The officials, reluctant to fund the modifications, cited short notice but Stewart, fronting the Grand Prix Drivers' Association, led a boycott by the drivers.
The race returned the following year with barriers and a temporary chicane, but was again cancelled in 1971 after failing to meet FIA standards.
The Belgian round was then relocated to Nivelles and Zolder but returned to Spa in 1983 before reassuming its place as the permanent home of F1 in Belgium from 1985.
2011 Bahrain Grand Prix
Ten years before Bahrain became the new host of the F1 season opener on a permanent basis, it was scheduled to host the first round of the 2011 campaign.
That was until the race fell victim to the Arab Spring – a series of anti-government protests and uprisings throughout the Middle East and North Africa – that February.
With reports of protestors being killed – and even paramedics prevented from tending to those injured – it was warned that the F1 race, with the eyes of the world looking on, would be targeted by those aiming to advance their cause.
And so, less than three weeks before the race was due to be staged, Prince Salman took the decision to postpone the event.
It was initially hoped that Bahrain would find a new spot later that year, but F1 didn't return to Sakhir until the following year for a race weekend of high stress and tension.
Anxious to return to the safety of their hotel before nightfall after four team members were caught up in a petrol-bombing, the Force India team made the unprecedented decision to take no part in Friday's second practice session.
That move was said to have left F1 chief executive Bernie Ecclestone unimpressed, with the Force India cars not shown at all on television during qualifying despite Paul di Resta reaching the top-10 shootout.
2020 Australian Grand Prix
The coronavirus pandemic was just beginning to bite as the F1 community headed to Melbourne for the traditional season opener.
With the Chinese round already canned and physical barriers in place to keep drivers and journalists apart, there was a growing sense of unease within the paddock as Lewis Hamilton delivered the definitive verdict on F1's decision to press on regardless.
"Cash is king," he memorably remarked during the drivers' press conference.
F1 remained committed to soldiering on until a positive test came from McLaren, forcing others to self-isolate.
It quickly became obvious the weekend was a complete write-off but nobody was prepared to explicitly say it and take the financial hit until they absolutely had to.
PlanetF1.com recommends
Confirmed: Emilia Romagna Grand Prix cancelled as severe flooding hits region
PF1 sources: Emilia Romagna Grand Prix unlikely to be rescheduled
Some drivers were already on their way home on Friday morning as fans gathered at the gates and, beyond them. the two-seater F1 car was heard thrashing around Albert Park.
Then, at long last, came the inevitable as race director Michael Masi joined F1 chief executive Chase Carey and race organiser Andrew Westacott to confirm – in the open air, of course – that the show was over.
F1 would be out of action for almost four months before the unique 2020 season – featuring a compressed calendar of 17 races with some circuits hosting two – finally began in Austria in July.
As for Melbourne, it made a triumphant return to the calendar in 2022 but only as the third race of the season.
Its season-opening slot was claimed by Bahrain from 2021 – and with Saudi Arabia also keen on first race status, it doesn't look like an F1 season will start in Australia again any time soon.
2021 Belgian Grand Prix
A wet qualifying had set up an intriguing first race after the summer break as the 2021 season started the climb to its all-or-nothing Abu Dhabi crescendo.
Max Verstappen was on pole position for a Red Bull team braced for damage limitation at high-speed Spa with Hamilton only third and behind George Russell, on the front row in the unfancied Williams.
And what of Lando Norris, comfortably fastest in Q1 and Q2 before crashing heavily at Eau Rouge in Q3? Just what might he achieve in the McLaren from 15th?
Sadly, we'll never know.
Not only did the rain-rain not go away, but it got considerably worse as the start approached and forced delay of three hours before – with the weather still not showing any mercy – the cars finally took to the track.
Behind the Safety Car. In the damp, mist and fog. For two laps.
Before they all came back, half points were awarded to those who managed to keep it on the island – not including Sergio Perez, who'd earlier crashed his Red Bull on the lap to the grid having qualified P7 – the podium ceremony was observed.
If handing out points for a race that technically didn't happen didn't sit well with the spectators in the grandstand, nor did the decision to deny them a refund.
Some forgave, nobody forgot.
2023 Emilia Romagna Grand Prix
In a refreshing deviation from tradition, F1's move to cancel the 2023 Emilia Romagna Grand Prix was made a full 48 hours before the cars were scheduled to take to the track.
It demonstrated an impressive level of foresight the sport has been accused of lacking on previous occasions, yet in truth the writing was on the wall almost two weeks prior.
As preparations ramped up for the previous race in Miami, reports emerging from Italy revealed the devastation of severe storms in this region of northern Italy, home of the Imola circuit and the AlphaTauri team's factory.
Two people, including an elderly man swept away by flood waters while riding his bicycle, were known to have died with hundreds more evacuated from their homes.
Issuing a statement expressing their sympathies from Florida, AlphaTauri were physically present in Miami but their hearts were very much at home.
Any hope that the weather would abate for a clear weekend faded when the paddock was rendered a no-go zone on Tuesday as Alpine staff evacuated their hotel and some AlphaTauri members stayed at the factory.
Confirmation that the show would not go on came early on Wednesday afternoon, with PlanetF1.com sources indicating the event is highly unlikely to be rescheduled.
As it stands, F1 in 2023 is down to 22 races.