Conclusions from the Emilia Romagna GP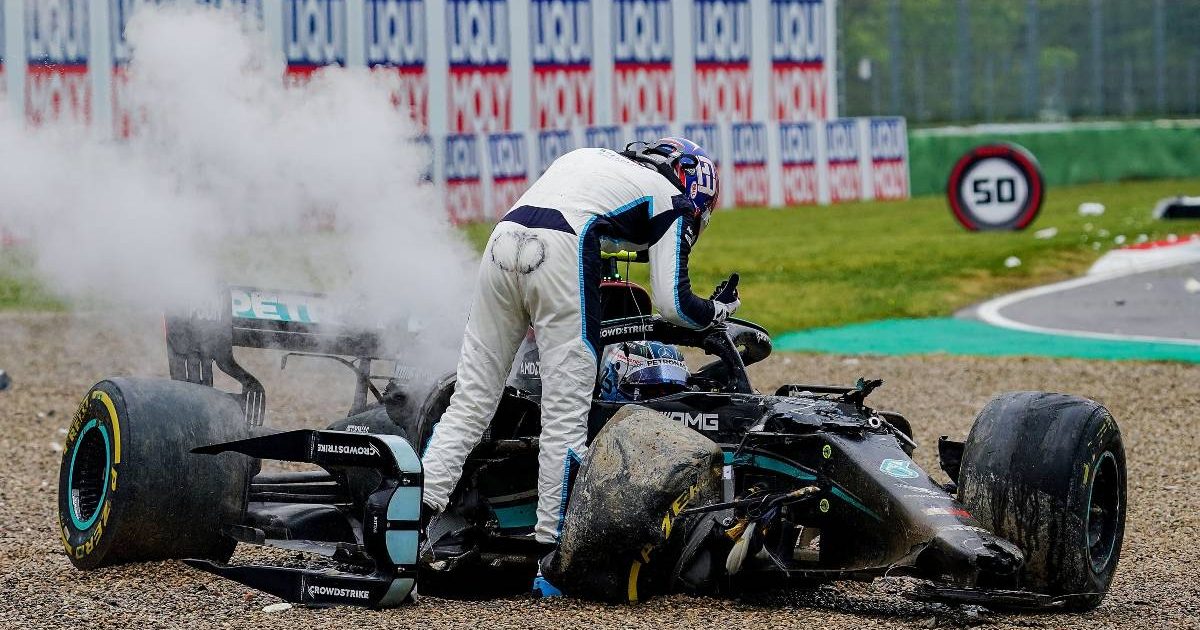 Max Verstappen made it 1-1 in race victories with Lewis Hamilton this season in a madcap, rain-affected Emilia Romagna Grand Prix.
Here are our conclusions from a race at Imola in which Verstappen's emphatic success was almost overshadowed by a 'lap from hell' for Mercedes.
Russell needs to rein himself in
Ride onboard with George Russell as he and Valtteri Bottas collide in a scary high speed accident 💥

Racing incident? 💬⬇️#SkyF1 | #F1 | #ImolaGP 🇮🇹 pic.twitter.com/Af3Pn2Txkr

— Sky Sports F1 (@SkySportsF1) April 18, 2021
Do Valtteri Bottas and George Russell want to race for Mercedes next year? After Imola, you could not blame Toto Wolff if he started looking beyond the pair of them.
Along with Lewis Hamilton, Bottas and Russell are thought to be in a three-cornered fight for Mercedes' 2022 seats. But Wolff surely could not believe what he was seeing when they sent each other spinning into the barriers on lap 32 – moments after Hamilton had to reverse out of the gravel trap with front-wing damage when he veered off track while lapping Russell.
Having put Bottas in his place when he deputised for Hamilton at last year's Sakhir Grand Prix, it was understandable Russell would want to rub more salt into the wound by sending his Williams down the outside of the Finn to prove even more of a point.
But the outcome that unfolded was the last one he would have wanted – not only ending his own race but taking out the Mercedes and, it has to be said, leaving both himself and his rival in jeopardy of serious injury because it was a really big crash.
Now, we are not blaming Russell for the accident. Neither did Wolff nor the stewards, who deemed it a racing incident.
However, the reactions of both men – Bottas 'flipping the bird' when Russell approached him and the Briton responding with a swipe across the helmet – were petty and stupid…albeit it was not exactly Nelson Piquet and Eliseo Salazar circa Hockenheim '82.
Finger pic.twitter.com/YyBkD2r6lJ

— Pat W watches too much racing (@toomuchracing) April 18, 2021
It gave the impression there is no love lost between them at the best of times, whether that may be a hangover from Sakhir last year or not.
Russell said himself before the start of the season that he needed to just keep doing what he had been doing to give himself the best possible chance of a permanent Mercedes drive. That does not entail crashing into the car he wants to be in and then berating its current driver.
The 23-year-old has impressed with his maturity and pragmatism throughout his F1 career so far – we hope he is not starting to get carried away with his own potential now.
Check out all the latest Mercedes merchandise via the official Formula 1 store
Max among the faultless few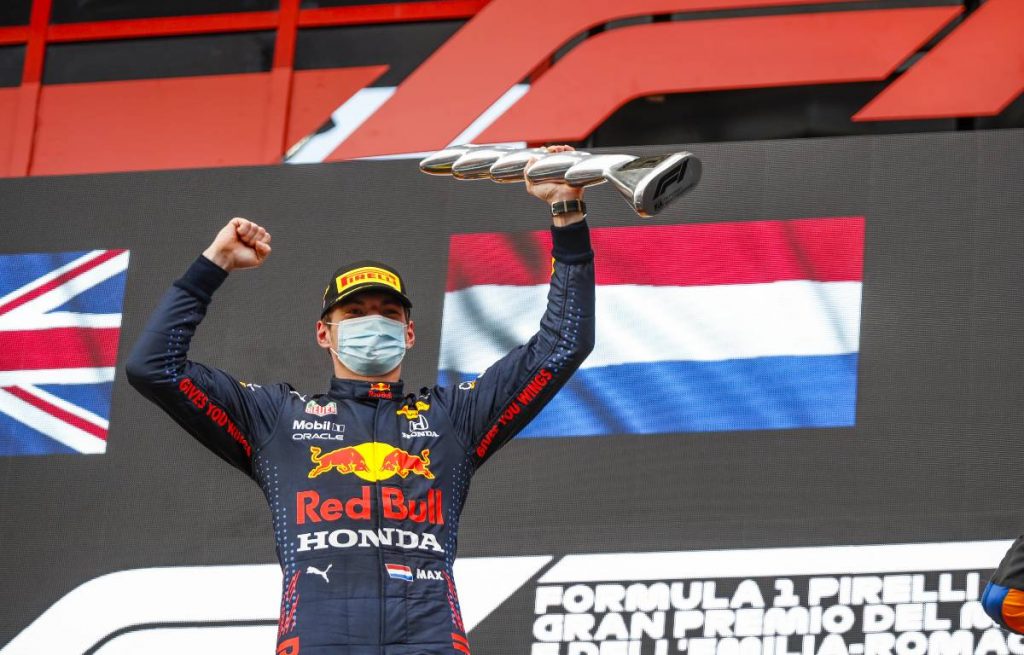 Two races down and two absolute corkers…what a season this could turn out to be.
And not least because it looks like we really could have a true World Championship battle on our hands, with Max Verstappen showing on a tricky day at Imola he is ready to take the fight to Lewis Hamilton.
Mistakes were everywhere. Not many drivers could head to the airport saying they had driven a blemish-free race, but the Dutchman was certainly one of them. His only slightly sticky moment came when he went on a little detour off track ahead of rolling restart.
Even the seven-time World Champion made a rare error, to which he held his hands up, and the way both he and the team handled it was – in contrast to Bottas and Russell – thoroughly grown-up, each side knowing Hamilton overwhelmingly has enough credit in the bank to offset an uncharacteristic slip-up.
Verstappen's drive had World Championship qualities of its own. He is not a title-winner yet but right from the start, when he passed Hamilton and his own team-mate Sergio Perez off the line, it was the sort of performance that had 'true contender' written all over it.
And what of Perez? Well, after a superb qualifying, he had a disappointing Sunday as the race weekend fortunes we have come to expect from him reversed themselves.
The Mexican is obviously still getting used to the car but a couple of off-road excursions, one of which threw away a likely podium, may have Helmut Marko and Christian Horner starting to fear the 'second Red Bull curse' has struck again.
Lando's raising his level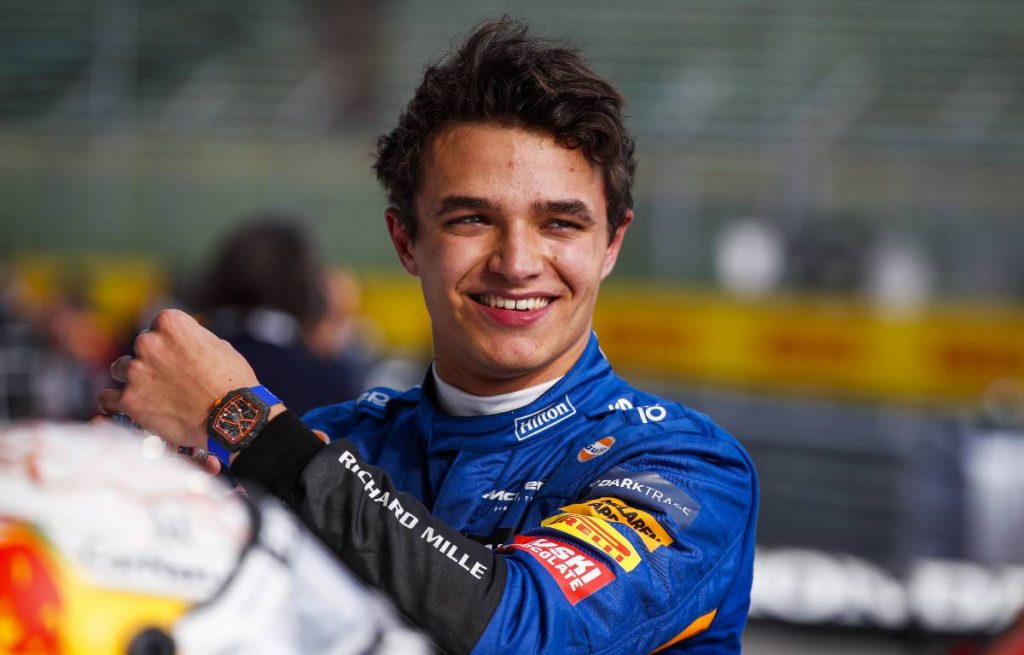 If Hamilton and Verstappen are Formula 1's big winners, who is the other main success story of 2021 so far?
That's easy…Lando Norris.
We have always known the 21-year-old is a prodigious talent, but this is a new Norris – one who is not afraid of asking his team for Daniel Ricciardo, no less, to move aside.
The Briton was proven absolutely correct in pushing McLaren to let him past the Australian, who is still finding out how to maximise his new car's performance. Once the switch happened, he immediately pulled out a significant gap on Ricciardo.
But there was also lots to like about the way Norris defended against Hamilton until the World Champion's DRS proved decisive and he deservedly came home in P3 for his second F1 podium.
Okay, Lando made a track-limits mistake in qualifying when pushing to try and snatch pole position from Hamilton. However, the fact he was in the running for even a front-row start was impressive in itself.
He looks to have significantly elevated his performance level this season and there could be even better to come between now and December.
And of the rest…
A difficult day but he never gave up. 💪

Debrief the #ImolaGP with #SV5. 👇 pic.twitter.com/95AaIa9BhO

— Aston Martin Cognizant F1 Team (@AstonMartinF1) April 18, 2021
It was a dismal Sunday for Williams as both Russell and Nicholas Latifi crashed out, but the team's pace over the weekend had been much more encouraging with both drivers reaching Q2.
If they can keep it cleaner during the races, points may not be far away.
Sebastian Vettel had a similarly depressing race, albeit not of his own making. Luck has completely deserted the four-time former World Champion, even to the point of joining Aston Martin just when they have been badly affected by the tweak to the aero regulations.
Hopefully, he can find a way of putting himself in the top 10 like his team-mate Lance Stroll is able to – the Canadian is quietly doing an effective job for his father's team so far this year, his late penalty at Imola notwithstanding.
Vettel should not be too discouraged, however. Of the six drivers who, like he, moved in alongside a team's existing incumbent this season, only one – rookie Yuki Tsunoda in Bahrain – has so far finished ahead of their colleague in either of the first two races.
Jon Wilde