Where does Esteban Ocon rank among Fernando Alonso's toughest team-mates?
Esteban Ocon has claimed only Lewis Hamilton has done better than him as Fernando Alonso's team-mate – but how true is that statement?
When Alonso returned from retirement to join Alpine, there were many who thought Ocon's days in F1 were numbered.
While Ocon was no stranger to having his team-mate take the limelight – Daniel Ricciardo had been his garage mate in the previous season – two-time former World Champion Alonso represented another challenge altogether.
And yet, after the best part of two full seasons, it is Alonso and not Ocon who is moving on.
Looking back on his time at Alonso's side, Ocon made a point to note only one driver could claim to have performed better – Hamilton.
"I admit I find it a bit strange. In the end, in qualifying, in the comparison with Fernando we are 9-7 for him, but I have a few more points in the classification," he told Motorsport.com.
"Last year, if we talk about qualifying, we finished the season tied – 11-11. If I look at Fernando's career, the only one of his team-mates who has been his equal is Lewis, all the others have not done better than me."
But do the numbers support what Ocon is saying? To find out, we have delved into the history books and selected five notable team-mates plus Ocon to see how they stack up against the two-time former World Champion.
Felipe Massa
533 points fewer than Alonso, Ferrari 2010-2013
This may seem a little unfair on the Brazilian, but that is an unfortunate consequence of being Alonso's team-mate for so long at a time when his car matched his talent.
Massa's 77 races as Alonso's team-mate are the most of anyone to have shared a garage with Alonso, so it is unsurprising such a large gap would form between the two. The duo raced for Ferrari during perhaps the last time that team were in contention for the title and Alonso regularly had the beating of Massa.
In all four seasons, the Spaniard finished at least 100 points ahead of his team-mate and the biggest points difference came in 2012 when Alonso finished on 278 points, 156 ahead of Massa.
The partnership eventually came to a close in 2014 when Massa moved on to Williams to partner Valtteri Bottas.
Money talks as they say…#F1 https://t.co/ha8xQD9C9n

— PlanetF1 (@Planet_F1) September 18, 2022
Giancarlo Fisichella
137 points fewer than Alonso, Renault 2005-2006
When Fisichella won the Australian Grand Prix in what was the first race of the 2005 season, you could have been forgiven for thinking Alonso may have his work cut out if he was to end up on top. But that hope for the Italian soon faded away.
After his victory in Melbourne, he retired from the next three races and from there his form slipped further and further behind Alonso's. As Alonso began his ascent to what would be his first World Championship, Fisichella failed to score in all but three of the opening nine races.
The Australian victory proved to be his one and only of the season, while Alonso collected seven winner's trophies. The Spaniard eventually finished 75 points ahead of his team-mate, firmly proving who was the number one driver at Renault.
The second season continued in similar fashion. While Fisichella improved, Alonso also did at the same rate, finishing 62 points ahead of his team-mate on his way to his second world title.
Kimi Raikkonen
106 points fewer than Alonso, Ferrari 2014
As it had been with Hamilton earlier in Alonso's career, it was to be just the one season for Raikkonen as the Spaniard's team-mate. Their relationship began on rocky terms with Alonso having been the one to replace Raikkonen at Ferrari in 2009, but when the Finn returned to the team in 2014 the difference in performance was remarkable.
Raikkonen finished behind Alonso in all but three of the races that year and the 2007 World Champion failed to finish on the podium for the first time since his rookie season in 2001. He also ended the campaign in a then career-low position of 12th.
Alonso, meanwhile, ended the season P6, six points behind reigning World Champion Sebastian Vettel. That proved to be Alonso's last season at Ferrari as he left to join McLaren, where he would partner Jenson Button.
Jenson Button
28 points fewer than Alonso, McLaren 2015-16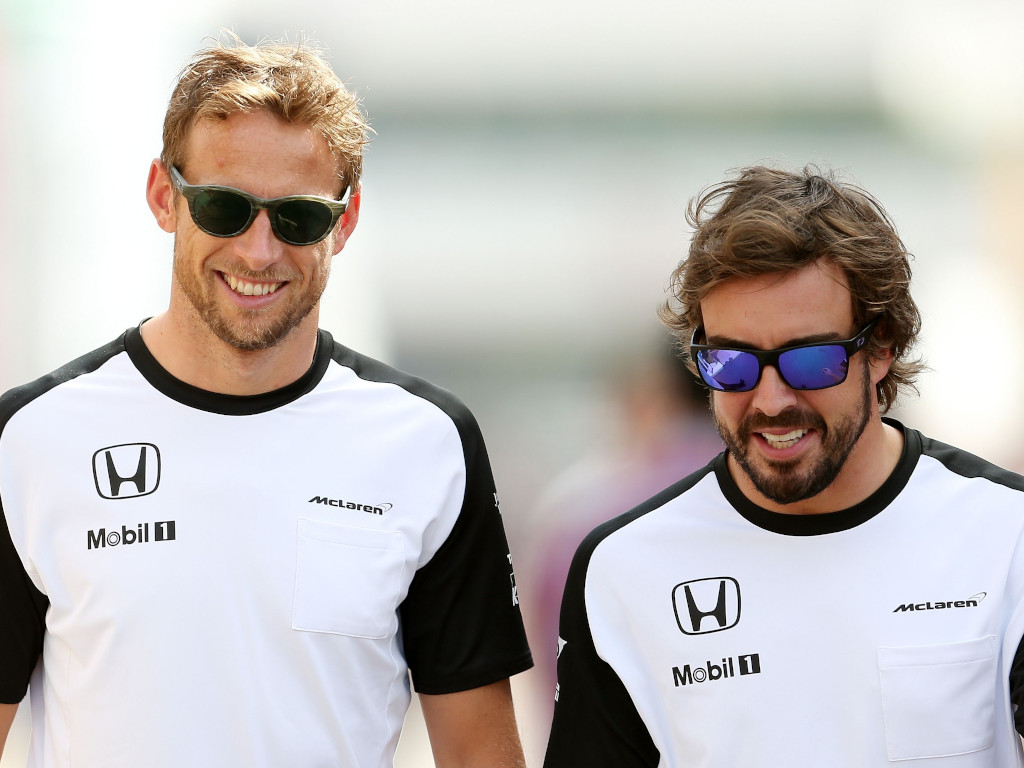 If ever there was a car unbefitting of two former World Champions, it was the 2015 McLaren. Alonso joined Button at the team that season but both endured miserable campaigns, with the Briton  marginally finishing ahead of Alonso towards the bottom of the Drivers' standings.
In their second season together, Alonso found a way to get the maximum performance out of the car and was eventually able to finish the campaign in P10. Button, meanwhile, in his twilight years of the sport and becoming increasingly disillusioned, finished P15.
Esteban Ocon
Equal on points with Alonso (as of 2022 Italian Grand Prix)
Following the Italian Grand Prix, Ocon is level on points with Alonso over the course of their two-season partnership – but there are caveats to that.
For starters, Alonso has been let down on more than one occasion by Alpine's reliability this season. He retired from two of the opening four races and did so again last time out at Monza.
In terms of races when both finished, the two are level with Alonso crossing the line before Ocon six times and the Frenchman having done the same.
As it stands, Ocon has a very real chance of being the first team-mate in history to finish with more points than Alonso and given the Spaniard's upcoming move to Aston Martin where he will partner Lance Stroll, the Frenchman could be the only one to ever complete that feat.
Lewis Hamilton
Equal on points with Alonso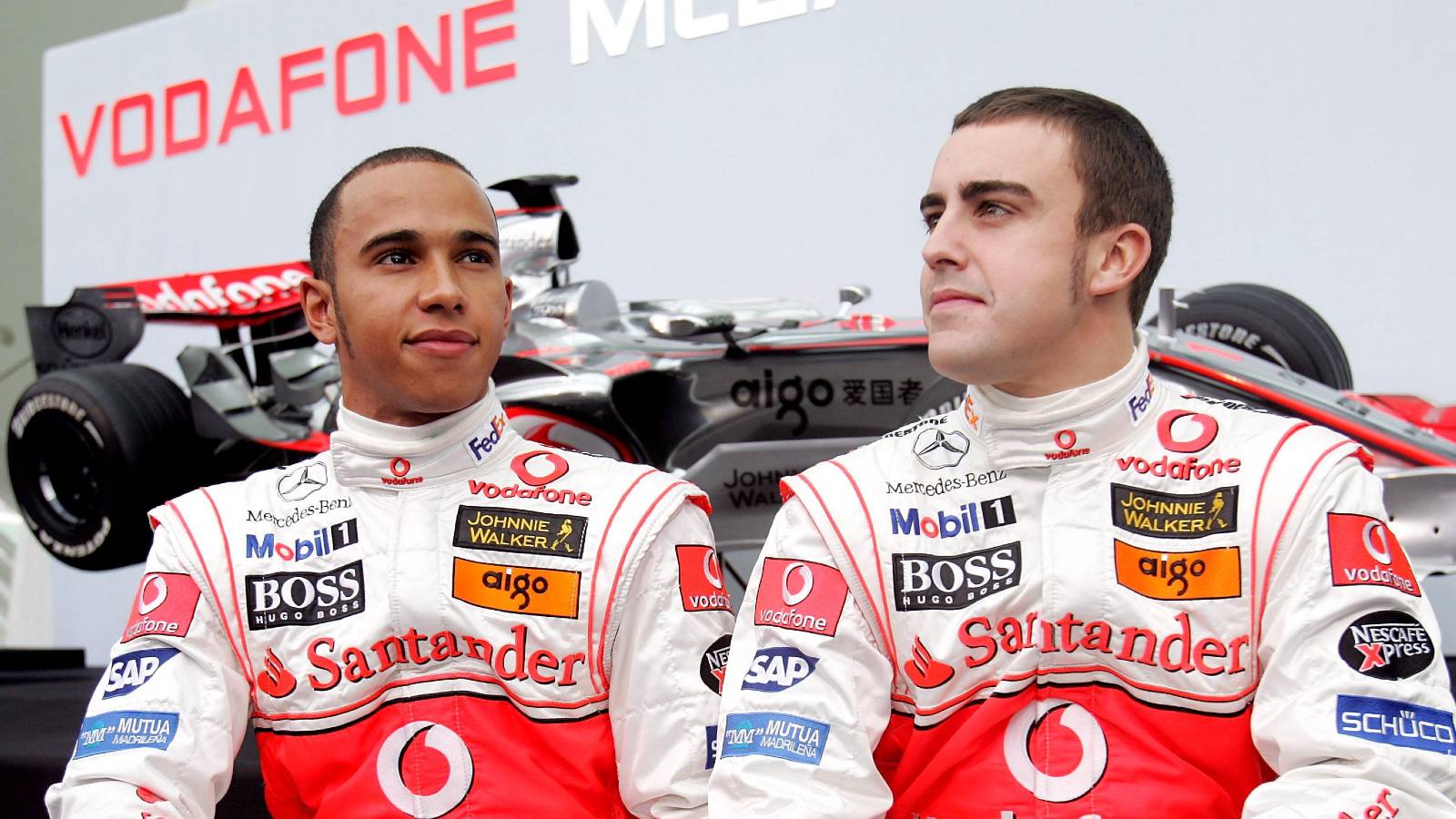 A rookie to the sport joining a team with an established two-time World Champion was only going to go one way, right? Little did Alonso, or anyone else for that matter, have an idea what the then 22-year-old would achieve in the sport and from the get-go, Hamilton showed the kind of speed that would make him the most successful driver in the sport.
Utterly unfazed by Alonso's established place in F1, Hamilton got under the skin of his team-mate with an incredibly high level of performance from the off. It took the Briton six races to win his first grand prix but he had been on the podium in every race up to that point.
The relationship between Alonso and Hamilton quickly soured. The Spaniard intentionally slowed at a pit-stop to ruin Hamilton's qualifying lap at the Hungarian Grand Prix, while the rookie was happy to use the media to get the world on his side.
It was recently revealed Alonso even handed out envelopes of cash to get the McLaren mechanics on his side.
Reminiscent to Hamilton's future rivalry with Nico Rosberg, this partnership needed to end quickly before things really boiled over. The two concluded their only season as team-mates level on 109 points before Alonso moved back to Renault.
Ocon may not grab the headlines but his point is a valid one
If you asked 100 Formula 1 fans to rank Alonso's team-mates, not many would put Ocon near the top – but the numbers back up his claim. For a driver to go from suspectedly being on the way out of the sport to a grand prix winner and one that is on a par with a two-time World Champion is a feat that should be applauded.
Perhaps it has been the way Ocon has gone about this that has left him so underrated. He is not a headline grabber like Alonso and seems perfectly content to have the spotlight shining another way if it means he can continue to consistently score a high amount of points.
A great deal should also be made of the supportive relationship Alonso and Ocon have formed. We have seen in the past with Alonso and Hamilton this is not always a given, but the Alpine pair have proved a useful asset for both the team and each other.
As Alonso moves on to Aston Martin, Ocon will probably assume the role of senior driver at Alpine and that will provide him with another test as to whether he is ready to be their main man.
Read more: Ranking the contenders to replace Fernando Alonso at Alpine in 2023