Esteban Ocon v Pierre Gasly: Will they bury the hatchet or re-open old wounds?
Pierre Gasly will be joining Esteban Ocon at Alpine next season. The pair know each other extremely well – for 20 of their 26 years, in fact – but the strained relationship between the two has been highlighted as a potential sticking point in their time as Formula 1 team-mates.
Having grown up near each other in Normandy and being the same age, their lives and motorsport careers have been closely intertwined all the way through the junior categories – and Ocon and Gasly were very close friends until their teenage years, before on-track incidents began to cast a cloud over their off-track rapport.
It is worth noting that Ocon has rarely publicly commented on how the two have got on over the years, whereas Gasly has been more vocal on the subject as time has passed.
An episode of the Beyond the Grid podcast featuring Gasly back in his debut season in 2018 saw the then-Toro Rosso driver open up about how he and Ocon grew up together, but things slowly started to deteriorate when fights on track began to get more serious.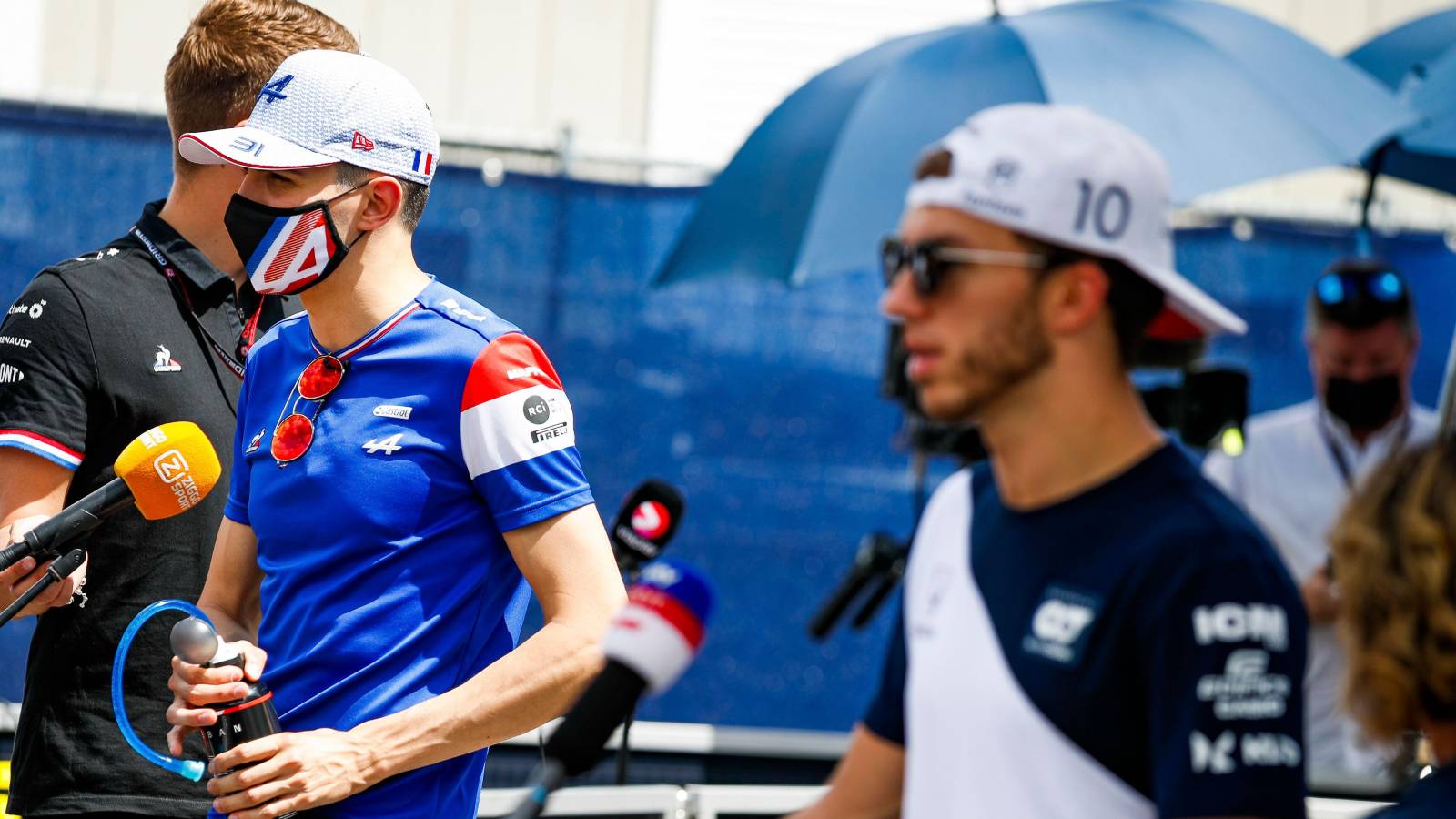 Gasly was speaking about his future team-mate in a way that made him stop and acknowledge with a chuckle that he was "talking like if he was my girlfriend" and he could discuss their story for hours, hinting at just how deep their shared history is.
They met after Ocon's father bought a kart for his son from one of Gasly's brothers, and with the young Pierre having also started out in karting, he and Ocon spent hours in each other's company every week by going to drive at the same track from around the age of six – having grown up around a 30-minute drive apart.
As Gasly recounted on Beyond the Grid: "We used to spend so much time together, train [at] the same track, going on weekends together.
"He used to come [to my] home many times and same for myself, we went to his place. I even remember times that in the winter, there was nobody coming to our racetrack.
"We were the only ones there, snowing like hell, and we were going for like three or four laps, coming back when our hands were completely freezing and going back of the truck with the heater just to get warm for 15 minutes and then after getting back on track for five other laps with the slick tyres on and just driving on the snow.
"Honestly, we did spend some fantastic time together."
But the AlphaTauri driver highlighted a couple of battles in which things started to turn, pointing to the pair making contact at the final corner while racing for the podium at the 2009 Bridgestone Cup in karting, before an altogether hairier moment a year later.
"The relationship unfortunately got a lot worse at some point in karting when we started to fight for the World Cup, European Championship, and also National Championship," Gasly recalled.
"And I really remember one weekend, the World Cup in 2010 in Portugal that he literally cut the track, one corner, cutting the grass and hit me in the last heat before the pre-final because I was going to start I think second or third [and I] think he didn't really like it."
These flashpoints slowly led to them no longer training together, having further intense battles as they climbed the ladder, and off-track arguments did not reconcile their differences at the time.
Gasly has maintained, though, that they have always been on speaking terms throughout their time in Formula 1 – just not on anything to do with racing.
"I think in the end it was a positive thing that these things happened to us because it's really pushed us so much harder to beat each other," he concluded back in 2018.
"And in the end, you know, it's quite funny to see both of us now in Formula 1, looking at where we started and with our track, not much money, going to take the tyres at the back of the garage from all the guys.
"Just to see the way we grew up and where we are now, it's just fantastic. So I think we really respect each other as a driver, but unfortunately there is not the feeling that we had in the past, which was much more friendly."
A new chapter will start in 2023 with @AlpineF1Team

I am extremely excited to join the team on a multi-year deal and work our way to the top together. pic.twitter.com/BtkTDOJ0hA

— PIERRE GASLY 🇫🇷 (@PierreGASLY) October 8, 2022
But such has been the symmetry in their careers up to this point, even their Formula 1 records are strikingly similar – most notably due to having a race victory apiece, winning in midfield machinery at Monza in 2020 and Budapest in 2021.
There has not been a massive amount of on-track duelling between them in the grand scheme of things, though their tangle at their home race at Paul Ricard in 2018 was a big blemish on both their weekends – making contact on the first lap and taking them both out of the race.
They have both had their fair share of ups and downs in Formula 1 too, including Ocon spending a season on the sidelines without a drive in 2019 while Gasly was promoted and swiftly demoted from the senior Red Bull team.
But next year they will be spending time closer than ever in the paddock, sharing a garage and debrief meetings as they look to push their team forward.
In terms of how their relationship will look in the future, Ocon made no secret of his desire to see friend and current Haas driver Mick Schumacher move across to the team to replace Fernando Alonso, but Alpine did not take heed of his advice.
Alpine team principal Otmar Szafnauer insisted, though, that the team, and Ocon, gave their approval to Gasly coming in, and thinks they will be able to put the past behind them and work together for the common good.
"Esteban was very supportive, Pierre as well," Szafnauer said.
We were just two little kids from Normandy with an impossible dream. Welcome to the Alpine family Pierrot, let's make our team and our country proud 🇫🇷

On était juste deux gosses en Normandie avec un rêve qui semblait impossible.🇫🇷 Bienvenue dans l'équipe Pierrot. @AlpineF1Team pic.twitter.com/3hGFDDNjKY

— Esteban Ocon (@OconEsteban) October 8, 2022
"They're professionals. And they have no issue we're working together. And hopefully the friendship will rekindle – they were friends at one point. But from a professional perspective, they're both very happy to work with each other."
Both drivers also seem keen to bury the hatchet as well, as they are about to start spending plenty more time together again as their stint at Alpine begins from next season.
Ocon thinks they will be able to write a "great story together" in creating an all-French line-up at France's Formula 1 team, while Gasly has also taken a conciliatory tone and is being open-minded over.
"We are a lot more mature, a lot more responsible, and at the end of the day we have a common target. We both want to be competitive, we both want to be fighting at the front. And we know to achieve that, we have to work together for the team. I'm quite excited about it.
"It's an opportunity for both of us to get back to a similar relationship that we had in the past. What was the probability that two six-year-old kids from Normandy, France, living 20 minutes from each other, would end up 20 years later as team-mates in a French team? I think that is incredible and a very special story."
Time is something which the future Alpine team-mates have in abundance from the past, and it is a healer as well.
Being in the same car is inevitably going to push those competitive instincts to the limit between them, but we will soon find out if they have been able to move on from the past and compete while maintaining an off-track friendship.
Read more: Japanese Grand Prix conclusions: Max goes from raw to refined, plus the stain on Suzuka