F1 2020 My Team, Part 1: We're bringing Spyker back
F1 2020 gives you the chance to create your own team, so I decided to give it a go and write all about it. This can only go well…
Having owned the last four editions in the Codemasters series, I'm not exactly a novice when it comes to the games. However, rocking a standard controller rather than some fancy simulator setup, I'm also no expert and would definitely be closer to Ian Poulter than George Russell in the Virtual GPs.
Still, all I have to do in this mode is to create my own team from scratch, drive for it and take it to the top of motorsport's elite field in the space of 10 seasons. How hard can it be?
The new F1 2020 game is out now! Order for PS4, Xbox One and PC
The team
The first decision I had to make was, of course, which team I was going to create. I briefly considered bringing a brand new outfit to the grid before settling on bringing an old team back.
Many options went through my head – Brawn, Toyota, Lotus – and, after much deliberation, I eventually opted for… Spyker.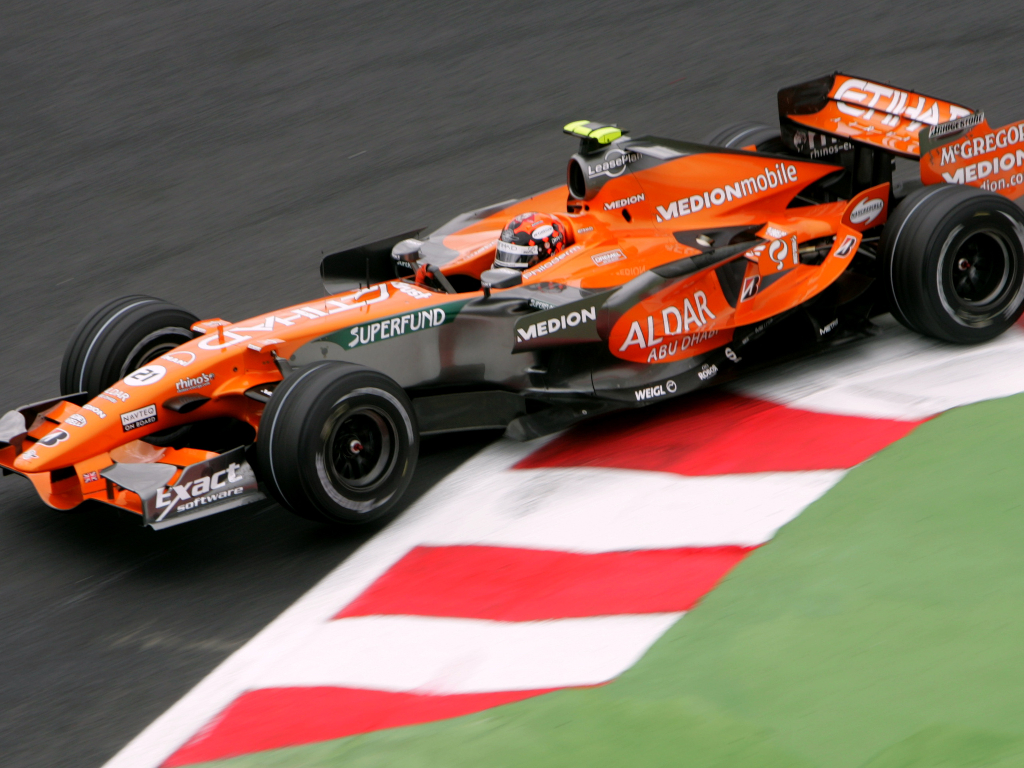 You're probably wondering why I went for a team that hardly left much of a mark on the sport. Well, I'm half Dutch, and I remember being a nine-year-old desperately wanting them and their driver Christijan Albers, the sole representatives of the Netherlands on the grid at the time, to succeed
They didn't (although they did lead for a few glorious laps in Germany), and it's time to put that right. Given they only scored one point, the only way is up. At least I hope so.
The look
Spyker return to F1 was all set up, and it was now time to decide which colours we'd be rocking during our first season on the grid.
Obviously, orange had to be in there and it had to be prominent, or I'd soon have the Orange Army at my throat. I was tempted to go for a vibrant all orange livery like the one donned back in the day but, for the sake of not looking too similar to the McLaren, or a carrot for that matter, I opted to add a lot of white and a touch of blue to it.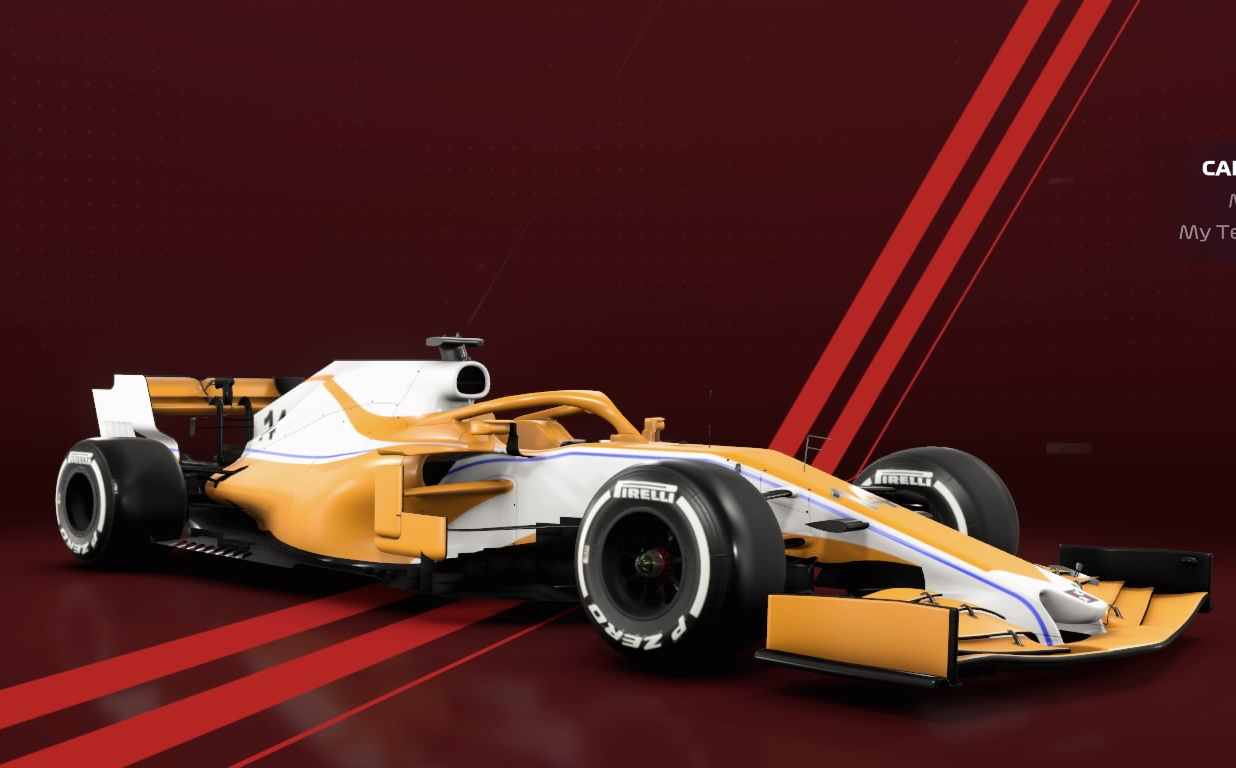 I was pretty pleased with how the car looked, and so decided to keep the orange-white-blue colour scheme for both my helmet and the race suit worn by myself and my team-mate (more on him in a second).
New livery patterns can be unlocked as you progress through the season, so changes may well be made going forward. One thing not changing, however, is the orange. If any sponsor have a problem with that, they can kindly p*ss off. Haas changed their colours for Rich Energy, and look how that worked out.
The serious stuff
Once I was done with living my six-year-old self's fantasy (honestly, it's still one) of designing an F1 car, it was time to move on to the more important matters. Next up, I had to select a primary sponsor, an engine supplier and a team-mate.
How it works is, each sponsor option gives you a signing-on fee and a set of goals you have to achieve throughout the season, with additional bonuses provided if you do so. Generally, the higher the fee, the higher the expectations, and vice-versa.
We opted for some company called Shark, who gave us £4.9 million to spend on the engine and driver. In return, we have to score five points as a team by the end of the season. Easy, right?
In terms of engines, it's effectively a case of the better it is the more it costs. The Ferrari is the best (that's set to change in an update), followed by Mercedes, Renault and finally Honda. I initially chose Renault, but, after saving money on my team-mate signing, changed to Mercedes.
I saved money on the team's second driver (I'm the owner so I will, of course, have number one status) as I initially wanted to snap up Nyck de Vries, considering he'd Dutch and is the highest-rated driver outside of the 2020 F1 grid.
However, for some reason, he wasn't an available option. Therefore, I instead decided to sign one of my favourite young drivers instead, Guanyu Zhou. As far as I'm concerned, he serves a shot in the big time, and it's not like Abiteboul and co are going to give it to him…
Looking ahead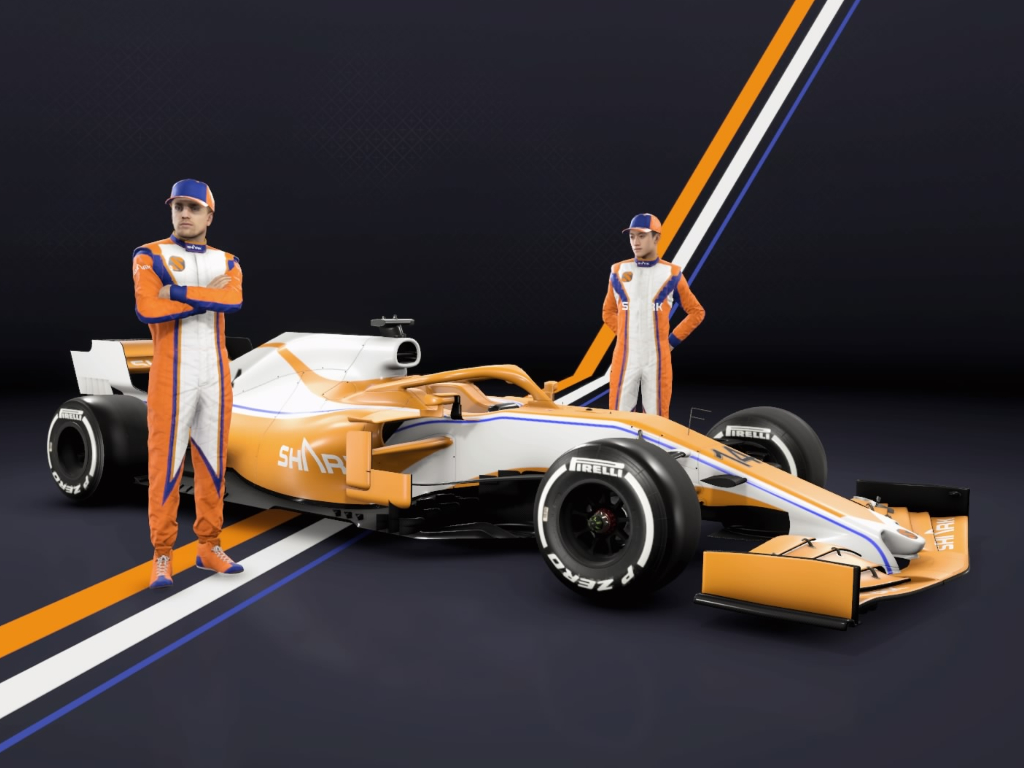 So, that's how Spyker is going to look upon their 2020 return. Exciting young drivers (well, one of them at least), a Mercedes engine, a beautiful livery and some hopefully achievable goals.
As for the race weekend format itself, I'll be doing the full practice and qualifying sessions and 50% races. Sorry, but I don't think I have the time, ability or concentration to sweat out for two full hours. Not yet, anyway…
I won't be using any flashbacks, meaning I can't simply rewind and try again if I crash, and will probably have the AI level at around 90, although I've yet to figure that out.
Next week I'll take you all through pre-season and the first few races of the season where we'll attempt to instantly double the team's all-time points total. Wish me luck, and long live Spyker.
Finley Crebolder 
Follow us on Twitter @Planet_F1, like our Facebook page and join us on Instagram!