For the first time since 2009, Spyker hit the (virtual) track for the first three races of our journey to the top. It went well. Sort of.
In the first part of this series, I prepared for my team's first season back on the grid. Specifically, I picked the sponsor, engine supplier, second driver and designed the car.
After that, I powered through pre-season and embarked on the first three races of the original 2020 calendar. Here's how I got on…
On-track 
First things first, I'll take you through how I did on track. After all, that's ultimately the most important thing.
Australia
In this bliss virtual world, COVID-19 was never a thing and the 2020 season went ahead as normal. Therefore, first up was the Australian Grand Prix.
After qualifying in P19, one place and tenth behind team-mate Guanyu Zhou, I made a solid start to move up to P15, in an AlphaTauri sandwich. Gasly was quicker than me but I managed to initially hold him off with some perfectly clean defensive driving. Well, Romain Grosjean would think so
At start of Lap 6 he passed me on the pit straight. However, I stayed within DRS range and used it to take back the place with a dive down the inside at Ascari that Ricciardo would have been proud of.All of this excitement did however take its toll on my tyres, and by the time I came in on lap 10, my front left was on the verge of puncture.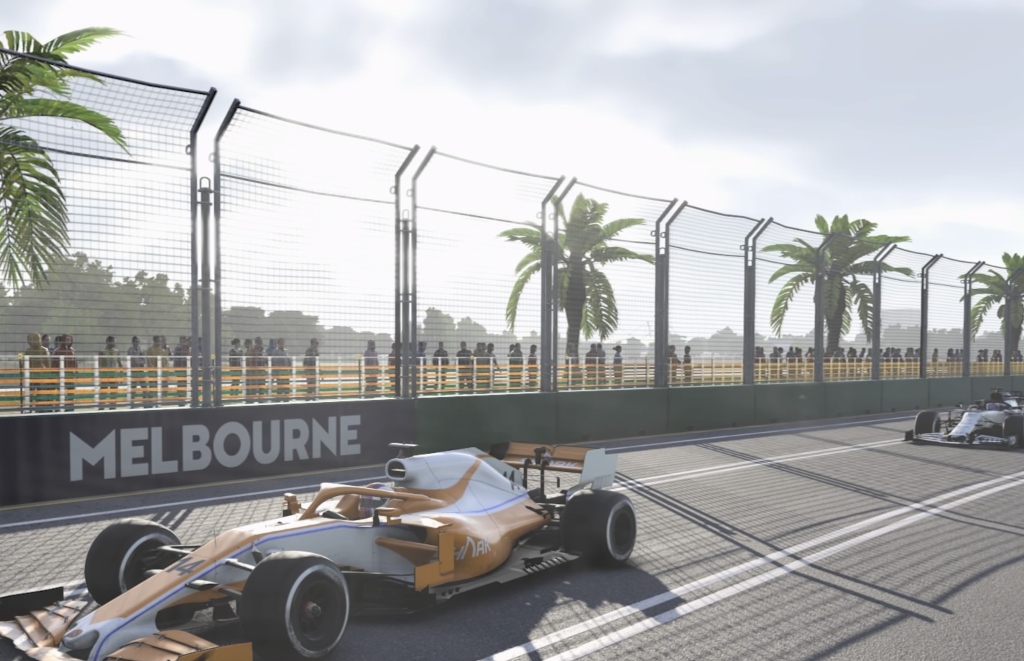 Still, all's well that ends well, and end well it did, as I managed to stay ahead of Gasly, who followed me in, and jumped Kvyat, who must have had a dodgy stop. The goal was now to nurse my hard compound to the finish line. As tyre management is a major weakness of mine, this was not something I relished.
However, consistent pace kept me ahead of Gasly and, while the last few laps were tough as I had to manage fuel and tyres, I held him off to cross the line in P14. No points, and I was admittedly helped by a double DNF for Red Bull, but I'll take it.
Bahrain
Next up was Bahrain, a track I usually do better at, mainly because, unlike in Melbourne, if I make a mistake I'm not punished by slamming into the barriers.
This proved to be the case on Saturday as I somehow managed to qualify in P13. I then dropped back to P14 at the start and continued by depressing downward spiral as Stroll passed me a lap later and Gasly did the same on Lap 5. On the bright side, my pace was good enough for me to stay ahead of Grosjean and everyone else behind fairly comfortably.
With the Haas man in hot pursuit, I dived into the pits on Lap 13. It took my team a rapid 1.9 seconds to put on the hards (as team owner, I take full credit) I was to run until the end. Once everyone had switched tyres, I ended up in P13 due to Norris, Ricciardo, Perez and Albon doing two stoppers.
With quicker cars and tyres, Lando quickly passed. However, a Safety Car came out before the other three could, due to a DNF for Grosjean (presumably a brake failure). It came in with seven laps to go and I made an excellent restart to get up to P11 by Turn 2. A few corners later, I caught Gasly off-guard to take P10. Could we pick up our first point of the year already?!
I doubted it, but then Sainz had an engine failure, bringing out another Safety Car. The race finished under it and the first point was secured. What's more, it quickly turned into multiple points as some penalties up ahead moved me up to P8 after the race. Dizzy heights indeed. With the result bringing a nice wad of cash and car development in the works, things could only get better. Right?
Vietnam 
Wrong. Rather foolishly, I hadn't done any practice at the Hanoi Street Circuit before the third race weekend of the season. I was made to pay for this.
After crashing many times in the practice sessions, I was much more cautious in qualifying and ended up in a "modest" P19, just behind Zhou. I then managed to move up to P17 at the start. Sadly, that's as good as it got.
Three laps in, Russell tried to pass me in the DRS zone, I moved across to defend the inside, perhaps a *little* late – think 2016 Verstappen – and we hit.
I therefore missed the corner and instead flew into the barriers. As I have realistic damage on, that was that for the race. Oh dear.
Off-track

Things haven't been quite as eventful away from the track as of yet. However, some progress has been made in terms of the development.
As I have a Mercedes engine, I can afford to leave the power unit alone for now. Therefore, before the season opener, I opted to spend some resource points on a gearbox and chassis upgrades. The team then came back to me the night before informing the upgrade had failed. Good stuff.
I therefore decided to instead turn my attention to durability, and after upgrading in that department, fitted some aerodynamic updates that actually worked. What a well oiled machine we are.
Those updates furthered the gap between me and the two back-runners, Haas and Williams, and even put me above Alfa Romeo in terms of pace.
In order to ensure we can continue developing the car going forward, I snapped up a second sponsor. I'm away from my console right now, and can't remember the name – thank God I'm not really a team owner – but they give me a nice bonus every time we finish a race with both cars still running. How hard can that be?
As the Vietnamese Grand Prix showed, relatively. Still, in the wise words of Meat Loaf, two out of three ain't bad.
The state of affairs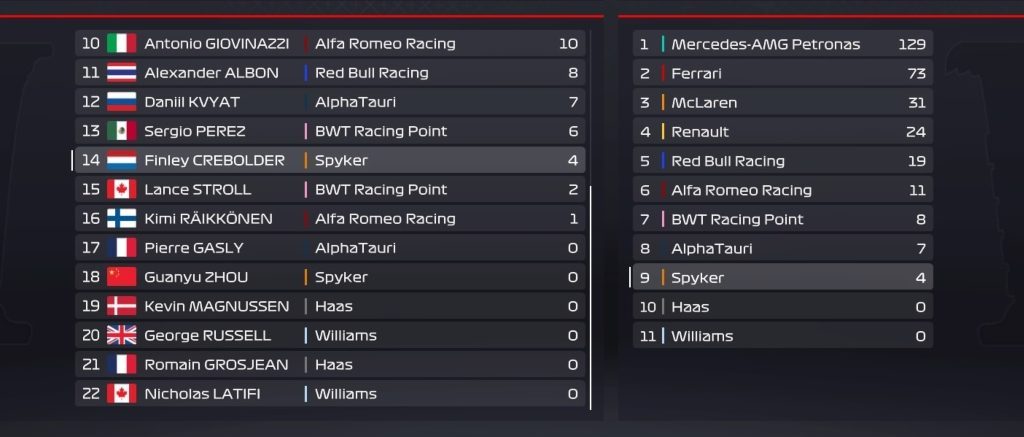 So, how do things stand after the first three races? Well, as you can see, I'm not only funding the team, but I'm also single handedly dragging us up the standings with my driving. Am I a hero? I really can't say. But yes.
Zhou has at least been consistent, but not in a particularly good way. He's finished in P19 in each and every race, never getting remotely close to the top 10. Given I'm his boss, I understand that he doesn't want to upset me by challenging my status as lead driver, but come on Guanyu, help out a little.
You may remember that he wasn't actually my first choice before the season started. That accolade went to Nyck de Vries, who may well be available once the driver transfer window thing (not the official name) opens after a few more races. If Zhou doens't step things up, I may have to go Dutch.
Further up the standings, Mercedes has realistically dominated. Less realistically, Ferrari is a comfortable P2, with Red Bull suffering reliability as bad as McLaren Honda's a few years back. I did however download an update patch after the second race and am expecting the Italian team to drop down the order. Can Spyker surpass them? No. Probably not.
We are at least ahead of Haas and Williams in both the development race, as previously mentioned, and the standings. Realistically, we can maybe hope to overtake Alfa Romeo and AlphaTauri before the end of the season. Assuming I stop crashing and Zhou stops hanging around in the bottom five, that is.
I'm afraid you'll have to wait a little to find out whether we can continue our meteoric rise as I'm going to be away for a few weeks (in real life, not the game). When I'm back, I'll take you through the next few races of the season and any other developments. Considering both my best (China) and worst (Monaco) tracks are on the horizon, it should be quite the ride.
Finley Crebolder
Follow us on Twitter @Planet_F1, like our Facebook page and join us on Instagram!