Conclusions from the first F1 2020 test
DAS, copycat claims, and lap records on the verge of being broken already. Thank heavens Formula 1 is back, but what can we conclude from the first F1 2020 test in Barcelona?
Mercedes continue to toy with the opposition
This is Mercedes' Formula 1 world and we are all just living in it. The Silver Arrows' usual approach to pre-season testing is to stay away from the spotlight by keeping the sandbags firmly in place, downplay their chances for the upcoming year and talk up their rivals.
But, this year, they have taken a leaf out of Ferrari's playbook by showing more of their hand and hogging the vast majority of the headlines as a result. The only difference is Mercedes are probably more capable of doing a better job than Ferrari when it comes trying to justify the hype.
After six consecutive World Championship doubles, you would expect the space for more Mercedes growth to be pretty much non-existent – yet this week they have showcased not one, but two innovations that are sure to have made plenty of jaws drop up and down the paddock.
Their pursuit of excellence continues to be relentless.
OK, don't just watch the back and forth of the movement from the steering wheel, watch how the wheel toes back in as the car straightens. This is a trick to improve upon the issues caused by POU for the driver… https://t.co/Qj8UukvVyP

— Matthew Somerfield 🅢🅞🅜🅔🅡🅢Ⓕ① (@SomersF1) February 20, 2020
It remains to be seen when DAS – dual-axis steering – will be used by Mercedes and how effective it will be over the course of the season, but one thing is for sure: they have given every other team an even bigger headache than anticipated as they now try to understand the system and investigate whether it is worth developing for what will only be one season.
The upcoming 2021 regulations will ban DAS being used next season, so Mercedes have performed a masterstroke in introducing it whilst the current regulations are still in effect.
DAS has taken some of the attention away from Mercedes' other eye-catching innovation that we saw on the opening day: the new-look rear suspension.
Just like DAS, it is another area of development that is completely unique to them. By moving the angle of the lower wishbone away from a V-shape formation that we usually see, Mercedes has effectively sealed the floor of their W11.
It has made the car heavier than its predecessor due to the increased loads that the lower wishbone now has to withstand, but Mercedes believe that what they lose in added weight can be recouped and then some in the aerodynamic gains.
Plenty has been said about Mercedes this week but perhaps Daniel Ricciardo said it better than anyone else.
"Hats off to them because they have been dominant this whole turbo era yet they are still the ones pushing everyone else," Ricciardo told F1 TV.
"It should be us and everyone else pushing them and they're not getting complacent," he said. "And I think that's why they've been so dominant.
"So they're setting an example right now and as a competitor, I certainly respect that. And it's good for everyone to see how far they're willing to go."
Oh, Mercedes also have the fastest time of testing, already beating Sebastian Vettel's best time of the 2019 tests by half a second, and also lead the lap count with 494 to their name.
Cause for concern at Ferrari?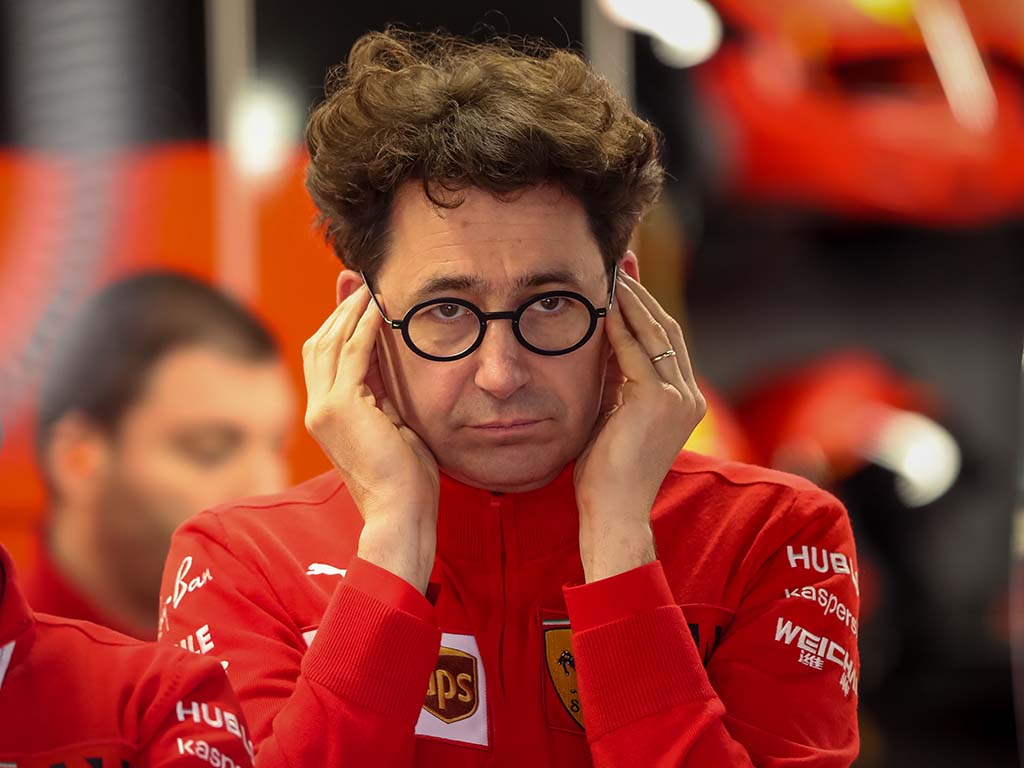 So while Mercedes are grabbing the major headlines, Ferrari are going more under the radar than usual. Talk about a role reversal, eh?
Referring you back to the earlier line about sandbags, downplaying chances and talking up rivals, there was a sense of exactly that happening when Ferrari boss Mattia Binotto spoke to the press on the final day of the first test.
"Looking at the picture relative to ourselves, I think we are not as fast as they are," Binotto said.
"I'm not as optimistic as last year. The others are faster than us at the moment I believe.
"Do we have any concerns? Certainly yes, when you are not as fast as you would like to be."
Now is this all part of the "new approach" that Charles Leclerc made reference to at the start of testing or is this genuine concern?
It is easy to paint a picture of doom and gloom when it comes to Ferrari, but there is still a doubt that they are actually cut adrift from Mercedes and Red Bull (who themselves have had a quiet, but successful first test). The speed trap data has shown on more than one occasion that Ferrari have their engines turned all the way down.
Bar Williams and Haas, they were the slowest team of all and are 1.8 seconds off their best time of 2019 testing. Nobody is falling for it, Mattia!
What is for certain, though, is that they are behind schedule when comparing Ferrari to Mercedes and Red Bull on the lap counts.
As previously mentioned, Mercedes are top with 494, Red Bull are next with 471 and there is quite a big drop down to the Scuderia, who racked up 354 laps. The difference between them and Mercedes equates to the Silver Arrows doing an extra 652km of running.
Leclerc spent some lengthy periods in the garage and Vettel was also forced to sit on the sidelines while the mechanics replaced his broken engine on day three.
They definitely have some catching up to do, but it will be very foolish to write them off completely already.
McLaren and Renault: beware of the copycats
Before DAS dominated discussion, it took all of one hour for the paddock squabbling to begin as Racing Point rocked up to Barcelona with the RP20 – aka the pink Mercedes.
Haas boss Guenther Steiner was quick to highlight the hypocrisy shown by Racing Point as they were the most vocal dissenter (and still are) of the American team's partnership with Ferrari, while other unnamed teams have voiced their displeasure at seeing Racing Point turn up with what is basically last year's title-winning W10.
It was surprising to see the RP20 cause such a commotion for being a copycat car, especially when we see Haas and Alfa Romeo take massive inspiration from Ferrari and AlphaTauri from Red Bull. It's hardly a new, novel concept.
Of course it raised questions of morality and whether it is in the spirit of the sport. It would be lovely to see all 10 teams have their own unique philosophies and styles, but the current regulations allow for such heavy influence and the high costs mean that the transferring of parts from one team to another will be more cost effective than pouring time, money and research into the smaller outfits developing their own paths.
At their 2020 season launch, Racing Point team principal, Otmar Szafnauer, predicted a podium finish for both Lance Stroll and Sergio Perez. After showing off their Mercedes copy, we are thinking Otmar didn't have as much pink champagne in his system as we initially thought when making that prediction.
They are off to a very strong start to pre-season testing in Barcelona and we could well look back at these three days as the start of Racing Point's journey to 'best of the rest' of 2020.
McLaren and Renault, P4 and P5 finishers in 2019 and two teams that still retain their own unique identities, could have come face-to-face with their biggest midfield rival this year.
Carlos Sainz himself has already spoken about the difficulties McLaren have in progressing now another rival has forged closer connections with one of the big three teams.
Faint signs of life at Williams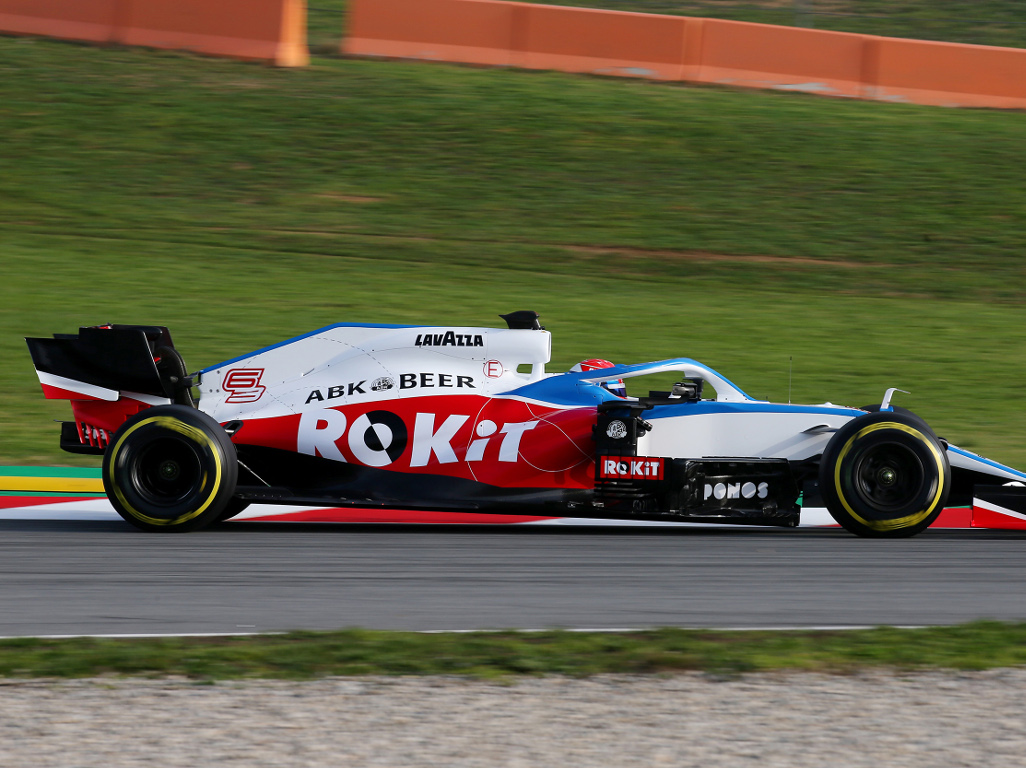 Cold, crisp mornings have greeted teams, fans and the press in Barcelona this week, but one moment sure to have warmed the hearts of many was seeing George Russell be the first driver to head out on track on the opening day.
It was a symbolic act for Williams and one they were super keen to do so they could finally banish the demons of 2019 and start a fresh chapter.
Over the course of the first three days of testing, Russell and rookie Nicholas Latifi racked up 324 laps between them. It took Williams six days to reach that total in 2019.
But while the first test represents a step in the right direction for Williams (it would have been very hard for it not to have been), they are surely primed for another season at the very back of the grid after turning up with a FW43 car that has no fundamental changes.
They did suffer quite a big hiccough on the final day when a sensor issue ate up five hours of Latifi's day of running, but at least some faint signs of life are there for us all to cling on to in Williams' long climb back to the top.
Mark Scott
Follow us on Twitter @Planet_F1 and like our Facebook page.