Ten of the best driver helmet designs in the F1 2022 season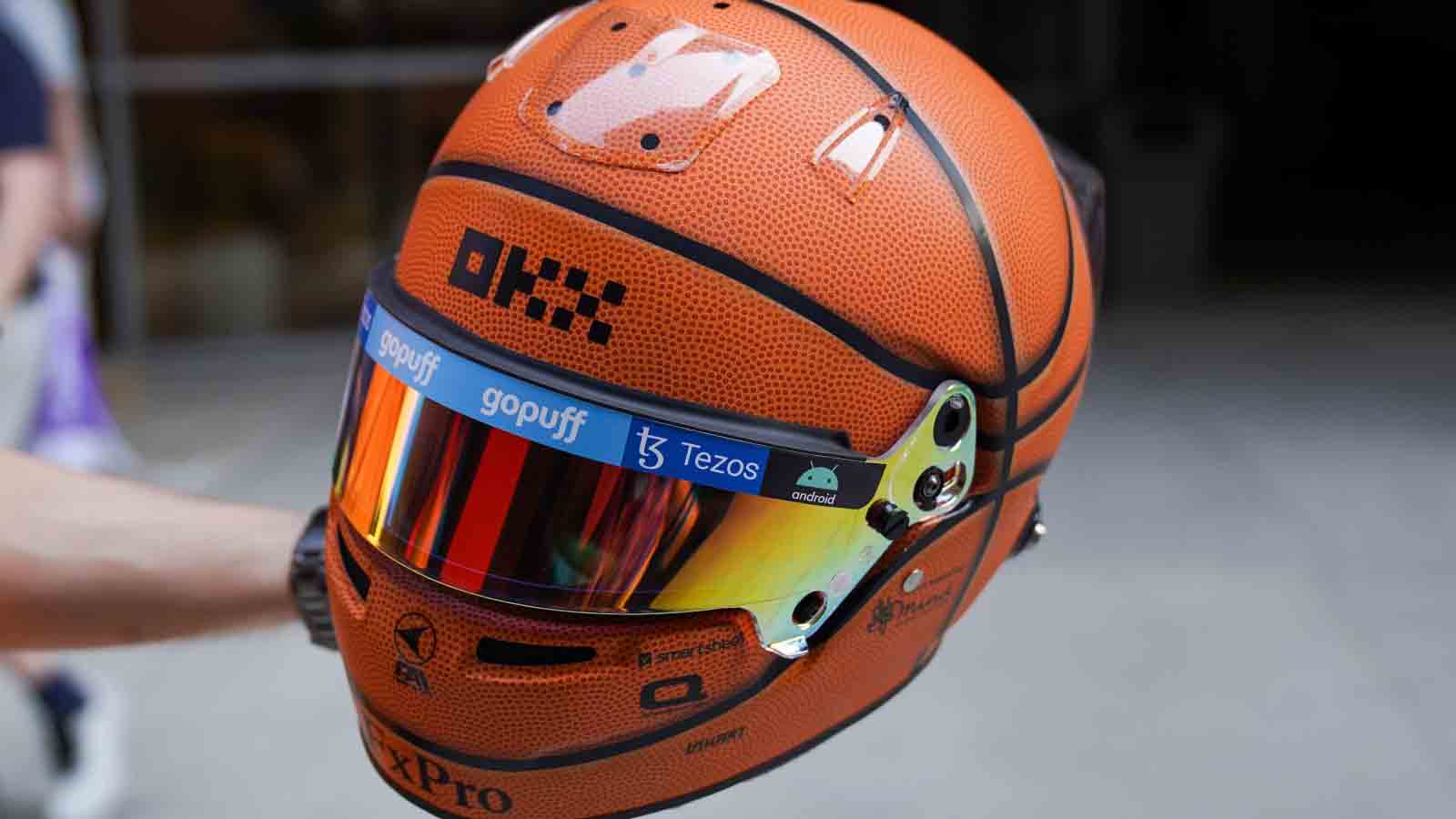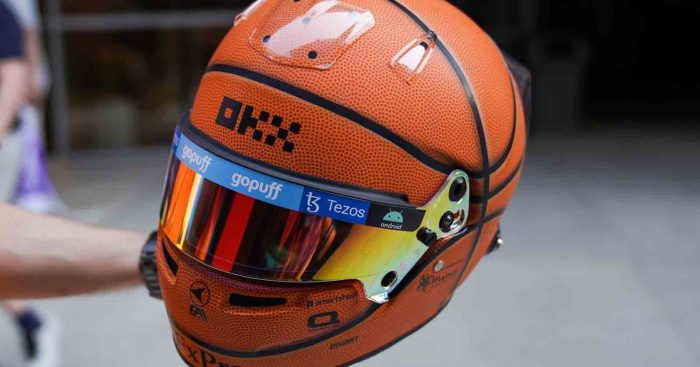 We have seen the drivers adorn themselves with some pretty special helmet designs in F1 this year, not least on one-off special occasions for the drivers, through a sponsor arrangement, tribute or otherwise.
With 20 drivers, 22 races and plenty of switching up having been done at certain races this year, it was a crowded field to choose from in terms of who stood out from the cockpit this season.
But several drivers stepped up to the plate and delivered some unique looks – which we will relive with you now.
Of course, there is every chance you will disagree with some of our choices or feel some worthy entries did not make the cut, but here is our selection of the best helmet designs from the F1 2022 season, in no particular order…
Lando Norris, Miami
Where else could we start?
So simple, yet so effective from the McLaren man, who confidently and in a not-at-all-biased way said to his team's official website it was "possibly the best helmet of the whole season by any driver on the whole entire grid."
"The helmet design takes an object and recreates that on the helmet, which I think is pretty special and unique," Norris elaborated further. "No one had really done that before, and I think it went down well with my fans.
"This is my favourite design from the season. The basketball helmet is like nothing else I have done, it is very unique. I think it would be the fan's favourite as well."
But when Norris was asked about his helmet design in Miami earlier in the season, he could not resist a little dig at Mercedes' problems at the time by joking: "It's cool. Maybe it would have suited George [Russell] more, considering they like bouncing a bit more…"
Savage.
Daniel Ricciardo, Miami
Norris was not the only McLaren driver to show off a special one-off helmet in Miami either, oh no. Daniel Ricciardo got in on the act with a tribute to one of his favourite films, with his Ace Ventura: Pet Detective inspired colour scheme, with one of Jim Carrey's most famous characters having been based in Miami.
"I spent pretty much my whole childhood watching these movies," he said of his Miami design. "Pet Detective, the very first Ace Ventura film, was my favourite.
"The helmet was very fitting for where we were: we were racing around the Dolphins' home ground, the Hard Rock Stadium.
"That was fun, but we struggled to find the execution. The race was probably 10 days away, and I was close to pulling the pin and forgetting the idea because it wasn't what I had pictured.
"Jens of JMD designed the helmet, and he put this one final design through for us to check out, and I was like: 'Alright, I think we've got it.' I am really glad that we did this one because, honestly, it was so close to not happening."
This is not Ricciardo's only entry on this particular F1 list, either…
Esteban Ocon, Austin
When in the land of superheroes… a tribute to my favourite 🕷️🕸️ 🤩 pic.twitter.com/LB2DwDecOV

— Esteban Ocon (@OconEsteban) October 20, 2022
Another American innovation this time came from Esteban Ocon later in the season, and how much of his Spider-Man design came through being inspired by Norris' Miami lid, we wonder?
Nonetheless, the rendering of Spidey's mask on his Alpine helmet was a striking way for the Frenchman to show his love of his favourite superhero at the United States Grand Prix back in October.
Sebastian Vettel, Mexico City
Paying tribute to Dietrich Mateschitz, Sebastian Vettel has 'Danke Didi' on his Mexican GP helmet #F1 pic.twitter.com/7Ak1UZHH1D

— PlanetF1 (@Planet_F1) October 28, 2022
The extremely sad news of the death of Red Bull co-founder Dietrich Mateschitz came in Austin, and Sebastian Vettel's first entry onto this list comes as he paid tribute to one of the key architects behind his career.
With only a week until the following race in Mexico City, Aston Martin deserve credit for allowing the four-time World Champion to change his helmet design to reflect the branding of his long-time former employers, switching to the colours of a can of Red Bull with a simple 'Danke Didi!' message on the side of his helmet.
A worthy tribute to one of the biggest influences in modern F1, from one of its most successful drivers.
Mick Schumacher, Japan
A lot of special helmets this weekend for the #JapaneseGP but @SchumacherMick's is a beauty 😍#F1 pic.twitter.com/Ni4Q1o3PlN

— PlanetF1 (@Planet_F1) October 6, 2022
One of the most 'out there' designs featured on our list this time, with Mick Schumacher's rather floral design for the Japanese Grand Prix looking excellent around Suzuka – despite the heavy rain which clouded most of the weekend.
Max Verstappen, Netherlands
A special helmet for Zandvoort and this one is very personal for me

Returning here as a World Champion is a great moment for me to appreciate all the effort my dad put into my career. That's why we made a new version of his iconic design.

1:2 & 1:4 🔗 https://t.co/KEopNGGUyU pic.twitter.com/F7lBobTzEq

— Max Verstappen (@Max33Verstappen) August 30, 2022
A helmet from Max Verstappen with an added sentiment behind it, as he recreated father Jos' design he used to run for his home race at Zandvoort, arriving home in the Netherlands as a World Champion for the first time.
The Red Bull driver wanted to run the special colours to show his thanks for his father's influence in his career, and it resulted in a smart-looking helmet at the end of it.
Verstappen announced his reasoning behind using an updated version of Jos' colours in a video he posted on social media, in which he said:
"You can see the old helmet design coming through, of my dad, on the back as well, with his original logo on it on the back, and my lion logo on the top.
"It's a bit emotional as well, but I think it's just really special to drive something like this because it's also how I started in go-karting; all the old pictures I have of go-karting is with this iconic design, so that's why we thought it was a great idea to bring this back alive around Zandvoort.
"I hope a lot of Dutchies and also fans of my dad back in the day will appreciate this helmet."
And that they did. The win in front of his home fans will have helped as well, of course…
Lewis Hamilton, Brazil
💙💛💚 pic.twitter.com/4YMqxJiDPJ

— Lewis Hamilton (@LewisHamilton) November 11, 2022
We know how much Lewis Hamilton has always loved Brazil, given how he idolised the late Ayrton Senna growing up.
That feeling has clearly been reciprocated for a long time, and the awarding of an honorary citizenship for the seven-time World Champion earlier in the year put a seal on a relationship which has long been one of mutual love and respect between Hamilton and his new 'home' country.
This was not the first season Hamilton has run with a special helmet at Interlagos, but 2022 saw another reinvention of his Mercedes colours incorporating the colours of the Brazilian flag, a striking purple element and a 'Love Is Love' message written in a rainbow-coloured font to represent equality.
A fine example of a one-off F1 helmet, if ever there was one.
Daniel Ricciardo, Monza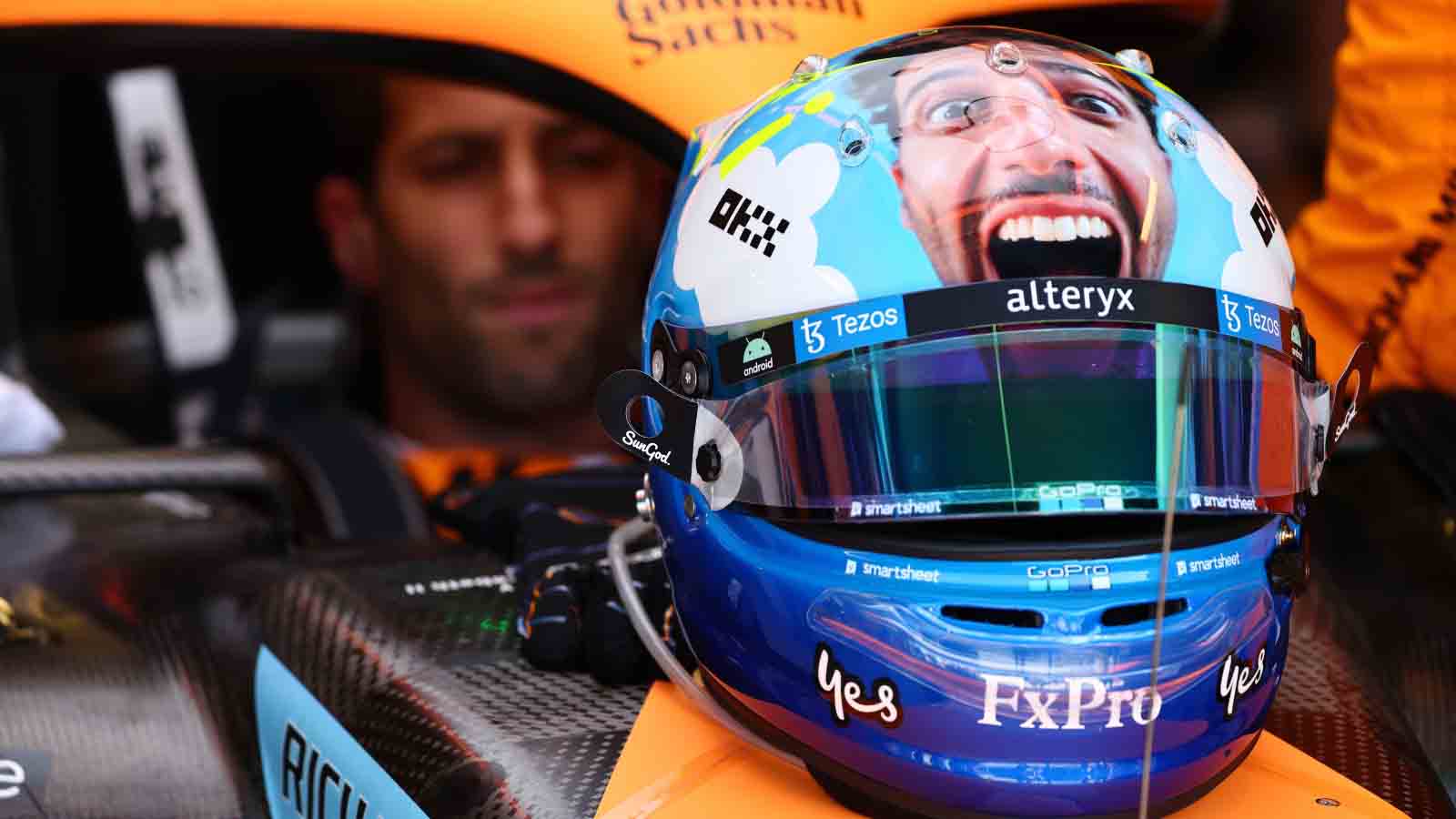 For the non-fans of two-wheel racing who watch Formula 1, seeing the Honey Badger's face blown right up on top of his helmet at Monza in September would have been an unusual sight.
But it was a play on MotoGP legend Valentino Rossi's helmet he used at Mugello back in 2008, and as it turned out after the weekend, the McLaren driver was not the only one to have had the same idea for that helmet over the weekend in Italy – we just never saw the other one.
Speaking to McLaren's official website, Ricciardo revealed: "This is a crazy story. I don't know how much of this is public knowledge…
"As you will remember, Alex Albon had appendicitis that weekend. He messaged me from the hospital, saying: 'dude, I literally had the same helmet design for this weekend that I was going to race with.'
"That is a crazy coincidence. I liked that, it was so much fun and so Valentino. It was reasons like that why Valentino was so adored during his career."
Sebastian Vettel, Hungary
There was a time when Sebastian Vettel would change his helmet design after every race victory he had. So, in his title-winning pomp, that came almost on a race-by-race basis.
But in Budapest before the summer break, he opted for a light adjustment on the design he has largely had on him since his move to Ferrari.
He swapped the colours of the German flag out for the the blue and yellow of Ukraine at the beginning of the season in support of their ongoing efforts, and while he switched back to his standard design by mid-season (albeit with additional Ukraine colours around the bottom, nice touch), his textured Lego effort in Hungary gave a fantastic 3D effect and mixed up his usual look nicely.
Fernando Alonso, Abu Dhabi
Danke Seb, One last time sharing the track with you, It will be emotional and sad at the same time, but I wish you all the best for your next chapter. #helmet #abudhabi #f1 #dankeseb https://t.co/EIwISRiNEv

— Fernando Alonso (@alo_oficial) November 17, 2022
An honourable mention goes to Mick Schumacher here for doing the same thing during the season finale, but the announcement from Fernando Alonso he would replicate long-time rival Vettel's helmet design for his final race was a truly lovely touch to end the season.
The design still showed off elements of the Alpine driver's own design (with some pink in there, of course), but the addition of Vettel German flag decal was both a touching tribute and a great-looking design at the same time.
Read more: Revealed: The top 10 highest-paid drivers on the Formula 1 grid